2021 APS Head of the River
The 153rd boys Head of the River and the 40th girls Head of the River were conducted Saturday 20th March 2021 at Nagambie Lakes.
The 2021 Head of the River was conducted with a reduced spectator crowd commensurate with the COVID-19 virus requirements.
The regatta was held in good conditions, albeit changing wind conditions during the regatta.
Wesley College won the schoolgirl Head of the River for the first time since 1987 in a strong race from title holders Geelong Grammar.
In the schoolboy Head of the River, Brighton Grammar won for the first time since 1983 by narrowly edging out favourites St Kevin's College. It was a great race.
The full results are available through this link.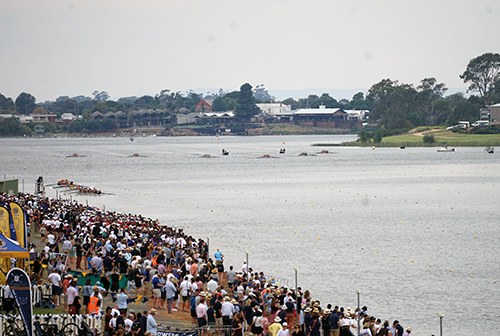 ---
Officials
Regatta Manager: Luke Soulos
Broadcasters: Roger B Wilson, J Horne and Andrew D Murchie
Adjuvant: David B Pitt
Referee: Andrew N Guerin
Jury: Duncan MacKinnon, Paul Diggerson, Graeme Boykett, Nancy Bartaska, Peter McIntosh, Peter Darbyshire, William Webster, Stephen Spring, Deborah Spring, Greg Longden
Committee: Luke Soulos (Executive Officer), T P Marshall BGS, P A Jepson Carey, M L Hall, M L Fillipou Caulfield, M D Cheatley, P Porter GC, P J La Cava GGS, S D Allcock Haileybury, P B Hawkins MGS, Tom P Courtney SKC, R J McLaren SC, D G Church, J L Mitchell WC, M J Wilson XC.
Boys Open & Year 10
Click on the race of interest and the results will appear below the buttons:
Boys Head of the River
2000m
Final A
5:57.86
5:58.28
6:02.83
6:05.62
6:08.14
6:15.74
Final B
6:12.91
6:17.41
6:18.53
6:20.69
6:41.00
Final A
1st Brighton Grammar - Bow: Hamish Roberts, 2: James Capp, 3: Ethan Calcatjicos, 4: Dougal Bland, 5: Jack Puise, 6: Zach Bowen, 7: Lucas Connell, Str: Sam Wyss, Cox: Malachi Bakker
2nd St Kevin's College - Bow: Jack Ivers, 2: Thomas Hall, 3: Nicholas Tonge, 4: James Hart, 5: Ryan Cornelius, 6: William Bancovich, 7: Stephen Moffat, Str: Liam Foldi, Cox: Oliver Lunn, Cch: Blair Jenkins
3rd Scotch College - Bow: Tige Ryan, 2: Henry Strang, 3: Edward Burns, 4: Massimo Marro, 5: Thomas Heerding, 6: Edward Findlay, 7: Ben Strang, Str: Josh Bufe, Cox: Lachie Phillips
4th Melbourne Grammar - Bow: Campbell Chesney, 2: Nic Adkins, 3: George Froomes-Houseman, 4: Alex Brew Ferrer, 5: Alexander Appleton, 6: Winston Hooper, 7: Felix Archibald, Str: Sam Guthrie, Cox: Freddie Campbell, Cch: Tom Abramowski
5th Xavier College - Bow: Nicholas Kelly, 2: Lachlan Power, 3: Joseph Brear, 4: Charles Kristens, 5: Nicholas Andrew, 6: Oliver Scalzo, 7: Charles Amad, Str: Patrick Shaw, Cox: Fergus Grave
6th Geelong Grammar - Bow: Bryson Storey, 2: Archie Paton, 3: William (Will) McKay, 4: Daniel Friday, 5: Jack Barber, 6: Finn McLachlan, 7: Baxter Aurisch, Str: Liam Leslie, Cox: Harriet Robinson
Final B
1st Wesley College - Bow: Andy Dai, 2: Darby Welberry, 3: Sam Jeffrey, 4: Edwin O'Donnell, 5: Wesley Hudson, 6: Khaled Mashni, 7: Connor Watson, Str: Mitch Williams, Cox: Nicholas Gelagotis
2nd Geelong College - Bow: Christopher Bowker, 2: Wilbur Renney, 3: Liam Wylie, 4: Oliver Ashby, 5: Ben Gorell, 6: Angelo Binos, 7: Emmerson Facer, Str: Olly Williams, Cox: Cate Barr, Cch: Andrew Cleary
3rd Carey Grammar - Bow: Ewan Coleman, 2: Mac Perry, 3: Sam Carmody, 4: Benjamin van den Berg, 5: Joshua Richardson, 6: William Hatfield, 7: Nicholas Newport, Str: Jack Harding, Cox: Luke Rossi
4th Caulfield Grammar - Bow: Jack Tilley, 2: Charles Kilburn, 3: Asher Star, 4: Bryson Cowie, 5: Josh Cousins, 6: Fergus Kininmonth, 7: Rhys Andrew, Str: Tex Freeman, Cox: Samuel Norman
5th Haileybury College - Bow: Patrick Millar, 2: Harry McIntyre, 3: Oscar Croxall, 4: Ethan Morten, 5: Edward Cassidy, 6: Matt Porter, 7: Benjamin Blight, Str: James Douglas, Cox: Dean Nguyen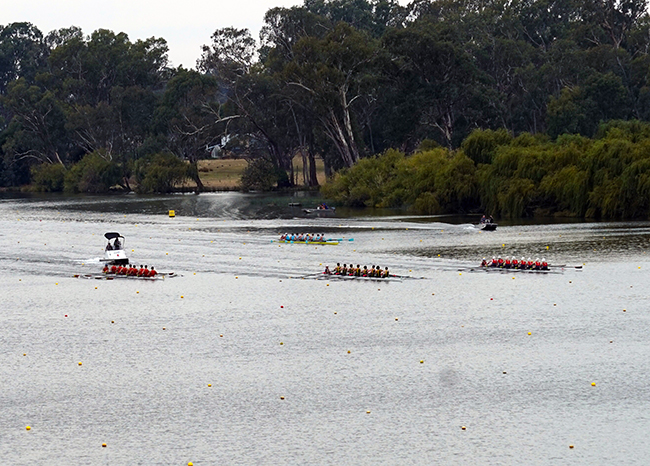 The final stages of the race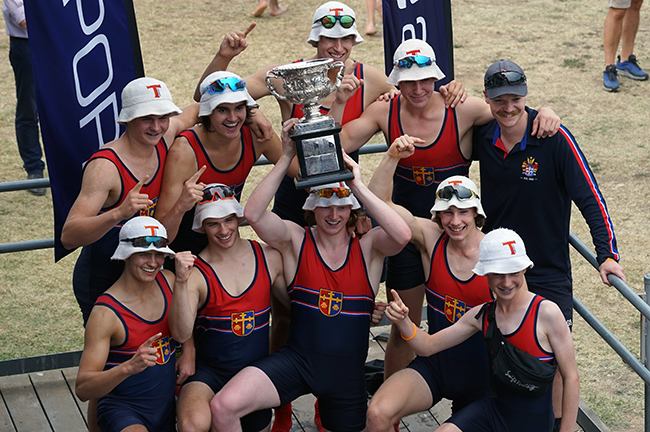 The winning crew with trophy
Boys Second Eight
2000m
Final A
6:14.49
6:19.35
6:22.64
6:25.63
6:25.92
6:29.14
Final B
6:26.60
6:31.00
6:34.85
6:39.96
Final A
1st Scotch College - Bow: Thomas Genovese, 2: Archie Clunies-Ross, 3: Joshua McLeod, 4: Nik Tsourvakas, 5: Archie Abbott, 6: Hamish Paine, 7: Maxim Jeremijenko, Str: George Burney, Cox: Angus McClusky, Cch: Archie Gill
2nd Melbourne Grammar - Bow: Darcy McKenna, 2: Alexander Ross, 3: Max Dixon, 4: Will Conroy, 5: Jock Carter, 6: Lucas Batten, 7: Will Dunlop, Str: Christian Sallabank, Cox: Lachlan Tulloch
3rd Geelong College - Bow: Stirling Dennis, 2: Henry Jackman, 3: Harry Hayden, 4: Oscar Tyrrell, 5: Tom Thornton, 6: Toby Hope, 7: Charles Rahdon, Str: Andy Deans, Cox: India Connor
4th St Kevin's College - Bow: Alexander Prosser, 2: Digby Newton-Brown, 3: William Blyth, 4: Billy Daffern, 5: Frederick Holland, 6: Isaac Dyt, 7: Liam Monaghan, Str: Hugo Terzini, Cox: Ethan Cheung, Cch: Annabelle Eaton
5th Brighton Grammar - Bow: Jamie Draheim, 2: Finn Watson-Hook, 3: Patrick Hoy, 4: Jake Tuim, 5: Angus Elliott, 6: Archie May, 7: Jack Tiver, Str: Charlie Catt, Cox: Angus Roberts, Cch: Thomas Haddon
6th Geelong Grammar - Bow: Sebastian Alvarez de Toledo, 2: William Crawford, 3: Harry Cooper, 4: Hunter Dowd, 5: Ethan Colley, 6: Jake Tolhoek, 7: Tom Ross, Str: Hugo Clements, Cox: Louisa Chong
Final B
1st Xavier College - Bow: Samuel Casserly, 2: Joseph Prowse, 3: Michael Godino, 4: Patrick Stewart, 5: Edward Lyons, 6: Owen Johnston, 7: Atticus Scally, Str: Patrick Singh, Cox: Jack Lin
2nd Carey Grammar - Bow: Tom Prendergast, 2: Aidan Tenace, 3: Jake Shinton, 4: Matthew Worth, 5: Declan O'Callaghan, 6: Liam Vallely, 7: Joseph Walker, Str: Gus Knowles, Cox: Jamie Hoopmann, Cch: Connor Bavage
3rd Caulfield Grammar - Bow: Xavier Lipman, 2: Max Burke, 3: Max Webb, 4: Griffin Farmer, 5: Joseph Godwin, 6: Jesper Oriander, 7: Liam Quinn, Str: Lukas Meyer, Cox: Aidan Robinson
4th Wesley College - Bow: Alex Hardy, 2: Will Humphries, 3: Will Nuttall, 4: James Cone, 5: Callum Roberts, 6: Hugh Collins, 7: Charlie Gabbott, Str: Tate Grunden, Cox: Nicholas Gelagotis


The Scotch crew celebrate
Boys Third Eight
2000m
Final A
6:26.89
6:28.87
6:30.65
6:32.11
6:55.64
7:00.46
Final B
7:01.81
7:05.68
Final A
1st Scotch College - Bow: Sebastian Kritikides, 2: Jonah Flocas, 3: Charlie Green, 4: Theodore Dryden, 5: Christopher Louzis, 6: Lachie Finster, 7: Sam Pritchard, Str: Jake Maycock, Cox: Maxwell Findlay, Cch: Harry Gill
2nd St Kevin's College - Bow: William Sudano, 2: Will Rawlings, 3: Lachlan De Garis, 4: Zachary Fuller, 5: Lucas Jackson, 6: Thomas Zaspel, 7: Thomas Bartl, Str: Nicholas Bare, Cox: Maxwell Sonnemann, Cch: Anthony Johnson
3rd Brighton Grammar - Bow: Oscar Noble, 2: Thomas Hahn, 3: Oscar Ettershank, 4: Callum Binnie, 5: Hugo Mintrom, 6: Oliver Robertson, 7: Jorge Houridis, Str: Jackson McKenzie, Cox: Sidney Bartlett, Cch: Richard Bartlett
4th Melbourne Grammar - Bow: Alexander Leviny, 2: Nick James, 3: Charlie Henderson, 4: Matty Porter, 5: Max Shepherd, 6: Lucas Batten, 7: Leo Grant, Str: Mac5enzie Cairns, Cox: Charlie Wallace
5th Xavier College - Bow: Raffey Huysing, 2: Aidan Commane, 3: William Webb, 4: William Dann, 5: Lachlan Tognella, 6: James Crawford, 7: William Middleton, Str: James Head, Cox: James Taylor
6th Caulfield Grammar - Bow: Samuel Norman, 2: Steve Zheng, 3: Milan Umesh, 4: Marcellus Costa, 5: William Vannan, 6: Blake Brunning-Smith, 7: Max McArdle, Str: Brodie Quinn, Cox: Connor Hodgson
Final B
1st Geelong College - Bow: Harry Porte, 2: Harry Sadler, 3: Sam Condie, 4: Charlie Lawson, 5: Will Swan, 6: Oscar Lord, 7: Alex Whitford, Str: Jacob Rowbottom, Cox: Anna Naylor
2nd Carey Grammar - Bow: Bailey Davies, 2: Thomas Murdoch, 3: Jordan Lin, 4: Luke Iro, 5: James Markovic, 6: Michael Holman, 7: Sebastian Weymouth, Str: Johnathan Weir, Cox: Thomas Bucknell, Cch: Sam Jobson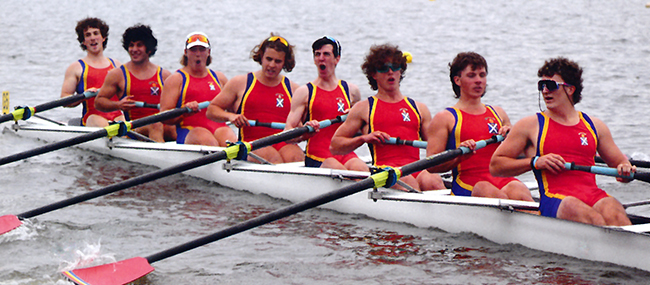 Scotch College winning third crew
Boys Fourth Eight
2000m
Final
6:46.01
6:49.81
6:59.22
7:05.65
7:05.95
Final
1st Melbourne Grammar - Bow: Oliver Chen, 2: Ewan Dowd, 3: Tom Reith, 4: James Houghton, 5: Patrick Norsa, 6: Johnno Roxburgh, 7: Ryan Evans, Str: Hugo Bennett, Cox: Theodore Herbst
2nd St Kevin's College - Bow: Billy Fuller, 2: Orlando Rey, 3: Daniel Barton, 4: Max Portelli, 5: Aidan Zupan, 6: Maxwell Kelsey, 7: William Plunkett, Str: Tighe O'Donoghue, Cox: Ethan Harpur, Cch: William Henry
3rd Scotch College - Bow: Royston Roberts, 2: Jackson Cameron, 3: Charlie Stynes, 4: Louis Cameron, 5: Lachlan MacKinnon, 6: Benjamin Simon, 7: Harry Crompton, Str: William Carton, Cox: Adrian Marro, Cch: Maxwell Bloom
4th Xavier College - Bow: Jim McCarthy, 2: Hugh McNamara, 3: Luca Camilleri, 4: Michael Collier, 5: Fionn Whelan, 6: Tishan Warnakulasuriya, 7: Zachary Zappulla, Str: Thomas Collison, Cox: Tom Lachal
5th Melbourne Grammar - Bow: James Di Nicolantonio, 2: Sebastien Morell-Fantozzi, 3: Rupert Grant, 4: Charlie Sorell, 5: Will Russell, 6: Rupert Edwards, 7: Andrew Stankovich, Str: Aydin Chowdhury, Cox: Gui Palma Dias
Boys Open Coxed Quad Scull
1000m
Final
3:20.51
3:21.54
3:47.00
3:53.27
3:55.01
Final
1st Haileybury College - Bow: Alexander Carrillo De Albornoz, 2: Lucas Ambrens, 3: Jack Cookesley, Str: Thomas Cariss, Cox: William Stephen
2nd Geelong Grammar - Bow: Duc Duy Hung Nguyen, 2: Duc Minh Tam Nguyen, 3: Jamieson McNamara, Str: Angus Percy, Cox: Matilda Forwood
3rd Carey Grammar - Bow: Henry Moore, 2: Will Hutchins, 3: Tyrese Clayton-Wijesinghe, Str: Benjamin Ireland, Cox: Luke Rossi
4th Melbourne Grammar - Bow: Judd Martin, 2: Jack Rankin, 3: Jasper Bartle, Str: Oscar Lo, Cox: Oscar Sutton
5th Geelong College - Bow: Sam Condie, 2: Max Liolios, 3: Tyron Delcay, Str: Angus McMurtrie, Cox: Edward Kennett
Boys Year 10 Eight Division 1
2000m
Final A
6:18.99
6:27.50
6:29.86
6:30.42
6:33.93
6:38.48
Final B
6:48.14
6:52.73
6:53.16
7:03.51
7:23.79
Final A
1st Wesley College - Bow: Quentin Marchiori, 2: Max Guthrie, 3: Jeffrey Jiang, 4: Leo Bakhache, 5: Nicholas Bryant, 6: Lachlan Idle, 7: Charlie Johnston, Str: Amos Kirk, Cox: Josh Feferkranz Coach: Zachary Smith
2nd Melbourne Grammar - Bow: Hugo Hines, 2: Hamish Kerr, 3: Jack Anderson, 4: Digby Bankes, 5: George Raymond, 6: Lachlan Perrett, 7: Sam Henderson, Str: Daniel Cash, Cox: Lucien Marcel
3rd Xavier College - Bow: William McNamara, 2: Lachlan Stewart, 3: Edward Andrew, 4: Will Allen, 5: James Power, 6: Cormac O'Callaghan, 7: Lachie Severn, Str: Patrick Croagh, Cox: Daniel Stary, Cch: Sean Lake
4th Caulfield Grammar - Bow: Jasper Ginn, 2: Massimo Topchian, 3: Joshua McVean, 4: James Ritchie, 5: Casper Tabain, 6: Harsmit Dhiman, 7: Stirling Perrott, Str: Oscar Tilley, Cox: Aidan Robinson
5th Scotch College - Bow: Cooper Lord, 2: Campbell Findlay, 3: Matthew Mayes, 4: Henri Lempriere, 5: Alessandro Marro, 6: Benjamin Marchant, 7: Josh Mitchell, Str: Will Cowan, Cox: Harrison Cameron
6th St Kevin's College - Bow: William Lambos, 2: Charles Fogarty, 3: Finn Slattery, 4: James Berry, 5: Luke Ryan, 6: Sam Chapman, 7: Blake Meadows, Str: Daniel Di Mauro, Cox: Casper Reed, Cch: Will Anders
Final B
1st Carey Grammar - Bow: Bowen Hilton, 2: Thomas Voller, 3: Alfie Sullivan, 4: Charlie Tracey, 5: Christian Newport, 6: Beppe Daly, 7: Spencer Thomas, Str: Walt Alexander, Cox: Emily Read
2nd Geelong Grammar - Bow: Nick Barnes, 2: Thomas Naylor, 3: William Mahon, 4: Lloyd Vidotto, 5: Archibald Allen, 6: Thomas Pirenc, 7: Dibdin Fitzgerald, Str: Xin Hao Li, Cox: Patrick Kirwan
3rd Geelong College - Bow: Ted O'Malley, 2: Alexander Williams, 3: Hugo Zumpe, 4: Joshua Hunter, 5: Sam Thompson, 6: Robbie Solly, 7: Joe Osborne, Str: Johnny Pring, Cox: Sophie McCartney
4th Brighton Grammar - Bow: Miller Chilcott, 2: Julius Ferwerda, 3: Mack Anderson, 4: Angus Haddon, 5: Hugo Ettershank, 6: Oliver Fyfe, 7: James Huang, Str: Angus Schumacher, Cox: Dominic Packham, Cch: Thomas Fisher
5th Haileybury College - Bow: Charles Begg, 2: Hamish Wilson-Moran, 3: Phyrell Simpson, 4: Xavier Carter, 5: Jett Achermann, 6: Angus McIntyre, 7: Nicholas Cleary, Str: Joshua Docking, Cox: Jeslyn Wang
Boys Year 10 Eight Division 2
2000m
Final A
6:39.17
6:43.15
6:47.35
6:52.77
7:05.78
7:13.93
Final B
7:14.21
8:00.06
Final A
1st Melbourne Grammar - Bow: William Murkies-Hirsch, 2: Sebastian Whiteley, 3: Eddie Gough, 4: Nixon Murray, 5: Henry Sibly, 6: Max Scanlon, 7: Edward Ross, Str: Harry Dudley, Cox: William Tulloch
2nd Scotch College - Bow: John Cavanough, 2: Charlie Hume, 3: James Simpson, 4: James Burton, 5: Otto Schiffer, 6: Oliver Badr, 7: Lachlan Clark, Str: Harry Clarke, Cox: Jonathan Harper
3rd St Kevin's College - Bow: Matisse Kerr, 2: Rafferty Davern, 3: David Elliott, 4: Vincent Vukasovic, 5: Maximus Rafaniello, 6: Oliver Nott, 7: Thomas de Zoete, Str: Noah Spiteri, Cox: Nafez Taouk, Cch: Andrew Galante
4th Xavier College - Bow: Miles Enders, 2: Tyrone Oales, 3: Tom Henrys, 4: Sonny O'Connell, 5: Felix Lynch, 6: Thomas Scalzo, 7: Nick Klimidis, Str: Fergus Willoughby-Gough, Cox: Charlie Strode
5th Geelong Grammar - Bow: Fred McKay, 2: Henry Crutchfield, 3: Luca Clarke, 4: Tom Wilson, 5: Harry Willis, 6: Samuel Stringer, 7: Joshua Colley, Str: Archie MacLachlan, Cox: William Crawford
6th Carey Grammar - Bow: Charlie Deacon, 2: Christian Lai, 3: Matthew Whitaker, 4: Ethan Kumar, 5: Julian Troiano, 6: Ari Azzopardi, 7: James Robson, Str: Alby Hewitt, Cox: Raj Fordyce, Cch: Jarvis Cole
Final B
1st Wesley College - Bow: Will McFall, 2: Alex Hyatt, 3: Massimo Colli, 4: William Goode, 5: Jack Driscoll, 6: Tom Phillips, 7: Jordan Walsh, Str: Dillon McDougal, Cox: Xinyi Dong, Cch: Harry Norman
2nd Geelong College - Bow: Will Hunter, 2: Josh Glazebrook, 3: Jack Jelenko, 4: Grisha Panasenkov, 5: Rory Dennis, 6: Baxter Pullin, 7: Hugh McDonald, Str: Will Vicente, Cox: Lili Batrouney
Boys Year 10 Eight Division 3
2000m
Final
6:52.31
7:01.13
7:05.50
7:22.04
7:26.44
Final
1st Melbourne Grammar - Bow: Lachlan Houghton, 2: Oliver Ebbels, 3: Joseph Duggan, 4: Jake Sedy, 5: Nick Hann, 6: Marcus Brown, 7: Jack Lowman, Str: Cameron Reynolds, Cox: Oscar O'Meara
2nd Scotch College - Bow: William Moulding, 2: Matthew Williams, 3: Eddie Wang, 4: Piers Keating, 5: Omar Morsi, 6: Stirling Keogh, 7: Samuel Luo, Str: William Dimitroulis, Cox: Alex Parker
3rd Xavier College - Bow: Nicholas Blackney, 2: Indy Ronchi, 3: Peter Kwok, 4: James Chilcott, 5: Timothy Wrigley, 6: Angus Forbes, 7: Henry Mack, Str: Jonty White, Cox: Will Newman
4th St Kevin's College - Bow: William Chapman, 2: Rory Brady, 3: Maximo Dal Pozzo, 4: Hugo Muller, 5: Lucca Mitsch, 6: William Noonan, 7: John Ralphsmith, Str: Angus Murray, Cox: William Southey, Cch: Ed Ryan
5th Carey Grammar - Bow: Jacob Whitechurch, 2: Lachlan Robertson, 3: Connor McCann, 4: Christian Tsiavas, 5: Harry Blue, 6: Campbell Lester, 7: Daniel Suzor, Str: Alex Hoy, Cox: Maxwell Vindurampulle, Cch: George Blood
Boys Year 10 Eight Division 4
2000m
Final
7:01.27
7:03.74
7:18.03
7:43.95
NTT
Final
1st Scotch College - Bow: Will James, 2: Lucas McKenzie, 3: Sam Ferguson, 4: Jack Xu, 5: Charlie Jamieson, 6: James McGrath, 7: Gus Furphy, Str: Hugo Gertis, Cox: Ashvin Cali, Cch: Mark Russell
2nd Xavier College - Bow: Sky White, 2: Tom Crowe, 3: Charlie Hall, 4: Archie Bettiol, 5: Henry Kift, 6: Matthew Voitin, 7: Patrick Bright, Str: Ben Walter, Cox: Liam Savage
3rd Melbourne Grammar - Bow: Nick Sutton, 2: Will Young, 3: Henry Feeney, 4: Luciano Bosci, 5: Nate Portnoy, 6: William Brew, 7: Lachlan Mitchell, Str: Matthew Arnold, Cox: Andrew Smith
4th Xavier College - Bow: Orlando Magasdi, 2: Jamie Bevilacqua, 3: Vincent Tripodi, 4: Tony Nguyen, 5: James Anastasopoulos, 6: Harry Vukadinovic, 7: Jonathon Palmer, Str: Michael Palmer, Cox: Marcello (Rocco) Godino
5th Scotch College - Bow: Jeremy Gray, 2: Zac Moroney, 3: Kaleb Moroney, 4: Hunter Reeve, 5: Henry Elliott, 6: Sam Speed, 7: Edward Findlay, Str: Fergus Ross, Cox: George Simmons, Cch: James Hart
Boys Year 10 Coxed Quad Scull
1000m
Final
3:44.38
4:04.41
4:13.74
SCR
SCR
Final
1st Brighton Grammar - Bow: Angus Tragear-Whiting, 2: Kevin Liao, 3: Nick McCluskey, Str: Ryan Cory, Cox: Julian Carlin
2nd Geelong Grammar - Bow: Clay Schafer, 2: Jeremy Lynch, 3: Xavier Lenehan, Str: Henry Stringer, Cox: Jimmy Wright
3rd St Kevin's College - Bow: Dominic Brosnan, 2: Charles Foo, 3: Xavier Campbell, Str: Benjamin Jorgensen, Cox: Domenic Said, Cch: Jack O'Malley
Caulfield Grammar - Bow: Jasper Ginn, 2: Matthew Lamb, 3: Charles Dowling, Str: Wesley Chen, Cox: Connor Hodgson
Melbourne Grammar - Bow: Michael Jiang, 2: Edward Stack, 3: Tom Wilson, Str: Michael Lynch, Cox: Oscar O'Meara
Girls Open & Year 10
Click on the race of interest and the results will appear below the buttons:
Girls Head of the River
2000m
Final
6:51.53
6:58.59
7:03.59
7:12.54
7:20.17
7:36.92
Final
1st Wesley College - Bow: Leyla Kenneally, 2: Saskia Blackburn, 3: Emily Hill, 4: Lauren Mayhood, 5: Lucy Thomson, 6: Thea Coull, 7: Christina Kamenev, Str: Zara Lavery, Cox: Fiona Dow, Cch: Hannah Every-Hall
2nd Geelong Grammar - Bow: Chloe Paton, 2: Hannah Bufton, 3: Lilli Cowan, 4: Molly Sanderson-Baker, 5: Star Rose Miller, 6: Luka Currell, 7: Alice Peddie, Str: Gillian Walton, Cox: Cate Blyth
3rd Geelong College - Bow: Andie Taylor, 2: Connie Dunkley-Smith, 3: Amelia Edmonds, 4: Ellie Campbell, 5: Daisy Page, 6: Bridget Delany, 7: Issy Batrouney, Str: Aimee McLaughlin, Cox: Ella Panek-Mitchel
4th Caulfield Grammar - Bow: Amelia McInnes, 2: Lily Murray, 3: Rosie Morrison, 4: Francesca Newport, 5: Bethany Sexton, 6: Ella Biesse-Leong, 7: Olivia Boyce-Elliott, Str: Sarah Fairhall, Cox: Lucinda Clifford
5th Carey Grammar - Bow: Darcy Kelly-Stout, 2: Lily Bohun, 3: Jamie Sinicco, 4: Susannah Lutze, 5: Erin Hilton, 6: Emma Gebert, 7: Natasha Liberopoulos, Str: Sasha Edney, Cox: Lucienne Hubbard
6th Haileybury College - Bow: Natalie Lam, 2: Eleanor Joyce, 3: Charlotte Davidson, 4: Gemma Dillon, 5: Alice Thomasson, 6: Indigo Blakeman-Lee, 7: Alexandra McDonald, Str: Stasia Scaunich, Cox: Breana McLean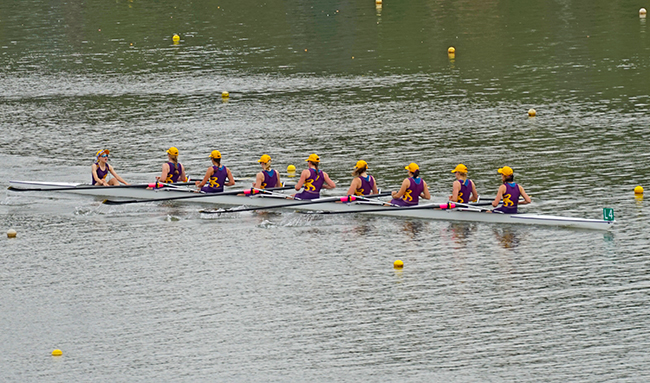 Wesley approach the finish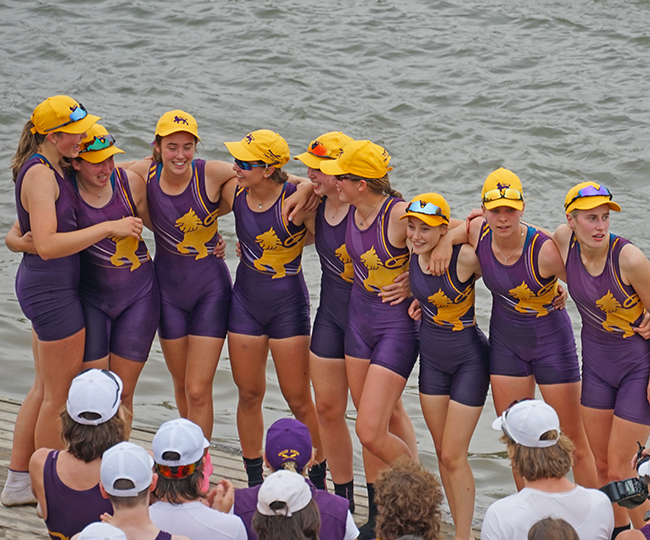 The winning crew celebrate the win
Girls Second Eight
2000m
Final
7:15.80
7:28.89
7:31.57
8:06.21
Final
1st Geelong Grammar - Bow: Anna Ward, 2: Ava Grylewicz, 3: Grace Forbes, 4: Sophie Manley, 5: Rosie Barber, 6: Iris Jeffrey, 7: Milly Holmes, Str: Alannah D'Andrea, Cox: Zarli Dickinson
2nd Caulfield Grammar - Bow: Rory Redlich, 2: Sophie Hill, 3: Lucette Farrar, 4: Olivia Jones, 5: Emma Wills, 6: Poppy Palmer, 7: Emily Zantuck, Str: Tara Bennett, Cox: Georgia Mulcahy
3rd Geelong College - Bow: Phoebe Dunton, 2: Alysha Blampied, 3: Bailey Gait, 4: Phoebe Calvert, 5: Jazz Wylie, 6: Lulu Morgan, 7: Edie Benson, Str: Lou Campbell, Cox: J'aime Osborne
4th Carey Grammar - Bow: Alice Freney-Mills, 2: Lauren Hart, 3: Milly Gentilin, 4: Megan Anstee, 5: Iris Jordan, 6: Romy Taylor, 7: Emma John, Str: Chloe Holt, Cox: Alexia Karagiannis
Girls Third Eight
Final
1st Geelong Grammar - Bow: Katherine Gerraty, 2: Skyla Critchlow, 3: Phoebe a'Beckett, 4: Prue Devilee, 5: Zakiyah El Adam, 6: Lanta Clark, 7: Acharlia Cameron, STr: Tanna Ryan, Cox: Emilia Church
2nd Geelong College - Bow: Evelyn Coorey, 2: Sarah Tait, 3: Ruby Kennett, 4: Imogen Edwards, 5: Skye Stewart, 6: Sarah Solly, 7: Milly Garner, Str: Charlotte Newman, Cox: Ruby Chen
Girls Open Coxed Four
1000m
Final
4:01.04
4:08.46
4:14.51
4:16.02
4:18.07
SCR
Final
1st Wesley College - Bow: Isabelle Shoebridge, 2: Evie Norton, 3: Charlotte Murray, Str: Mila Webb, Cox: Fiona Dow
2nd Geelong Grammar - Bow: Milly MacLachlan, 2: Clementine Ryan, 3: Abigail Shackleton, Str: Ella-Rose Hare, Cox: Abbey Adams
3rd Geelong College - Bow: Beatrice Leake, 2: Pippa Murphy, 3: Skye Stewart, Str: Charlotte Newman, Cox: Elsie Callahan
4th Haileybury College - Bow: Kim Petley, 2: Amber Caspers, 3: Imogen Hingston, Str: Georgia Richardson, Cox: Victoria Blaszczyk
5th Caulfield Grammar - Bow: Areaka Bamblett, 2: Trinity Hughes, 3: Ireland Darcy, Str: Christina Chiang, Cox: Ella Middleditch
Carey Grammar - Bow: Anjali Sureka, 2: Elise Tate, 3: Sophie Boston, Str: Poppy Morrison, Cox: Jade Smolders
Girls Year 10 Eight Division 1
1000m
Final
3:26.37
3:29.12
3:30.35
3:34.76
3;35.91
4:01.03
Final
1st Carey Grammar - Bow: Sihan Zhu, 2: Alice Bohun, 3: Charlotte Clements, 4: Indi Kluge, 5: Rachel Crawford, 6: Sophie Kondogiannis, 7: Maya Sandhu, Str: Ruby Schultz, Cox: Octavia Kegele, Cch: Olivia Yammouni
2nd Geelong College - Bow: Issy Derham, 2: Maya Peele, 3: Sienna Sorensen, 4: Mikayla Gilligan, 5: Lulu McKewan, 6: Emilie Roosje, 7: Poppy Hughes, Str: Mia Kemp, Cox: Charlotte Koch
3rd Geelong Grammar - Bow: Charlotte Nicholson, 2: Lucy Simpson, 3: Matilda Hunt, 4: Claire Hamilton, 5: Emily Pincott, 6: Sienna Huon, 7: Julia Kent, Str: Milla Naylor, Cox: Chloe Talbot
4th Caulfield Grammar - Bow: Amber Barta, 2: Georgia Height, 3: Ella Maskiell, 4: Olive Pascoe, 5: Amelia Pinder, 6: Annabelle Gillard, 7: Emily Condron, Str: Stella Meyer, Cox: Ivy Jones
5th Wesley College - Bow: Bella Muszynski, 2: Molly Crighton, 3: Bella Mariu, 4: Annabel Schmidt, 5: Madeline Marquet-Walker, 6: Lauren Kenneally, 7: Lilly Koot, Str: Kessem Shahak, Cox: Indigo Walker, Cch: Christine Nancarrow
6th Haileybury - Bow: Chloe Lieu, 2: Neeraja Ahielan, 3: Nerissa Liu, 4: Estelle Verner, 5: Ellen Reddell, 6: Shradha Nayar, 7: Kate Porter, Str: Eliza Christopoulos, Cox: Sienna Conti
Girls Year 10 Coxed Four Division 3
1000m
Final
3:59.45
3:59.74
4:05.66
4:06.22
4:07.37
Final
1st Geelong Grammar - Bow: Quimby Yates, 2: Eve Grylewicz, 3: Sarah Gubbins, Str: Zara Cooper, Cox: Claudia Sowerby
2nd Geelong College - Bow: Caroline Reid, 2: Milly Kennett, 3: Chantal Mason, Str: Emily Logan, Cox: Mieka Rothengatter
3rd Caulfield Grammar - Bow: Annabel Barnett, 2: Loren Petitpierre, 3: Isobel Bayes, Str: Grace Kennedy, Cox: Chloe Whiter
4th Wesley College - Bow: Erin Rahilly, 2: Alexia Kydas, 3: Edie Stonell, Str: Zoe Lederer, Cox: Marina Elia
5th Carey Grammar - Bow: Dion Baldi, 2: Isabella Caminiti, 3: Grace Moore, Str: Uisce Geaney, Cox: Olivia Flanigan, Cch: Camille Edwards
Girls Year 10 Coxed Four Division 4
1000m
Final
4:05.67
4:10.17
4:12.22
4:12.51
4:28.92
Final
1st Geelong Grammar - Bow: Sarah Guirguis, 2: Sophie Ross, 3: Charlotte Fowler, Str: Mae Cowan, Cox: Xabby Dickinson
2nd Wesley College - Bow: Charlotte Dawson, 2: Charlotte Apted, 3: Chloe Noorman,Str: Maddie Goff, Cox: Indigo Walker
3rd Caulfield Grammar - Bow: April Toman, 2: Mia Grenville, 3: Maya Hudson, Str: Stephanie Longley, Cox: Anita Younger
4th Geelong College - Bow: Emma Moorfoot, 2: Hollie Bohun, 3: Keera Beasley, Str: Holly Smith, Cox: Erin Wheelahan
5th Carey Grammar - Bow: Mia Lubel, 2: Charlotte Reid, 3: Tristen Angarano, Str: Mercy Fun, Cox: Jade Smolders, Cch: Maya Worth
Girls Year 10 Coxed Four Division 5
1000m
Final
3:59.54
4:02.94
4:09.04
4:09.49
4:13.36
Final
1st Geelong Grammar - Bow: Lindsay Eadie, 2: Skye Calvert-Jones, 3: Verity Duff, Str: Georgia Danckert, Cox: Indi Crosthwaite
2nd Geelong Grammar - Bow: Natalie Walsh, 2: Georgina Radford, 3: Eleanor Austin, Str: Charlotte Nicholson, Cox: India Sinclair
3rd Caulfield Grammar - Bow: Charlotte Bennett, 2: Holly Vaughan, 3: Eve Wood, Str: Isobel Bayes, Cox: Alice Whitmee
4th Geelong College - Bow: Lucy Watts, 2: Emma Carroll, 3: Clem Snell, Str: Indiana Wilkinson, Cox: Emme Smith
5th Wesley College - Bow: Kiara Bakken, 2: Isabella Sallee, 3: Abbey Vicino, Str: Amber Holt, Cox: Marina Elia
Girls Year 10 Coxed Four Division 6
1000m
Final
3:28.81
3:38.98
3:40.85
Final
1st Geelong Grammar - Bow: Olivia Gatenby, 2: Lucia Jenkins, 3: Niah Doward, Str: Zoe Alpherts, Cox: India Sinclair
2nd Geelong Grammar - Bow: Scarlett Mercer, 2: Kiana Kosasi-Papdan, 3: Sienna de Clifford, Str: Saskia Haslau, Cox: Mary Cottell
3rd Caulfield Grammar - Bow: Emily Thompson, 2: Charlotte Bott, 3: Isobel Bayes, Str: Daisy Warburton, Cox: Lucy Hackett
Boys Year 9
Click on the race of interest and the results will appear below the buttons:
Boys Year 9 Coxed Quad Scull Division 1
1000m
Final A
3:18.50
3:24.44
3:29.26
3:30.45
3:31.96
3:34.37
Final B
3:29.19
3:41.16
4:02.58
4:39.05
Final A
1st St Kevin's College - Bow: James Sutherland, 2: James Ragg, 3: Douglas Kerr, Str: Dominic Porteli, Cox: Joseph Williamson, Cch: Mac Matthews
2nd Melbourne Grammar - Bow: Oscar Cheetham, 2: Max Woods, 3: Thomas Conroy, Str: Angus Russell, Cox: Samuel Leviny
3rd Wesley College - Bow: James Archer, 2: Xavier Bamert, 3: George Teague, Str: James Hyde, Cox: Archie Graham
4th Brighton Grammar - Bow: Samuel Linder, 2: Zach Travers, 3: Joe Ramsden, Str: Josh Anson, Cox: Robbie McNaughton Coach: William Lewis
5th Scotch College - Bow: Oliver Knight, 2: Kip Scarborough, 3: Harrison Lodge, Str: William Challingsworth, Cox: Flynn McKenzie
6th Caulfield Grammar - Bow: Ned Smith, 2: James Mariette, 3: Jake Mehl, Str: Curtis Wilkinson, Cox: Samuel Norman
Final B
1st Xavier College - Bow: Ted Hansen, 2: Archie Ralton, 3: Patrick Kenny, Str: Harry Glass, Cox: Alexander Bailey
2nd Geelong College - Bow: Louis Quayle, 2: Alex Hayden, 3: Lachlan Mitchell, Str: Max Morgan, Cox: Ben Hunter
3rd Haileybury College - Bow: Luke Scott, 2: Joshy Haines, 3 : Joshua Lynders, Str: Alexander Kaiser, Cox: Jackson Thorn
4th Carey Grammar - Bow: Lucas Aspromonte, 2: Sam Bavage, 3: Heath Markovic, Str: Edward Anstee, Cox: Oscar Hoath
Boys Year 9 Coxed Quad Scull Division 2
1000m
Final A
3:25.46
3:30.13
3:32.04
3:33.71
3:37.51
3:58.26
Final B
3:51.29
3:59.42
4:11.34
4:24.33
Final A
1st Scotch College - Bow: Finn Moran, 2: Lachlan Fortey, 3: Samuel Manderson, Str: Will Hosking, Cox: Angus Woollard, Cch: Philip Wright
2nd Melbourne Grammar - Bow: Otto Smyth, 2: Jack Peavey, 3: Charlie Leitch, Str: Charles Wake, Cox: Jack De fraga
3rd Brighton Grammar - Bow: Kyle Roos, 2: Harry Newett, 3: Patrick Hanley, Str: Lachie Roberts, Cox: Sidney Bartlett, Cch: Hunter Hilditch
4th St Kevin's College - Bow: Lukas Morfeld, 2: Samson Clifford, 3: Oliver Taalikka, Str: Patrick Murray, Cox: Connor Hayes, Cch: Jessica Canning
5th Xavier College - Bow: Oscar McMillan, 2: Thomas Colgan, 3: William Quinn, Str: Liam Jones, Cox: Freddie Dwyer
6th Caulfield Grammar - Bow: Jake O'Halloran, 2: Ben Weir, 3: William Strangward, Str: Toby Flinkier, Cox: Aidan Robinson
Final B
1st Carey Grammar - Bow: James Condello, 2: William Robertson, 3: Liam Waldron, Str: Harry Clough, Cox: Jamieson Cohen, Cch: Riley Arnold
2nd Geelong College - Bow: Zen Jimmieson, 2: Jack Manderson, 3: Harrison Kamp, Str: Lachlan Anderson, Cox: Edward Kennett
3rd Haileybury College - Bow: Matthew Bourke, 2: Charlie Paynter, 3: Rory Knight, Str: Ashton Hooper, Cox: Benjamin Zerafa
4th Wesley College - Bow: Flynn Collins, 2: Thomas Holden, 3: Jake Jowett, Str: Max Melbourne, Cox: Oscar Smith
Boys Year 9 Coxed Quad Scull Division 3
1000m
Final A
3:43.80
3:46.32
3:50.62
3:53.38
3:56.74
4:06.30
Final B
3:55.53
3:58.21
4:05.57
Final A
1st Brighton Grammar - Bow: Ayden Roos, 2: Spencer Kirkham, 3: Jesse Smith, Str: Lachlan Lewis, Cox: Angus Roberts
2nd Melbourne Grammar - Bow: Peter Morgan, 2: Henry Walters, 3: Nicholas Brown, Str: Sebastian Crozier, Cox: Weizheng Chang
3rd St Kevin's College - Bow: Sidney Wardlaw, 2: Jordan Youssef, 3: Daniel Bafunno, Str: Liam Steinfort, Cox: Luke Canning, Cch: Leonardo Grossi
4th Xavier College - Bow: Hugh Lachal, 2: Nicholas Hankins, 3: Harry Excell, Str: Patrick Roche, Cox: Zane Takla
5th Scotch College - Bow: Nicholas Baring, 2: Alec Sellers, 3: Sami Samiee, Str: Pat Phillips, Cox: Dean Karagounis, Cch: Benjamin Clarke
6th Carey Grammar - Bow: Jonathan Bucknell, 2: Elliot Sinicco, 3: Benji Kentwell, Str: Jonah Williams, Cox: Blake Weymouth, Cch: Luke McVicar
Final B
1st Caulfield Grammar - Bow: Matthew English, 2: Nicholas Carlin, 3: Will Cregan, Str: Quinn Cooper, Cox: Connor Hodgson
2nd Geelong College - Bow: Keiran Lane, 2: Alex Gleeson, 3: Baxter Thomson, Str: Alec Saffioti, Cox: Shannon Fury
3rd Wesley College - Bow: Kip Arthur, 2: Jake Jowett, 3: Josh Pleasants, Str: Hugo Cole, Cox: Henri Musson
Boys Year 9 Coxed Quad Scull Division 4
1000m
Final A
3:34.14
3:44.76
3:46.77
3:51.44
3:55.23
4:17.97
Final B
3:58.38
4:09.63
4:21.85
Final A
1st Scotch College - Bow: Nico Nash, 2: George Clifford, 3: Thomas Schmerl, Str: Lachie Green, Cox: Sebastian Pagnin, Cch: Rainer Gertis
2nd Brighton Grammar - Bow: Jack Harrington, 2: Patrick McConville, 3: Tom Jorgensen, Str: Marnix Ferwerda, Cox: Angus Roberts
3rd Wesley College - Bow: Fred Brewer, 2: Frederick Glynn, 3: Michael Malliaros, Str: Sam Church, Cox: Callum Le Souef
4th Melbourne Grammar - Bow: Christian Speller, 2: Joshua Brown, 3: John Sanderson, Str: Fletcher Teelow, Cox: Jack De fraga
5th Caulfield Grammar - Bow: Rory Upton, 2: Oliver Jackson, 3: Hayden Macphee, Str: Charlie Newport, Cox: Samuel Norman
6th St Kevin's College - Bow: Jett Austin, 2: Luke Clancy, 3: Angus Abbott, Str: Luke Incani, Cox: Alexander Edmonds, Cch: Duncan Eaton
Final B
1st Xavier College - Bow: John Kartanos, 2: Jonty Brunt, 3: Archie Murrihy, Str: Henry MacIsaac, Cox: Joseph Lee-Conway
2nd Carey Grammar - Bow: Derek Ding, 2: Thomas Bubb, 3: Oliver Jeffreys, Str: Avaneesh Kuruparan, Cox: Benjamin Tschilar, Cch: George Blood
3rd Geelong College - Bow: Angus Rudge, 2: Hamish Beach, 3: Jack Sadler, Str: Campbell White, Cox: Hugh Brumby
Boys Year 9 Coxed Quad Scull Division 5
1000m
Final A
3:44.18
3:46.91
3:52.88
3:55.20
3:59.11
4:16.14
Final B
4:05.86
4:13.53
Final A
1st Scotch College - Bow: Cohen Langford, 2: Hugh Rayner, 3: Campbell Read, Str: Max Boykett, Cox: Axel Gertis, Cch: Nicholas Joel
2nd Xavier College - Bow: Harrison Reynolds, 2: Jensen Stewart, 3: Hugh Hickey, Str: Joshua Sprott, Cox: Jamie Chan
3rd Brighton Grammar - Bow: Sam Trainor, 2: Michael Tuim, 3: James Lineham, Str: Bailey McKenzie, Cox: Angus Roberts
4th Melbourne Grammar - Bow: Hunter Pizzey, 2: Matthew Hamilton, 3: George McGirr, Str: Lachlan Houniet, Cox: Jake Marchesan
5th St Kevin's College - Bow: Jack Horton, 2: Joseph Smith, 3: Zach Lukacs, Str: Otis Brooks, Cox: Alexander Grant, Cch: William Lincoln-Price
6th Wesley College - Bow: Josh Allen, 2: Alexander Messina, 3: James Warne-Smith, Str: Woody Wanless, Cox: Gabriel Lukic
Final B
1st Carey Grammar - Bow: Ethan Mian, 2: Alexander Carter, 3: Miles Ardern, Str: Lachlan Wilcox, Cox: Liri Rosano
2nd Caulfield Grammar - Bow: Brian Nguyen, 2: Aaron McIntosh, 3: Tom Moffat, Str: Murphy Reid, Cox: Aidan Robinson
Boys Year 9 Coxed Quad Scull Division 6
1000m
Final A
3:41.87
3:50.42
3:56.45
3:58.83
4:09.12
4:26.92
Final B
4:17.33
4:34.48
Final A
1st Scotch College - Bow: Joshua Symons, 2: Harry Ritchie, 3: Nathan Merigoux, Str: James Talbot, Cox: Will Richards, Cch: William Dixon
2nd Xavier College - Bow: Hamish Baxter, 2: Harper Lack, 3: Lucas Hoang, Str: Christopher Andreou, Cox: Samuel Searle
3rd St Kevin's College - Bow: Vaughn Bodnar, 2: Cooper O'Malley, 3: Thomas Felton, Str: Thomas Lewis, Cox: Matthew Prosser, Cch: Olivia Sargeant
4th Melbourne Grammar - Bow: Nicholas Bottomley, 2: Hunter Holmes, 3: Archibald Stoney, Str: Oliver Jurcevic, Cox: Eric Li
5th Brighton Grammar - Bow: Harvey Stevenson, 2: Arty Woodward, 3: Oscar Goodger-McGrath, Str: Isaac Pels, Cox: Daniel Ward
6th St Kevin's College - Bow: Aidan O'Donnell, 2: Tad Clark, 3: Jett Buckley, Str: Hugo Lourey, Cox: Patrick O'Callaghan, Cch: Jordan Roberts
Final B
1st Caulfield Grammar - Bow: George Batzias, 2: Henry Martino, 3: Toby Dawson, Str: Logan Wilson, Cox: Connor Hodgson
2nd Wesley College - Bow: Brandon Ting, 2: Max Miller, 3: Angus Barry, Str: Ben Kuklych, Cox: Aaron Tantono
Boys Year 9 Coxed Quad Scull Division 7
1000m
Final A
3:51.45
3:54.90
3:56.38
4:02.70
4:04.10
4:07.02
4:08.96
Final B
4:04.48
4:07.52
4:07.99
4:19.64
4:32.94
Final A
1st Xavier College - Bow: Nick Johns, 2: Julian Leon, 3: Charles Anderson, Str: Spencer Mayhew, Cox: Felix Duane
2nd Scotch College - Bow: Nick Heerey, 2: Joshua Watters, 3: Alexander Bruce, Str: Mikey Beaton-Wells, Cox: Emerson Marshall, Cch: Tom McPhail
3rd St Kevin's College - Bow: Lachlan Elliott, 2: Adam Scira, 3: Gianni Di Conza, Str: Jed Mitchell, Cox: Luca Zeccola, Cch: Camilla Baxter
4th Scotch College - Bow: Benjamin Ang, 2: Max Skinner, 3: Tarkan Kaya, Str: Edward Aunger, Cox: Andrew Markakis
5th Brighton Grammar - Bow: Jarvis Rowe, 2: Fletcher Brougham, 3: Flynn Dorgan, Str: Archie Ludowyke, Cox: Alan Ji
6th Melbourne Grammar - Bow: Alexander Grant, 2: Brandon McMahon, 3: Thomas Dixon, Str: Harrison Williams, Cox: Zac O'Meara
7th Xavier College - Bow: Oscar Postregna, 2: Theodore Schlicht, 3: Maximillian MacIsaac, Str: Rory Hogan, Cox: Hayden Hodgers
Final B
1st St Kevin's College - Bow: Oliver Blazevic, 2: Alexander Hill, 3: Jack Fennell, Str: Eric Wiseman, Cox: Augustine Glass, Cch: Jarrod Nolan
2nd Scotch College - Bow: Jonathon Iser, 2: Viv Sallabank, 3: Daniel Crowe, Str: Archie Motteram, Cox: Juniel Mayson, Cch: Thomas Lempriere
3rd Melbourne Grammar - Bow: Hamish Crawshay, 2: Ryan Plunkett, 3: Harry Lavelle, Str: Liam Hector, Cox: Jake Marchesan
4th Melbourne Grammar - Bow: Haiteng Xia, 2: Charlie Yuen-Williamson, 3: Hugo Chang, Str: Zirui Xu, Cox: Samuel Leviny
5th Brighton Grammar - Bow: Charlie Carmichael, 2: Oliver Smith, 3: Daniel Ward, Str: James Arnold, Cox: Tom Fischer
Boys Year 9 Coxed Quad Scull Division 8
1000m
Final A
4:03.00
4:03.51
4:03.92
4:05.43
4:10.76
4:16.38
Final B
4:08.52
4:09.06
4:13.90
4:14.64
4:36.13
SCR
Final A
1st Scotch College - Bow: Davey Swan, 2: Felix MacDonald, 3: Hugh Wettenhall, Str: Ben Poppenbeek, Cox: Will Moss
2nd Melbourne Grammar - Bow: Thomas Mitsikas, 2: Joe Zayontz, 3: Toby Williams, Str: Miles Pappas, Cox: Samuel Leviny
3rd Melbourne Grammar - Bow: Charles Payne, 2: Tom Sangster, 3: Anthony Savas, Str: Zhengjie Zhong, Cox: Jack De fraga
4th Xavier College - Bow: Andrew Punt, 2: Cian Commane, 3: Ethan Brown, Str: Bill Robertson, Cox: Callum Lawrence
5th Brighton Grammar - Bow: Harry Denning, 2: Charlie Sayer, 3: Bryn Cory, Str: George Gill, Cox: Robbie McNaughton
6th St Kevin's College - Bow: George Karpathakis, 2: Joseph Schickerling, 3: Harry Paterson, Str: Zachary Smith, Cox: Nathan Morgan, Cch: Tallulah Frigo
Final B
1st St Kevin's College - Bow: Orlando Strahan, 2: Joel Brooks, 3: Samuel Pitot, Str: Riley Pisano, Cox: William Macarthur, Cch: James McBurnie
2nd Xavier College - Bow: Sebastian Dowling, 2: Thomas Callahan, 3: Melchior Wellink, Str: Andrew Thomson, Cox: Blaise Cameron
3rd Scotch College - Bow: Nicholas Wong, 2: Lachlan Woollard, 3: Henry Longbottom, Str: Alexander Iser, Cox: George Simmons
4th Scotch College - Bow: Darcy Moloughney, 2: Ned Cox, 3: Harry Cohen, Str: Matthew Veld, Cox: Maxwell Findlay
5th Scotch College - Bow: Nicholas Luscombe, 2: Xavier Higgins, 3: David Aziz, Str: Andrew Georgaklis, Cox: Adrian Marro, Cch: Nick Finster
Scotch College - Bow: Cooper Phillpot, 2: Harry Gates, 3: Charles King, Str: Alexander Graham, Cox: Flynn McKenzie
Boys Year 9 Coxed Quad Scull Division 9
1000m
Final A
4:04.68
4:12.35
4:17.26
4:20.09
4:25.47
4:27.92
Final B
4:31.35
4:52.59
5:40.74
SCR
Final A
1st St Kevin's College - Bow: Nicholas Jones, 2: John Williams, 3: Hamish O'Brien, Str: Noah D'Cruz, Cox: Joshua Verner, Cch: Luke Agostinelli
2nd Melbourne Grammar - Bow: Charles Wetenhall, 2: Andre Mamet, 3: Daniel Lunnie, Str: Miles Conway, Cox: Zac O'Meara
3rd Xavier College - Bow: Nizar Ziada, 2: Dom Moylan, 3: Samuel O'Brien, Str: Julius Zelder, Cox: Marcello Godino
4th St Kevin's College - Bow: Bailey McKay, 2: Rudy Byass, 3: Dixon Bainbridge, Str: Luke Lyons, Cox: Samuel Davis, Cch: Henry Piner
5th Brighton Grammar - Bow: Sebastian Fyfe, 2: Ben Murphy, 3: Tom Trist, Str: Sebastian Naccarella, Cox: Angus Roberts
6th Wesley College - Bow: Hamish Purdie, 2: Damian Spasovski, 3: Tate Downes, Str: Augusto Berelov, Cox: Aidan Burgher
Final B
1st Melbourne Grammar - Bow: Eric Ye, 2: Hugh Hamilton, 3: Paris Grosso, Str: Joshua O'Meara, Cox: Jake Marchesan
2nd Geelong Grammar - Bow: Rupert Smith, 2: Ziggy Plummer, 3: Flynn Dickson, Str: Digby Boileau, Cox: William Crawford
3rd Geelong Grammar - Bow: Rory McKinnon, 2: Edward Tonkin, 3: Charles Aponso, Str: Izaac Wicks, Cox: Jimmy Wright
Caulfield Grammar - Bow: James Carnegie, 2: Lachlan Turner, 3: Julian Sudarski, Str: Alzander Cameron, Cox: Samuel Norman
Girls Year 9
Click on the race of interest and the results will appear below the buttons:
Girls Year 9 Coxed Quad Scull Division 1
1000m
Final
3:56.10
4:07.03
4:11.06
4:18.68
4:23.05
Final
1st Caulfield Grammar - Bow: Sophie Balis, 2: Sophie Osmond, 3: Siena Farrell, Str: Holly Smith, Cox: Abbey Mullen
2nd Geelong College - Bow: Sophie McLellan, 2: Lili Batrouney, 3: Eden Nadorp-Goddard, Str: Poppy Flanagan, Cox: Claudia Hutchings
3rd Haileybury College - Bow: Tessa Searle, 2: Keira Melnikov, 3: Vivien Robinson, Str: Alexandra Calogero, Cox: Imogen Ballis
4th Carey Grammar - Bow: Lucy Wynne, 2: Chiara Cattapan, 3: Sarah Poustie, Str: Charlie Barker, Cox: Ilyana Maraskovsky, Cch: Robert O'Neill
5th Wesley College - Bow: Zoe Freemantle, 2: Meredith Holden, 3: Lola Gorton, Str: Caitlin Woods, Cox: Imogen Labbett
Girls Year 9 Coxed Quad Scull Division 2
1000m
Final
4:10.74
4:11.16
4:14.31
4:18.47
Final
1st Caulfield Grammar - Bow: Amelia Griffith, 2: Charley Ansell-Jones, 3: Alice Gilbert, Str: Bella Vanzo, Cox: Jessie Broshi
2nd Geelong College - Bow: Jessamy Bennett, 2: Phoebe Knight, 3: Annabelle Hutchings, Str: Sara Howley, Cox: Ella Gait
3rd Wesley College - Bow: Ebony Harridge, 2: Ella Davy, 3: Holly Thomas, Str: Lily Zanchi, Cox: Isabelle Statkevitch
4th Carey Grammar - Bow: Caitlin Souter, 2: Amelia Layton, 3: Madeline Davidson, Str: Gabi Price, Cox: Maie Baxter, Cch: Ines McKay
Girls Year 9 Coxed Quad Scull Division 3
1000m
Final
4:10.05
4:11.00
4:11.41
4:24.00
Final
1st Wesley College - Bow: Bonnie McGuire, 2: Phoebe McAllan, 3: Sabine Way, Str: Luca Elliot, Cox: Imogen Labbett
2nd Geelong College - Bow: Leila Squires, 2: Sienna McArdle, 3: Amy Lawson, Str: Stella Benson, Cox: Genevieve Dennis
3rd Caulfield Grammar - Bow: Chloe Biesse-Leong, 2: Isabel Middleditch, 3: Kaitlin Roode, Str: Ruby Hyatt, Cox: Lucy Hackett
4th Carey Grammar - Bow: Emma Coleman, 2: Hazel Maloney McCall, 3: Alexia Livadaras, Str: Sasha Carroll, Cox: Jessica Newnham
Girls Year 9 Coxed Quad Scull Division 4
1000m
Final
4:14.39
4:21.30
4:28.63
4:37.59
Final
1st Wesley College - Bow: Veronica Goulko, 2: Riya Naidu, 3: Chilli Schmidt, Str: Aurora Sliwinski, Cox: Isabelle Statkevitch
2nd Caulfield Grammar - Bow: Alannah Hehir, 2: Arabella Spraggett, 3: Bailey Loetje, Str: Mia McArdle, Cox: Kiki Stevens
3rd Geelong College - Bow: Eliza Savvides, 2: Olivia Wynhoven, 3: Lulu Joske, Str: Abigail Ramsey, Cox: Audrey Jansz
4th Carey Grammar - Bow: Madison Coleman, 2: Taya Wagner, 3: Maya Seabury, Str: Matilda Thomas, Cox: Sasha Dickson
Girls Year 9 Coxed Quad Scull Division 5
1000m
Final
4:12.36
4:16.74
4:29.57
4:48.15
Final
1st Wesley College - Bow: Olivia Nicholson, 2: Jasmine Barrett-Judd, 3: Jemimah Murray, Str: Zara Pinan, Cox: Lola Nelson Alush
2nd Carey Grammar - Bow: Zara Woodrup, 2: Zoe Kendall, 3: Ella Blake, Str: Arielle De Highden, Cox: Miette Harcourt
3rd Caulfield Grammar - Bow: Mia Kirkham, 2: Katie Clark, 3: Morgan Hughes, Str: Victoria Gigliotti, Cox: Keira Price
4th Geelong College - Bow: Claire Chisholm, 2: Jemima Harris, 3: Matilda Daffy, Str: Ashleigh Fury, Cox: Clementine Tyrrell
Girls Year 9 Coxed Quad Scull Division 6
1000m
Final
4:16.03
4:23.91
4:25.42
4:39.21
Final
1st Wesley College - Bow: Annabel Major, 2: Milla Menegazzo, 3: Amali Burke, Str: Stella Jackson, Cox: Olivia Brindley
2nd Caulfield Grammar - Bow: Milla Pearce, 2: Zoe Farrell, 3: Emma Rundle, Str: Charlize Mcrae, Cox: Ella Middleditch
3rd Carey Grammar - Bow: Amelia Wedd, 2: Lucy Bergelin, 3: Anna You, Str: Lola Dimitropoulos, Cox: Maie Baxter
4th Geelong College - Bow: Sophie Vorrath, 2: Emily Foot, 3: Arabella McColl, Str: Emma Newman, Cox: Maeve Cornford
Girls Year 9 Coxed Quad Scull Division 7
1000m
Final
4:24.06
4:24.83
4:28.95
4:35.74
5:05.87
Final
1st Geelong Grammar - Bow: Leonie Kosasi-Papdan, 2: Eliza Clancy, 3: Georgie Backwell, Str: Manon Pirenc, Cox: Cate Blyth
2nd Carey Grammar - Bow: Mila Riquier, 2: Hannah Warmbrand, 3: Charlotte Onslow, Str: Lani Sutherland, Cox: Jessi Bartlett
3rd Wesley College - Bow: Lucy Schuppan, 2: Grace Schroder, 3: Sybilla Wight, Str: Kara Villella, Cox: Marina Elia
4th Caulfield Grammar - Bow: Claudia Kaye, 2: Lily Wenk, 3: Pepa O'Shea, Str: Lily Cahill, Cox: Abbey Mullen
5th Geelong College - Bow: Tilly Taylor, 2: Issey Kendall, 3: Brooke Ellis, Str: Kaitlin Russell, Cox: Lucy McMahon
Girls Year 9 Coxed Quad Scull Division 8
1000m
Final
4:34.49
4:45.08
4:56.83
SCR
Final
1st Geelong Grammar - Bow: Eda Philip, 2: Paige a'Beckett, 3: Charlotte Bate, Str: Sofia Knight, Cox: Zoe Naylor
2nd Carey Grammar - Bow: Imogen Cowley, 2: Portia Antippa, 3: Aisha Whiteley, Str: Chloe Davies, Cox: Lucy Searle
3rd Caulfield Grammar - Bow: Sophie Anders, 2: Mia Nikolakakis, 3: Emma Rose, Str: Ella Stuart, Cox: Amiel Margis
Wesley College - Bow: Tia Pharonides, 2: Millie Jones, 3: Keira McGauchie, Str: Tessa Zhou, Cox: Indigo Walker
Girls Year 9 Coxed Quad Scull Division 9
1000m
Final
4:28.66
4:30.03
4:35.43
4:56.04
5:19.71
Final
1st Caulfield Grammar - Bow: Lilli Flintoft, 2: Sophie Carter, 3: Keira Price, Str: Eliza Read, Cox: Cassandra Barker
2nd Caulfield Grammar - Bow: Ava Tsiakis, 2: Jasmine Conrad, 3: Olivia Andrew, Str: Zara Nikakis, Cox: Jessie Broshi
3rd Carey Grammar - Bow: Anneke Bray, 2: Alannah De Cesare, 3: Beth Lansfield, Str: Audrey Hand, Cox: Maie Baxter
4th Wesley College - Bow: Stella Levin, 2: Rose Qureshi, 3: Taya Smoli, Str: Keira McGauchie, Cox: Joy Umansky
5th Geelong Grammar - Bow: Lucia Church, 2: Emily Crawford, 3: Mannix Aurisch, Str: Ruby Vidotto, Cox: Abbey Adams
Sources
Regatta Manager system for results
Regatta program