1951 Head of the River
The eighty-fourth Head of the River was conducted on 20th & 21st April on the Barwon.
Scotch won their heat in record time but did not have it all their own way in the final. They were pushed well by Wesley to win by only half a length. Geelong Grammar tried a last minute seating change between 5 and 7 seats.
Geelong College lost their heat to Wesley by only three feet in a superb race. Wesley started well and moved out ro a length in front. At the mill, the Wesley crew struck some stroke side problems enabling Geelong College back into the race. The finish line could not have come any sooner for Wesley as Geelong nearly caught them.
The other heat was not without problems also. Melbourne Grammar six man caught some bad water losing his oar and almost himself out of the boat. Xavier took full advantage of the situation but by the mill the crews were back level. Xavier had a good sprint in reserve and took off to win by 1/3 length.
The crews contained some interesting rowing people again this year with future Australian oarsman, Olympic bronze medallist, Australian coach and future successful first crew coach David Boykett in the winning Scotch crew. The Geelong College crew was stroked by James Howden, a future bronze medallisy at the Olympic Games and future Australian Chairman of Selectors. The same crew also contained Michael Aikman as mention in the 1950 report.
Index to Results:
Scotch College won the hat trick of events on the program winning the first, second and third eights.
---
Time: 4:43.0
Margins: 2 lengths and 2 lengths
Losers final
Time: 4:49.4.8
Margins: 1 foot and 1 1/4 lengths
1st Scotch College - Bow: Barry J Shepherd, 2: Michael R Wood, 3: Robert G M Yorston, 4: David M Thyer, 5: John D Scarborough, 6: David H Boykett, 7: John W A Dartnell, Str: Geoffrey N J Anderson, Cox: Richard G Hyett, Cch: Charles G Saleh
2nd Wesley College - Bow: J C Morrison, 2: N F Algie, 3: D W Davy, 4: B M Thompson, 5: J P hall, 6: R P Quirk, 7: N Sutherland, Str: P M Parkinson, Cox: E A Marsh, Cch: Alan W Mitchell
3rd Xavier College - Bow: R JBorghesi, 2: J K Sullivan, 3: J R Anderson, 4: A J Healy, 5: A E Sullivan, 6: W M Somerville, 7: J R Mulcahy, Str: Luis C Souxa, Cox: J R Petty, Cch: Jack Coghlan
The Age reported: Wesley took a canvas lead over Scotch in the start but the cardinals quickly made it up with four hard strokes and swung out to gain a three-quarters length lead.
Round the bend Scotch kept their advantage on the purple and gold eight, with Xavier dropping back.
Past the mill, Scotch jumped the rating from 37 to 40. A sprint by Wesley gained them a quarter length but they faded 100 yards from the post.
Photo: The Scotch Collegian May 1951
Losers Final:
1st Geelong Grammar - Bow:G S Bennett, 2: J B Roxburgh, 3: H W Hopkins, 4: W Ian Wilson, 5: J A Smeeton, 6: S N Johns, 7: M S Inglis, Str: J W Gubbins, Cox: D C Goss, Cch: John E L Barber
2nd Geelong College - Bow: L D Moore, 2: K D McNaughton, 3: C S Baird, 4: B L Cole, 5: A Michael H Aikman, 6: W B Hodgson, 7: J G Gibb, Str: James G Howden, Cox: I T Sutherland, Cchs: Albert B Bell and D R Salmon
3rd Melbourne Grammar - Bow: C R Adams, 2: R B Gowan, 3: W B Capp, 4: F S Grimwade, 5: E S Millear, 6: J A Day, 7: K H A Levi, Str: D A Saw, Cox: D H Greig, Cch: Walter N Ricketts

Heat results:
E1: 1st SC, 2nd GGS, Margin 1 1/4 lengths and broke course record in 4:39.4
E2: 1st WC, 2nd GC, Margin 2 feet, Time: 4.44.2
E3: 1st XC, 2nd MGS, Margin: 1/3 length, Time: 4:53.4
Time: 2:30.0
Margin: 2 feet
Losers final
Time: 2:32.0
Margins: canvas and 1/4 length
1st Scotch College - Bow: V S Griffin, 2: G S day, 3: G S Fraser, 4: H A C Falconer, 5: W H P Ham, 6: W O Roberts, 7: R N Fleming, Str: L D Fisher, Cox: J M H Aitkin, Cch: A W L Mitchell
2nd Wesley College
3rd Geelong College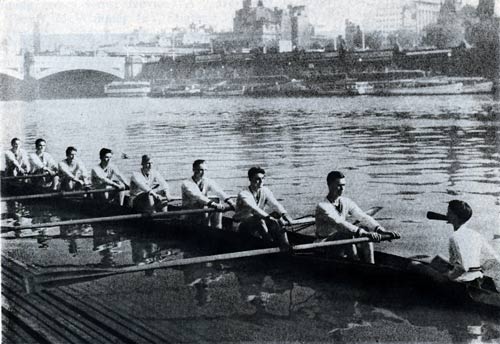 Photo: The Scotch Collegian May 1951
Losers Final
1st Xavier College - Bow: B O'Halloran, 2: J Petty, 3: K Adamson, 4: M Doyle, 5: R Galbraith, 6: F Donovan, 7: R O'Bryan, Str: B Lynch, Cox: P Hoppe, Cch: K Corridon
2nd Melbourne Grammar
3rd Geelong Grammar
Heats:
E1: 1st GC, 2nd GGS, Time: 2:28.2, Margin: 2 lengths
E2: 1st WC, 2nd MGS, Time: 2:24.8, Margin: 1/2 length
E3: 1st SC, 2nd XC, Time: 2:30.0, Margin: 3 lengths
Time: 2:30.0
Margins: 1 1/4 lengths and 3/4 length
Losers final
Time: 2:33.8
Margin: 1/2 length
1st Scotch College - Bow: R J Grant, 2: J B McK Ross, 3: I A Paterson, 4: A M O Wardrop, 5: C D Loosemore, 6: J S Lawson, 7: A D M Green, Str: C R Wood, Cox: A E Wood, cch: L H Christie
2nd Geelong College
3rd Geelong Grammar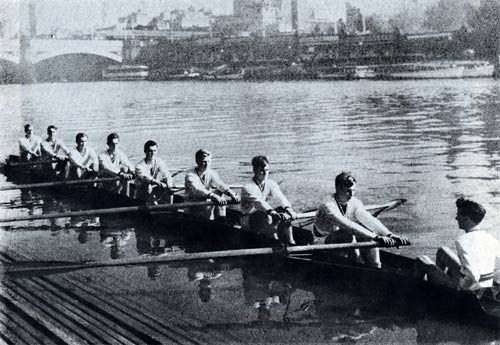 Photo: The Scotch Collegian May 1951
Losers final
1st Wesley College
2nd Xavier College
3rd Melbourne Grammar
Heats
E1: 1st SC, 2nd MGS, Time: 2:31.6, Margin: 3/4 length
E2: 1st GGS, 2nd WC, Time: 2:32.0, Margin 2 lengths
E3: 1st GC, 2nd XC, Time: 2:31.4, Margin: 1 3/4 length
---
Sources
The Pincott Club Handbook 2006
Lift her home to victory, lads! A centenary history of Xavier College 1906-2006 by Michael Lefebvre
Appendix to A Deepening Roar Scotch College 1851-2001 by James Mitchell, Allen & Unwin 2001
Scotch Collegian Magazines
The Age Monday 23 April 1951 page 16 - nla.gov.au/nla.news-article206381077
Geelong Grammar Year Books
Lift her Home to Victory Lads - a Centenary History of Xavier Rowing by Michael Lefebvre