1907 Head of the River
The fortieth Head of the River was conducted on the Upper Yarra course, from the Botanical Gardens Bridge to a point near Princes Bridge.
The heats were again conducted on the Friday and a two crew final on Saturday. The race was still conducted in October as the move to the summer months was yet to occur.
It was the first time that Scotch had won the race since it had been conducted in eights in 1901.
Scotch defeated the inexperienced and far smaller Xavier crew in the heat. Xavier had a half day holiday for the school to attend the race.
---
Officials
Starter: T Davies
Umpire: John Lang
Judge: T G Watson
---
Head of the River
Time: 5:35
Margin: 2 lengths
1st Scotch College - Bow: John Gray, 2: Ashley R Grist, 3: James O Robertson, 4: Olaf F de Lacy, 5: Frank O Robertson, 6: Alexander M Robertson, 7: Arthur D Robertson, Str: Howard C Morrison, Cox: Alexander E Morrison, Cch: Alexander B Sloan. Average: 11st 10 1/4 lb
2nd Geelong Grammar - Bow: K G Aberdeen, 2: A G Hunter, 3: E L Smith, 4: J E Roe, 5: W H Godby, 6: A B Hearn, 7: A F S Dobson, Str: G H Patterson, Cox: R Featherstonhaugh, Cch: Maj A F Garrard. Average: 11st
SC led from the start and gradually drew ahead throughout the race despite GGS spirts.
The Age reported on the final as follows:
As the two crews rowed leisurely up stream to the starting point every person in the crowd was forming an opinion as to the probable result of the race. The popular fancy was evidently Geelong. The crew had been well tried in its preliminary heat, and had proved its quality, whilst Scotch College was looked on as an unknown quantity. With the wind blowing strong from the south-west the water in the last straight was tossing, and Geelong, with the north Station, had thus to face all the worst of the last long bend. Notwithstanding this ' it was confidently stated that the crew had experienced rough weather for its training on the Barwon, and old boys with sportive Inclinations surreptitiously offered odds-on Geelong. As the heavier crew, however, the Scotch College had many supporters, especially among those who had watched their splendid work in training.
The race was as good as won before it was half through. Scotch College got away to a splendid start, and they led after the first three strokes. Geelong had to make a slight detour to avoid a steamer standing near the bank, and they were half .a length behind at the first bend. Both crews were rowing splendidly, with clean, and even blades, but Scotch weight told every time. From the Temple of the Winds to Brander's Scotch gained another half-length. Coming along the long straight the lead was further increased, Scotch rowing 35 to the minute and Geelong 37. With the difficult bend in front of them Geelong were in a bad position, but as they reached the turn, with Scotch loading by a length and a half, they made a plucky spirt. Patterson lengthened, and the crew gamely responded, but there was too much leeway to make up and too little dash left in the crew. Scotch shook off their opponents and still rowing strongly passed the judge's line a clear two lengths ahead. As the crews rested on their oars after the struggle, they were cheered time and again. They deserved it, for the rowing was up to the highest standard of the schools, and the time, 5 mins. 35 sec., was excellent for the conditions. The Scotch boys and their coach, Mr. A. B. Sloan, are to be congratulated on an excellent and well merited win, and the Geelong boys on their game and plucky rowing. It is but fair to add that Geelong had a heavy, tiring struggle in their heat on Friday Mr. T. Davies officiated as starter, and Mr. T. G Watson as judge. .The umpire, Mr. J. Lang, followed the race in a motor launch lent by Mr. E. L. Flack.

Other crews competing:
Xavier College - Bow: T J O'Brien, 2: H G Caulfield, 3: C F MacGillicuddy, 4: E M Whitty, 5: S M Alston, 6: I J Whitty, 7: R P MacGillicuddy, Str: Gordon T Kirby, Cox: A G Cussen, Cch: Alfred Scarlett. Average: 9st 9lb
Melbourne Grammar - Bow: J F Herring, 2: G Ross-Soden, 3: S J Gardiner, 4: A F Jolley, 5: A A Gunnerson, 6: Clive Latham Baillieu, 7: D G Evans, Str: R W Cresswell, Cox: L Heath, Cch: Messrs James McFarlane and A J Evans. Average 11st 4lb
Wesley College - Bow: L Levy, 2: H Moran, 3: J Doubleday, 4: J A Prout, 5: J D Newham, 6: N S Walker, 7: G Richards, Str: C J Dawes, Cox: S C Carter, Cch: Charles Donald. Average: 10st 10lb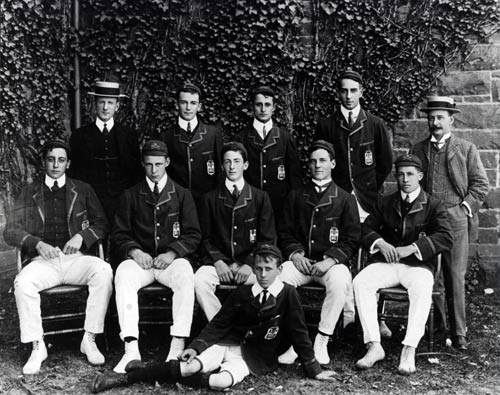 Photo reproduced with permission from MGS archives
Heat results:
E1: 1st GGS, 2nd WC, 3rd MGS. Time: 5:59. Margins: 1/3 length and 1 length. GGS won after a great struggle with both WC and MGS. The chances of MGS were spoiled by a crab.
E2: 1st SC, 2nd XC. Margin - 2 1/2 lengths.
The Age reported on the heast as follows:
The first heat produced a magnificent race. Wesley College, with a crew lighter than it had had for 10 years, but confident, had the north station. Geelong Grammar School was in the centre, and Melbourne Grammar, the heaviest of the three crews, had the south station, which is preferred by most Yarra oarsmen. Rowing up Geelong boys were the first out, and, their regular, rather short stroke, was greatly admired on they swung up the river. Wesley College and "Grammar" also had ovations, and the crowd settled down to wait the return. At the Monier-bridge— the starting point— Mr. T. Davis got the three crews away with a good start.-- The pace was quick, each crew rowing about 42 strokes to the minute. By the first bend Wesley had crept ahead, and "Grammar" were getting behind Geelong, the bend placing them at a disadvantage. With a quarter mile gone Wesley were half a length ahead, with Geelong 30 feet in front of "Grammar." Up the long straight the Wesley crew, with a long, heavy stroke, slowly increased its lead. The Wesley boys were rowing 35 to the minute, Geelong boys 37 and the Melbourne Grammar boys, settling down to solid, slow rowing, 33 to the minute. At Brander's Ferry Wesley were a good length to the good, with Geelong still second and Grammar another canvas behind. Before Engineers' Corner Wesley made a tactical mistake. The cox led out towards the north bank and lost ground, while Grammar commenced to gain steadily on Geelong. Rounding the corner with the indication flags, turning Into the last straight, Wesley were just leading from Melbourne Grammar, with Geelong half a length behind. It looked a win for "Grammar," finishing strong with the advantage of the bend, but the three boats were locked together, and the cheers became deafening. "Grammar" met with calamity, No. 5 catching a crab, and No. 7 losing his stroke in consequence. The crew stopped, and as it took some seconds to recover, it dropped out of the running; Patterson lengthened the Geelong stroke, and, with fine judgment brought his crew steadily past Wesley. Geelong took the lead 150 yards from home. Both crews ' went at it hard, but the Geelong boys had more left in them, and won a fine race by a third of a length, and with Melbourne Grammar about a length behind Wesley, The Geelong boys, who were coached by Mr. A. F. Garrard, rowed with perfect timing. Influenza had left two weak spots in the Wesley crew. Wesley were coached by Mr. C. Donald, and Melbourne Grammar by- Mr. J. McFarlane. The unofficial time given was 5 mins. 59 sec
In the second heat, Scotch College, one of the heaviest public school crews seen on the Yarra, had an easy win over Xavier College. The latter school joined in the rowing races only last year. Their boys performed creditably for so young and light a crew, but they were no match for their heavy opponents. After a good start, Scotch, gaining immediately, settled down to a steady 32 per minute. They led by three-quarters' of a length at the first bend, two lengths turning into the last straight, and finished easily with an advantage of 2 and half lengths. The Xavier work was ragged at the second bend, but their finish was game. They were coached -by Mr. A. Scarlett, and Scotch, whose strong rowing was admired, by A.B. Sloan

---
Sources
1907 program
The Victorian Oarsman by John Lang 1919 - A H Massina & Company
Lift her home to victory, lads! A centenary history of Xavier College 1906-2006 by Michael Lefebvre
The Pincott Club Handbook 2006
MGS first crew names from MGS boatshed
Appendix to A Deepening Roar Scotch College 1851-2001 by James Mitchell, Allen & Unwin 2001
PUBLIC SCHOOL ROWING. (1907, October 12). The Age (Melbourne, Vic. : 1854 - 1954), p. 16. Retrieved February 19, 2017, from http://nla.gov.au/nla.news-article205007924
"HEAD OF THE RIVER." (1907, October 14). The Age (Melbourne, Vic. : 1854 - 1954), p. 5. Retrieved February 20, 2017, from http://nla.gov.au/nla.news-article205011310