2011 APS Head of the River
The 144th boys Head of the River and the 31st girls Head of the River were conducted on Saturday 2nd April 2011 at Nagambie Lakes. The weather was appropriate with sun and a mild cross head wind.
The format for the senior crews was just heat and final with the heats seeded from the Scotch Mercantile Regatta. Similarly, the junior crews were finals based on the Scotch Mercantile results.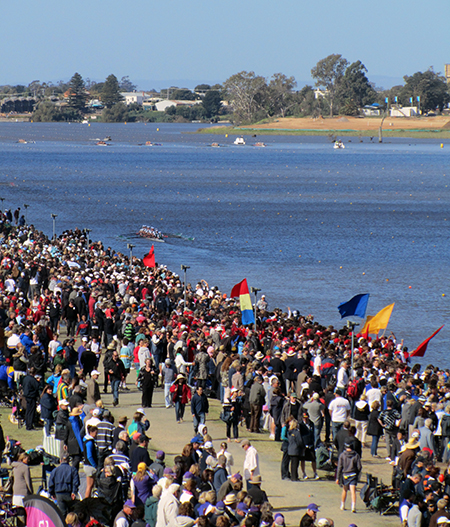 Crowd scene during the final of the Schoolgirl open eight
In excellent racing, Scotch College won the boys Head of the River and Geelong Grammar the girls. The biggest margins of the day were Geelong Garmmar's win the girls' second eights, and Scotch College's wins in the second and year 10 A eights.
---
Officials
Regatta Manager: Luke Soulos
Regatta Secretary: Alice B Evans
Broadcaster: Roger B Wilson
Adjuvants: Maurice B Brown and Frank C Covill
Referee: Andrew N Guerin
Jury: Eric Waller, William Webster, Lesley Skevington, Robin Murphy, Ron Widgery, Greg Falk, Peter Darbyshire, Graeme Boykett, Phil Reynolds
Committee: N A Gibbons MGS (Chair, boys), P J La Cava GGS (Chair, girls), B F Matthews BGS, P A Jepson Carey, D W Meyer, C J Rowland Caulfield, M D Cheatley, P Porter GC, G D Schneiders, E G Lewin Haileybury, J R Davenport SKC, R J McLaren SC, P B Hawkins, J L Mitchell, S E Nairn WC, C J Matthews XC.
Boys Open & Year 10
Click on the race of interest and the results will appear below the buttons:
Boys Head of the River
2000m
6:32.96
6:35.43
6:35.92
6:44.46
6:52.62
6:53.71
B Final
NTT
1st Scotch College – Bow: M Caldwell, 2: N Lee, 3: A Strathmore, 4: B Stops, 5: A Brown, 6: J Croxford, 7: M Douglas, 8: A Jelbart, Cox: S Sim, Cch: T Woodruff
2nd Melbourne Grammar – Bow: P Feaver, 2: E Northrop, 3: M Panton, 4: J Robinson, 5: H Bongiorno, 6: J Benjamin, 7: J Kelly, 8: H May, Cox: A Smith, Cch: N Lloyd
3rd Geelong Grammar – Bow: W Holmes, 2: I Cameron, 3: T Vickers-Willis, 4: W Beasley, 5: M Hill, 6: E O'Reilly, 7: B Nielsen, 8: H Baylis, Cox: A Yabsley, Cch: J Watt
4th Xavier College – Bow: J O'Sullivan, 2: H Denton, 3: S Gange, 4: H Davies, 5: J Resic, 6: J Izydorczyk, 7: L Wright, 8: M Henderson, Cox: D Anderson, Cch: S Harrison, J Whitehead
5th Wesley College – Bow: C Williams, 2: F Blair, 3: E Niteros, 4: J Hetzel, 5: T Kenyon-Smith, 6: C Mark, 7: J Kenyon-Smith, 8: D Holdsworth, Cox: T Benjamin, Cch: S Booth
6th Haileybury College – Bow: S Howard, 2: T George, 3: J Fisher, 4: L Albury, 5: T Campelj, 6: W Brayshaw, 7: B Cook, 8: M Mitchell, Cox: A Nicolette, Cch: M Doyle
B-Final
1st St Kevin's College – Bow: C Grace, 2: N Sanders, 3: A Gook, 4: S Walsh, 5: L Donald, 6: M Smith, 7: H Shirer, 8: M McBride, Cox: C Martin, Cch: P McGann
2nd Brighton Grammar – Bow: D Anderson, 2: B Stonier, 3: L Milner, 4: R Holding, 5: M Powell, 6: B Johnson, 7: H Johnson, 8: P Redhead, Cox: C Cunningham, Cch: S Gadsden
3rd Caulfield College – Bow: R Gigacz, 2: S Tangey, 3: J Brand, 4: S Meads, 5: F Cooper, 6: B Tan, 7: R Breeze, 8: T Wren, Cox: J Cross, Cch: O Dutton-Schwietert
4th Geelong College – Bow: T Morrison, 2: A Derksen, 3: A White, 4: J McGlade, 5: D Ross, 6: A Widdicombe, 7: N Walsh, 8: C Williams, Cox: C Flynn, Cch: N Myers
5th Carey Grammar – Bow: H Maxwell, 2: F Cole, 3: A Martin, 4: L Andrianakis, 5: P Dale, 6: F Cator, 7: P Cremean, 8: S Cohen, Cox: S Karras, Cch: C Adrians, S Jackson
Boys Second Eight
2000m
6:37.53
6:48.43
6:53.00
7:00.53
7:09.31
7:15.46
B Final
7:13.54
7:17.62
7:30.75
7:32.95
1st Scotch College – Bow: A Karklins, 2: G FitzPatrick, 3: T Havea, 4: W Richards, 5: C Lockwood, 6: J Tivey, 7: C Dixon, 8: T Duffy, Cox: W Bartley, Cch: J Adams
2nd Melbourne Grammar – Bow: H Berry, 2: G Johnstone, 3: C Cooke, 4: C Nott, 5: M Wicks, 6: F Garner Davis, 7: L Prendergast, 8: J Morrison, Cox: M Bills, Cch: B Jenkins
3rd St Kevin's College – Bow: W Doble,2: M Portelli, 3: L Utri, 4: J Guinane, 5: D Holland, 6: E Poynton, 7: M McFarlane, 8: C McDonald, Cox: W Gallagher, Cch: R Manning
4th Geelong Grammar – Bow: J Kincaid, 2: J Laidlaw, 3: C Coburn, 4: J Anderson, 5: J George, 6: D Sanchez, 7: W Calvert-Jones, 8: C Tomczak, Cox: E O'Beirne, Cch: P Gardiner
5th Brighton Grammar – Bow: J Selleck, 2: B Miller, 3: J Keast, 4: F Boxtel, 5: R Dawes, 6: K Kempster, 7: Z Miller, 8: P Clapp, Cox: P Vella, Cch: M Keen
6th Geelong College – Bow: B Nott, 2: A Nicholson, 3: C Wishart, 4: M Perkins, 5: K Salathiel-Dyke, 6: J Steel, 7: J Landy, 8: B Morgan, Cox: H Chirnside, Cch: S Chirnside
B-Final
1st Xavier College – Bow: L Baynes, 2: T Delaney-Small, 3: N Kostos, 4: C Margin, 5: B Vaughan, 6: D McKay, 7: B Steedman, 8: M Elliot, Cox: M Bennett, Cch: J Sadler
2nd Wesley College – Bow: C Kipouridis, 2: D Reddi Coronell, 3: S Hobbs, 4: D Pollaers, 5: D Gorton, 6::S Sabbatucci, 7: L McGeehan, 8: M Goodwin, Cox: H Richmond, Cch: Z Smith
3rd Caulfield Grammar – Bow: M Stolzenburg, 2: M Purcell, 3: T Mudra, 4: M Stracke, 5: A Prokop, 6: S Wilson, 7: T Vandertop, 8: S Dube, Cox: D Silcock, Cch: A Playsted
4th Carey Grammar – Bow: C Cousins, 2: J McBean, 3: M Omond, 4: S Fotheringham, 5: P Fitton, 6: J Hall, 7: C Hay, 8: J Thyer, Cox: L Di Nello, Cch: L Fotheringham
Boys Third Eight
7:10.13
7:13.74
7:18.22
7:35.02
7:48.60
8:01.62
B Final
NTT
1st Geelong Grammar – Bow: H Hughes, 2: H Mitchell, 3: J Brayshaw, 4: C Chirnside, 5: J Laidlaw, 6: H Dye, 7: J Palmer, 8: E Purcell, Cox: T Gray, Cch: R Tomczak
2nd Scotch College – Bow: N Bernardo, 2: S Elder, 3: A Boykett, 4: C Brack, 5: W Adams, 6: M Goodey, 7: J Anderson, 8: J Cook, Cox: J Dewan, Cch: E Monteith
3rd Melbourne Grammar – Bow: T Turner, 2: J Hurley, 3: E Woodhead, 4: N van Veenendaal, 5: J Nicol, 6: D Goldblatt, 7: C Paine, 8: D Workman, Cox: N Hoyle, Cch: J Macciolli
4th St Kevin's College – Bow: W Brussen, 2: M Leahy, 3: S Cross, 4: K Hickey, 5: M Johnston, 6: M O'Keefe, 7: A Saflekos, 8: A McKimm, Cox: J Jansen, Cch: B Johnston
5th Brighton Grammar – Bow: M Balding, 2: S Collie, 3: C Beveridge, 4: N Mitchell, 5: J Cozzella, 6: H Michaelides, 7: S Keen, 8: A Page, Cox: A Ma, Cch: A Dick
6th Geelong College – Bow: J Edwards, 2: R Dye, 3: G Threadgold, 4: J Deahl, 5: T Lever, 6: C Craven, 7: N Taylor, 8: T Meehan, Cox: C Allinson, Cch: B Thompson
B-Final
1st Xavier College – Bow: D Cooney, 2: W Clancy, 3: T Harrison, 4: S Cougan, 5: P Hanrahan, 6: S Lefebvre, 7: R Case, 8: J Canty, Cox: J Connellan, Cch: B Burger, E O'Bryan
2nd Caulfield Grammar – Bow: M Curtis, 2: M Shelton Huntley, 3: T Bland, 4: M Khara, 5: J Remzi-Johnson, 6: M Belotti, 7: O Baxter, 8: M Allardice, Cox: S Scholten, Cch: J Tomaino
Boys Fourth Eight
2000m
1st Geelong Grammar – Bow: W Lawrence, 2: T Maxwell, 3: S Davis, 4: Z Carroll, 5: L Greed, 6: D Luckie, 7: T Fleetwood, 8: J Palmer, Cox: W Cunning, Cch: S Campelj
2nd Scotch College – Bow: T Sladden, 2: K Hamilton, 3: N France, 4: J Brinkler, 5: J Langley, 6: W Wilson, 7: A Scrinis, 8: J Manolitsas, Cox: A Gill
3rd St Kevin's College – Bow: N Ryan, 2: P Hoy, 3: J Cullinan, 4: C Pini, 5: J Grace, 6: J Roland, 7: N Stafford, 8: S Brusco, Cox: A Srour, Cch: S Lake
Boys Open Coxed Four
1000m
3:51.70
4:00.01
4:11.06
4:16.36
4:19.91
4:31.42
1st Haileybury – Bow: B Burgess, 2: H Mitchell, 3: R Van Orsouw, 4: J Heilberg, Cox: A Bell, Cch: M Eagle
2nd Brighton Grammar – Bow: J O'Donahoo, 2: N Topakas, 3: N Ward, 4: A Hoy, Cox: L Wiles, Cch: A Johnson
3rd Geelong Grammar – Bow: W Ogden, 2: A Carroll, 3: J Simpson, 4: J Goetz, Cox: F Koch, Cch: S Campelj
4th St Kevin's College – Bow: L Boyle-Bryant, 2: J Brooking, 3: C Lang, 4: A Watson, Cox: A Gallagher
5th Wesley College – Bow: B Zhang, 2: J O'Sullivan, 3: S Taylor, 4: C Tycherov, Cox: H Richmond, Cch: E Madigan
6th Melbourne Grammar – Bow: R Lucas, 2: H Debenham, 3: P Walker, 4: J Everingham, Cox: L Strover
Boys Year 10 Eight Division A
2000m
6:46.84
6:53.22
6:54.38
7:10.09
7:10.78
7:12.23
B Final
6:51.26
6:54.58
6:55.24
6:59.43
7:07.28
1st Scotch College – Bow: H Dennis, 2: H Fox, 3: A Heber, 4: L Webster, 5: B Strathmore, 6: D Di Donato, 7: G Richards, 8: B Silagy, Cox: N De Boer, Cch: A Sypkens
2nd Wesley College – Bow: J Richardson, 2: M Carlisle-Goldblatt, 3: N Ensor, 4: M Singleton, 5: W Thornton, 6: A Allen, 7: M Goodwin, 8: L Erskine, Cox: P Rayner, Cch: J Paltos
3rd Caulfield Grammar – Bow: J Bolton, 2: M McCurdy, 3: T Silvestro, 4: T Gibbs, 5: J Woodhart, 6: T Mollard, 7: N Stephenson, 8: J Schneider, Cox: D Chan, Cch: E Douez
4th Melbourne Grammar – Bow: C Mance, 2: G Hurley, 3: S Clarke, 4: F Brown, 5: C Hendy, 6: O Stevenson, 7: L O'Donnell,8: J Santucci, Cox: T Eastick, Cch: D Aitken
5th St Kevin's College – Bow: J Canty, 2: M Arundel, 3: T Zupan, 4: T Currie, 5: J O'Malley, 6: T Lockhart, 7: M Bishop, 8: T Lincoln, Cox: L Appleby, Cch: A Johnson
6th Geelong College – Bow: W May, 2: M Castles, 3: F Stewart, 4: L Palmer-Hill, 5: H Sullivan, 6: B Fitzpatrick, 7: C McKenzie, 8: J Barber, Cox: J Morgan, Cch: A Miller
B-Final
1st Xavier College – Bow: T Vander Haar, 2: E Resic, 3: B Murphy, 4: T Ferretto, 5: C Turner, 6: J Gehrig, 7: J McCann, 8: J Hicks, Cox: T O'Sullivan, Cch: T Spiteri, L Stanistreet
2nd Brighton Grammar – Bow: A Gnauck, 2: N Farrugia, 3: C Naidu, 4: A Maglio, 5: E Le Grice, 6: M Hayes, 7: G Longbottom, 8: M Johnson, Cox: T Fisher, Cch: J Gerstman
3rd Geelong College – Bow: Z Mahood, 2: H Johnson, 3: H Tribe, 4: C Burbury, 5: O O'Reilly, 6: D Hamilton, 7: H Kellett, 8: J Grimshaw, Cox: J Taylor, Cch: G Hunter
4th Carey Grammar – Bow: J Grey, 2: D Stubbings, 3: H Guala, 4: C Pentney, 5: Z Khan, 6: J Roberts, 7: T Kennedy, 8: A Kinsella, Cox: W Karras, Cch: T McKay, S Fisher
5th Haileybury – Bow: J Sanderson, 2: A Hardeman, 3: S Wynn, 4: T Houghton, 5: T Wegner, 6: L Wegner, 7: A Hammond, 8: J Wijesuriya, Cox: D Kelly, Cch: J Aldred
Boys Year 10 Eight Division B
2000m
7:26.07
7:37.15
7:42.39
7:49.09
7:50.46
8:14.73
Final B
8:00.50
8:07 86
8:18.37
8:24.32
NTT
1st Melbourne Grammar – Bow: S Ellis, 2: S Hooper, 3: M Burnside, 4: S Bongiorno, 5: D Marshall, 6: T Hannemann, 7: B Flint, 8: M Figgins, Cox: C Holdenson
2nd Wesley College – Bow: B Morrell, 2: S Marsh, 3: M McArthur, 4: J Kimberley, 5: J Lloyd, 6: P Papathomas, 7: E Dawson, 8: A Mackie, Cox: W Orr, Cch: J Speirs
3rd Scotch College – Bow: J Tadgell, 2: E Dunphy, 3: C Herbert, 4: T Beischer, 5: Z Butler, 6: L McAuley, 7: W McNab, 8: N Wilson, Cox: J O'Toole, Cch: L Carey
4th Xavier College – Bow: P Nunan, 2: A Dunn, 3: L Nuzzo, 4: M Seymour, 5: G Smart, 6: H Moodie, 7: R Condon, 8: E O'Bryan, Cox: J King, Cch: Y Bettini, C Bolsin
5th Geelong College – Bow: P Spinazzola, 2: A De Young, 3: J Casey, 4: A McGlade, 5: A Guala, 6: M King, 7: C Callan, 8: S Orford, Cox: S Robinson, Cch: A Hudson
6th Carey Grammar – Bow: R Irani, 2: M Balshaw, 3: J Simmons, 4: J Moshcovitis, 5: S Ord, 6: M Reddish, 7: C Chadwick, 8: N Sumner-Wright, Cox: L Healy, Cch: M Guala, D Nicholls
B-Final
1st St Kevin's – Bow: J Killerby, 2: S Bonnacci, 3: O Bridgford, 4: B Aharfi, 5: P Utri, 6: M Rowell, 7: M Naughton, 8: T Fitzpatrick, Cox: J Doggett, Cch: J Russell, J Hoogenbosch
2nd Caulfield – Bow: A Lennard, 2: N O'Connor, 3: K Ponniah, 4: E Harburn, 5: J Woodman, 6: H Simpson, 7: L Topp, 8: J Anderson, Cox: G DeWhirst, Cch: O Dutton-Schwietert
3rd Haileybury – Bow: W Shepherd, 2: T Diggerson, 3: K Smit, 4: J Dickson, 5: H Houghton, 6: B Burgess-McIntosh, 7: A Till, 8: T Capp, Cox: B Lee, Cch: N Shearer
4th Brighton Grammar – Bow: M Barry, 2: A Whillas, 3: D Lim, 4: M Compton, 5: C Grigoriou, 6: H Marks, 7: L Scott, 8: S Campbell, Cox: J Eberwein, Cch: H Sharp
5th Geelong Grammar – Bow: W Birk, 2: H Williams, 3: A Wright, 4: W Gillies, 5: P Wiranatha, 6: C Marchant, 7: J Badgery, 8: P Miles, Cox: H McKendrick, Cch: K Smith
Boys Year 10 Eight Division C
2000m
7:39.30
7:50.12
7:54.40
7:58.58
8:01.85
8:06.23
Final B
8:05.05
8:12.13
9:14.83
1st Melbourne Grammar – Bow: C Perkins, 2: J Martin, 3: P Athanasopoulos, 4: G Drougas, 5: N Burke, 6: W Dix, 7: E Manton, 8: C Gubbins, Cox: L Macdonald, Cch: L Carter, W Smibert, W Smibert
2nd Scotch College – Bow: B Veitch, 2: L Skok, 3: J Vuk, 4: C Santini, 5: C Yuen, 6: A Buller, 7: J Gordon, 8: H Duffy, Cox: O Launder, Cch: M Lipshut
3rd Caulfield Grammar – Bow: T Newcomen, 2: W Barbis, 3: J Baker, 4: A Ng, 5: B Zhang, 6: J Harris, 7: M Judd, 8: J Waterson, Cox: L Ooi, Cch: S Castle
4th Scotch College – Bow: O Thompson, 2: P Chantler, 3: R Lange, 4: O Brock, 5: N Lobley, 6: C Soliman, 7: J Malon, 8: W Legge, Cox: J O'Toole, Cch: E Breidahl, C White
5th Wesley College – Bow: S Creaser, 2: M Junger, 3: J Fernandes-Kemp, 4: T Campigli, 5: H Wallace, 6: A Sherlock, 7: J Burmeister, 8: M Thomson, Cox: R Hildebrand-Wise, Cch: B Fisher
6th Geelong College – Bow: B Harmon, 2: A Sloan, 3: C Wynhoven, 4: J Lay, 5: P Angliss, 6: J Lay, 7: A Livermore, 8: M Stewart, Cox: M Leonard, Cch: T Andrews
B-Final
1st Xavier College – Bow: A Perry, 2: L Schifferle, 3: R Guiney, 4: R Wilton, 5: B Case, 6: S Sproule-Lagos, 7: N Sorrenti, 8: S MacIsaac, Cox: J Agius, Cch: N Gawler
2nd Geelong College – Bow: M Haines, 2: B Toby, 3: O Hiscock, 4: C Lun, 5: S Khoo, 6: L Sitzler, 7: T Hodge, 8: T Hodgson, Cox: B Kozica-O'Callaghan, Cch: K Paton
3rd Geelong Grammar – Bow: J Clatworthy, 2: A Stirk, 3: G Reed, 4: S Woodall, 5: O Salt, 6: G Teasdale, 7: J Fox, 8: H Lillyman, Cox: D Howes, Cch: A Fitzpatrick
Boys Year 10 Coxed Four Division A
Girls Open & Year 10
Click on the race of interest and the results will appear below the buttons:
Girls Head of the River
2000m
7:37.25
7:39.81
7:43.57
7:47.15
8:04.29
8:10.14
1st Geelong College – Bow: D Roberts, 2: P Kontelj, 3: L Campbell, 4: L Walker, 5: A Kvant, 6: S Sturges, 7: J Cleary, 8: A Dunkley-Smith, Cox: K Bigelow, Cch: Alan Darker
2nd Geelong Grammar – Bow: Y Howes, 2: A Faulkner, 3: P Rothfield, 4: H Simpson, 5: K Banks, 6: J Brookes, 7: L Fish, 8: L Harkin, Cox: A Hocking, Coach: Rob England
3rd Wesley College – Bow: S Baker, 2: R Ben-David, 3: A Mason, 4: A Arch, 5: P Gardner, 6: A Niteros, 7: H Lyon, 8: Z Castran, Cox: S Chaochalakorn, Cch: S Quinlan
4th Haileybury College – Bow: T Daly, 2: R Bingham, 3: E Magdziarz, 4: E Potoczny, 5: L Jeffrey, 6: B Martin, 7: B Jones, 8: G Janssen, Cox: B Stephens, Cch: Connie Vanderwerp
5th Carey Grammar – Bow: C Morgan, 2: A Grutzner, 3: M Hickey, 4: K Higlett, 5: S Lloyd, 6: H Roberts, 7: V Steel, 8: E Fennessy, Cox: C Longmuir, Cch: Pam Westendorf
6th Caulfield Grammar – Bow: L Anderson, 2: C von Dallwitz, 3: H Conron, 4: L Skacej, 5: A Bartram, 6: B McCurdy, 7: L Funnell, 8: G Ingleton, Cox: K Everett, Cch: J Hergott
Girls Second Eight
2000m
7:54.56
8:20.90
8:28.33
8:34.72
8:36.03
8:46.94
1st Geelong Grammar – Bow: A Cameron, 2: C Morrison, 3: S Thompson, 4: R Macaulay, 5: H Van Leeuwen, 6: C Moore, 7: Z Brown, 8: C More, Cox: S Wallace-Smith, Cch: J Grave
2nd Caulfield Grammar – Bow: J Davy, 2: O Brewer, 3: I Chiosso, 4: A Haworth, 5: L Stephens, 6: E Westphalen, 7: C Knights, 8: I Caithness, Cox: E Davis, Cch: T Ambler
3rd Geelong College – Bow: T Von Saurma-Jeltsch, 2: V Acosta Ruiz, 3: G Skuza, 4: S Brand, 5: F Riley, 6: S Thomson, 7: T Philip, 8: G Clark, Cox: G Wilson, Cch: A Whitehouse
4th Wesley College – Bow: S Wu, 2: M Van der Horst, 3: J Keys, 4: A Gilbertson, 5: H Pike, 6: A Whitehead, 7: S Petropoulos, 8: E Johnson, Cox: S Zippel, Cch: D Nenna, L Cordner
5th Carey Grammar – Bow: T Charlwood, 2: T Benson, 3: C Foster, 4: M Robson, 5: L Oswin, 6: E Dannock, 7: S Marshall, 8: P Pooley, Cox: L Walters-Quan, Cch: R Pryor, M Holliebone
6th Haileybury College – Bow: S McWilliam, 2: K Seccull, 3: K Wynn, 4: M Smirnakos, 5: H Treverton, 6: G Batt, 7: D Anderson, 8: C Patterson, Cox: M Roux, Cch: S Leslie
Girls Third Eight
2000m
1st Geelong Grammar – Bow: V Wetherall, 2: D Chandler, 3: A Winterhoff, 4: E Commins, 5: A Costelloe, 6: A Kaye, 7: A Evans, 8: S Fleetwood, Cox: L Nock, Cch: R Kemp
2nd Caulfield Grammar – Bow: J Lord, 2: B Ryan, 3: M Lane, 4: I Muto, 5: S Keenan, 6: S Thompson, 7: M Harper, 8: A Tulloch, Cox: P Pham, Cch: H Houghton
Girls Open Four
1000m
1st Carey Grammar – Bow: E Masson, 2: B Main, 3: C McGillivray, 4: J Seear, Cox: T Pepperell, Cch: D Burgess, T Permezel
2nd Caulfield Grammar – Bow: S Lowe, 2: A Uhe, 3: M Moran, 4: B Ryan, Cox: P Pham, Cch: A Knights
3rd Geelong Grammar – Bow: C Lewis, 2: J McKenzie, 3: T Gray, 4: R Latimer, Cox: L Nock, Cch: C Wilson
Girls Year 10 Four Division A
1000m
3:58.09
4:03.05
4:07.86
4:08.30
4:13.18
4:16.84
1st Carey Grammar – Bow: L Daly, 2: A Morris, 3: E Cremean,4: G Stewart, Cox: M O'Neill, Cch: M Laing, A Batliwalla
2nd Geelong College – Bow: H Caithness, 2: A Sheridan, 3: H Peace, 4: E Porter, Cox: L Blackman, Cch: T Wright
3rd Caulfield Grammar – Bow: R Engel, 2: Z Rayment, 3: A Fisher, 4: M Steel, Cox: E Browne, Cch: G Meredith
4th Wesley Grammar – Bow: E Niteros, 2: R Donnan, 3: C Curran, 4: M Wild, Cox: L Davis, Cch: E Petricola
5th Haileybury – Bow: Z Reed, 2: K Quinn, 3: E Solly, 4: L Callow, Cox: S Leric, Cch: C Champion, T McHugh
6th Geelong Grammar – Bow: C A'Beckett, 2: A Rothfield, 3: E Hill, 4: O Wetherall, Cox: P Beauchamp, Cch: D Clingeleffer-Woodford
Girls Year 10 Four Division B
1000m
4:03.09
4:04.88
4:07.50
4:08.39
4:15.09
4:18.28
1st Caulfield Grammar – Bow: H Schneider, 2: B Mims, 3: L Kangisser, 4: R Ingleton, Cox: B Annois, Cch: S Tubb
2nd Carey Grammar – Bow: F Haig, 2: C Andrews, 3: A Annabel, 4: M Stanboultgis, Cox: M George, Cch: S Walton, A Smith
3rd Wesley College – Bow: G Steele,2: L McCloskey, 3: L Robinson, 4: A Baulch, Cox: A Marriner, Cch: M Zippel
4th Geelong College – Bow: M Forshaw, 2: E Fenton, 3: J Grange, 4: H Kent-Spark, Cox: G Forshaw, Cch: J Hill
5th Haileybury – Bow: K Cleary, 2: A Kersy, 3: J Hewitt, 4: S Bartels, Cox: K Hartley, Cch: A Farren
6th Geelong Grammar – Bow: G Perrignon, 2: K McGeoch, 3: A Duff, 4: H Cusworth, Cox: L Bennett, Cch: K Baker
Girls Year 10 Four Division C
1000m
1st Caulfield Grammar – Bow: P Houghton, 2: M Harris, 3: T Pritchard, 4: P Cormack, Cox: D Connolly, Cch: A Rady
2nd Geelong College – Bow: E White, 2: T Nott, 3: M Philpott, 4: C Gekas, Cox: K Campbell, Cch: L Monotti
3rd Carey Grammar – Bow: R Wilson, 2: A Lawrence, 3: E Northey, 4: G Button, Cox: S McKenry, Cch: J Corcoran, C Hollebone
4th Wesley College – Bow: Y Mehmet, 2: A Petropoulos, 3: B Mayer, 4: S Kakouros, Cox: C Lagerberg, Cch: C Verbakel
5th Haileybury – Bow: T McGregor, 2: X De Cata, 3: T Weston, 4: K Sleight, Cox: N Nowlan, Cch: R Ball, K Eaton
6th Geelong Grammar – Bow: A Carter, 2: B McCaffrey, 3: E The, 4: E Burns, Cox: G Cashmore, Cch: C More
Girls Year 10 Four Division D
1000m
4:22.00
4:24.57
4:31.45
4:32.89
4:34.42
1st Geelong College – Bow: A Doery, 2: S Meager, 3: R Odam, 4: L Macdonald, Cox: S Radalj, Cch: S Campbell
2nd Caulfield Grammar – Bow: E Hastie, 2: S de Bondt, 3: M Allen, 4: K Bresnan, Cox: M Hudson, Cch: S Hawe
3rd Geelong Grammar – Bow: J Howell, 2: A O'Connor, 3: Z Mahood, 4: O Stone, Cox: S Holmes, Cch: E Taylor
4th Carey Grammar – Bow: S Webster, 2: C Graham, 3: E Sweeney, 4: S Davis, Cox: K Johnstone, Cch: J Champness
5th Wesley College – Bow: M Baptista, 2: E Sabbatucci, 3: K Hobman, 4: V Kalyvas, Cox: C Charlaftis, Cch: M Mavrodis
Girls Year 10 Four Division E
1000m
4:19.92
4:24.14
4:25.96
4:52.21
4:55.45
1st Geelong Grammar – Bow: E Hart, 2: I Le Deux, 3: A Plumptre, 4: A Darling, Cox: E Malouf, Cch: L Brayshaw
2nd Caulfield Grammar – Bow: L Stiles, 2: J Rau, 3: C Halley, 4: F Alves, Cox: G MacLaren, Cch: M Burke
3rd Geelong Grammar – Bow: S Mills, 2: S Daniell, 3: L Slattery, 4: G McKendrick, Cox: P Rofe, Cch: S Jarrold
4th Geelong College – Bow: B Fraser, 2: L Pipjorn, 3: L Mackenzie, 4: G Del-Rio, Cox: K Caithness, Cch: C McGlade
5th Carey Grammar – Bow: L Walters, 2: I Bielinski, 3: S Kenealy, 4: K Azarnikow, Cox: M Northover, Cch: C Duffield
Girls Year 10 Four Division F
1000m
4:31.73
4:32.56
4:35.39
4:47.67
1st Caulfield Grammar – Bow: C Lok, 2: M Morling, 3: M McEvoy, 4: B Syme, Cox: E Hehir, Cch: J Amezdroz, G Campbell
2nd Geelong Grammar – Bow: B McHenry, 2: K Scott, 3: L Myer, 4: E Dow, Cox: A Atkinson-Keady, Cch: B Fitzpatrick
3rd Geelong Grammar – Bow: K Crozier, 2: C Stewart, 3: D Davidovits, 4: P Ritchie, Cox: S Morphy, Cch: A Rayson
4th Geelong Grammar – Bow: J Holder, 2: G Rule, 3: G Sullivan, 4: B Heal, Cox: E Liao, Cch: Z Mexted
Boys Year 9
Click on the race of interest and the results will appear below the buttons:
Boys Year 9 Eight Division A
1000m
3:24.99
No further times nor margins taken
1st Melbourne Grammar – Bow: N Coen, 2: J Jessup, 3: E Vickers-Willis, 4: H Coombs, 5: C Kirton, 6: N Schoeffel, 7: C Koren, 8: A Judge, Cox: O Lee, Cch: N Russell
2nd Carey Grammar – Bow: H Phillips, 2: M Goodrope, 3: N Cousins, 4: R Phillips, 5: F Creelman, 6: J Hoban, 7: B Coull, 8: W Slifirski, Cox: N Portelli, Cch: L Cooney, D Fraumano
3rd Xavier College – Bow: P Stevenson, 2: M Ferrari, 3: D Lynch, 4: M McCarthy, 5: A McNamara, 6: W Richards, 7: M Smith, 8: E Elliott, Cox: D Bennett, Cch: S Millar, B Dalton
4th Wesley College – Bow: J Bagnara, 2: M Dalgleish, 3: N Kramer, 4: C Smith, 5: A Clinch, 6: N Johnston, 7: L Eyles, 8: J Robinson, Cox: S Wassmann, Cch: J Kus, J Brenker
5th Brighton Grammar – Bow: S Weatherby, 2: A Surace, 3: J Wheeler, 4: H Yang, 5: A Douglas, 6: S Nearchou, 7: C Macleod, 8: E Tait, Cox: L Hutson, Cch: O Ward
6th Caulfield Grammar – Bow: M Fisher, 2: M Filshie, 3: C Richardson, 4: L Sellens, 5: W Smith, 6: L Ferguson, 7: F Funnell, 8: S Guillaume, Cox: H Zhou, Cch: A Dodson
Boys Year 9 Eight Division B
1000m
1st Melbourne Grammar – Bow: R Renzella, 2: W Monk, 3: R Bergin, 4: A Beckingsale, 5: T Quirk, 6: M Horne, 7: E Risbey, 8: S Hooper, Cox: J Otto, Cch: T Hodge
2nd Wesley College – Bow: J Ellis, 2: D James, 3: E Niteros, 4: J Melbourne, 5: D Ravindran, 6: A Athans, 7: N Ehrman, 8: S Arch, Cox: L Pollaers, Cch: H Hosking, C Habla
3rd Carey Grammar – Bow: G Kourambas, 2: C Fabris, 3: H McDermott, 4: L Quinn, 5: G Carfi, 6: C Banias, 7: L Farrugia, 8: B Scruton, Cox: H Roberts, Cch: T Permezel, J O'Toole-Johnston
4th Caulfield Grammar – Bow: H Tobias, 2: M D'aloia, 3: K Dalton, 4: J Cooper, 5: L Phillips, 6: J James, 7: J Smith, 8: M Pollard, Cox: J Moon, Cch: M Kriek
5th Brighton Grammar – Bow: T Fisher, 2: G Jones, 3: T Currie, 4: M Oswald, 5: J Southgate, 6: S Riddell, 7: W Simon, 8: D Parker, Cox: H Eden, Cch: D McKenzie
6th Xavier College – Bow: P Long, 2: R Nash, 3: Z Liszukiewicz, 4: C Grando, 5: J Matino, 6: H Lucus, 7: T Amad, 8: N Emonson, Cox: M Christensen, Cch: P Henderson, B Condon
Boys Year 9 Eight Division C
1000m
3:41.88
3:43.91
3:50.01
4:04.66
4:09.52
4:10.69
1st Xavier College – Bow: J Will, 2: X Bell, 3: M Fanning, 4: D Vaughan, 5: N Giuliani, 6: S Kerr, 7: Z Lewis, 8: O Silk, Cox: T Nicholson, Cch: A Scanlon
2nd Melbourne Grammar – Bow: O Holdenson, 2: B Wilson, 3: H Baring, 4: T Poulter, 5: D Holyoake, 6: D Titeu, 7: S Kelly, 8: N Billings, Cox: M Skala, Cch: S Blakeney
3rd Carey Grammar – Bow: R Tait, 2: C Barr, 3: M Daly, 4: B Ooi, 5: S Fennessy, 6: D Glow, 7: M Herten, 8: C Adams, Cox: Z Biesse-Fitton, Cch: M Evans, T Nairn
4th Wesley College – Bow: S Leonard, 2: D Ashton, 3: J Peters, 4: H Rogers Woollett, 5: P Sanders, 6: A Allwell, 7: O Doupe-Watt, 8: O Goldberg, Cox: M Johnston, Cch: R Mearns, G Edwards
5th Caulfield – Bow: J Mitchell, 2: N Silvestro, 3: S Tuck, 4: K Samuel, 5: H Lefevre, 6: P Paxinos, 7: A Siegel, 8: J Kangisser, Cox: J Moss, Cch: A Lansdell
6th Brighton Grammar – Bow: L Wallace, 2: J Toouli, 3: J Moncrief, 4: A Walton, 5: P Chipp, 6: T Murphy, 7: K Tzilantonis, 8: H Hill, Cox: J Dick, Cch: A Biggin, G Maglio
Boys Year 9 Eight Division D
1000m
3:42.14
3:44.17
3:56.46
3:56.94
4:09.04
4:11.54
Final B
5:20.91
5:22.29
1st Melbourne Grammar – Bow: N Douros, 2: M Adams, 3: T Russell, 4: N Edwards, 5: R Desem, 6: H Clark, 7: L Gibson, 8: N Billings, Cox: T Ward
2nd Melbourne Grammar – Bow: H Waite, 2: A Monty, 3: J Little, 4: A Robinson, 5: H Stephens, 6: F Cargill, 7: H Alison, 8: C Weeden, Cox: W Zwar, Cch: W Thompson
3rd Melbourne Grammar – Bow: D Target, 2: A Johansen, 3: N Kolotsos, 4: A Monty, 5: S Chesney, 6: S Drew, 7: J Ballantyne, 8: F Nott, Cox: M Bowes, Cch: C Risbey
4th Xavier College – Bow: C Panfalone, 2: C Unger, 3: A Armstrong, 4: H Nankivell, 5: C Wright, 6: C Hill, 7: D Gorman, 8: P Curtain, Cox: H Stirling, Cch: A Thompson, J Millar
5th Caulfield Grammar – Bow: A Snider, 2: A Haque, 3: B Barlow, 4: L Farrell, 5: T Cross, 6: C Hardie, 7: B Lunney 8: L Dreher, Cox: K Lee, Cch: M Nelson
6th Melbourne Grammar – Bow: E Youren, 2: M Garnett, 3: E Banova, 4: P Shields, 5: H Waite, 6: J Van, 7: F Ippoloto, 8: L Parsons, Cox: S Buddle, Cch: J Hooper
B Final
1st St Kevin's – Bow: B Burgess, 2: S Doble, 3: J Gale, 4: F Utri, 5: S Gard, 6: L McGrath, 7: T Smith, 8: C Prior, Cox: Z Rawlings, Cch: T Portelli
2nd Xavier College – Bow: J Seymour, 2: M Barclay, 3: L Iacono, 4: P Kennedy, 5: J Capper, 6: D Henry, 7: J Wagstaff, 8: L Berry, Cox: T Stoney, Cch: E O'Bryan, B Burger
Boys Year 9 Quad Scull Division A
1000m
3:32.41
3:49.59
3:51.80
3:52.33
3:55.02
4:03.88
1st Scotch College – Bow: N Clark, 2: C Dickinson, 3: A Croxford, 4: T Boorman, Cox: S Callander, Cch: G Jelbart
2nd Scotch College – Bow: S Brooks, 2: J Karklins, 3: A Cunningham, 4: M Rennie, Cox: E Gill, Cch: O Baxter
3rd St Kevin's College – Bow: T Sanders, 2: C Tate, 3: C Rausch, 4: M Romanin, Cox: A Monagle, Cch: R Anderson
4th St Kevin's College – Bow: O Henderson, 2: P Robinson, 3: D Fleming, 4: W Coten, Cox: T Appleby, Cch: M Bennett
5th Scotch College – Bow: J Tissot, 2: H Millar, 3: Q Bell, 4: C Millar, Cox: A Schwarcz, Cch: P Wright
6th Geelong College – Bow: N Malishev, 2: T McGowan, 3: H Welleman, 4: R Torode, Cox: H Beaumont-Kelly, Cch: R George
Boys Year 9 Quad Scull Division B
1000m
4:00.17
4:01.46
4:02.08
4:13.21
4:15.52
1st Scotch College – Bow: H Webb, 2: J Zhao, 3: C Cooper, 4: C McNab, Cox: A Scott, Cch: T Browne
2nd St Kevin's College – Bow: M Matthews, 2: J Crisante, 3: P Di Natale, 4: D Verescuk, Cox: J Blake, Cch: A White
3rd Scotch College – Bow: A Stewart, 2: J Bardwell, 3: F Eady-Jennings, 4: L Maxwell, Cox: B Ferguson, Cch: D Lipshut
4th Scotch College – Bow: M Wenn, 2: T Andrew, 3: T Lloyd, 4: H Allen, Cox: T Cameron, Cch: N Jarman
5th Geelong College – Bow: D Horn, 2: H Bell, 3: F Wishart, 4: J Breer, Cox: E Threadgold, Cch: R Perkins
Boys Year 9 Quad Scull Division C
1000m
4:08.41
4:09.00
4:10.07
4:13.85
4:20.78
1st Scotch College – Bow: N Waddell, 2: A O'Donnell, 3: A Mitchell, 4: S Tan, Cox: L Russell, Cch: A White
2nd St Kevin's – Bow: H Santoro, 2: A Stefanac, 3: T Montgomerie, 4: A Gook, Cox: O Doswell, Cch: J Slattery
3rd Scotch College – Bow: A Fairley, 2: H Molnar, 3: T Lloyd, 4: J Bardwell, Cox: F Whittaker, Cch: H Casey
4th Geelong College – Bow: A Divola, 2: H McMaster, 3: L Watson, 4: F Laidlaw, Cox: J Ragg, Cch: T Sullivan
5th Xavier College – D Dais, 2: C Da Silva, 3: N Ardi, 4: N Christie, Cox: J Lucchesi, Cch: E Goad
Boys Year 9 Quad Scull Division D
1000 m
4:12.80
4:13.49
4:13.87
4:14.87
4:24.53
1st Geelong College – Bow: S Acosta-Ruiz, 2: W Golightly, 3: B Sutterby, 4: J Maishman, Cox: A Baensch, Cch: J Angliss
2nd Scotch College – Bow: J Devereux, 2: E Murchie, 3: D McNeil, 4: W Kent, Cox: P Bath, Cch: A Emmett
3rd Scotch College – Bow: C Rome, 2: L Richards, 3: C Morwood, 4: S Bolles, Cox: A Jones, Cch: H Phillips
4th St Kevin's – Bow: T Jessup, 2: J Bianco, 3: S Svensson, 4: D Waite, Cox: D Hussey, Cch: B Wilson
5th St Kevin's – Bow: N Munyao, 2: C Stewart, 3: J Papas, 4: J Malady, Cox: J Gorman, Cch: S Mount
Boys Year 9 Quad Scull Division E
1000m
5:10.09
5:21.30
5:39.44
5:59.13
1st Scotch College – Bow: L Hatty, 2: J Chalmers, 3: C Gough, 4: C Black, Cox: J Brown, Cch: A Reilly
2nd Geelong College – Bow: L Robilliard, 2: L Forrest, 3: N Simson, 4: A Wylie, Cox: A Bedford, Cch: M D'Altera
3rd Wesley College – Bow: H Krotiris, 2: J Waters, 3: M Blake, 4: M Qian, Cox: A Hannah, Cch: M Kus, T Baker
4th Scotch College – Bow: L Hood, 2: H Binsted, 3: A La Rosa, 4: J Gammon, Cox: K Wang, Cch: L Kennedy
Girls Year 9
Click on the race of interest and the results will appear below the buttons:
Girls Year 9 Four Division A
1000m
1st Carey Grammar – Bow: B O'Neill, 2: M McNab, 3: S Jones, 4: L Jepson, Cox: O Davenport, Cch: H Wallis, B Terrell
2nd Caulfield Grammar – Bow: C Hronakis, 2: S Knowles, 3: M Engelhardt, 4: H Mills, Cox: C Kyriakoullakis, Cch: K Meyer
3rd Wesley College – Bow: C Anderson, 2: S Dearie, 3: A Ellem, 4: J Parry, Cox: I Tzelepis, Cch: K Chapman
4th Geelong College – Bow: C Crawford, 2: E Vernon, 3: I Dobie, 4: O Wild, Cox: A Bedford, Cch: L O'Rourke
Girls Year 9 Four Division B
1000 m
4:24.34
4:26.89
4:31.70
4:40.88
1st Carey Grammar – Bow: G Grant, 2: K Burgess, 3: A White, 4: S White, Cox: P Hutson, Cch: M Censori
2nd Wesley College – Bow: C White, 2: J Patishman, 3: A Strachan, 4: H Blackney, Cox: O Gardiner, Cch: R Parker
3rd Geelong College – Bow: A McGregor, 2: L Murphy, 3: A Scott, 4: S Blythe, Cox: M Brown, Cch: A Morgan
4th Caulfield Grammar – Bow: F Tulloch, 2: B Quinn, 3: P Burfurd, 4: M Brand, Cox: Z Alexiades, Cch: B Labrooy
Girls Year 9 Four Division C
1000m
4:29.81
4:31.41
4:41.12
4:43.72
1st Carey Grammar – Bow: A McDonald, 2: G Craig, 3: C Fedi, 4: Z Younger, Cox: T Wong, Cch: B Cremean, J Burridge
2nd Caulfield Grammar – Bow: K Reid, 2: A Paras, 3: A Dettmann, 4: E Cowell, Cox: A Steele, Cch: M Fraumano
3rd Wesley College – Bow: M Jones, 2: R Bottern, 3: I Etna, 4: L Nathie, Cox: M Cooper, Cch: D Yeates
4th Gelong College – Bow: A Foley, 2: T Edwards, 3: L Allinson, 4: N Collett, Cox: P Niven, Cch: E Carr
Girls Year 9 Four Division D
1000m
4:36.60
No margins available
1st Carey Grammar – Bow: R Graham, 2: A Eljari, 3: M Fittton, 4: S Terrill, Cox: O Newbold, Cch: T Gluning, M Davey
2nd Caulfield Grammar – Bow: A Johnson, 2: A Ward Ambler, 3: K Gallucci, 4: R Tate, Cox: I Szyman, Cch: A Stubbs
3rd Geelong College – Bow: S Watson 2: E Angliss, 3: B Rankin, 4: O Leontiades, Cox: J Sercombe, Cch: G Ratcliffe
4th Wesley College – Bow: E Schnizler, 2: B Provera, 3: E Shugg, 4: G Tonkin, Cox: T Edelmaier, Cch: D Lansdell
Girls Year 9 Four Division E
1000m
4:33.21
4:38.10
4:43.48
4:56.60
1st Carey Grammar – Bow: R Williams, 2: A Steel, 3: H Martin, 4: E Higlett, Cox: I Di Nello, Cch: E Dyer, E Avery
2nd Caulfield Grammar – Bow: A Johnson, 2: R Cameron, 3: M Dwyer, 4: G Galbin, Cox: M Gallenti, Cch: A Rady
3rd Geelong College – Bow: O Skinner, 2: G Polic, 3: H Cielesh, 4: A Harding, Cox: P Trescowthick, Cch: A Wishart
4th Wesley College – Bow: J Zheng, 2: N Cugura, 3: T Wells, 4: M Robb, Cox: M Whiteside, Cch: V Heal
Girls Year 9 Four Division F
1000m
4:42.73
4:46.64
4:53.56
5:05.34
1st Carey Grammar – Bow: G Burridge, 2: A Vakalopoulos, 3: S Papandony, 4: B de Moel, Cox: S Murphy, Cch: A De Morton
2nd Carey Grammar – Bow: M Gilfillan, 2: K Campbell, 3: E Nash, 4: I Viero, Cox: C Whittle, Cch: R Brooks
3rd Caulfield Grammar – Bow: M Harvey, 2: A Sinclair, 3: S Rice, 4: L Nan Tie, Cox: M Gallenti, Cch: M Pineo
4th Caulfield Grammar – Bow: C Funnell, 2: S Thompson, 3: C Tainton, 4: L Whiting, Cox: E Hogg, Cch: E Chodziesner
Girls Year 9 Four Division G
1000m
4:35.80
4:47.28
4:55.54
5:06.70
5:17.01
1st Carey Grammar – Bow: N Hammond, 2: L Lewis, 3: C Dyson, 4: L Hendry, Cox: S Watt, Cch: J McCormach, J Lloyd
2nd Carey Grammar – Bow: A Richards, 2: I Campbell, 3: E Benson, 4: J Watson, Cox: G Dupe, Cch: T Brenchley, E Hing
3rd Carey Grammar – Bow: A Macdonald, 2: C Ansell, 3: M Dalton, 4: Z Gallent, Cox: C Hansen, Cch: J Coco, A Benson
4th Caulfield Grammar – Bow: P Turner, 2: N Surry, 3: N Sharma, 4: S Gurusinghe, Cox: B Spielvogel, Cch: B Lane
5th Caulfield Grammar – Bow: H Wilson, 2: C McGee, 3: M Beaumont, 4: S Patton, Cox: G Simm, Cch: H Mason
Sources
Regatta manager for results
Regatta program
Photos - Andrew Guerin