2016 APS Head of the River
The 149th boys Head of the River and the 36th girls Head of the River were conducted on Saturday 19th March 2016 at Nagambie Lakes.
The weather cool to mild, overcast with a light SW wind that strengthened to moderate during the day. The wind was deemed to provide advantage to south side of the course at 11.15am, with a forecast that the wind was only going to strengthen. Finals were therefore drawn with favoured crews on the south side.
The regatta date clashed with the National Championships with Scotch College going to extraordinary lengths to try and compete at both events. They competed in Sydney on Friday, Nagambie on Saturday and Sydney again on Sunday. If given the choice, many rowers and coaches would have preferred to compete at the National Championships. Scotch finished third at the National Championships in a smaller field, devoid of other Victorian school entries.
The strength of Melbourne Grammar over the past two years in boys year 10 rowing showed at the senior level with Melbourne Grammar taking out the first, second and third eights easily and also winning their third year in a row of 10A eights. Geelong Grammar continued normal transmission with an 11 second win the girls Head of the River. Geelong College were again strong in the year 10 boats showing some potential for future form.
Full results can be found through this link.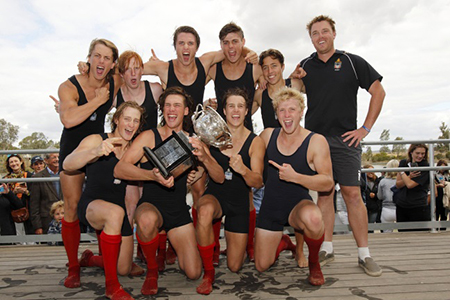 Melbourne Grammar enjoy their win
Credit- Richard Kumnick and Photo Play
---
Officials
Regatta Manager: Luke Soulos
Regatta Secretary: Alice B Evans
Broadcaster: Roger B Wilson
Adjuvants: Maurice B Brown and Frank C Covill
Referee: William H Webster
Jury: Lesley Skevington, David Pitt, Peter Darbyshire, Ashley Dillon, Duncan MacKinnon, Alan Farrar, Alastair Shaw, Robin Murphy, Nancy Hong, Paul Diggerson, Eric Waller, Peter McIntosh
Committee: L Soulos (Executive Officier), G P McPhee BGS, P A Jepson Carey, G J Miles Caulfield, C J Rowland Caulfield, N A Gibbons MGS, M D Cheatley, P Porter GC, P J La Cava GGS, S D Allcock Haileybury, J R Davenport SKC, R J McLaren SC, P B Hawkins, J L Mitchell, S E Nairn WC, M J Wilson XC.
Boys Open & Year 10
Click on the race of interest and the results will appear below the buttons:
Boys Head of the River
2000m
Final A
6:16.41
6:22.34
6:29.47
6:38.84
6:41.91
NTT
Final B
6:21.21
6:23.57
6:27.84
6:33.49
6:42.44
Final A
1st Melbourne Grammar - Bow: Hugo Blomley, 2: Daniel Harrison, 3: Jack Robertson, 4: Charles Perkins, 5: Fergus Hamilton, 6: Mitch Hooper, 7: Samuel Lovejoy-Hall, Str: Nicholas Foster, Cox: William Anders
2nd Wesley College - Bow: Declan Cargill, 2: Charlie Joyce, 3: Sam Melbourne, 4: Alex Tatterson, 5: Liam Bayliss, 6: Ethan McCoach, 7: Harry Norman, Str: Nick Lavery, Cox: Cameron Peters, Cch: Matthew Ryan
3rd Scotch College - Bow: Harry Isles, 2: Liam McLellan, 3: Louis Le Deux, 4: Charlie Miller, 5: Alexander Brooke, 6: Angus Emmett, 7: Mark Russell, Str: Maximilian Hanna, Cox: Dylan Richards, Cch: Tom Woodruff
4th Geelong College - Bow: Thomas Page, 2: Mathew Jackman, 3: Nick Kemp, 4: Alexander West, 5: Will Morrison, 6: James Gorell, 7: Angus Longden, Str: Flynn Vernon, Cox: Scott Wylie
5th St Kevin's College - Bow: Sebastian Smith, 2: Luke Brusco, 3: Emerson Street, 4: Ed Ryan, 5: Stefan Zupan, 6: Patrick O'Leary, 7: Riley Bolton, Str: Ed Gusman, Cox: Lachlan Goller, Cch: Andrew Eaton
6th Geelong Grammar - Bow: Henry Thompson, 2: Frederick Roper, 3: Charles Baylis, 4: Oscar McLachlan, 5: Oscar Sheridan, 6: Tom Rafferty, 7: James Mentha, Str: William Henry, Cox: Jamima Jamieson, Cch: Aroon Tremul
Final B
1st Xavier College - Bow: Richard Greene, 2: Euan Jenkins, 3: Henry Bergin, 4: Jeremy Power, 5: Callum Kelly, 6: Sam Ralph, 7: Thomas McMahon, Str: Hunter Silk, Cox: Tom Frawley, Cch: Tom Swann, Simon Harrison
2nd Haileybury College - Bow: Noah Ekberg, 2: Sebastian Bensch, 3: Brett Irwin, 4: Davis Green, 5: Nicholas Gregors, 6: Joel Cain, 7: Roland Crantock, Str: Thomas Scaunich, Cox: Bridie Storton, Cch: Tim Frederico, Josh Sadler
3rd Brighton Grammar - Bow: Ryan Riddell, 2: James Stewart, 3: Robert Capp, 4: Nicholas Phillips, 5: Lachlan Ewers, 6: William Lewis, 7: Jackson Mahan, Str: Mitchell Hurd, Cox: Simon Farrow, Cch: Richard Bartlett
4th Caulfield Grammar - Bow: Samuel McVean, 2: William O'Brien, 3: Daniel Allen-Lyons, 4: William Ryan, 5: Nathan Breeze, 6: Nick Allen, 7: James Meads, Str: Miller Cowie, Cox: Abby Chung
5th Carey Grammar - Bow: Nicholas Walker, 2: Dean Katsivelis, 3: Benjamin Keller, 4: Tom Borg, 5: Ben Worth, 6: Connor Bavage, 7: Sam Jobson, Str: Robert O'Neill, Cox: Isabelle Coleman, Cch: Chris Drummond
Boys Second Eight
2000m
Final A
6:04.66
6:09.54
6:18.82
6:19.21
6:24.49
6:27.17
Final B
6:43.78
6:47.06
6:51.71
6:55.94
7:10.66
Final A
1st Melbourne Grammar - Bow: Nicholas Crouch, 2: Sam Hannah, 3: Benjamin Tunbridge, 4: Joe O'Connell, 5: Isaac Sanderson, 6: Ben O'Connell, 7: Timothy Gillham, Str: Alick Rose, Cox: Max Howitt-Ross
2nd Scotch College - Bow: Rupert Baxter, 2: Teddy Webster, 3: Rainer Gertis, 4: Lachie Murchie, 5: Alexander Barber, 6: Lloyd Parks, 7: Max Cooper, Str: Finley Dale, Cox: Harry Gill, Cch: William Bartley
3rd Geelong College - Bow: Liam Chalmers, 2: Bentley Fitzgerald, 3: Ian Bell, 4: Patrick Molloy, 5: Cary Foley, 6: Thomas Wright, 7: Oscar Malone, Str: Lachlan Taylor, Cox: Edwina Doery
4th St Kevin's College - Bow: Hugh Higgins, 2: Tom Radda, 3: Liam O'Meara, 4: Ronan Petersen, 5: Patrick Mulquiny, 6: Matthew Armstrong, 7: Angus Beaney, Str: Taylor Battistella, Cox: Sebastien Lucas-Lely, Cch: Anthony Johnson
5th Geelong Grammar - Bow: Daniel White, 2: Finn Orford, 3: Oliver Arter, 4: Oscar Philip, 5: James Langley, 6: Oscar Yencken, 7: Hendrik Verbeek Van Der Sande, Str: Thomas Eisner, Cox: Phoebe Naylor, Cch: Tony Green
6th Xavier College - Bow: Hamish Delany-Small, 2: Lachlan Apperley, 3: Campbell Pearce, 4: Hamish O'Farrell, 5: Richard Beaton, 6: Jack Lawson, 7: Luke Perica, Str: Fearghus Stewart, Cox: Ben King, Cch: Salvador Henricus
Final B
1st Haileybury College - Bow: Jack Hewitt, 2: Thomas Connell, 3: Nathan Horvat, 4: Imran Akdogan, 5: Oscar Bracken, 6: Tate Ward, 7: William Humble, Str: Eleas Kalfas, Cox: Thomas Szabo, Cch: Nicholas Gawler, Simon Millar, Josh Sadler
2nd Brighton Grammar - Bow: Maxwell Burt, 2: Oliver Platt, 3: Liam Lovett, 4: Josh Massuger, 5: Daniel Parish, 6: Jack Mason, 7: Samuel Kastrinakis, Str: Thomas Haddon, Cox: Charlie Kenny
3rd Wesley College - Bow: Mitchell Slavik, 2: Max Jacobs, 3: Joel Grunbaum, 4: Alex Hodge, 5: Graham Smith, 6: Fergus Orr, 7: Lachlan Parris, Str: Eliot Vogel, Cox: Tirath Sidhu, Cch: Graham Bushnell
4th Caulfield Grammar - Bow: Lachlan Hogan, 2: Andreas Matheou, 3: Luke Coburn, 4: Josh Kaye, 5: Ben Deighton, 6: Sean Donoghue, 7: Oscar Loughnan, Str: Thomas Herbert, Cox: Isabelle Annois
5th Carey Grammar - Bow: Adam Barnett, 2: Alexander Nimmo, 3: Liam Feikema, 4: Henry Sweeney, 5: Liam Jordan, 6: Matthew Packham, 7: Cameron McIntosh, Str: Jarvis Cole, Cox: Max McKenry, Cch: Nathan Portelli
Boys Third Eight
2000m
Final A
6:47.15
6:50.27
7:00.36
7:03.58
7:07.52
7:27.93
Final B
7:26.17
8:08.77
Final A
1st Melbourne Grammar - Bow: Sammy Stevenson, 2: Tom Hooper, 3: Charlie Bidgood, 4: Geoffrey Thompson, 5: Oscar Williams, 6: Hunter Judge, 7: Wills Nuske, Str: Hunter Hilditch, Cox: Tom Davies
2nd Geelong Grammar - Bow: Euan Orford, 2: Oscar Fowles, 3: Ben Chaney, 4: Harry Gibson, 5: James Heath, 6: Lewis Martin, 7: Harry McKenzie, Str: Broughton Underwood, Cox: Julia Tallis, Cch: Phil Gardiner
3rd St Kevin's College - Bow: Alexandras Bartaska, 2: Christopher Gusman, 3: Jarrod Nolan, 4: Hector Ryan, 5: Matt McCosker, 6: Patrick Marulli, 7: David Grech, Str: Patrick Daly, Cox: Justin Dinh, Cch: Lachlan Appleby
4th Xavier College - Bow: Joshua Tiernan, 2: Billy Morton, 3: Jackson Ronchi, 4: Petros Ketsakidis, 5: Julien Stoney, 6: Michael Beech, 7: Harrison Berogna, Str: Patrick Bourke, Cox: Max Liu, Cch: Jason Izydorczyk
5th Scotch College - Bow: Charles Aitken, 2: Jack Holyman, 3: James McGlashan, 4: Bailey Wentworth, 5: Alistair Gray, 6: Thomas Cameron, 7: Patrick Butcher, Str: Benjamin Clarke, Cox: James Ferguson
6th Brighton Grammar - Bow: Alexander Black, 2: Sean Erb, 3: Honore Moriceau, 4: Micky Hamilton, 5: Tyler Jackson, 6: Timothy Johnson, 7: Andy Nie, Str: Alexander Adams, Cox: Jack Stewart, Cch: Morgan Evans
Final B
1st Geelong College - Bow: Jack Holdsworth, 2: Charlie Horoch, 3: Leyton Mahon, 4: Hamish Manning, 5: Ned McIntyre, 6: Cooper Mathews, 7: Harry Breer, Str: Matthew Deahl, Cox: Constance Potts
2nd Caulfield Grammar - Bow: Philip Apokis, 2: Thomas Irwin, 3: Shaan Dube, 4: Harry Wingrove, 5: Harrison Radford, 6: Timothy Payne, 7: John Murrowood, Str: Jack Saliba, Cox: Ella Fraser
Boys Fourth Eight
2000m
Final
7:24.61
7:41.27
7:50.12
Final
1st Melbourne Grammar - Bow: Tom Ebeyan, 2: Max Hayward, 3: Fred Langley, 4: Ted Hibbard, 5: Richard Kelly, 6: James McIntosh, 7: Russell Grimwade, Str: Sam Blomley, Cox: Hugo Klempfner
2nd Scotch College - Bow: Carter Mursell, 2: Nicholas Sladden, 3: Edward Lienhard, 4: Alec Gordon, 5: Hugh McRobert, 6: Campbell Wilson, 7: Rupert Upjohn, Str: Thomas Marsden, Cox: Cameron MacKenzie, Cch: James Malon, Charlie Dixon
3rd Geelong College - Bow: Mikhail Landos, 2: Euan McGuire, 3: Michael Delahunty, 4: James Cole, 5: Albie Kay, 6: Arthur Ng, 7: Patrick Barkla, Str: William Carr, Cox: Rebecca McGrath
Boys Open Coxed Four
1000m
Final
No Times or Margins recorded
Final
1st Xavier College - Bow: Xavier Fox, 2: Felix Plunkett, 3: Christian Impala, Str: Thomas Higgins, Cox: Arrigo Pelosi, Cch: James McCann, Matthew Smith
2nd Geelong Grammar - Bow: Edward Illingworth, 2: Nicolas Schlotzer de Lucio, 3: Edward Larritt, Str: George Chomley, Cox: Alexandra Wagner, Cch: Lucas Schlotzer De Lucio
3rd Haileybury College - Bow: William Reid, 2: Truman Sheffield, 3: Riccardo Alder, Str: Matthew Lauder, Cox: Dale Arthur, Cch: Andrew Hammond
Boys Year 10 Eight Division 1
2000m
Final A
6:43.32
6:47.89
6:57.70
7:06.37
7:09.98
7:10.41
Final B
7:02.66
7:10.28
7:13.51
7:40.71
7:46.54
Final A
1st St Kevin's College - Bow: Jack Wright, 2: Christopher Johnson, 3: Max Dahlstrom, 4: William Cornwell, 5: Callum Jones, 6: Lachlan Lhuede, 7: Alistair Richards, Str: Lachlan O'Shea, Cox: Oscar Sinni, Cch: Pauline Frasca
2nd Melbourne Grammar - Bow: Zachery Batagol, 2: Lachie Hayter, 3: Daniel Blunt, 4: Harry Fox, 5: Samuel Connock, 6: Sebastian Francis, 7: Harry Croser, Str: Angus MacDonald, Cox: Ben Jackson
3rd Geelong College - Bow: Tristan Phung, 2: Lachie Congdon, 3: James Divola, 4: Lachlan Sutherland, 5: Ethan Gubbles, 6: Jack Thornton, 7: Ned Cox, Str: Zac Jackson, Cox: Ben Gadd
4th Scotch College - Bow: James Holmes, 2: Campbell Rickard, 3: Alexander Rubins, 4: William Dixon, 5: Timothy Nothnagel, 6: Harrison Miller, 7: Sam Lindeman, Str: James Hart, Cox: Charlie Oates, Cch: William Adams
5th Brighton Grammar - Bow: Matthew Noske, 2: Max Twycross, 3: William Bullock, 4: Flynn Wood, 5: Tom Murray, 6: Ethan Gray, 7: Harrison Catt, Str: James Mitchell, Cox: Charlie Durkin
6th Xavier College - Bow: Patrick Campbell, 2: Michael Dowdell, 3: Luca Lawson, 4: Thomas Fromont, 5: Luke Toohey, 6: Harry Amad, 7: Jack Guy, Str: Edward Kennedy, Cox: Tom Burger, Cch: Chris Bolsin, Nicholas Mitchell
Final B
1st Caulfield Grammar - Bow: Louka Christofidis, 2: Adam Brand, 3: Timothy Benton, 4: Nicholas Vlachodimitropoulos, 5: Jack Myers, 6: Timothy Sellens, 7: Gregor Cowie, Str: Alexander Selemba, Cox: Patrick Clifford
2nd Wesley College - Bow: Jock Green, 2: Oscar Tudge, 3: Jesse Tammesild, 4: Hunter McCoach, 5: Harry Smith, 6: Kobee Pleasants, 7: Samuel MacFarlane, Str: Rohan Lavery, Cox: Miles Gardner, Cch: David Webster
3rd Haileybury College - Bow: Michael Malek, 2: Logan Osborne, 3: Caleb Holding, 4: Jack Bell, 5: Jack Clemens, 6: Pim Okhuizen, 7: Nathan Perdriau, Str: William Achermann, Cox: Alexander Van Well, Cch: Matthew Mitchell
4th Geelong Grammar - Bow: Spencer Wells, 2: Oscar Hynes, 3: James Campbell, 4: Thomas Fowler, 5: Fergus Bishop, 6: Will Gorell, 7: James Thorne, Str: Tex MacIntosh, Cox: Wesley Mitchell, Cch: Mark Dwyer
5th Carey Grammar - Bow: Aaron Luber, 2: Cameron Martin, 3: Tim Cooke, 4: Alistair Ewin, 5: Luke McVicar, 6: Jordan Thomas, 7: Charlie Hiam, Str: Callan McIvor, Cox: Riley Arnold, Cch: Lewis Fotheringham
Boys Year 10 Eight Division 2
2000m
Final A
7:06.20
7:11.06
7:18.49
7:31.48
7:35.93
7:45.14
Final B
7:51.00
7:58.09
Final A
1st Melbourne Grammar - Bow: Blair Nuske, 2: Harry Ross, 3: Hamish Brown, 4: Will Hornor, 5: Antony Tragas, 6: Brooks Ballard, 7: Tim Brown, Str: Angus Keeble, Cox: Archie Calder
2nd Scotch College - Bow: Lachie Meikle, 2: Hritik Chaubal-Menon, 3: Timothy McPhee, 4: Julian Shnider, 5: Harrison Kloppers, 6: Fergus Kimber, 7: James McDonald, Str: Nick Johns, Cox: Samuel Sladden, Cch: Lachlan Marshall
3rd Brighton Grammar - Bow: William Middlemiss, 2: Nicholas Adams, 3: Michael Dean, 4: Oscar Estella, 5: Benjamin Cruse, 6: Liam McInerney, 7: Zac De Worsop, Str: Sebastian Mottram, Cox: Kyle Stewart, Cch: Thomas Fisher
4th St Kevin's College - Bow: Patrick O'Donoghue, 2: Christopher Sargeant, 3: Angus McGregor, 4: Charles McNamara, 5: Alexander Fritsch, 6: Otis Trail, 7: Jordan Weatherall, Str: Duncan Eaton, Cox: Louis Noonan, Cch: Richard Law
5th Wesley College - Bow: Hugo Grant, 2: Nick Smith, 3: Thomas Pewtress, 4: Corey Leonard, 5: Luke Magnusson, 6: Ciaran Samuels, 7: Alexander Frencham, Str: Chris Horsfall, Cox: Tirath Sidhu, Cch: Toby Benjamin
6th Caulfield Grammar - Bow: Charles Lilly, 2: Reilly de Zwart, 3: Mitchell De Nardis, 4: Finn Oriander, 5: Austin Saba, 6: Gabriel Ribush, 7: James McGivern, Str: Miles Andrew, Cox: Tobias Bottrall
Final B
1st Xavier College - Bow: Tom Lyon, 2: Joey Woodley, 3: Samuel Mort, 4: Lachlan Macleod, 5: Christopher Willis, 6: Edgar Laurie, 7: Edward Hicks, Str: Ted Silk, Cox: Thomas Worsnop, Cch: Sam Lefebvre
2nd Geelong Grammar - Bow: Ned Hellier, 2: Niccolo Merlatti, 3: Charlie Messner, 4: Henry Maconochie, 5: Blake Dunn, 6: Dougal Pithie, 7: Joshua Fischl, Str: William Anderson, Cox: James Harte, Cch: Tim Day
Boys Year 10 Eight Division 3
2000m
Final A
7:27.76
7:37.88
7:41.58
7:48.28
7:55.69
8:27.98
Final B
No Times or Margins recorded
Final A
1st Scotch College - Bow: Richard Malcolm, 2: Maxim Chirmuley, 3: William Upjohn, 4: Simon Digby, 5: Charlie Hudson, 6: Jackson Orloff, 7: Rory Price, Str: Lachie Gall, Cox: Lachlan Gration, Cch: Tom Duffy
2nd Brighton Grammar - Bow: Michael Jonker, 2: Nicholas Hutchins, 3: Bradley Hickey, 4: Austin Lawson, 5: Cameron Berry, 6: Max Markham, 7: Jack Goodings, Str: Hamish McDowell, Cox: Tom Elliott, Cch: Alexander Page
3rd Melbourne Grammar - Bow: Alex Holdenson, 2: Jack Enticott, 3: Hugh Dunlop, 4: Thomas O'Neill, 5: Lucien Garner-Davis, 6: Ned Johnstone, 7: James McCall, Str: Thomas Parkinson, Cox: Basil Geczy
4th Geelong Grammar - Bow: Franz Ranacher, 2: Benjamin Fischl, 3: Hamish Wynn-Pope, 4: Charlie Gaunt, 5: Haeata Balfour Ash, 6: Hugh Burleigh, 7: Hamish Cassidy, Str: Nicholas Armytage, Cox: Nick Doughty, Cch: Will Day
5th St Kevin's College - Bow: James Gook, 2: Henry Renehan, 3: Nick Ingpen, 4: Benedict O'Leary, 5: Will Hogan, 6: Lachlan Chaplin, 7: Thierry Fong, Str: Lachlan Powning, Cox: Jarek Heares, Cch: Liam Utri
6th Brighton Grammar - Bow: Angus Harris, 2: Harrison Cole, 3: Jack Morrison, 4: Hudson Rowell, 5: Nicholas Longmire, 6: James Fisher, 7: Chas Rechner, Str: Jack Wright, Cox: Mitchell Augustini, Cch: Alexander Clarke, Harrison McIntyre
Final B
1st Geelong College - Bow: James Gadd, 2: Lachlan Wynter, 3: Fergus Willett, 4: Angus Williams, 5: Charlie Batrouney, 6: Jack Moorfoot, 7: Samuel Malone, Str: Tyler Wright, Cox: Liam Wylie
2nd Scotch College - Bow: Liam Greer, 2: Daniel Werts, 3: Harry Glaspole, 4: Finn Tsigaras, 5: Ravi Wilde, 6: Digby Webster, 7: Harrison Kloppers, Str: Lachlan Shannon, Cox: Angus Bodon, Cch: Angus Gill
3rd Scotch College - Bow: Hugh Alexander, 2: Christian Rabie, 3: William Norman, 4: Cade De Rooy, 5: William Cester, 6: Jarryd Saliba, 7: Matthew Walker, Str: Alec Greco, Cox: Charlie Oates, Cch: Peter Bath
4th Caulfield Grammar - Bow: Oliver Kourakis, 2: Ethan Donato, 3: Jackson Long, 4: Bobby Jin, 5: Eric Cheng, 6: Konstantinos Osianlis, 7: Mathew Allen, Str: Finton Dickson, Cox: Cameron Phillips
5th Geelong Grammar - Bow: Chris Cordeaux, 2: Tully Barton-Spillane, 3: Callum Tonuri, 4: Lachlan Campbell, 5: Milo Brew, 6: Jaius Rhyon, 7: Michael Xie, Str: Digby Philip, Cox: William Spangler, Cch: Jacqui Marshall
Boys Year 10 Coxed Four Division A
1000m
Final
No Times or Margins recorded
Final
1st Wesley College - Bow: Alexander Combe, 2: Storm Bell, 3: Corey Leonard, Str: Alexander Frencham, Cox: Christos Spanos, Cch: Graham Bushnell
2nd Melbourne Grammar - Bow: Alexander Bennett, 2: Harry Mowbray, 3: Aidan Fitzgerald, Str: Jack Cooper, Cox: Joshua Chestney
3rd Haileybury College - Bow: Zakariya Kor, 2: James Vereker, 3: Sturt Burgess, Str: Callum Bryan, Cox: Dhiiren Moganaraju, Cch: Jason Wijesuriya, Andrew Hammond
Girls Open & Year 10
Click on the race of interest and the results will appear below the buttons:
Girls Head of the River
1000m
Final
7:16.95
7:35.84
7:41.28
7:41.78
7:49.47
8:05.75
Final
1st Geelong Grammar - Bow: Emma Shippen, 2: Zoe Treweeke, 3: Serena Brookes, 4: Alice Chirnside, 5: Sophie Sutton, 6: Jane Perrignon, 7: Sasha Culley, Str: Sarah Harte, Cox: Georgina Gubbins, Cch: Rob England, Debbie Clingeleffer-Woodford
2nd Caulfield Grammar - Bow: Tayla Hind, 2: Chloe Mitchell, 3: Jasmine Lowe, 4: Emily Browell, 5: Alice Edmonds, 6: Brooke Mynott, 7: Lexie Perrott, Str: Amelia Ghali, Cox: Emily Krassaris
3rd Geelong College - Bow: Katya Boness, 2: Claudia Cheatley, 3: Sophie Walmsley, 4: Emma Gorell, 5: Grace Stewart, 6: Emily Hall, 7: Meg Blundy Jones, Str: Eliza Lawson, Cox: Lilli Balaam
4th Wesley College - Bow: Larissa McBurney, 2: Sophie Kent, 3: Georgia Rose, 4: Courtney Neiwand, 5: Isabella Bembic, 6: Hannah McLeish-Moss, 7: Nikita Singleton, Str: Christine Nancarrow, Cox: Holly Peters, Cch: Bert Cocu, Zoe Castran
5th Carey Grammar - Bow: Maddy Jackson, 2: Jessica Evans, 3: Meg Hermann, 4: Maddison Ding, 5: Emily Edwards, 6: Bronte Arnott, 7: Alexandra Klupacs, Str: Eleanor Symon, Cox: Ellie Atkins, Cch: Alysha Batliwalla, Henry Bryan
6th Haileybury College - Bow: Erin Proctor-Parker, 2: Annabelle Armstrong, 3: Maisie Ralphsmith, 4: Annika Pest, 5: Sigrid Williamson, 6: Mia Maginness, 7: Avalon Ekberg, Str: Madelyn McDonald, Cox: Charlotte Fabien, Cch: Peter McConnell, Breanna Briede
Girls Second Eight
2000m
Final
7:35.09
7:43.25
8:03.20
8:10.68
Final
1st Geelong College - Bow: Layla Murrihy, 2: Dominique Russell, 3: Grace Bond, 4: Claire Goldsack, 5: Chloe Wynter, 6: Grace Carroll, 7: Isabel Tierney, Str: Kate Guthrie, Cox: Millie McArthur
2nd Geelong Grammar - Bow: Georgina Browne, 2: Gigi Dunn, 3: Elizabeth Hains, 4: Emily Richards, 5: Isabelle Luxton, 6: Ruby Lees, 7: Lucy Needle, Str: Zoe Burgess, Cox: Ella Cochrane, Cch: John Grave
3rd Carey Grammar - Bow: Isabella Gillot, 2: Annica Ernest, 3: Thalia Anderson, 4: Tess Brookman, 5: Ines McKay, 6: Annabel Nichols, 7: Ashleigh Rizio, Str: Rose Morarty, Cox: Angie Knowles, Cch: Emily Avery
4th Caulfield Grammar - Bow: Meg Kunkler, 2: Lucy Norbury, 3: Jasmine Routley, 4: Phoebe Elliot, 5: Laura Knowles, 6: Jordan Duckett, 7: Abigail Mickelbrough, Str: Minoli Rajasinghe, Cox: Catherine Pemberton
Girls Third Eight
2000m
Final
8:19.54
8:31.00
9:07.07
Final
1st Geelong Grammar - Bow: Cecilia Lowry, 2: Scarlett Southey, 3: Mimi Kellett, 4: Winifred Cole, 5: Xanthe Barr-Smith, 6: Alice Lewis, 7: Alicia Nixon, Str: Zara Edgar, Cox: Alexandra Wagner, Cch: Courtney Blyth
2nd Geelong College - Bow: Michaela Ryan, 2: Amelia Powell, 3: Brianna Perry, 4: Olivia Anderson, 5: Roxy Sefton, 6: Bridget McNamara, 7: Rachael Goy, Str: Aleisha Mauderer, Cox: Ruby Gow
3rd Caulfield Grammar - Bow: Olivia Slot, 2: Kate Ross, 3: Ally Mamouney, 4: Amber Nilsson, 5: Jessica Tan, 6: Claudia Rizkalla, 7: Olivia Morgan, Str: Erica Hatzipantelis, Cox: Emma Sumner
Girls Year 10 Coxed Four Division 1
1000m
Final
Winning Time not recorded
+0.39
+3.61
+2.37
+8.64
+1.99
Final
1st Geelong Grammar - Bow: Bronte Sutton, 2: Courtney Brown, 3: Sasha O'Reilly, Str: Sammy Sutherland, Cox: Heidi Blyth, Cch: Andrew Beauchamp
2nd Caulfield Grammar - Bow: Mackenzie Miller, 2: Anna Upton, 3: Jessica Robinson, Str: Alice Nowicki, Cox: Jana Angelopoulos
3rd Geelong College - Bow: Ellie Barr, 2: Charlotte Midgley, 3: Claire Morrison, Str: Sadie Longden, Cox: Jessica Neville
4th Haileybury College - Bow: Natasha Kerr, 2: Emma McLaren, 3: Isabella Scaunich, Str: Annabel Trivett, Cox: Charlotte Scaunich, Cch: Sally Trudzik
5th Wesley College - Bow: Iris Hastings, 2: Samantha Wood, 3: Georgie Mason, Str: Sara Norman, Cox: Abby Howard, Cch: Laura Cordner
6th Carey Grammar - Bow: Elena Teh, 2: Sarah Cohen, 3: Ruby Hubbard, Str: Marli Wilkinson, Cox: Natalie Wong, Cch: Georgina Janssen
Girls Year 10 Coxed Four Division 2
1000m
Final
4:12.88
4:14.72
4:16.20
4:17.42
4:22.39
4:32.49
Final
1st Geelong College - Bow: Tara Boness, 2: Mimmi Balaam, 3: Olympia Binos, Str: Georgia White, Cox: Esther Morgan
2nd Caulfield Grammar - Bow: Alexandra Fergusson, 2: Lindsay Day, 3: Tessa Simpson, Str: Asha Lohning, Cox: Grace Tilley
3rd Carey Grammar - Bow: Olivia Evans, 2: Lucy Morley, 3: Sally Rechner, Str: Zara Chisholm, Cox: Lilliana De Paiva , Cch: Gabrielle Dupe
4th Geelong Grammar - Bow: Abbi Wilson, 2: Georgie Biggs, 3: Indi Kebbell, Str: Matilda von Bibra, Cox: Georgia Nicholas, Cch: Kim Baker
5th Wesley College - Bow: Charlie Rosenberg, 2: Audrey Mims, 3: Tess Ogilvie, Str: Chloe Machell, Cox: Morgan Roberts, Cch: Henry Hosking
6th Haileybury College - Bow: Jade Murphy, 2: Georgiana Tzouvelis, 3: Sienna Crook, Str: Sarsha Braim, Cox: Eugenia Kerlidis, Cch: Jessica DeGaris
Girls Year 10 Coxed Four Division 3
1000m
Final
4:13.70
4:14.40
4:17.85
4:19.49
4:24.79
Final
1st Geelong College - Bow: Olivia Evans, 2: Grace Vincent, 3: Isobel Dobie, Str: Pippi McDonald, Cox: Daisy Hayes
2nd Wesley College - Bow: Maya Anderson, 2: Caitlin Samuels, 3: Hannah Burke, Str: Akari Hull, Cox: Sophie Reid, Cch: Rachel McCloskey
3rd Caulfield Grammar - Bow: Isabella Bokma, 2: Chloe Schneider, 3: Chloe MacVean, Str: Lucy Steel, Cox: Brooke Hutchins
4th Geelong Grammar - Bow: Chana Hagege, 2: Sophie Clarke, 3: Ava Gorell, Str: Edwina Jackson, Cox: Lotte Carter
5th Carey Grammar - Bow: Eilish Feehan, 2: Charlotte Keller, 3: Eliza Dugan, Str: Gabrielle Handberg, Cox: Amelda Norsworthy, Cch: Lily Walters-Quan
Girls Year 10 Coxed Four Division 4
1000m
Final
4:11.26
4:14.97
4:22.59
4:24.48
4:36.89
No Time
Final
1st Wesley College - Bow: Panisa Ongwat, 2: Mille King, 3: Francesca Fraser, Str: Christina Niteros, Cox: Lucy Hayton, Cch: Julian Bagnara
2nd Geelong College - Bow: Annabel Whitford, 2: Millie Martin, 3: Madeleine Salveson, Str: Macy Lockyer, Cox: Eddi McDonald
3rd Geelong Grammar - Bow: Fleur McLachlan, 2: Dominique Galetto, 3: Sophie Darling, Str: Claudia Nance, Cox: Tessa McVann, Cch: Phillipa Beauchamp
4th Caulfield Grammar - Bow: Emilie West, 2: Mia Snell, 3: Maddison Thompson, Str: Susanna Chen, Cox: Laura Hayne
5th Carey Grammar - Bow: Melissa Ritchie, 2: Prue Fennessy, 3: Sumer Kelly-Stout, Str: Bridget Perry, Cox: Zahra Mannix, Cch: Lauren Oswin
6th Geelong Grammar - Bow: Nadya Athan, 2: Chloe Reed, 3: Mieke Fowles, Str: Natalie Turner, Cox: Rachelle Koumouris
Girls Year 10 Coxed Four Division 5
1000m
Final
4:17.40
4:18.88
4:21.97
4:23.09
4:40.85
Final
1st Geelong College - Bow: Phoebe Miller, 2: Charlotte Darcy, 3: Ellie Nigro, Str: Ebony Skene, Cox: Olivia Ruggero
2nd Wesley College - Bow: Ella Grant, 2: Zoe Weimar, 3: Alexandra Tokatlidis, Str: Sarah Houghton, Cox: Anne Gu, Cch: Petro Papathomas
3rd Geelong Grammar - Bow: Georgie Findlay, 2: Sybila Keogh, 3: Tess Colquhoun, Str: Georgie Manifold, Cox: Lucy Canny
4th Caulfield Grammar - Bow: Hope Smith, 2: Emily Renton, 3: Lalita Wright, Str: Jemma Vawdrey, Cox: Laura Thomson
5th Geelong Grammar - Bow: Olivia Job, 2: Catherine Hill, 3: Lara Malouf, Str: Tempe McLeod, Cox: Lauren Jensen
Girls Year 10 Coxed Four Division 6
1000m
Final
4:13.02
4:20.39
4:27.21
4:30.62
4:31.68
4:48.75
Final
1st Wesley College - Bow: Panisa Ongwat, 2: Jessica Manning, 3: Charlotte Rooney, Str: Pepper Horman, Cox: Lucy Hayton, Cch: Alex Baulch, Olivia Gardiner
2nd Caulfield Grammar - Bow: Renee Yip, 2: Heloise Ting, 3: Mandy Cao, Str: Holly Beadle, Cox: Akimmy Pham
3rd Geelong Grammar - Bow: Daisy Ellery-Thornley, 2: Jillian Conn, 3: Eliza Radford, Str: Catherine Connell, Cox: Kasey Furnari
4th Geelong Grammar - Bow: Sophie Sampson, 2: Bella Grave, 3: Daisy Taylor, Str: Grace Hill-Smith, Cox: Caitlin Gilligan
5th Geelong Grammar - Bow: Jacqueline Stent, 2: Zoe Gillies, 3: Allyson Routley, Str: Bridgit Casey, Cox: Ashley Jefferson
6th Caulfield Grammar - Bow: Melanie Burnett, 2: Sophie Adam, 3: Ella Stimpson, Str: Madeline Williams, Cox: Jessica Stephens
Boys Year 9
Click on the race of interest and the results will appear below the buttons:
Boys Year 9 Coxed Quad Scull Division 1
1000m
Final A
3:19.98
3:24.31
3:27.06
3:28.75
3:32.54
3:42.63
Final B
3:47.51
3:48.24
3:48.89
Final A
1st Scotch College - Bow: John Kilroe-Smith, 2: Fraser Miscamble, 3: Marcus Emmett, Str: Tom McPhail, Cox: Archie Gill, Cch: Adam Brown
2nd Brighton Grammar - Bow: Tom Banfield, 2: Martin Kulesza, 3: Harry Mathews, Str: Oscar Lewis, Cox: Oscar Buscombe, Cch: Oscar Armstrong
3rd St Kevin's College - Bow: Andre Farnan-Aarons, 2: Montgomery Herbert-Morgan, 3: Oscar Lane, Str: Jack O'Malley, Cox: William Lincoln-Price, Cch: James Hoogenbosch
4th Xavier College - Bow: Luke McCarthy, 2: Liam Reynen, 3: Ross Agelopoulos, Str: Oliver Burke, Cox: Fraser Kenny, Cch: Michael Henderson, Lachlan Wright
5th Melbourne Grammar - Bow: Nicholas Ward-Ambler, 2: Jamie Arnold, 3: James Gray, Str: George Derham, Cox: Hugo Druce
6th Caulfield Grammar - Bow: Lachlan Dowling, 2: Jonathon Hansford, 3: Fischer McAsey, Str: Alexander Grinter, Cox: Omila Herath
Final B
1st Wesley College - Bow: Riley Cargill, 2: Jonathan May, 3: Remy Burns, Str: Lachie Pont, Cox: Marcel Randles, Cch: Ben Fisher
2nd Geelong College - Bow: Oscar Illingworth, 2: Charlie Middleton, 3: Luke Derksen, Str: Will Page, Cox: Hamish Dobie
3rd Carey Grammar - Bow: Sam Morrison, 2: Angus Dimitropoulos, 3: Ben John, Str: Izac Rossi, Cox: Fraser Sutherland, Cch: Zain Khan
Boys Year 9 Coxed Quad Scull Division 2
1000m
Final A
3:27.98
3:37.42
3:45.12
3:46.49
3:48.27
3:56.42
Final B
3:47.82
4:01.42
4:02.89
Final A
1st Scotch College - Bow: Archer Richards, 2: Max Lempriere, 3: James Scott, Str: Marcus Cameron, Cox: Hugo Bernard
2nd Melbourne Grammar - Bow: Louis Williams, 2: Jack Anstee, 3: Dean Kloufetos, Str: Ben Scanlon, Cox: Rhys Williams
3rd St Kevin's College - Bow: Leonardo Grossi, 2: Riccardo Bonacci, 3: Ben O'Connor, Str: Henry Piner, Cox: Darcy Boxer, Cch: Michael Skala
4th Xavier College - Bow: Hamish Bowen, 2: Zacharie Ostrowski, 3: Max Forbes, Str: Kirby Lack, Cox: Oisin Agnew, Cch: Bart Vaughan
5th Caulfield Grammar - Bow: Rory Tobin-Underwood, 2: Ryan Pritchard, 3: Trent Hill, Str: Daniel Hennessy, Cox: Blake Hudson
6th Geelong College - Bow: Oliver Alvarez de Toledo, 2: Connor Pawsey, 3: Ngor Aker, Str: Ed Callan, Cox: Tom Forshaw
Final B
1st Brighton Grammar - Bow: Archie Hynes, 2: Lachlan Hernadi, 3: Andreas Kardis, Str: Sam Reid, Cox: Mitchell Augustini, Cch: Sebastion Nearchou
2nd Carey Grammar - Bow: Joseph Pellegrino, 2: Jackson Hubbard, 3: Lachlan Ding, Str: Nathan Gentis, Cox: Sam Lincoln, Cch: Lee Andrianakis
3rd Wesley College - Bow: Peter Vamvakitis, 2: Dean Niteros, 3: Mitchell Bowman, Str: Jack Hymas, Cox: Rian Downie, Cch: James Kenyon-Smith
Boys Year 9 Coxed Quad Scull Division 3
1000m
Final A
3:30.62
3:33.07
3:35.30
3:37.12
3:51.67
4:27.84
Final B
3:50.10
3:51.56
3:56.06
Final A
1st Scotch College - Bow: William Dixon, 2: Josh Allen, 3: Maxwell Bloom, Str: Jack White, Cox: Lachlan McDonald, Cch: Christopher Brack
2nd St Kevin's College - Bow: Louis Cox, 2: Charles Dawe, 3: Finnley Maule, Str: Angus Hart, Cox: Samuel Duff, Cch: Alexander Stefanac
3rd Melbourne Grammar - Bow: Alexander Psalidas, 2: Gus Galloway, 3: Jack Hann, Str: Angus Donnelly, Cox: Chris Corbett
4th Xavier College - Bow: Alec Margetts, 2: Spencer McNamara, 3: Billy Egan, Str: Joshua Camilleri, Cox: Stefan Nuzzo, Cch: Luca Nuzzo
5th Brighton Grammar - Bow: James Poulter, 2: Harry Barden, 3: Silas Siedle, Str: Josh Canham, Cox: Ethan Lovett, Cch: Angus Maloney, Ty Heron
6th Wesley College - Bow: Harry Shaw, 2: Jack Dawson, 3: Zac Roff-Smith, Str: Cooper Vella, Cox: Cristopher Krotiris, Cch: Hamish Wallace
Final B
1st Caufield Grammar - Bow: Coen Hill, 2: Peter Kapaklis, 3: William Bainbridge, Str :Jackson Sandler, Cox: Max McLennan
2nd Carey Grammar - Bow: Raymond Rogers, 2: Harry Katopodis, 3: Patrick Herten, Str: Lloyd Charlton, Cox: Caellan Casey, Cch: Alexander Kinsella
3rd Geelong College - Bow: Xavier Hal-Sullivan, 2: Will Rees, 3: Harry Powell, Str: Patrick Horoch, Cox: Oscar Abikhair
Boys Year 9 Coxed Quad Scull Division 4
1000m
Final A
3:43.76
3:46.51
3:48.21
3:52.51
3:53.91
4:05.76
Final B
4:04.08
4:09.79
Final A
1st Scotch College - Bow: Benjamin Zaki, 2: Gus Permezel, 3: Tom Furphy, Str: Samuel Porter, Cox: Adam Pai, Cch: Ben Silagy
2nd Carey Grammar - Bow: George Blood, 2: Jordan Parissis, 3: Patrick Goss, Str: Sam Harding, Cox: William Thomas, Cch: Lachlan May
3rd St Kevin's College - Bow: Luke Shepherd, 2: Joshua Brodrick, 3: William Cooper, Str: Jordan Roberts, Cox: Aaron Scherrer, Cch: Henry Shirer, Paul Ryan
4th Caulfield Grammar - Bow: William Fleming, 2: Andrew Apostolopoulos, 3: Benjamin Dorevitch, Str: Jayden Cooke, Cox: Tyrone Wilson
5th Brighton Grammar - Bow: George Farrell, 2: Benjamin Warrell, 3: Christian Gernandt, Str: Henry Armstrong, Cox: Charlie Clarke, Cch: Scott Collie
6th Melbourne Grammar - Bow: Ben Thompson, 2: James Sallabank, 3: Marcus Cave, Str: Hudson Ross, Cox: Fergus Mitchell
Final B
1st Xavier College - Bow: Lachlan Mills, 2: Jack Boyd, 3: Jack Rosier, Str: Marcus Air, Cox: Andy Chen, Cch: Harry Lucas
2nd Geelong College - Bow: Angus Jackman, 2: James McGuire, 3: Drewe Byrne, Str: Henry Parks, Cox: Jye Charles
Boys Year 9 Coxed Quad Scull Division 5
1000m
Final A
3:49.09
4:01.46
4:02,57
4:04.19
4:06.26
4:06.94
Final B
4:16.47
4:36.39
Final A
1st Scotch College - Bow: William O'Nians, 2: Jack Cameron, 3: Jonty Bergh, Str: Campbell Marshall, Cox: Lachie Phillips, Cch: James Scott
2nd Melbourne Grammar- Bow: Finn Stephens, 2: Max Santoro, 3: Jack Finlay, Str: Lochie Dowd, Cox: Harry Wilson-Robson
3rd Xavier College - Bow: Jack Hansen, 2: Daniel Fitzpatrick, 3: Axel Cortada-McCorkell, Str: Michael Giliberto, Cox: Max McColl Jones, Cch: Charles Wright
4th St Kevin's College - Bow: Luke Agostinelli, 2: Luke Ragusa, 3: Conor Duggan, Str: Nikolas Scott, Cox: Charles Ives, Cch: Samuel Doble
5th Caulfield Grammar - Bow: Callum Charlton, 2: Charlie Morley, 3: Charlie Drewitt, Str: James Sampson, Cox: Alexander Eggers
6th Carey Grammar - Bow: Lucius Catta, 2: Will Hogg, 3: Dylan Price, Str: Henry Blood, Cox: Sam Davidson, Cch: Jayden Grey
Final B
1st Brighton Grammar - Bow: Hayden Mitchell, 2: Brock Jackson, 3: Leo Kouskouris, Str: Patrick Liddle, Cox: Ethan Lovett, Cch: Brodie Miller
2nd Geelong College - Bow: William Evans-Papinski, 2: Jesse Deppeler, 3: Oliver Soo Soo, Str: Gabe Nolan, Cox: Jye Charles
Boys Year 9 Coxed Quad Scull Division 6
1000m
Final
3:59.09
4:06.45
4:08.40
4:11.26
4:14.15
4:20.38
4:27.48
Final
1st Scotch College - Bow: Matthew Chen, 2: Tom MacDonald, 3: James Somerton, Str: Oscar Miller, Cox: Tige Ryan, Cch: Jordan Karklins
2nd Melbourne Grammar - Bow: Alexander Misko, 2: Campbell Tonkin, 3: Harry Hume, Str: James Newton-Brown, Cox: Henry Stuckey
3rd Brighton Grammar - Bow: Will Gregory, 2: Joshua Williams, 3: Callum McPeake, Str: William Graves, Cox: Oscar Buscombe, Cch: Edward Tait
4th Xavier College - Bow: Julian Gangi, 2: Finbar Jenkins, 3: Mason Brinkworth, Str: Josh Hynes, Cox: James Hills, Cch: Thomas Allen, Jordan King
5th Carey Grammar - Bow: Dominic Ciavarella, 2: Lachlan Knox, 3: Benji Cawthorn-Breheny, Str: Nicholas Harrison, Cox: Ryan Vollmer, Cch: James Hoban
6th Caulfield Grammar - Bow: Paul Bottomley, 2: Jackson Hartley, 3: Harrison Konstantatos, Str: Jackson Collins, Cox: Tyler Eastcott
7th St Kevin's College - Bow: Nicholas Fergus, 2: Rourke Sheridan, 3: Ashton Souter, Str: Jordan Roberts, Cox: Brayden Kenny, Cch: Julie Slattery, David Urwin
Boys Year 9 Coxed Quad Scull Division 7
1000m
Final A
4:01.08
4:02.20
4:03.41
4:07.88
4:25.33
4:41.96
Final B
4:13.94
4:26.74
4:27.21
4:32.26
4:34.41
4:35.56
Final A
1st Scotch College - Bow: Brad Edwards, 2: Callum Oblak, 3: James Winton, Str: Cooper Eagles, Cox: Noah Murphy, Cch: Josh Dewan
2nd Scotch College - Bow: Alexander Stansen, 2: Paul Vrakas, 3: James Montague, Str: Nicholas Joel, Cox: Fred Boykett
3rd Scotch College - Bow: William Cussell, 2: Lawson Argent, 3: Jackson Day, Str: Matthew Chang, Cox: Will Tadgell, Cch: Corey MacKenzie
4th Xavier College - Bow: Louis Commins, 2: James Amalfi, 3: Josh Schinck, Str: Alistair Phipps-Parsons, Cox: Linus Bell, Cch: David Fogarty
5th Melbourne Grammar - Bow: Jack McCullough, 2: Carl Klempfner, 3: Max Wilson, Str: Will McIntyre, Cox: Dylan Glatz
6th St Kevin's College - Bow: Yani Tiganis, 2: Brayden Kenny, 3: Edward Oldis, Str: Hudson Ciavarella, Cox: Brandon Dinh, Cch: Paul Hoy
Final B
1st Scotch College - Bow: Ben Beischer, 2: William Western, 3: Brian Liu, Str: Sam Skinner, Cox: Rory Cooper, Cch: Lachlan Strathmore
2nd Carey Grammar - Bow: Jacob Cresswell, 2: Ethan Donnelly, 3: Samuel Ireland, Str: Michael Li, Cox: Thomas Addison, Cch: Liam Jackson
3rd Caulfield Grammar - Bow: Charlie Furphy, 2: Ben Brandt, 3: James Vannan, Str: Andrew Hayes, Cox: Sean Kalkhoven
4th Melbourne Grammar - Bow: Eddie Xu, 2: Max Bundy, 3: Hamish Fergusson, Str: William Davie, Cox: Oscar Hatherly
5th Brighton Grammar - Bow: Charlton Stuart-Williams, 2: Jay Jay Zhu, 3: Jamie Tzimas, Str: Jack Wyss, Cox: Finn Livitsanis, Cch: Will Simon
6th Caulfield Grammar - Bow: Tristan McPhee, 2: Jordan Laliotis, 3: Brady Wilson, Str: Callum Lellyett, Cox: Lachlan Dowling
Boys Year 9 Coxed Quad Scull Division 8
1000m
Final A
4:16.03
4:19.26
4:24.89
4:29.69
4:40.00
5:00.82
Final B
No Times or Margins recorded
Final A
1st Melbourne Grammar - Bow: Daniel Yang, 2: Spencer Hawkins, 3: Lachlan Kerr, Str: Max Marriner, Cox: Benjamin Wallace
2nd Scotch College - Bow: Trent Mackenzie, 2: Matthew McHenry, 3: Will Montagu, Str: Ethan Grollo, Cox: Ben Strang, Cch: Zac Tsigaras
3rd Xavier College - Bow: Matthew Donoghue, 2: Nick Crowe, 3: Chris Easterbrook, Str: Bailey Watson, Cox: James Musco, Cch: Tom Giliberto
4th Xavier College - Bow: Alexander Gorman, 2: Benjamin Traficante, 3: Charlie Allpress, Str: Liam Parker, Cox: Patrick Grave, Cch: William Veljkovic
5th Scotch College - Bow: Sam McLean, 2: Lawson Argent, 3: Harry Gill, Str: Tom Eady-Jennings, Cox: Oliver Marshall, Cch: Thomas Brooks
6th Caulfield Grammar - Bow: Eric Lu, 2: Tyrone Wilson, 3: Sean Kalkhoven, Str: Ryan Moore, Cox: William Bainbridge
Final B
1st Caulfield Grammar - Bow: William Kininimoth, 2: Alexander Eggers, 3: Tyler Eastcott, Str: Blake Hudson, Cox: Max McLennan
2nd Scotch College - Bow: Thomas McAdam, 2: Cooper Eagles, 3: Dean Vestakis, Str: Timothy Keep, Cox: Adam Pai, Cch: Flynn Eady-Jennings
3rd Scotch College - Bow: Ben Beischer, 2: Harry Boykett, 3: Jackson Bishop, Str: Jem Murchie, Cox: Daniel Wong, Cch: Thomas Beischer
4th Scotch College - Bow: Lachlan Williams, 2: Matthew Lee, 3: Christian Ngan, Str: William Smith, Cox: Rex Cameron, Cch: Nicholas Waddell
5th Melbourne Grammar - Bow: Aiden Jones, 2: Lachie Gill, 3: Bradman Gaudry, Str: Rory O'Connor, Cox: Kyle Collins
Girls Year 9
Click on the race of interest and the results will appear below the buttons:
Girls Year 9 Four Division 1
1000m
Final
4:14.11
4:28.89
4:29.47
4:56.22
Final
1st Wesley College - Bow: Aaliah Dawson, 2: Lex Green, 3: Alia Sargent, Str: Holly Wilson, Cox: Sophie Webster, Cch: Alice Arch, Fergus Brown
2nd Geelong College - Bow: Lily Gilby, 2: Khianna Chapman, 3: Laura Ryan, Str: Eva Baensch, Cox: Annabelle Naylor
3rd Carey Grammar - Bow: Maya Worth, 2: Jessie Yammouni, 3: Sophie Gilford, Str: Willow Cochrane, Cox: Anna Frankpitt, Cch: Elly Fennessy
4th Caulfield Grammar - Bow: Georgia Beed, 2: Maysen Duffy, 3: Alana Vanzo, Str: Bryanna Arnold, Cox: Grace Brown
Girls Year 9 Four Division 2
1000m
Final
4:20.74
4:22.38
4:28.94
4:31.59
Final
1st Carey Grammar - Bow: Isabella Borroni, 2: Araminta Beroukas, 3: Marie Liberopoulos, Str: Emily Ludovici, Cox: Olive Walker, Cch: Stephanie Marshall
2nd Geelong College - Bow: Jessica Loftus, 2: Hannah Walker, 3: Lily Mathews, Str: Emma Blampied, Cox: Cate Barr
3rd Caulfield Grammar - Bow: Holly Rothnie, 2: Samantha Height, 3: Issy Grant, Str: Emma Vanzyl, Cox: Dana McDonald
4th Wesley College - Bow: Georgia Wyett, 2: Lucy Hayes, 3: Alisha Khot, Str: Phoebe Rizzoli, Cox: Emma Howard, Cch: Elenna Niteros
Girls Year 9 Four Division 3
1000m
Final
4:21.92
4:24.91
4:33.47
4:41.68
Final
1st Carey Grammar - Bow: Quinn Cameron, 2: Eve Panagopoulos, 3: Holly Spencer, Str: Eliza Cain, Cox: Mia Atkins, Cch: Laura Daly
2nd Wesley College - Bow: Chloe Zanchi, 2: Illit Shahak, 3: Gabi Long, Str: Georgie McIntosh, Cox: Sara Murphy, Cch: Lydia McCloskey
3rd Geelong College - Bow: Iona Bulford, 2: Claire Townson, 3: Carly Perkins, Str: Tilly Buchanan, Cox: Lilly Tierney
4th Caulfield Grammar - Bow: Olivia Huinink, 2: Imogen Holthouse, 3: Marguerite Purcell, Str: Amy Smith, Cox: Darcy Miller
Girls Year 9 Four Division 4
1000m
Final
4:29.65
4:33.34
4:36.55
4:44.87
Final
1st Geelong College - Bow: Lily Edwards, 2: Olivia Porte, 3: Orlaith Plowman, Str: Isabella Thomson, Cox: Lily Morgan
2nd Caulfield Grammar - Bow: Annie Haffenden, 2: Ella Heaphy, 3: Anastasia Skondreas, Str: Chloe Woodburn, Cox: Courtney Harvey
3rd Carey Grammar - Bow: Amy Fuller, 2: Geena Parkinson, 3: Charlotte Thomas, Str: Georgia Horton, Cox: Lauren Kent, Cch: Madeleine Stanboultgis
4th Wesley College - Bow: Ruby Rose McMullin, 2: Juliet McBurney, 3: Molly Redmond, Str: Samanda Vella, Cox: Sierra Slavik, Cch: Will Orr
Girls Year 9 Four Division 5
1000m
Final
4:25.29
4:35.79
5:02.59
5:21.71
Final
1st Carey Grammar - Bow: Mia Yoannidis, 2: Natalie Buttery, 3: Vivienne Cooney Adlard, Str: Jasmine Teal, Cox: Emily Boddington, Cch: Samuel Fennessy
2nd Geelong College - Bow: Charlie Hosking, 2: Emily Gove, 3: Annabelle Fisher, Str: Rosy Brierly, Cox: Imogen Edwards Edwards
3rd Wesley College - Bow: Phoebe Greenfield, 2: Radha Enstrom, 3: Molly Redmond, Str: Isabella Besen, Cox: Sophie Webster, Cch: Elly Shugg, Georgina Bowman
4th Caulfield Grammar - Bow: Isabel McVean, 2: Matilda Kidd, 3: Kyra Ginn, Str: Ashley Evans, Cox: Melanie Suriarachchi
Girls Year 9 Four Division 6
1000m
Final
4:26.06
4:35.28
4:48.03
Final
1st Caulfield Grammar - Bow: Mia Geason, 2: Kate Runting, 3: Mimi Dalton, Str: Moraya Wilson, Cox: Georgia van der Slot
2nd Geelong College - Bow: Pip Walpole, 2: Ellie Milne, 3: Issie Corrie Smith, Str: Amba Whitley, Cox: Matilda Doery
3rd Carey Grammar - Bow: Bronwyn Player, 2: Tilly Plummer, 3: Teoni Katsavos, Str: Lucinda Maloney McCall, Cox: Alyssa Deligiannis, Cch: Ryan Irani
Girls Year 9 Four Division 7
1000m
Final
4:48.02
4:51.22
4:51.93
4:57.37
4:57.74
Final
1st Carey Grammar - Bow: Allegra Rotella, 2: Grace Stella, 3: Mia Watson, Str: Cordelia King, Cox: Constance Psihogios, Cch: Eliza Cremean
2nd Geelong College - Bow: Jialin Miao, 2: Sarah Alhadi, 3: Georgia Adams, Str: Skye Lockwood, Cox: Charlotte Newman
3rd Carey Grammar - Bow: Maddy Armstrong, 2: Tate Brusnahan, 3: Astra Tsiaples, Str: Abigail Whitechurch, Cox: Naimisha Talluri, Cch: Georgia Stewart
4th Caulfield Grammar - Bow: Carla Costa, 2: Grace Henderson, 3: Saskia Milne, Str: Aislinn Back, Cox: Athena Petridis
5th Caulfield Grammar - Bow: Sophie Paras, 2: Arabella Farmer, 3: Ella Stimpson, Str: Nicola Callis, Cox: Victoria Anastasatos
Girls Year 9 Four Division 8
1000m
Final
No Times or Margins recorded
Final
1st Carey Grammar - Bow: Tully Dickson, 2: Millie Hewson, 3: Jalili Wakim, Str: Brianna Ryan, Cox: Porsha Altun, Cch: Cecilia Fedi
2nd Caulfield Grammar - Bow: Grace Webster, 2: Charlotte Downie, 3: Sylvia Peace, Str: Grace Irvine, Cox: Zoe Clarke
3rd Carey Grammar - Bow: Matilda Sinko, 2: Elise Castelletti, 3: Sarah Ferlaino, Str: Hannah Simpson, Cox: Taylah Thompson, Cch: Olivia Yammouni
4th Caulfield Grammar - Bow: Caitlyn Deeble, 2: Mia Tamplin, 3: Lillie Priede, Str: Alex Thomson, Cox: Olivia Atyimas
5th Caulfield Grammar - Bow: Panayiota Paraskevopoulos, 2: Claudia Murrowood, 3: Tuesday Long, Str: Charlotte Murray, Cox: Tilly Snell