1959 Head of the River
The ninety-second Head of the River brought several changes.
Back in 1957, the APS expanded to include Brighton Grammar, Haileybury College, Carey Baptist Grammar School, Caulfield Grammar School and St Kevins College.
At this regatta, Brighton and Caulfield entered crews in the third, fourth and fifth crews - the regatta expanding to fourth and fifth crews to allow this entry.
The heats of the firsts and seconds only are rowed on the Friday.
Time: 4:57.4
Margins: 3/4 length & 1/2 length
Losers final:
Time: 5:08.2
Margins: 3/4 length & 3 feet
1st Geelong College - Bow: M L McDonald, 2: J H Quinton, 3: A F McClelland, 4: W J P Selle, 5: H T Bromwell, 6: A R Scott, 7: A B Troedel, Str: T W Sproat, Cox: N F Walter, Cch: Albert B Bell
2nd Melbourne Grammar - Bow: L V Luxton, 2: T R Pringle, 3: R G A a'Beckett, 4: J W Stuckey, 5: I F Bult, 6: D McA Baillieu, 7: E W Campbell, Str: William L Ruttledge, Cox: G C Morgan, Cch: Gordon Sargood
3rd Geelong Grammar - Bow: T E Laycock, 2: D M Coles, 3: W A H Molesworth, 4: G H Burston, 5: R W Trotter, 6: S E Brockman, 7: C J Hazzard, Str: R P Gorton, Cox: J S Ayres, Cch: Hugh Ward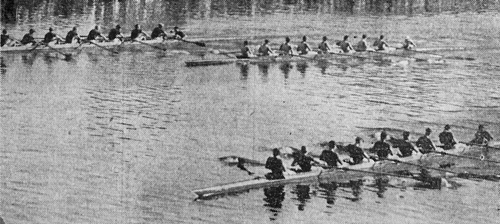 Losers final:
1st Wesley College - Bow: P R Martin, 2: J R Fox, 3: L C Evans, 4: W J D Henshaw, 5: G D Allen, 6: R W Hector, 7: N R Gordon, Str: R G Selleck, Cox: Mark A Schapper, Cch: Alan W Mitchell
2nd Scotch College - Bow: David I Munro, 2: Robert J Anderson, 3: Rodney S Olsson, 4: Bruce C Carr, 5: John S Collingwood, 6: Chester S Keon-Cohen, 7: Graeme D P Strang, Str: Geoffrey E Speed, Cox: Christopher J Newman, Cch: Laurence H Christie
3rd Xavier College - Bow: Tim T Whitehead, 2: J J Zahara, 3: D Malcolm McKenzie, 4: Michael F McKenna, 5: S R Nixon, 6: James F Gurry, 7: Arthur W Adams, Str: T R Griffin, Cox: D J Reilly, Cch: Charlie G Saleh
Standing: R S Olsson, B C Carr, L H Christie, R J Anderson, D H Yunghanns
Seated: G D P Strang, J S Collingwood, G E Speed, C S keon Cohen, D I Munro
In front: C J Newman
Heat results:
E1: 1st MGS, 2nd SC, Margin: 2 1/2 lengths, Time: 5:00.2
E2: 1st GC, 2nd XC, Margin: 1 1/4 lengths,Time: 4:55.6
E3: 1st GGS, 2nd WC, Margin: 1/2 length, Time: 5:02.8

Time: 3:46
Margins: 3/4 length & 1 length
Distance 0/75 mile
Losers final:
Time: 3:48
1st Scotch College - Bow: C A Henley, 2: R G Logie-Smith, 3: J B Gerrand, 4: J R Vroland, 5: R E C Johnston, 6: John H Gumley, 7: David H Hume Str: A R McKinnon, Cox: J V Blomfield, Cch: Donald R T Macmillan
2nd Wesley College
3rd Melbourne Grammar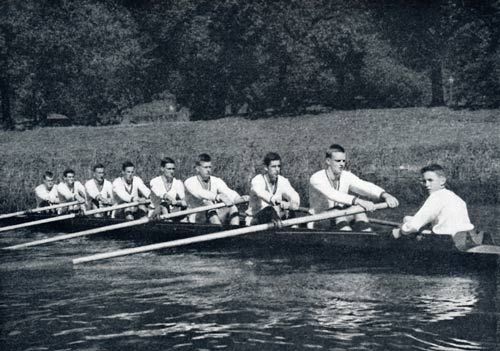 Losers final:
1st Geelong College
2nd Xavier College - Bow: D Murphy, 2: G Prendergast, 3: J Long, 4: K Duncan, 5: T Kearney, 6: M Burke, 7: C Bishop, Str: W Ryan, Cox: G Tehan, Cch: K Andrews
3rd Geelong Grammar
Heats
E1: 1st MGS, 2nd GGS, Time: 3:52.8, Margin: 0.75 length
E2: 1st SC, 2nd GC, Time: 3:42.8, Margin: Canvas
E3: 1st WC, 2nd XC, Time: 3:48.8, Margin: 0.75 length
Time: 2:38.2
Margin: 0.5 length
Distance 0.5 mile
Losers final
Time: 2:41
Margins: Canvas and 1/2 length
1st Scotch College - Bow: C T K Stuart, 2: G K Stephens, 3: A J Hornby, 4: G H Thomas, 5: S L Brown, 6: Graeme H Boykett, 7: A C Dilley, Str: ] L McFarlane, Cox: D V Wrigglesworth, Cch: P N Thomson
2nd Melbourne Grammar
Equal 3rd Wesley College
Equal 3rd Geelong College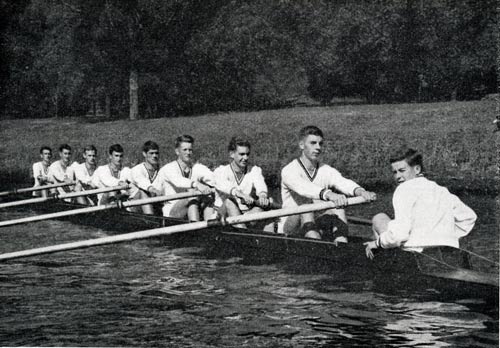 Losers final:
1st Brighton Grammar
2nd Xavier College
3rd Geelong Grammar
4th Caulfield Grammar
Heats
E1: 1st SC, 2nd WC, 3rd GGS, 4th BGS, Margins: 2 feet and 3/4 length
E2: 1st MGS, 2nd GC, 3rd XC, 4th CGS, Margin: 1/2 length
Distance: 0.5 mile Time: 2:47
Margin: 1/3 length
Losers final
Time: 2:41.6
Margin: 1 length

1st Xavier College - Str: Tom Tehan
2nd Scotch College - Bow: D E MacVean, 2: R Henry, 3: M D Campbell, 4: R M Brownfield, 5: S Forster, 6: G C Eggleston, 7: D E Bowden, Str: P V McConnell, Cox: J C Clark, Cch: A Staley
3rd Geelong College
Losers final
1st Geelong Grammar
2nd Melbourne Grammar
3rd Wesley College
Heats
E1: 1st SC, 2nd WC, Time: 2:41.1, Margin: 1 1/2 length
E2: 1st GC, 2nd MGS, Time: 2:44.3, Margin: 1/3 length
E3: 1st XC, 2nd GGS, Time: 2:40.1, Margin: 1/3 length
Distance: 0.5 mile
Time: 2:45
Margin: 1 lengths

Losers final
Time: 2:31.8
Margin: 1 1/4 lengths
1st Xavier College - Str: Dick Garrard
2nd Melbourne Grammar
3rd Scotch College - Bow: A B Holmes, 2: M S Lorimer, 3: J G Mackinnon, 4: H G Evans, 5: I D Telford, 6: N J Black, 7: A J Bristow, Str: R A Morgan, Cox: D Simpson, Cch: L Bell
4th Geelong College
Losers final:
1st Wesley College
2nd Caulfield Grammar
3rd Geelong Grammar
4th Brighton Grammar
Heats
E1: 1st XC, 2nd GC, 3rd GGS, 4th BGS, Time: 3:41.1
E2: 1st MGS, 2nd SC, 3rd WC, 4th CGS, Time: 2:46.2