1962 Head of the River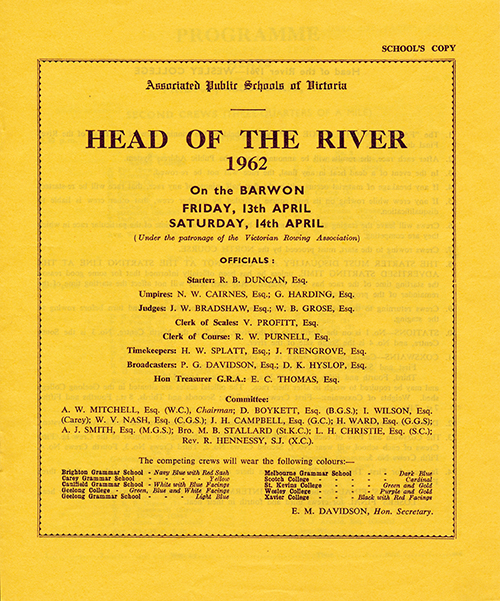 Wesley College made it two in a row under their great coach Alan Mitchell. The ninety-fifth Head of the River was conducted on Saturday 14th April.
---
Organising Committee and Officials
Organising Committee
: Associated Public Schools - Committee: Alan W Mitchell - WC (Chairman), David Boykett - BGS, I Wilson - Carey, W Victor Nash - CGS, J H Campbell - GC, H Ward - GGS, Anthony J Smith - MGS, Bro M B Stallard - SKC, Laurie H Christie - SC, Rev R Hennessy SJ - XC

Jury and officials: Robert B Duncan - starter, Norman W Cairnes - umpire, G Harding - umpire, J William Bradshaw - Judge, W B Grose - judge, V Profitt - clerk of scales, R W Purnell - clerk of course, H W Splatt - timekeeper, J Trengrove - timekeeper, P G Davidson - broadcaster, D K Hyslop - broadcaster, E C Thomas - Hon Treasurer GRA.
Time: 5:00.4
Margins: 1 length and 1 length
Intermediate Final
Time: 4:59.2
Margins: 1.5 and 0.5 lengths
Losers Final
Time: 5:30.0
Margin: 1.5 lengths
1st Wesley College - Bow: R W Liley, 2: J G Girdwood, 3: W A Sanguinetti, 4: M H Lindell, 5: J W Moffat, 6: J W Hood, 7: R B Scott, Str: M M Nicholas, Cox: L F Royal, Cch: Alan W Mitchell
2nd Xavier College - Bow: D M Jensen, 2: H Jones, 3: C R Arendsen, 4: G G Hurley, 5: P R Gibson, 6: M W Richter, 7: J H West, Str: B C Sierakowski, Cox: B C Saleh, Cch: Charles G Saleh
3rd Melbourne Grammar School - Bow: Carrillo B. Gantner, 2: Peter R. Benson, 3: David R. Lean, 4: Peter G. Lovett, 5: J. Robert G. Paxton, 6: Anthony T. Hughes, 7: Barry E. Arnold, Str: Geoffrey W. Hone, Cox: Geoffrey J. Pullen, Cch: Anthony J. Smith, Esq
Intermediate Final
1st Scotch College - Bow: Philip C C Dick, 2: Ian L Evans, 3: Bryan A Keon-Cohen, 4: John L McFarlane, 5: Anthony J McKay, 6: Malcolm S Lorimer, 7: Richard E Harbig, Str: Bryan R Speed, Cox: Christopher J Newman, Cch: Robert R Aitken
2nd Caulfield Grammar School - Bow: R F Ludeman, 2: P J Campbell, 3: J W Lawson, 4: B J Pollock, 5: B J Cruikshank, 6: W L Roberts, 7: R B Warne, Str: J D Corden, Cox: I N Beeton, Cch: Ian W Macmillan
3rd Geelong Grammar School - Bow: M G Darling, 2: J R P Luckock, 3: P R Latrielle, 4: J P Bicknell, 5: P R C Seymour, 6: D McL Robinson, 7: R E Chambers, Str: M S Priestley, Cox: D B Angliss, Cch: H Ward

Losers Final
1st Geelong College - Bow: D E Gardner, 2: R O Burger, 3: A J Forbes, 4: K T Andrews, 5: D H Berney, 6: T A Hincliffe, 7: H C Forbes, Str: R J John, Cox: D W Downey, Cch: Albert B Bell
2nd Brighton Grammar School - Bow: J Harrison, 2: P Holmes, 3: J Cummins, 4: A Milner, 5: Roger B Wilson, 6: D Johns, 7: J Sayers, Str: M Haynes, Cox: A Weight, Cch: David H Boykett
3rd Carey Grammar School - Bow: R Anson, 2: R Prior, 3: J Rees, 4: D Alcock, 5: N Smit, 6: A McCredie, 7: P Rees, Str: D Smeeton, Cox: B Jones, Cch: D Evans
4th St Kevins College - Bow: A J Parker, 2: D J Robilliard, 3: M A Kelly, 4: T G Davey, 5: J E Morkham, 6: J K Reinehr, 7: A J O'Connell, Str: W J Winter, Cox: C F Dwyer, Cch: Jack Coglan
Heats:
E1: 1st XC, 2nd GGS, 3rd Carey Time: 4 min 49secs, Margin: 1.5 lengths
E2: 1st WC, 2nd SC, 3rd GC Time: 4 min 47 secs Margin: 0.5 length
E3: 1st MGS, 2nd CGS, 3rd BGS, 4th SKC Time: 4min 56secs Margin: Canvas
Time: 5:43.2
Margin: Canvas
Losers Final
Time: 5:53.0
Margin: 1 foot
1st Scotch College - Bow: K V Brown, 2: Peter E Philp, 3: P R Martin, 4: Kerry P Jelbart, 5: B D Fairlie, 6: A G Christie, 7: I E Woods, Str: A J Pearson, Cox: Peter H Nicolson, Cch: Donald R T McMillan
2nd Geelong Grammar School - Bow: G R Alderson, 2: J B Mitchell, 3: M J Chapman, 4: C D C Farran, 5: A H Bainbridge, 6: E E Cotton-Stapleton, 7: J R B Digges, Str: W D Blackwell, Cox: A W Dobbyn, Cch: J F Mann
3rd Geelong College - Bow: C W Whitehead, 2: J R Irvine, 3: D M Birks, 4: G M Cotton, 5: J H Champ, 6: R J Lawler, 7: A J Paterson, Str: W L Lehmann, Cox: D J Roydhouse, Cch: J M Ferguson
Losers Final
1st Wesley College - Bow: D R George, 2: Phil J Franet, 3:E A Smyth, 4: P J Castle, 5: J K Anderson, 6: E Tweddle, 7: Warwick D K Teasdale, Str: J E Price, Cox: R arks, Cch: A G Simmons
2nd Xavier College - Bow: A Fox, 2: M Connolly, 3: M Bryan, 4: P Jeffrey, 5: P Boston, 6: R Ellis, 7: D Walker, Str: J McDavitt, Cox: Tom Daffy, Cch: Hubert Frederico
3rd Melbourne Grammar School - Bow: C H Stuckey, 2: P CDavies, 3: M A Reid, 4: J A Stokes, 5: RJ Lawrence, 6: J R Lyle, 7: M J Blamey, Str: J P Masters, Cox: G D Richards, Cch: M J Arnold
Heats:
E1: 1st GC, 2nd XC
E2: 1st SC, 2nd WC
E3: 1st GGS, 2nd MGS
Time: 2:39.0
Margin: 0.5 lengths
Intermediate Final
Time: 2:36.0
Margin: canvas
Losers Final
Time: 2:44.0
Margins: 0.5 length and one length
1st Caufield Grammar - Bow: P F Biencourt, 2: B A Young, 3: D C Cran, 4: J A Mills, 5: R R Pogue, 6: A R Stewart, 7: I J Hoult, Str: R D McNichol, Cox: B S Griffin, Cch: W Victor Nash
2nd Geelong Grammar - Bow: J D Corbet, 2: P M M Chomley, 3: J R McWilliam, 4: T Hutchings, 5: P A C Cross, 6: D P Morse, 7: J F W Morse, str: J L Fisher, Str: I G Gatenby, Cchs: A E and T E Laycock
3rd Geelong College - Bow: T F McNair, 2: G H John, 3: W T Troedel, 4: T J Holden, 5: P R Kidd, 6: J S Johnston, 7: G G Irvine, Str: J D Troedel, Cox: R E Singer, Cch: R W Purnell
Intermediate Final
1st Scotch College - Bow: I L Gibson, 2: R D Bowden, 3: A G Bell, 4: R C M Knappett, 5: M D Velick, 6: A B Esdwards, 7: W J McMeckan, Str: W Swaney, Cox: W E John, Cch: W S Arnold
2nd Carey Grammar School - Bow: R Barnes, 2: I Johnston, 3: D Washingtin, 4: A Dortheimer, 5: H Doery, 6: P Stuart, 7: P Jenkins, Str: A Pretty, Cox: R Baxter, Cch: A Coveney
3rd Xavier College - Bow: P Burke, 2: G Wilson, 3: R Spillane, 4: R Daffy, 5: P Yuncken, 6: S Costello, 7: Tim Hogan, Str: R Ellis, Cox: A Carter, Cch: J Spark
Losers Final
1st Wesley College - Bow: L G J Opie, 2: G R Kelley, 3: B K Walker, 4: J D Milburn, 5: A C Powell, 6: K A Nicholson, 7: J P Collins, Str: C H Long, Cox: A E C Denney, Cch: A Walter Oakley
2nd Melbourne Grammar - Bow: C R Masters, 2: J B E Barraclough,3: T R Hudson, 4: S A Holland, 5: P J Graves, 6: W P de Steiger, 7: A R Gardner, Str: P Christopher Dane, Cox: J R Orr, Cch: N A H Banks
3rd Brighton Grammar - Bow: G Swinbourne, 2: D Tolmer, 3: P Stewart, 4: N Sanders, 5: T Trevena, 6: C Davies, 7: P Hazeldine, Str: R A Day, Cox: G Martin, Cch: G O Harris
4th St Kevin's College - Bow: M Austin-Smith, 2: P J Horkin, 3: P A Fulton, 4: J C Leonard, 5: N J McMahon, 6: C R Harrison, 7: M J Darling, Str: R T Gillis, Cox: T M Tommasi, Cchs: J D Tynan and N T Willis
Time: 2:37.0
Margin: 0.75 length
Losers final
Time: 2:44.4
Margin: 0.75 length
1st Geelong College - Bow: I L Gill, 2: W H Thomas, 3: R P McCann, 4: D J Baker, 5: D A Ellerman, 6: A J Drew, 7: G P Bade, Str: R J Hede, Cox: C M Kemp, Cch: R George
2nd Xavier College - Bow: R Williams, 2: James Bourke, 3: R Galbaly,4: D Canny, 5: P Filgate, 6: R Gurry, 7: F Capicchiano, Str: Paul Renouf, Cox: R Fitzgerald, Cch: G Wilson
3rd Melbourne Grammar - Bow: R K Gilbert, 2: B A Hutson, 3: D A Caffin, 4: R P C Lowenstern, 5: J P Warren, 6: E R J Parkes, 7: A D Warne, Str: N S Craig, Cox: R B West, Cch: K N Thomson
Losers Final
1st Geelong Grammar - Bow: C Fitzgibbon, 2: A R P James, 3: J W Agar, 4: A R Tostevin, 5: M C Page-Sharp, 6: A M Denniston, 7:I T Haigh, Str: M G Rigg, Cox: O B Mace, Cch: W A Searle
2nd Scotch College - Bow: D J Rafferty, 2: I M d'Oliveyra, 3: R M Carmichael, 4: Robert W Strang, 5: P Haley, 6: John B Blanch, 7: D Corr, Str: A R Ross, Cox: J A Nichol, Cch: Peter M Gibbs
3rd Wesley College - Bow: G T Coates, 2: I R Curtis, 3: I G Taylor, 4: L W N Higgs, 5: R J A Cornall, 6: R H Dungey, 7: J W E Hartnell, Str: B C Mendelson, Cox: G J Southwick, Cch: Dr R Rosanove
Time: 2:46.0
Margin: 3 feet
Intermediate Final
Time: 2:38.2
Margin: 0.5 length
Losers Final:
Time: 2:38.6
Margin: 1 length
1st Geelong Grammar - Bow: W A Bubb, 2: W J Hall, 3: V R Ruth, 4: D D Elder, 5: M E Edwards, 6: D W Gardiner, 7: P J Nicholson, Str: M J Dumaresq, Cox: D W Neate, Cch: N Greenwood
2nd St Kevin's College - Bow: R T Stackpole, 2: J K Day, 3: D P Smith, 4: P J Hurley, 5: M D Bidey, 6: J C Scott, 7: M W Bergin, Str: B G Tateson, Cox: G C Tommasi, Cchs: A P Dwyer and D J O'Doherty
3rd Caulfield Grammar - Bow: W H Morgan-Payler, 2: R Stevenson, 3: R M Woodfull, 4: W B Hutchins, 5: D T Hornsby, 6: K G Freame, 7: B P Lester, Str: G L Barnes, Cox: I R Davidson, Cch: H Pennefather
Intermediate Final
1st Xavier College - Bow: P Coleman, 2: J Meehan, 3: M Eyers, 4: M Strong, 5: M Andre, 6: J Slattery, 7: P Dixon, Str: F Whitehead, Cox: J Hill, Cch: J MacDavitt
2nd Geelong College - Bow: A L Langslow, 2: P J Griffiths, 3: D J Steel, 4: I G Howden, 5: D I Lawson, 6: P E Roberts, 7: A B Urquhart, Str: W M Patterson, Cox: P J Mitchell, Cch: S Thomas
3rd Wesley College - Bow: M L Kay, 2: D E Rosler, 3: Anthony J Oakley, 4: R E M Williams, 5: R E Luff, 6: M A Stephens, 7: P B Luddelow, Str: M M Rodgers-Wilson, Cox: J M Noonan, Cch: J D Castle
Losers Final
1st Scotch College - Bow: J A E Thompson, 2: J C Morrison, 3: A J Fletcher, 4: R A Foale, 5: T L Sargeant, 6: G A Sussex, 7: I E Holmes, Str: A G Guest, Cox: J B Hewson, Cch: A C Dilley
2nd Brighton Grammar - Bow: G Gartner, 2: P Green, 3: G Thomas, 4: H Meltzer, 5: I Turner, 6: O Harris, 7: I Nixon, Str: C D Morris, Cox: B Gartner, Cch: Graeme McCall
3rd Melbourne Grammar - Bow: S A Sutherland, 2: W A Renou, 3: J S Foskett, 4: J A Macnaughton, 5: P R L Smith, 6: W J G Edquist, 7: R J Wakefield, Str:S G Larkins, Cox: A O a'Beckett, Cch: J W Mallinson
4th Carey Grammar - Bow: J Taverner, 2: M Zimbler, 3: C Bradbury, 4: R McCure, 5: J Bradbury, 6: G McCallum,7: P Putnam, Str: M McCutcheon, Cox: I Foster, Cch: G Byron-Moore