1950 Head of the River
The eighty-third Head of the River was conducted on the Barwon as the Headmasters continued to prefer the calm of Geelong to the risks associated with crowds in Melbourne.
The final of the Head of the River was a great race with Scotch the early leaders and being rowed through by Geelong in the latter parts of the race. The margins between 1st and 2nd and also between 2nd and 3rd were tight. This was the first win for Geelong Grammar for 15 years. Geelong Grammar also scooped the pool winning the seconds and third eights as well.
Mention is made of the Geelong College crew which was coxed by a noteable future politician John Button who died in 2008 and the seven man was future bronze medal Olympian and headmaster of Haileybury College, Michael Aikman. Michael was an influence behind the introduction of rowing to that school.
Time: 5:04.4
Margins: 1/3 length and 3 feet
Losers final:
Time: 5:10.0
Margins: 2 lengths and 1 length
1st Geelong Grammar - Bow: E J Baenziger, 2: C H Mylius, 3: W J Cliff, 4: C W Jones, 5: I H Izon, 6: R P Simson, 7: H F Smith, Str: B J Myer, Cox: D K Sholl, Cch: John E L Barber
2nd Scotch College - Bow: Alfred B Wallace, 2: Ronald J Carr, 3: John W A Dartnell, 4: Frederick W Shepherd, 5: John C Duncan, 6: Ian M McEacharn, 7: Denis J Pickwell, Str: John B Allison, Cox: William M Bailey, Cch: Charles G Saleh
3rd Wesley College - Bow: J Morrison, 2: G C Gaylard, 3: J P Hall, 4: J R Daley, 5: R P Quirk, 6: B C D Kermode, 7: N Sutherland, Str: A G Simmons, Cox: M R lee, Cch: Alan W Mitchell
Geelong Gammar won the Head of the River title for the first time in 15 years. The race was reported in The Age as follows: Grammar fell behind the other crews soon after the start, and many experts thought its stamina would not stand the test. Weley went past Scotch stroking at a rate of about 40.
In the run to the mills, Wesley appeared to have the race in hand. Refusing to be unbalanced by the strain, however, Grammar and Scotch lifted their rating slightly and came into the picture.
Rating 40, Scotch drew up to Wesley at three-quarter mile mark. Grammar, in the centre station, maintained a solid 38 and ruggedly pulled abreast. With 20 yards to go, stroke Myer's coolness held Grammar together, and they beat off the last challenge of Scotch and Wesley.
Photo: The Scotch Collegian May 1950
Losers Final
1st Geelong College - Bow: L D Moore, 2: P J Negri, 3: K D McNaughton, 4: F G B McFarlane, 5: C S Baird, 6: B L Cole, 7: A Michael H Aikman, Str: P G Fleming, Cox: John N Button, Cch: Albert B Bell
2nd Xavier College - Bow: J R Anderson, 2: K M Adamson, 3: M J Hickey, 4: A J Healy, 5: I B Maughan, 6: W M Somerville, 7: J E O'Connor, Str: Bart A Borghesi, Cox: Basil J Lynch, Cch: Jack Coghlan
3rd Melbourne Grammar - Bow: C H L Murray, 2: A J Day, 3: R G Birrell, 4: E S Millear, 5: J D Beecham, 6: D H Breedon, 7: K H A Levi, Str: D A Shaw, Cox: Frank C Covill, Cch: Walter N Ricketts
Photo courtesy of Melbourne Grammar Archives
Heat results:
E1: 1st SC, 2nd XC, Time: 5:09.8, Margin: 2 1/2 lengths
E2: 1st WC, 2nd MGS Time: 5:10.4, Margin: 1 3/4 lengths
E3: 1st GGS, 2nd GC, Time: 5:03.8, Margin: 3/4 length

The Argus reported on the heats as follows.
First Heat - Scotch v Xavier
After an even start Scotch settled quickly into an even, powerful swing, and immediately began to edge away from Xavier. It maintained a striking rate of 36, until at the ¼ mile, it had a lead of rather more than a length. This was increased to a length at the half-mile.
After that Xavier never looked like challenging successfully. In the closing stages Scotch broke down the striking rate to 32, but still continued to swing ahead.
Scotch won by 2 ½ lengths in 5min 9.8sec.
Second Heat - Wesley v MGS
Wesley appeared to have the measure of MGS by the time the crews had covered 200 yards. Well before the ¼ mile was reached it had pushed the nose of its boat in front.
As the crews approached the half-mile MGS was striking 36 in a vain attempt to reduce Wesley's lead, but Wesley, rowing at no more than 34, found no difficulty in staying in front.
Twice before the ¾ mile, Grammar's stroke made desperate efforts to close the gap, but without result. Unflurried and unhurried, Wesley went on to win with comparative ease.
Wesley won by 1 ¾ lengths in 5min 10.4sec.
Third Heat - Geelong Grammar v Geelong College
This was an even race for most of the first half-mile. Geelong College's younger crew held its own.
From the half-mile Geelong Grammar's longer and more powerful swing and steadier recovery told its tale. The crew was able to win a three-quarter of a length lead and hold it against Geelong College's determined challenges.
Geelong Grammar won by ¾ length in 5min 3.8sec.
Time: 2:37.0
Margin: 1/4 length
Losers final:
Time: 2:45.0
Margin: 2 feet
1st Geelong Grammar - Bow: D Michaelis, 2: P Teare, 3: J Colville, 4: J Roxburgh, 5: F Bathurst, 6: R Carnegie, 7: R Vasey, Str: D Coultas, Cox: D Goss, Cch: A Marshall
2nd Geelong College - Bow: E Baird, 2: A Dearnley, 3: B Jacobs, 4: J George, 5: A Jones, 6: B Hodgson, 7: J Gibb, Str: James Howden, Cox: B Stewart, Cch: P Everist
3rd Scotch College - Bow: H M F Adams, 2: A E D Gunn, 3: R G M Yorston, 4: H A C Falconer, 5: P Haugen, 6: Warwick O Granowski, 7: J B Hodges, Str: J R Mitchell, Cox: R A Buchanan, Cch: A W L Mitchell (Warwick Granowski replaced W O Roberts a few days before the race due to illness.)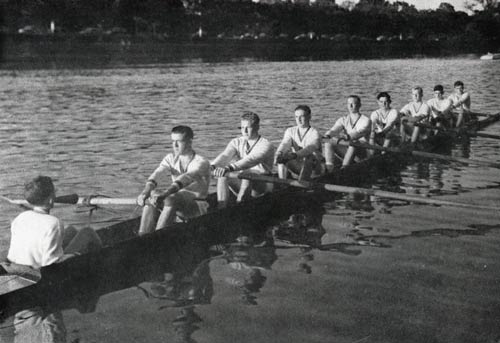 Photo: The Scotch Collegian May 1950
Losers final:
1st Wesley College
2nd Xavier College - Bow: J Anderson, 2: K Adamson, 3: M Hickey, 4: A Healy, 5: I Maughan, 6: M Somerville, 7: J O'Connor, Str: B Borghesi, Cox: B Lynch, Cch: Brian Doyle
3rd Melbourne Grammar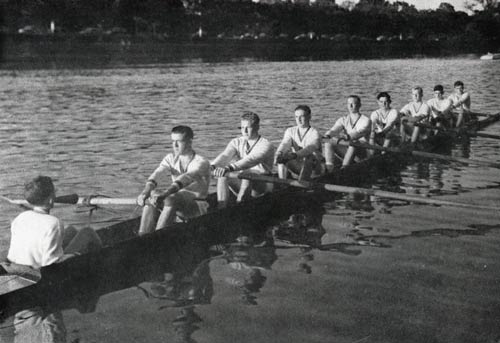 Photo courtesy of Melbourne Grammar Archives
Heats:
E1: 1st GC, 2nd XC, Time: 2:34.4, Margin: 2 lengths
E2: 1st GGS, 2nd WC, Time: 2:37.0, Margin: 3/4 length
E3: 1st SC, 2nd MGS, Time: 2:38.4, Margin: 2 lengths
Time: 2:29.0
Margin: Canvas
Losers final:
Time: not known
Margin: 3/4 length
1st Geelong Grammar - Bow: H Hopkins, 2: I Edwards, 3: P Kininmonth, 4: R Larrit, 5: S Johns, 6: J Smeaton, 7: M Inglis, Str: J Lloyd, Cox: E Vine, Cch: R Blomfield
2nd Scotch College - Bow: R C W Ekberg, 2: G N J Anderson, 3: B J Shepherd, 4: A G Schrader, 5: David H Boykett, 6: D M Thyer, 7: J D Scarborough, Str: L D Fisher, Cox: D McLeod, Cch: R I Gillies
3rd Xavier College - Bow: J Regan, 2: J Healy, 3: R O'Bryan, 4: F Vurtain, 5: A Sullivan, 6: K Sullivan, 7: D Grant, Str: W Harrison, Cox: J Hayden, Cch: Clive Bailey
Losers final
1st Wesley College
2nd Geelong College
3rd Melbourne Grammar
Photo courtesy of Melbourne Grammar Archives
Heats:
E1: 1st XC, 2nd WC, Time: 2:34.5, Margin: 1/3 length
E2: 1st SC, 2nd GC, Time: 2:38.4, Margin: 1 1/4 length
E3: 1st GGS, 2nd MGS, Time: 2:39.4, Margin: 2 lengths
---
Sources
The Pincott Club Handbook 2006
Lift her home to victory, lads! A centenary history of Xavier College 1906-2006 by Michael Lefebvre
Appendix to A Deepening Roar Scotch College 1851-2001 by James Mitchell, Allen & Unwin 2001
Scotch Collegians Magazines
The Age Mon 24 April 1950 page 14. Retrieved 3rd January 1950 - nla.gov.au/nla.news-article187639145
HEAD-OF-THE-RIVER REGATTA DETAILS (1950, April 22). The Argus (Melbourne, Vic. : 1848 - 1957), p. 44. Retrieved April 24, 2017, from http://nla.gov.au/nla.news-article22824044