2013 APS Head of the River
The 146th boys Head of the River and the 33rd girls Head of the River were conducted on Saturday 16th March 2013 at Nagambie Lakes.
A moderate cross head breeze in the morning freshened by late morning. This led to a redraw of lanes in the finals to place the seeded crews into the favoured lanes. In the end the breeze moderated and the redraw was unnecessary. However it could not be undone.
There was controversy before the regatta began with Melbourne Grammar first and second crews being relegated to last in their heats due to an infringement of APS training rules. With seeded heats from the results of the racing at the Scotch Mercantile regatta, this could have been an issue in adverse weather conditions and lane seeding being implemented.
Full results can be found through this link.
Images for this regatta can be found at this link.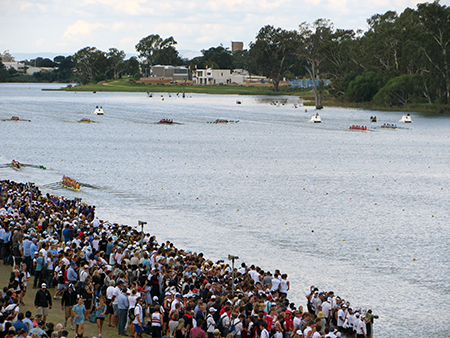 Scotch leading Geelong Grammar in the final of the Boys Head of the River
Scotch won their fourth Head of the River in a row whilst Caulfield won their second in a row in the girls. Both races were fiercely contested. Scotch had a field day wining all the senior races with large margins.
---
Officials
Regatta Manager: Luke Soulos
Regatta Secretary: Troy R Durham
Broadcaster: Roger B Wilson
Adjuvants: Maurice B Brown and Frank C Covill
Referee: Andrew N Guerin
Jury: Eric Waller, William Webster, Terry Blyth, Peter Darbyshire, Graeme Boykett, Rod Kemp, David Pitt, Bill Day, Reg McKay, David Grubits
Committee: D W Meyer Caulfield (Chair, boys), E G Lewin Haileybury (Chair, girls), G P McPhee BGS, P A Jepson Carey, N A Gibbons MGS, C J Rowland Caulfield, M D Cheatley, P Porter GC, G D Schneiders, J R Davenport SKC, R J McLaren SC, P B Hawkins, J L Mitchell, S E Nairn WC, C J Matthews XC, P J La Cava GGS.
Boys Open & Year 10
Click on the race of interest and the results will appear below the buttons:
Boys Head of the River
2000m
Final A
6:13.36
6:16.20
6:28.09
6:29.33
6:31.44
6:34.89
Final B
6:33.74
6:38.69
6:41.21
6:50.10
6:55.60
Final A
1st Scotch College – Bow: L Webster, 2: M Rennie, 3: J Nothnagel, 4: C Dickinson, 5: B Strathmore, 6: A Croxford, 7: G Richards, 8: H Fox, Cox: W Bartley, Cch: Tom Woodruff
2nd Geelong Grammar – Bow: S Parsons, 2: Z Mahood, 3: E Gubbins, 4: H Kellett, 5: H Tribe, 6: D Hamilton, 7: O O'Reilly, 8: C Tomczak, Cox: P Rofe, Cch: Jeff Watt
3rd Melbourne Grammar – Bow: S Bongiorno, 2: C Hendy, 3: A Burke, 4: E Manton, 5: R Macky, 6: E Risbey, 7: A Beckingsale, 8: A Judge, Cox: L Copolov, Cch: Nick Lloyd
4th Geelong College – Bow: C Callan, 2: F Stewart, 3: C McKenzie, 4: L Palmer-Hill, 5: C Wynhoven, 6: S Orford, 7: H Welleman, 8: B Fitzpatrick, Cox: S Robinson, Cch: David Doyle
5th St Kevin's College – Bow: B Aharfi, 2: T Zupan, 3: D Fleming, 4: M Naughton, 5: M Arundel, 6: T Sanders, 7: T Lincoln, 8: J O'Malley, Cox: A Borg, Cch: Rob Manning
6th Wesley College – Bow: J Richardson, 2: L Erskine, 3: W Thornton, 4: J Robinson, 5: M Singleton, 6: M Goodwin, 7: C Reynolds, 8: A Allen, Cox: P Rayner, Cch: Matthew Ryan
Final B
1st Brighton Grammar – Bow: A Gnauck, 2: W Simon, 3: E Tait, 4: M Johnson, 5: J Wheeler, 6: A Maglio, 7: G Longbottom, 8: A Douglas, Cox: T Fisher
2nd Xavier College – Bow: B Izydorczyk, 2: J Hicks, 3: C Turner, 4: T Ferretto, 5: M Smith, 6: W RIchards, 7: J McCann, 8: L Nuzzo, Cox: T O'Sullivan, Cch: Simon Harrison, Julian Whitehead
3rd Carey Grammar – Bow: Z Khan, 2: R Phillips, 3: M Tinney, 4: J Hoban, 5: B Coull, 6: J Roberts, 7: A Kinsella, 8: J Grey, Cox: N Portelli, Cch: C Drummond
4th Caulfield Grammar – Bow: M Filshie, 2: J Woodman, 3: N Stephenson, 4: W Smith, 5: J Schneider, 6: T Mollard, 7: J Anderson, 8: H Simpson, Cox: D Chan, Cch: E Douez, A Kenneally
5th Haileybury College – Bow: L Wegner, 2: D Anderson, 3: A Smallman, 4: T Wegner, 5: J Roper, 6: J Wijesuriya, 7: A Hammond, 8: J Sanderson, Cox: B Lee, Cch: J Sadler
Boys Second Eight
2000m
Final A
6:26.82
6:36.51
6:43.24
6:44.20
6:48.11
6:51.82
Final B
6:50.27
7:09.43
7:11.83
7:13.52
7:19.28
Final A
1st Scotch College – Bow: C Cooper, 2: A Cunningham, 3: T Brooks, 4: C Simpson, 5: H Allen, 6: T Beischer, 7: C Gough, 8: B Silagy, Cox: J Dewan, Cch: S Brown
2nd Melbourne Grammar – Bow: A Robinson, 2: S Hooper, 3: W Sanderson, 4: H Coombs, 5: R Slade, 6: T Hannemann, 7: G Hurley, 8: H Hooper, Cox: M Skala, Cch: B Jenkins
3rd Geelong College – Bow: A Livermore, 2: W May, 3: L Watson, 4: A Wylie, 5: P Spinazzola, 6: N Malishev, 7: R Torode, 8: H Russell, Cox: L Blackman, Cch: T Andrews
4th Wesley College – Bow: H Wallace, 2: C Delis, 3: L Eyles, 4: M Johnson, 5: C Smith, 6: N Johnston, 7: M Carlisle-Goldblatt, 8: D James, Cox: W Orr, Cch: Z Smith
5th Brighton Grammar – Bow: A Whillas, 2: A Maloney, 3: D Parker, 4: J Ball, 5: S Riddell, 6: A Clarke, 7: S Nearchou, 8: O Armstrong, Cox: H Eden, Cch: R Wapling
6th St Kevin's College – Bow: L McGrath, 2: M Matthews, 3: J Von Alpen, 4: J Canty, 5: O Henderson, 6: A Stefanac, 7: A Gook, 8: L Appleby, Cox: L Goller, Cch: A Johnson
Final B
1st Geelong Grammar – Bow: J Cameron, 2: R Carter, 3: W Birk, 4: W Griffiths, 5: L Ashworth, 6: H Calver, 7: R Liddle, 8: K Stoeckl, Cox: S Holmes, Cch: R Tomczak
2nd Carey Grammar – Bow: S Fennessy, 2: R Tait, 3: J Simmons, 4: R Irani, 5: H Phillips, 6: M Goodrope, 7: D Stubbings, 8: C Fabris, Cox: M Daly, Cch: D Nicholls, J Raftopoulos
3rd Caulfield Grammar – Bow: H Tobias, 2: L Phillips, 3: T Gibbs, 4: M Fisher, 5: K Dalton, 6: T Newcomen, 7: M McCurdy, 8: J Bolton, Cox: G Simm, Cch: M O'Sullivan
4th Xavier College – Bow: G Smart, 2: E Resic, 3: A McNamara, 4: S MacIsaac, 5: J Gehrig, 6: B Murphy, 7: E O'Bryan, 8: T Amad, Cox: D Bennett, Cch: N Mitchell
5th Haileybury College – Bow: T McDonald, 2: B Burgess-McIntosh, 3: J McCarthy, 4: H Houghton, 5: S Wynn, 6: J McWilliam, 7: H Bignell, 8: T Diggerson, Cox: D Bekbulatov, Cch: J Millar
Boys Third Eight
2000m
Final A
6:48.96
7:08.22
7:10.43
7:12.73
7:15.15
7:19.02
Final B
7:10.28
7:18.60
7:55.88
Final A
1st Scotch College – Bow: H Duffy, 2: F Eady-Jennings, 3: A Stewart, 4: J Karklins, 5: L Hatty, 6: N Clark, 7: J Tissot, 8: C Millar, Cox: S Callander, Cch: E Breidahl
2nd Melbourne Grammar – Bow: F Nott, 2: M Adams, 3: N Billings, 4: W Dix, 5: M Burnside, 6: S Drew, 7: T Poulter, 8: D Titeu, Cox: J Otto, Cch: S Blakeney
3rd Geelong Grammar – Bow: J Carlton, 2: T Hermsen, 3: A Kimpton, 4: J Gibney, 5: L Gunn, 6: S Finckh, 7: C Forsyth, 8: C Lun, Cox: E Strong, Cch: D Curry
4th Xavier College – Bow: A Dunn, 2: P Long, 3: A Armstrong, 4: C Wright, 5: Z Liszukiewicz, 6: E Elliott, 7: H Moodie, 8: H Lucas, Cox: J King, Cch: T Spiteri, T Swann
5th Geelong College – Bow: A Sloan, 2: T McGowan, 3: F Wishart, 4: A Baensch, 5: A De Young, 6: J Breer, 7: D Horn, 8: S Acosta-Ruiz, Cox: G Forshaw, Cch: A Wishart
6th Caulfield Grammar – Bow: T Cross, 2: A Tolnai, 3: J Harris, 4: T Sadler, 5: J Smith, 6: L Ferguson, 7: A Ng, 8: S Guillaume, Cox: D Cock, Cch: D Velakoulis
Final B
1st Brighton Grammar – Bow: J Dick, 2: C MacGregor, 3: T Currie, 4: J Southgate, 5: G Kimpton-Moss, 6: D Beddoe, 7: H Hill, 8: G Jones, Cox: C Grigoriou
2nd Wesley College – Bow: D Ashton, 2: R Hildebrand-Wise, 3: J Fernandes-Kemp, 4: J Waters, N Kramer, N Ehrman, L Parker, M Blake, Cox: M Heloury
3rd St Kevin's College – Bow: T Emerson, 2: J Spinazolla, 3: D Stankovich, 4: L Rava, 5: H Reinwald, 6: J Gallagher, 7: S Doble, 8: C Rausch, Cox: A Russo, Cch: D Pitt
Boys Fourth Eight
2000m
Final A
7:02.80
7:17.20
7:18.93
7:44.47
7:52.20
Final B
7:31.45
7:58.03
Final A
1st Scotch College – Bow: N De Boer, 2: L Richards, 3: J Chalmers, 4: N Waddell, 5: W Legge, 6: T Bray, 7: J Scott, 8: H Molnar, Cox: J Rook, Cch: T Sutterby
2nd Xavier College – Bow: Z Lewis, 2: R Nash, 3: D Lynch, 4: D Henry, 5: S Kerr, 6: K Bowyer, 7: D Gorman, 8: B Case, Cox: T Rickard, Cch: J Speirs
3rd Scotch College – Bow: M Lee, 2: C Rome, 3: A La Rosa, 4: N Lobley, 5: H Binsted, 6: P Bath, 7: S Murphy, 8: J Malon, Cox: B Ferguson, Cch: J Bell
4th Caulfield Grammar – Bow: F Jiang, 2: C Hardie, 3: S Tuck, 4: M Hogan, 5: S Hudson, 6: P Paxinos, 7: J James, 8: J Mitchell, Cox: A Haque, Cch: C Sirimanne
5th Geelong College – Bow: H McMaster, 2: A Divola, 3: T Mooney, 4: L Robilliard, 5: F Laidlaw, 6: W Golightly, 7: B Rafferty, 8: H Beaumont-Kelly, Cox: T Nott, Cch: M D'Altera
Final B
1st Geelong Grammar – Bow: T Chen, 2: F Morrison, 3: A Eisner, 4: H Eisner, 5: N Langley, 6: L Tanner, 7: M Lawrence, 8: C James, Cox: J Sleigh, Cch: G Hunter
2nd Wesley College – Bow: L Smith, 2: N de Bell, 3: R Matthews, 4: A Allwell, 5: A Dick, 6: L McKenna, 7: J Stevens, 8: J Peters, Cox: T Buccilli, Cch: A Niteros
Boys Open Coxed Four
1000m
Final
3:35.23
3:43.82
3:59.66
4:14.69
Final
1st Wesley College – Bow: M McArthur, 2: P Papathomas, 3: N Ensor, 4: A Mackie, Cox: E Schnizler, Cch: E Niteros
2nd Carey Grammar – Bow: W Mires, 2: G Kyriakou, 3: L Hendy, 4: R Shinton, Cox: A Wright, Cch: L Andrianakis
3rd Brighton Grammar – Bow: T Boxtel, 2: C Naidu, 3: S Campbell, 4: H Marks, Cox: C Grigoriou
4th Xavier College – Bow: A Farquhar, 2: P Stevenson, 3: N Giuliani, 4: N Emonson, Cox: J Agius, Cch: M Moore
Boys Year 10 Eight Division A
2000m
Final A
6:43.66
6:55.60
7:02.25
7:05.40
7:14.87
7:22.37
Final B
7:04.56
7:08.61
7:12.61
7:17.20
7:29.11
Final A
1st Scotch College – Bow: J Murray, 2: N Symon, 3: J Maginness, 4: S West, 5: A Wolf, 6: L Marshall, 7: A Maycock, 8: A Tivey, Cox: B Ferguson, Cch: E Monteith
2nd Melbourne Grammar – Bow: M Burke, 2: E Howitt-Ross, 3: L Myer, 4: W Lehnacker, 5: M Mezger, 6: J Spargo, 7: G Manton, 8: L May, Cox: J Kloufetos, Cch: L Strauss
3rd Wesley College – Bow: R Hunter, 2: W McCoach, 3: O Bartels, 4: H McArthur, 5: C Ensor, 6: H Johnson, 7: A Scott, 8: W Porter, Cox: S Wassmann, Cch: P Kelly
4th Carey Grammar – Bow: A Smith, 2: J Leith, 3: M Rossi, 4: R May, 5: A Gerraty, 6: J Lardner, 7: J Shiff, 8: E Moyes, Cox: J Walters, Cch: S Fisher, L Fotheringham
5th Brighton Grammar – Bow: H Schulz, 2: L Bade, 3: B Canham, 4: T Heron, 5: D Bradfield, 6: A Cook, 7: B Bender, 8: W Howard, Cox: J Kirby
6th Xavier College – Bow: L Brander, 2: C Quirk, 3: P Deighton, 4: A Moorhead, 5: D Power, 6: B Gray, 7: N Mulhall, 8: T Gilberton, Cox: W Molloy, Cch: C Bolsin, J Linke
Final B
1st St Kevin's College – Bow: N Poynton, 2: X Fanning, 3: A Farrar, 4: N Mullaly, 5: F Eaton, 6: J Waring, 7: J Parncutt, 8: C Davis, Cox: L Gallagher, Cch: A Galante
2nd Haileybury College – Bow: M Gaddie, 2: L Watson, 3: N Trivett, 4: J Bell, 5: O Sharpe, 6: L Montgomery, 7: H Jones, 8: J Schooling, Cox: C Watt, Cch: S Campelj
3rd Geelong College – Bow: W Shaw, 2: S Porter, 3: T Deahl, 4: C Deppeler, 5: D George, 6: E Walmsley, 7: C Mackay, 8: J Morgan, Cox: L Crozier, Cch: B Sarah
4th Geelong Grammar – Bow: E Brookes, 2: A Kininmonth, 3: D Ritchie, 4: H McKendrick, 5: W Shippen, 6: W Devilee, 7: D Larritt, 8: D Lawson-Matthew, Cox: G Chatlekhavanich, Cch: T Green
5th Caulfield Grammar – Bow: J Todd, 2: M Hockley, 3: A Shannon, 4: T Breeze, 5: W Perrott, 6: M Murphy, 7: T Tonkin-Catipovski, 8: J Lewis, Cox: V Cross, Cch: W Barber
Boys Year 10 Eight Division B
2000m
Final A
6:59.44
7:09.28
7:12.04
7:13.01
7:18.06
7:25.04
Final B
7:25.55
7:29.45
7:42.63
7:52.45
7:52.98
Final A
1st Scotch College – Bow: L Strathmore, 2: P Fitzgerald, 3: C Miscamble, 4: F Dunphy, 5: A Price, 6: H Venter, 7: J Green, 8: P Glover, Cox: D Richards, Cch: M Lipshut
2nd Wesley College – Bow: B Jones, 2: F Brown, 3: T Church, 4: H Pike, 5: W Rankin, 6: L Zippel, 7: Z Comley-Burns, 8: C Bacash, Cox: L Yucel, Cch: B Fisher
3rd St Kevin's College – Bow: A Gallagher, 2: J Sloan, 3: L Ciurleo, 4: M Anghie, 5: L Bryan, 6: G Smith, 7: N Chow, 8: G Exton, Cox: R Harrington, Cch: R Law
4th Xavier College – Bow: A Paino, 2: T Woolley, 3: M Bertoncello, 4: W Jenkins, 5: L Case, 6: T Allen, 7: N Tsekouras, 8: S McCaffrey, Cox: W Mullins, Cch: Y Bettini
5th Carey Grammar – Bow: Z Shinton, 2: J Galli, 3: C MacDonald, 4: D Edwards, 5: J Klupacs, 6: N Gerraty, 7: J De Highden, 8: C Christensen, Cox: J Walters, Cch: T McKay
6th Caulfield Grammar – Bow: C Peacock, 2: S Vander Reest, 3: M Young, 4: T Carroll, 5: O Allis, 6: M Dong, 7: L Patrick, 8: H Davis, Cox: A Haque, Cch: J Sandow
Final B
1st Melbourne Grammar – Bow: E Hayne, 2: T Russell, 3: T Carlin, 4: H Nicholson, 5: F Twigg, 6: D Ricardo, 7: J Davies, 8: B Hooper, Cox: H Nettlefold, Cch: J Macciolli
2nd Geelong Grammar – Bow: H Stuart, 2: E Clement, 3: T Hastings, 4: O Elkadi, 5: S Tallis, 6: S Cameron, 7: L Brew, 8: O Simson, Cox: L Coltman, Cch: C Mackenzie
3rd Brighton Grammar – Bow: W Hooy, 2: B Ronec, 3: S Rutter, 4: J Kay, 5: T Oxlade, 6: C Clapp, 7: M Oliver, 8: C Carnovale, Cox: C Nevillle
4th Geelong College – Bow: L Willet, 2: J Blundy-Jones, 3: L Taylor, 4: S Russell, 5: L McDonald, 6: L Savage, 7: D Kontelj, 8: A Goldsack, Cox: A Slattery, Cch: J Steel
5th Haileybury College – Bow: M Ersch, 2: A Robertson, 3: L Dalley, 4: T Richardson, 5: R Pritchard, 6: I Hacioglou, 7: M Rogers, 8: R Mackay, Cox: A Tredinnick, Cch: J Hammond
Boys Year 10 Eight Division C
2000m
Final A
7:13.84
7:16.90
7:32.44
7:33.00
7:49.19
7:56.71
Final B
7:36.20
7:39.66
7:47.50
7:57.77
8:01.81
No time recorded
Final A
1st Melbourne Grammar – Bow: T Martin, 2: W Bernardi, 3: D Leahey, 4: L Ross, 5: W Michelmore, 6: T Wu, 7: L Simmons, 8: H Gubbins, Cox: P Nicol, Cch: W Thompson
2nd Scotch College – Bow: L Ewart, 2: W Sincock, 3: S Alexander, 4: J Emerson, 5: J Mackinnon, 6: Z Tsigaras, 7: J Hicks, 8: E Carlisle, Cox: J Davis, Cch: T Browne
3rd Caulfield Grammar – Bow: T Sherman, 2: T Harris, 3: C Tobin-Underwood, 4: J Scott, 5: Y Sabet, 6: B Hosking, 7: S Grewal, 8: T Collins, Cox: S Sachdev, Cch: S Meads
4th Wesley College – Bow: M Redman, 2: F Davidson, 3: R Harman, 4: J Andrews, 5: C Hobbs, 6: J Hibbins, 7: L Hogan, 8: D Fahey, Cox: R Khot, Cch: A Thompson
5th St Kevin's College – Bow: L Clark, 2: L Augello, 3: L Walker, 4: J Rossi, 5: J Rosengren, 6: A Walker, 7: L Green, 8: R Green, Cox: E Meehan, Cch: P Ryan
6th Melbourne Grammar – Bow: J Hupert, 2: G Delkousis, 3: B March, 4: C Jeffery, 5: D Denniston, 6: A Pizzi, 7: A Wilson, 8: L Cave, Cox: H Nettlefold, Cch: P Feaver
Final B
1st Scotch College – Bow: C Garner, 2: J Fish, 3: Z Goh, 4: M Ferguson, 5: N Sutherland, 6: H Nicholls, 7: J Kamp, 8: J Hackett, Cox: L Nicholls, Cch: H Houghton
2nd Xavier College – Bow: D McCaffrey, 2: T McMahon, 3: C Vinci, 4: T Clancy, 5: B McGing, 6: N Dart, 7: D Fogarty, 8: J Cook, Cox: L King, Cch: S Lefebvre, J Izydorczyk
3rd Geelong Grammar – Bow: M Reilly, 2: J Anderson, 3: H Leckie, 4: S Stone, 5: C Birk, 6: H Osti, 7: H Dawson, 8: H Falkenberg, Cox: L Teo, Cch: K Smith
4th Scotch College – Bow: M Chen, 2: T Mackellar, 3: N Thomas, 4: F Maclean, 5: T Newing, 6: T Hamer, 7: J McAdam, 8: K Fan, Cox: S Smith, Cch: T Duffy
5th Brighton Grammar – Bow: J Badger, 2: E Kauiers, 3: N Farrow, 4: K Bullock, 5: J Mace, 6: J Otis, 7: J Kardis, 8: N Gillies, Cox: H McIntyre
Not placed - Geelong Grammar – Bow: H Johns, 2: M Roux, 3: J Dunn, 4: H Hughson, 5: A Jacob, 6: M Abdalla, 7: A Nicholson, 8: L Coltman, Cox: NAME WITHHELD, Cch: L McPherson
Boys Year 10 Coxed Four Division A
1000m
Final
4:05.98
4:11.48
4:28.48
4:38.79
Final
1st Carey Grammar – Bow: J Willis, 2: L Campbell, 3: N Grifa, 4: T Mitchell, Cox: B Munroe, Cch: S Fotheringham
2nd Wesley College – Bow: H Ding, 2: P Hong, 3: C Owens-Gale, 4: M Facey, Cox: T Tidhar, Cch: H Hosking
3rd Caulfield Grammar – Bow: M Stoddart, 2: W Petch, 3: J Hocking, 4: L Panozzo, Cox: P Kennedy, Cch: T Wren
4th St Kevin's College – Bow: N Liu, 2: J Aharfi, 3: J Chook, 4: B Jacka, Cox: J Spencer, Cch: W Gallagher
Scratched Geelong College - Bow: B Lyons, 2: M Goninon, 3: A Snarskis, 4: M Gratwick, Cox: T Roe, Cch: A Wishart
Scratched Xavier College - Bow: H Manson, 2: D McDonald, 3: T Shirley, 4: J Fogarty, Cox: W Mullins, Cch: H Davies
Girls Open & Year 10
Click on the race of interest and the results will appear below the buttons:
Girls Head of the River
2000m
Final
7:25.64
7:27.58
7:30.38
7:48.64
7:54.45
8:13.55
1st Caulfield Grammar – Bow: A Fisher, 2: P Houghton, 3: L Kangisser, 4: T Pritchard, 5: A Ward Ambler, 6: B Mims, 7: R Engel, 8: M Steel, Cox: E Browne
2nd Geelong Grammar – Bow: E Dow, 2: A Darling, 3: L Zaininger, 4: G Rule, 5: P McPherson, 6: K McGeoch, 7: G Perrignon, 8: O Wetherall, Cox: E Malouf, Cch: R England, Debbie Clingeleffer-Woodford
3rd Carey Grammar – Bow: M Stanboultgis, 2: N Deev, 3: L Daly, 4: K Burgess, 5: E Cremean, 6: G Stewart, 7: S Jones, 8: L Jepson, Cox: G Dupe, Cch: R Thomas
4th Geelong College – Bow: S Thomson, 2: H Portogallo, 3: R Odam, 4: M Philpott, 5: H Caithness, 6: E Vernon, 7: H Kent-Spark, 8: A Sheridan, Cox: A Bedford, Cch: Alan Darker
5th Wesley College – Bow: L McCloskey, 2: M Jones, 3: E Shugg, 4: B Mayer, 5: A Ellem, 6: A Baulch, 7: O Gardiner, 8: E Niteros, Cox: N Malseed
6th Haileybury College – Bow: T Craven, 2: D Smit, 3: R Matters, 4: E Bishop, 5: S McDonnell, 6: A Rogers, 7: Z Reed, 8: Z Preston, Cox: F O'Brien, Cch: Connie Vanderwerp
Girls Second Eight
2000m
Final
7:47.23
7:58.03
8:01.50
8:04.11
1st Geelong Grammar – Bow: M McCartney, 2: P Chirnside, 3: M Salt, 4: O Stone, 5: P Ritchie, 6: A Rothfield, 7: E Hill, 8: A Duff, Cox: P Beauchamp, Cch: J Grave
2nd Geelong College – Bow: E White, 2: B Rankin, 3: I Dobie, 4: C Crawford, 5: O Wild, 6: A Scott, 7: L Murphy, 8: L Macdonald, Cox: M Brown, Cch: A Morgan
3rd Caulfield Grammar – Bow: A Paras, 2: C Hronakis, 3: K Gallucci, 4: S de Bondt, 5: I Care, 6: M Engelhardt, 7: H Mills, 8: F Tulloch, Cox: B Annois Cch: T Ambler
4th Wesley College – Bow: A Strachan, 2: E Sabbatucci, 3: I Etna, 4: S Dearie, 5: G Carlin, 6: C White, 7: A Hynes, 8: S Kakouros, Cox: E Wilkie, Cch: D Nenna
Girls Third Eight
2000m
Final
7:51.32
8:11.32
8:30.02
8:39.32
1st Geelong Grammar – Bow: P Illingworth, 2: B McDonald, 3: A Graves, 4: A Rafferty, 5: L Moore, 6: I Greed, 7: H Starkins, 8: A Kent, Cox: G Cashmore, Cch: R Kemp
2nd Geelong Grammar – Bow: J Grills, 2: B Sharp, 3: M Carroll, 4: G Voss, 5: L Cassidy, 6: B Hook, 7: L Spence-Fletcher, 8: S Batten, Cox: A Richardson, Cch: A Whitehouse
3rd Geelong College – Bow: T Edwards, 2: E Angliss, 3: L Allinson, 4: T Downie, 5: Z Dixon, 6: H Cielesh, 7: B Fraser, 8: A Doery, Cox: P Trescowthick, Cch: C Blyth
4th Caulfield Grammar – Bow: E Herbert, 2: M Harvey, 3: L Ansell, 4: S Thompson, 5: A Sinclair, 6: S Elliott, 7: S Knowles, 8: M Hudson, Cox: I Szyman, Cch: H Houghton
Girls Open Four
1000m
Final
1st Carey Grammar – Bow: M Wagstaff, 2: H Martin, 3: C Fedi, 4: Z Younger, Cox: A Wright, Cch: A Batliwalla, M Holliebone
2nd Wesley College – Bow: A Deng, 2: E Heyes, 3: P Tsolos, 4: L Karantonis, Cox: H Singleton, Cch: D Pollaers
Girls Year 10 Four Division A
1000m
Final
4:07.38
4:12.42
4:13.59
4:20.08
Final
1st Geelong College – Bow: K Campbell, 2: K Caithness, 3: R Finlay, 4: Z Gorell, Cox: O Clark, Cch: J Hill
2nd Haileybury College – Bow: K Albury, 2: M Hazell, 3: L Pearce, 4: R Knott, Cox: J Berry, Cch: G Janssen
3rd Geelong Grammar – Bow: C Morrison, 2: X Brookes, 3: K Green, 4: I Cameron, Cox: I Rofe, Cch: A Beauchamp
4th Wesley College – Bow: J Jones, 2: J Carlisle-Goldblatt, 3: A Bowles, 4: I Goodwin, Cox: L Ryan, Cch: E Petricola
Girls Year 10 Four Division B
1000m
Final
4:13.11
4:17.75
4:22.44
4:38.97
Final
1st Geelong College – Bow: P Lyall, 2: E Wood, 3: M Kent-Spark, 4: E Dixon, Cox: S Smith, Cch: S Campbell
2nd Haileybury College – Bow: C Stillwell, 2: L Sheales, 3: S White, 4: A Cato, Cox: L Tzilantonis, Cch: S Sharpe
3rd Wesley College – Bow: M Rzesniowiecki, 2: C Metzeling, 3: G McMahon, 4: L Stewart, Cox: E Tuan-Mu, Cch: D Holdsworth
4th Geelong Grammar – Bow: E Darling, 2: L Lewis, 3: F Moore, 4: P Coburn, Cox: A Leach, Cch: K Baker
Girls Year 10 Four Division C
1000m
Final
4:28.69
4:39.87
4:44.22
4:44.52
4:50.65
Final
1st Geelong College – Bow: M Perry, 2: G Osborne, 3: A Brierly, 4: E Threadgold, Cox: A Ioannou, Cch: C McGlade
2nd Wesley College – Bow: T Mutz, 2: S Heron, 3: C Hagenauer, 4: E Robertson, Cox: H Davies, Cch: A Arch
3rd Geelong Grammar – Bow: B Bryson, 2: F Johnson, 3: S Gill, 4: G Mactaggart, Cox: J Moran, Cch: B Fitzpatrick
4th Geelong Grammar – Bow: B Hardy, 2: A Underwood, 3: E Burgess, 4: T O'Reilly, Cox: L Cochrane, Cch: J Beauchamp
5th Haileybury College – Bow: L Rolfe, 2: P Maroney, 3: M Smith, 4: N Lee, Cox: A Lewis, Cch: S Sharpe
Girls Year 10 Four Division D
1000m
Final
4:44.68
4:51.31
5:06.11
Final
1st Geelong College – Bow: B Spinazzola, 2: S Weaver, 3: E Hanrahan, 4: B Greene, Cox: S Ward, Cch: H Palmer-Hill
2nd Geelong Grammar – Bow: J Roberts, 2: E Shakesheff, 3: P Roper, 4: I Sanchez, Cox: S Ellice-Flint, Cch: C More
3rd Geelong Grammar – Bow: E Collins, 2: G Evans, 3: I McGrath, 4: S Holmes, Cox: M Bourke-Thomas, Cch: S Goring
Girls Year 10 Four Division E
1000m
Final
4:49.88
4:51.34
4:54.84
5:03.51
5:07.21
Final
1st Geelong College – Bow: P Cunningham, 2: S Klein, 3: M Colman, 4: E Berton, Cox: T Proebstl, Cch: J McGlade
2nd Geelong Grammar – Bow: H Duncan, 2: J Allsopp, 3: A Teuscher, 4: T Alizzi, Cox: A Mackay, Cch: J Brookes
3rd Geelong College – Bow: A De Young, 2: L Moran, 3: E Sefton, 4: G Doery, Cox: F Nation, Cch: L Campbell
4th Geelong Grammar – Bow: B Campbell, 2: I Austin, 3: S Reis, 4: S Lindsay, Cox: J McPhee, Cch: C Coburn
5th Geelong Grammar – Bow: K Clingeleffer-Woodford, 2: F Breidahl, 3: M Robinson, 4: K Dow, Cox: A Joyce, Cch: J Kenfield
Boys Year 9
Click on the race of interest and the results will appear below the buttons:
Boys Year 9 Eight Division A
1000m
Final
3:26.64
3:33.66
3:37.94
3:48.22
Final
1st Wesley College – Bow: E McCoach, 2: H Norman, 3: C Pollaers, 4: W Howard, 5: O Burrows, 6: M Pollock, 7: K Fernandes-Kemp, 8: H O'Donnell, Cox: J Lingard, Cch: S Castle
2nd Carey Grammar – Bow: J Arnott, 2: C Virgona, 3: J Mitchell, 4: R O'Neill, 5: R Berry, 6: T Harris, 7: M Carfi, 8: H Chapman, Cox: B Chatfield, Cch: T Nairn, M Evans
3rd Melbourne Grammar – Bow: J Petsinis, 2: T McMurrick, 3: T Wright, 4: A Bartels, 5: M Weerawardena, 6: O King, 7: N Crouch, 8: L Guest, Cox: B Hornor, Cch: N Molony
4th Xavier College – Bow: H Bergin, 2: H Kirkland, 3: N Duvnjak, 4: J Stynes, 5: D Murphy, 6: M Manson, 7: A Schlicht, 8: J Lau, Cox: N Covino, Cch: M Treppo, B Steedman
Boys Year 9 Eight Division B
1000m
Final
3:36.99
3:39.87
3:45.02
Final
1st Melbourne Grammar – Bow: S Smagas, 2: H Webb Ware, 3: N Smagas, 4: W Hugh-Jones, 5: A Roberts, 6: W Hocking, 7: O Williams, 8: H Fairchild, Cox: C Chestney, Cch: J Benjamin, P Hurley
2nd Carey Grammar – Bow: C Keck, 2: T Jones, 3: P Quay, 4: J Lin, 5: L Angelico, 6: J Denham, 7: B Wilson, 8: R Bunsee, Cox: M Rees, Cch: J Lloyd
3rd Xavier College – Bow: D Elksnis, 2: X Romanin-Green, 3: T Ward, 4: M Batten, 5: R Beaton, 6: H Date, 7: H Silk, 8: P Beaton, Cox: D Jones, Cch: B Vaughan, B Burger
Boys Year 9 Eight Division C
1000m
Final
3:50.89
3:51.78
3:55.11
3:59.93
4:15.94
Final
1st Melbourne Grammar – Bow: P Burnett, 2: S Lovejoy-Hall, 3: W Fox, 4: O Collopy, 5: J Robinson, 6: H Goodman, 7: M Lowman, 8: S Guest, Cox: W Udovenya, Cch: T Bongiorno
2nd Geelong College – Bow: D Morgan, 2: W Carr, 3: S Slorach, 4: J McRae-Palmer, 5: N Nicholas, 6: L Taylor, 7: P Molloy, 8: M Jackman, Cox: A Nelson, Cch: C Craven
3rd Caulfield Grammar – Bow: M Donne, 2: H Dunn, 3: B Pohl, 4: J Kaye, 5: D Hicks, 6: S Pemberton, 7: M Lipman, 8: S Dorevitch, Cox: C Krassaris, Cch: D Scully
4th Carey Grammar – Bow: B Jobson, 2: A Nash, 3: M Bullock, 4: R Horgan, 5: C Holman, 6: D Dewhirst, 7: J Wilkinson, 8: W Jobson, Cox: W Maloney-Urdampilleta, Cch: J Thyer
5th Xavier College – Bow: C Paulsen, 2: W Hannebery, 3: O Renehan, 4: J Fagan, 5: A Carey, 6: L McCombe, 7: O Knott, 8: C Brown, Cox: O Ashmore, Cch: H Denton
Boys Year 9 Eight Division D
1000m
Final
3:59.30
4:17.75
4:24.32
5:10.88
Final
1st Melbourne Grammar – Bow: H Atkins, 2: W Nuske, 3: B Tunbridge, 4: H Forge, 5: J Hiscock, 6: A Morgan, 7: G Paul, 8: W Ingham, Cox: C Bundey, Cch: A Haigh, M Wicks
2nd Caulfield Grammar – Bow: B Apostolopoulos, 2: T Herbert, 3: J Kennett, 4: H Murray, 5: N Hatzis, 6: B Cruz-Marshall, 7: O Loughnan, 8: J Hamilton, Cox: H Reeves, Cch: F Cooper
3rd Haileybury College – Bow: C Grubb, 2: A Skoglund, 3: S Merhi, 4: R Mason, 5: W Cochrane, 6: M Rotar, 7: R Wooldridge, 8: J Tochner, Cox: C Cahill, Cch: B Jones, N Crouch
4th Caulfield Grammar – Bow: R Riddiford, 2: E Back, 3: J Vasic, 4: J Duszniak, 5: A Barnett, 6: D Osianlis, 7: T Remzi-Johnson, 8: B Thomas, Cox: P Rombauts, Cch: R Ogden
Boys Year 9 Quad Scull Division A
1000m
Final A
3:30.24
3:33.27
3:36.05
3:38.86
3:46.86
3:48.74
Final B
3:52.74
3:52.84
4:09.23
Final A
1st St Kevin's College – Bow: S Smith, 2: J Hanlon, 3: P O'Leary, 4: R Bolton, Cox: J Cameron, Cch: P Frasca
2nd Xavier College – Bow: T McMahon, 2: S Ralph, 3: F Stewart, 4: J Power, Cox: T Frawley, Cch: M Henderson, T Cleary
3rd Scotch College – Bow: C Westacott, 2: F Dale, 3: T Sutherland, 4: M Martin, Cox: T Sinclair, Cch: T Simpson
4th Scotch College – Bow: S Lynch, 2: A Brooke, 3: S Sherlock, 4: S Poppenbeek, Cox: D Horth, Cch: P Wright
5th Melbourne Grammar – Bow: J Robertson, 2: L McGrath, 3: N Foster, 4: S Stevenson, Cox: W Anders, Cch: N Russell, M Poulter
6th Caulfield Grammar – Bow: M Tolnai, 2: B Deighton, 3: J Edwards, 4: L Edwards, Cox: J Katiforis, Cch: J Dutton
Final B
1st Geelong College – Bow: M Malishev, 2: A Longden, 3: N Ekberg, 4: J Gorell, Cox: H Hayes, Cch: R George
2nd Haileybury College – Bow: M Crantock, 2: W Humble, 3: C Jackson, 4: J Cain, Cox: D Arthur, Cch: S Millar
3rd Brighton Grammar – Bow: G Bilionis, 2: M Denman, 3: B Hayes, 4: F Gregson, Cox: K Yamamoto
Boys Year 9 Quad Scull Division B
1000m
Final A
3:41.33
3:43.33
3:48.73
3:50.01
3:51.34
3:56.71
Final B
3:47.19
3:51.80
4:06.68
4:07.38
Final A
1st Melbourne Grammar – Bow: B O'Connell, 2: S Hannah, 3: H Judge, 4: L Muhlen-Schulte, Cox: H Werbeloff, Cch: C Nott, N Russell
2nd Scotch College – Bow: L Piper, 2: O Don, 3: A Barber, 4: H Marcel, Cox: R Gertis, Cch: N Jarman
3rd St Kevin's College – Bow: T Battistella, 2: N Janssen, 3: E Ryan, 4: M Hester, Cox: S Beagley, Cch: M Bennett
4th Wesley College – Bow: T Mande, 2: J Van Twest, 3: L Machell, 4: D Cargill, Cox: R Waterhouse, Cch: J Brenker
5th Haileybury College – Bow: J Hewitt, 2: M Molino, 3: N Gregors, 4: T Pisciotta, Cox: A Butala, Cch: L Egan
6th Scotch College – Bow: E Emmett, 2: T Soust, 3: L McLellan, 4: H Baxter, Cox: C Eade, Cch: C Booth
Final B
1st Xavier College – Bow: L Giuliani, 2: J Lawson, 3: H Pirrie, 4: S Wilcock, Cox: L King, Cch: J Robinson, M Elliot
2nd Caulfield Grammar – Bow: L Purcell, 2: E Sinclair, 3: J Meads, 4: N Allen, Cox: L Anderson, Cch: M Nelson
3rd Brighton Grammar – Bow: S Kavadias, 2: J Massuger, 3: J Parker, 4: S Morris, Cox: F Gregson
4th Geelong College – Bow: T King, 2: A Longden, 3: W Morrison, 4: F Vernon, Cox: A Symons, Cch: J Deahl
Boys Year 9 Quad Scull Division C
1000m
Final A
3:57.00
3:59.84
4:01.93
4:03.61
4:04.01
4:04.31
Final B
4:11.65
4:15.92
4:17.37
Final A
1st Scotch College – Bow: T Cameron, 2: J Bateman, 3: P Rovas, 4: S Kilroe-Smith, Cox: E Searles, Cch: A Strathmore
2nd Melbourne Grammar – Bow: H Keeble, 2: C Ebeling, 3: H Blomley, 4: H Veall, Cox: B Plummer, Cch: T Hodge
3rd Scotch College – Bow: J Cross, 2: J Crowston, 3: C O'Brien, 4: A Stanley, Cox: A James, Cch: A Karklins
4th Haileybury College – Bow: J Taskovski, 2: W Reid, 3: B Irwin, 4: T Pullin, Cox: T Hemphill, Cch: S Howard
5th Wesley College – Bow: J Owen, 2: L Parris, 3: S Melbourne, 4: A Lowndes, Cox: B Warren, Cch: J Kus
6th St Kevin's College – Bow: W Jirik, 2: L Schlaghecke, 3: E Gusman, 4: J Stefanac, Cox: T Rawolle, Cch: M Monagle
Final B
1st Geelong College – Bow: B Allan, 2: P Hurley, 3: T Castles, 4: M Wright, Cox: A Falkiner, Cch: C Wishart
2nd Caulfield Grammar – Bow: S O'Sullivan, 2: J Wainwrigth, 3: R O'Sullivan, 4: L Spackman, Cox: A Van Driel, Cch: B Tan
3rd Brighton Grammar – Bow: W Moore, 2: K Yamamoto, 3: L Collie, 4: S Allen, Cox: S Morris
Boys Year 9 Quad Scull Division D
1000m
Final A
4:07.70
4:17.96
4:20.66
4:34.34
4:34.34
5:17.75
Final B
4:10.10
4:19.18
4:21.21
4:30.38
4:33.28
4:41.27
Final A
1st Wesley College – Bow: N Krotiris, 2: N Rea, 3: J Allan, 4: F Hickey, Cox: T Bliss, Cch: T Kenyon-Smith, S Taylor
2nd Caulfield Grammar – Bow: S Donoghue, 2: L Coburn, 3: D Zhang, 4: M Cowie, Cox: C Horton, Cch: R Breeze
3rd St Kevin's College – Bow: S Wray, 2: L Suhr, 3: M McCosker, 4: H Jennings, Cox: G Phillips, Cch: J Guinane
=4th Xavier College – Bow: M Stirling, 2: L Meehan, 3: C Nuzzo, 4: G Follachio, Cox: M Wilson, Cch: L Wright
=4th Haileybury College – Bow: C Beaton, 2: R Sidhu, 3: N Zeinstra, 4: M Kirkwood, Cox: A Suganthirakumar, Cch: J Coombes
6th Scotch College – Bow: M Hanna, 2: N Watson, 3: L Cooper, 4: M Clements, Cox: H Gill, Cch: W Richards
Final B
1st Melbourne Grammar – Bow: H Morgan, 2: T Happell, 3: T Gillham, 4: A Nott, Cox: H Fleetwood, Cch: H May
2nd Brighton Grammar – Bow: D Mirmilstein, 2: J Coleman, 3: N Moran, 4: E Bartlett-Bragg, Cox: L Lovett
3rd Scotch College – Bow: D Fraser-Smith, 2: J Ward, 3: C Kempton, 4: L Kemp, Cox: C Oates, Cch: A Elder
4th Scotch College – Bow: N Gill, 2: J Kelly, 3: N Chong, 4: M Hebel, Cox: ATHLETE UNKNOWN, Cch: J Cook, C Lockwood
5th Scotch College – Bow: J Tan [SC-V], 2: S Laurance [SC-V], 3: G Walmsley [SC-V], 4: M Ma, Cox: ATHLETE UNKNOWN, Cch: N Bernardo
6th St Kevin's College – Bow: A Sinni, 2: B Palamara, 3: L Brusco, 4: C Lo, Cox: S O'Connell, Coach: M McFarlane
Boys Year 9 Quad Scull Division E
1000m
Final A
4:09.05
4:17.27
4:27.74
4:32.43
4:32.54
5:09.53
Final B
4:28.90
4:41.44
4:42.63
4:53.81
Final A
1st Scotch College – Bow: F Whittaker, 2: L Saliwonczyk, 3: R Hortin, 4: H Glaspole, Cox: J Cameron, Cch: J Anderson
2nd Wesley College – Bow: J Cash, 2: F Cameron, 3: A Marucchi, 4: L Berry, Cox: A Naylor, Cch: J Barnes, J Kenyon-Smith
3rd Scotch College – Bow: L Russell, 2: J Oliver, 3: H Carr, 4: J McGlashan, Cox: S Waddell, Cch: M Goodey
4th Xavier College – Bow: D O'Shannassy, 2: M Stevenson, 3: H O'Farrell, 4: S Downes, Cox: B Somers, Cch: L Baynes
5th St Kevin's College – Bow: A McDonald, 2: R Adams, 3: A Scarff, 4: T McGrath, Cox: J Fong, Cch: T Portelli, M Portelli
6th St Kevin's College – Bow: C Mills, 2: H Long, 3: N Bradica, 4: M Burgess, Cox: M Smith, Cch: J Slattery
Final B
1st Haileybury College – Bow: Z Stokeld, 2: D Longo, 3: J Schooling, 4: T Scaunich, Cox: H Bingham, Cch: T George
2nd Brighton Grammar – Bow: N Sitzoukis, 2: L Lovett, 3: J Branson, 4: L Bottomley, Cox: Z Brighton-Knight
3rd Scotch College – Bow: J Holyman, 2: E Richards, 3: A Fasso, 4: D Digby, Cox: J Orloff, Cch: A Boykett
4th Xavier College – Bow: B Sheahan, 2: J McKay, 3: M Nankivell, 4: J Ginnane, Cox: M Beech, Cch: D McKay, m Bennett
Scratched Scotch College – Bow: H Choi, 2: J Wittman, 3: J Liu, 4: J Elliott, Cox: A Greco, Cch: M Caldwell, J Tivey
Boys Year 9 Quad Scull Division F
1000m
Final A
4:11.82
4:24.35
4:26.53
4:33.47
4:35.47
5:14.10
Final B
4:21.31
4:36.85
4:53.92
5:07.39
Final A
1st Scotch College – Bow: W Hodge, 2: L Parks, 3: T Crawley, 4: W Anderson, Cox: D Webster, Cch: T Havea, B Stops
2nd Scotch College – Bow: A Jones, 2: J Meikle, 3: A Scott, 4: N Sladden, Cox: J Davis, Cch: W Adams
3rd Wesley College – Bow: F Fraser, 2: F Orr, 3: N Davis, 4: C Birchall, Cox: K Harman, Cch: F Blair, T Benjamin
4th Haileybury College – Bow: D Prentice, 2: T Lynch, 3: M Anderson, 4: M Liyana Arachchige, Cox: G Fielding, Cch: C Budge
5th Melbourne Grammar – Bow: B Scotti, 2: J Smith, 3: M Berry, 4: G Zographos, Cox: J Symons, Cch: J Kelly, M Panton
6th St Kevin's College – Bow: P Viterbo, 2: T Brownlee, 3: T Cheney, 4: T Gaul, Cox: E Dumaresq, Cch: C Martin
Final B
1st St Kevin's College – Bow: J Rowe, 2: I Sullivan, 3: N Wynne, 4: N Reeves, Cox: B Lohan, Cch: M McBride
2nd Brighton Grammar – Bow: M Gernandt, 2: Z Brighton-Knight, 3: M Stannus, 4: M Bilosh-Delic, Cox: E Bartlett-Bragg
3rd Scotch College – Bow: S Saxena, 2: J Langley, 3: J Roake, 4: A Xia, Cox: D Luu, Cch: J Brinkler, C Dixon
4th Caulfield Grammar – Bow: B Robinson, 2: K Liu, 3: T Hyams, 4: L Han, Cox: J Katiforis, Cch: R Gigacz, D Silcock
Girls Year 9
Click on the race of interest and the results will appear below the buttons:
Girls Year 9 Four Division A
1000m
Final
4:18.95
4:20.02
4:28.38
Final
1st Geelong College – Bow: G Carroll, 2: K McMaster, 3: E Crawford, 4: L Cayzer, Cox: L Balaam, Cch: L Monotti
2nd Wesley College – Bow: J Gardiner, 2: M Baker, 3: C Omond, 4: R Dickman, Cox: L Stevens, Cch: R Parker
3rd Haileybury College – Bow: E FitzGerald, 2: O Shand-Gost, 3: M Hartnett, 4: A Preston, Cox: E Kimberley, Cch: S Trudzik
Girls Year 9 Four Division B
1000m
Final
4:25.82
4:42.89
4:51.69
4:53.52
Final
1st Wesley College – Bow: E Eyles, 2: A West, 3: R Korren, 4: S Harvie, Cox: M Bassova, Cch: J Hetzel, L McGeehan
2nd Geelong College – Bow: L Milner, 2: C Wynter, 3: K Boness, 4: C Cheatley, Cox: S Urquhart, Cch: C Allinson
3rd Haileybury College – Bow: A Coad, 2: I Clarke, 3: E Riskin, 4: M McDonald, Cox: B Mathews, Cch: M Allen
4th Geelong College – Bow: A Howie, 2: S Newnham, 3: H Shuter, 4: L Cox, Cox: M Trescowthick, Cch: P Westendorf
Girls Year 9 Four Division C
1000m
Final
4:40.25
4:46.39
4:51.54
4:59.70
Final
1st Wesley College – Bow: J Tabalujan, 2: C Brownjohn, 3: A Coburn, 4: O Griffiths, Cox: M Jordan, Cch: M Brenker
2nd Haileybury College – Bow: B Anderson, 2: M Blunt, 3: T Nixon, 4: E Proctor-Parker, Cox: J Tinkler, Cch: K Seccull, L Jeffrey
3rd Geelong College – Bow: S Urquhart, 2: E Hall, 3: E Wynhoven, 4: A Walder, Cox: M McArthur, Cch: K Salathiel-Dyke
4th Geelong College – Bow: R Goy, 2: G Newnham, 3: H Rochow, 4: C Cheatley, Cox: R McGrath, Cch: J Landy
Girls Year 9 Four Division D
1000m
Final
4:49.60
5:03.31
5:12.04
5:51.09
Final
1st Geelong College – Bow: P McQuinn, C Potts, B Holten, E Arcdekker, Cox: S Higgins, Cch: P Kontelj
2nd Geelong College – Bow: M Evans, J Stewart, V Nockles, A Powell, Cox: M Sadler, Cch: G Skuza, L O'Rourke
3rd Wesley College – Bow: P Bilby, A Jackson, D Barbayannis, S Richardson, Cox: S Jacobson, Cch: J Jackson
4th Haileybury College – Bow: H Harris, I Edwards, S Cassimaty, K Smallman, Cox: C Huynh, Cch: C Patterson, M Smirnakos
Sources
Regatta manager system for results
Regatta program
Unless otherwise marked, photos - Andrew Guerin