1892 Head of the River
The twenty-fifth Head of the River was conducted on 20th May using the Lower Yarra course which enabled a four crew first & final. Scotch College had the choice of course.
Scotch College was again successful.
The start was even and it took a quarter of a mile before Scotch broke free. The two Grammar schools followed and Wesley were last at this point. Scotch opened up over the next three quarters of a mile with powerful and clean strokes extending the lead to two lengths. Wesley were well behind and passed by the steamer.
---
Officials
Starter: Mr George E Upward
Umpire: Mr George E Upward
Judge: Mr C S Cunningham
The original starter Mr D B House was unwell and the respected George Upward took his place.
Time: 9:04.0
Margin: 1 1/2 length, 2 & 2 lengths
1st Scotch College - Bow: Henry N Young, 2: Henry C Winneke, 3: Samuel E Grimwood, Str: Alexander R Lewis, Cox: Charles H Singelton, Cchs: Frank O Johnston & Stephen J Morell
2nd Melbourne Grammar - Bow: G O Bruce, 2: L A Cleveland, 3: E O Mitchell, Str: H A Anderson, Cox: F N Pleasance, Cch: A S Workman
3rd Geelong Grammar - Bow: H J Wittingham, 2: C Cooper, 3: E James, Str: A W Whitney, Cox: H Cross, Cch: James L Cuthbertson
4th Wesley College - Bow: P A Thompson, 2: K Donahoo, 3: E Matthews, Str: A B Campbell, Cox: E Hocking, Cch: E A Derrick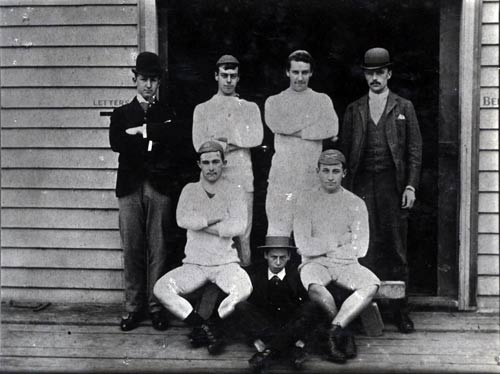 Photo courtesy of Melbourne Grammar Archives - Cat No 6569
It was reported in The Age as follows:
The four crews struck the water together, and very pretty they looked as they dashed away for the lead. The had gone about a quarter of a mile before the line appeared to be broken, and then the Scotch gained a ¼ length from the MGS and Geelong Grammar crews, and Wesley began to fall to the rear. The Scotch rowed in the best form, a clean and powerful stroke, Melbourne Grammar vigorously, but too fast forward. Geelong were rowing strongly, but without dash, and Wesley pluckily struggled on, not knowing how to use their strength to their advantage. The race became very interesting between the first three crews, though before a mile had been rowed it was clear that the Scotch were not putting forth all their energy. Finally the Scotch College passed the judge, Mr. C. Cunningham, a full length and a half ahead of MGS, who were a similar distance ahead of the Geelong crew. Wesley College were about 6 lengths behind the winner. Time 9 min 4 sec.
---
Second Crews
(This was not raced at the Head of the River regatta but on Albert Park Lake on 14th October 1892.)
Time: NTT
Margins: 1 length and 2 lengths
1st Melbourne Grammar - Bow: H R Flack, 2: A E Kent, 3: E O Anderson, Str: N K Paxton, Cox: F N Pleasance, Cch: Mr A J Evans
2nd Geelong Grammar - Bow: W Bailey, 2: G Eardley Wilmot, 3: A Greenfield, Str: G Greene
3rd Wesley College - Bow: H Johnston, 2: H Hughes, 3: G Keene, Str: C McCarron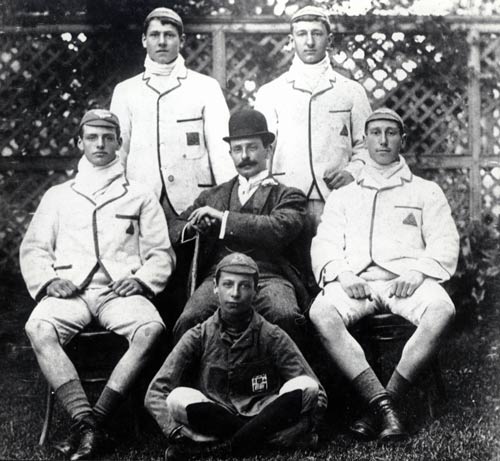 Photo courtesy of Melbourne Grammar Archives - Cat No 4437
The Argus reported the race as follows:
The annual four-oared race in gigs for the second crews of the public schools was decided yesterday on Albert-Park Lake.
Wesley College took the Western position, Geelong were in the centre, and Melbourne Grammar on the east. Mr G. Upward started them, and almost at once the MGS, rowing a long powerful stroke, assumed a lead. The boats, however, were well together until half the course was covered, after which Melbourne drew farther away from Geelong, and Geelong in turn increased their lead from Wesley College. The latter lost slightly through erratic steering. The Melbourne crew had about two and a half lengths lead 50 yards from the finish, when bow caught a bad crab. For a moment their chances were in peril, for Geelong gained on them, but won by a clear length, and Wesley were several lengths behind. Mr G. Henderson acted as umpire, and Mr C. Cunningham as judge.

---
Sources
The Victorian Oarsman by John Lang 1919 - A H Massina & Company
Appendix to A Deepening Roar Scotch College 1851-2001 by James Mitchell, Allen & Unwin 2001
The Pincott Club Handbook 2006
MGS first crew names from MGS boatshed
Lift her home to victory, lads! A centenary history of Xavier College 1906-2006 by Michael Lefebvre
Scotch Collegian magazine 1932
Scotch College and Melbourne Grammar Archives
ROWING. (1892, May 21). The Age (Melbourne, Vic. : 1854 - 1954), p. 10. Retrieved March 29, 2017, from http://nla.gov.au/nla.news-article199339247
ROWING. (1892, October 15). The Argus (Melbourne, Vic. : 1848 - 1957), p. 7. Retrieved March 29, 2017, from http://nla.gov.au/nla.news-article8470338