1945 Head of the River
The finals of the seventy-eighth Head of the River were conducted on the Barwon and Melbourne Grammar was to be successful. The heats however were held on the Upper Yarra. A very light head breeze prevailed but had nom bearing on the result. A poor crowd of about 5,000 spectators were present, mostly from Geelong.
The cox of the winning Melbourne crew, Gordon Sargood, was to become a master at that school and long time Melbourne first crew coach. As was the six man of the Geelong College crew, Donald Macmillan, to be a long serving first crew coach, but not at Geelong, at Scotch. The annual Scotch College supporters luncheon is named in his honour.
The first and second crews raced at the Head of the River regatta whilst the junior raced seperately.
---
Officials
APS Committee: E M Davidson (Hon Secretary)
Starters: H J Green (on the Yarra) and H Markin (on the Barwon)
Umpires: Edward Kenny, Marcus Burke and J L Mounsey (on the Yarra) and Edward Kenny, A L Storrer, W R Grose, J Trengrove and W H Rooke (on the Barwon)
Judges: H T James (on the Yarra) and T S Barnfather and Lewis Hirst (on the Barwon)
Timekeeper: Ray Todd
Despatch Steward: P Coleman
---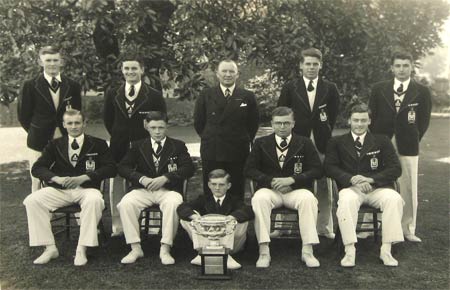 Back row: K N C Rollason, I M Downes, W N Ricketts (coach), R M Lane, R W McKaige
Front row: A F Hargrave, S L Rodda, Gordon Sargood, B McK Birrell, G W S Crow
Photo courtesy of Melbourne Grammar Archives
Time: 5:09.4
Margins: 1 1/4 lengths and 1 3/4 lengths.
Losers final:
Time: 5:20.4
Margins: 1 length and 2 lengths
1st Melbourne Grammar - Bow: R W McKaige, 2: K N C Rollason, 3: R M Lane, 4: I M Downes, 5: G W S Crow, 6: A F Hargrave, 7: B McK Birrell, Str: S L Rodda, Cox: Gordon Sargood, Cch: Walter E "Wally" Ricketts
2nd Geelong College - Bow: J A Hooper, 2: J O Stewart, 3: R C Morris, 4: W A Salmon, 5: R M Wagstaff, 6: Donald R T Macmillan, 7: N L Barrett, Str: L M Simpson, Cox: D R Salmon, Cch: Albert B Bell
3rd Wesley College -G W D Kermode, 2: S J King, 3: D R Kennedy, 4: R Rosanove, 5: R P E Whiteside, 6: A S Wood, 7: G T Fudge, Str: W I Duncan, Cox: P J Duncan, Cch: Neil H McNeil
The favourites were Geelong College but Melbourne Granmmar prevailed in a great race and in the end comfortably.
The Argus reported on the final in this manner:
There was a very slight headwind against the crews, but otherwise rowing conditions were all that could be desired. The crews were sent away to an even start, from which MGS, striking 36, forced its bow in front in the first 50 yards. The order at the end of the first ¼ was MGS, a ¼ of a length to Geelong College, with Wesley a similar distance away in third place. Racing to the half mile Grammar's powerful swing and leg drive took it farther ahead. The half was reached in 2 min 24 sec, the margins being Grammar two-thirds of a length from Geelong College, Wesley a length further back. Thereafter Grammar was never in danger, and, swinging splendidly to the finish, won by a length and a ¼, with Wesley a similar distance away in third place. Time 5min 9.4sec.

Losers Final:
1st Geelong Grammar - Bow: C G L Smith, 2: G T Kryger, 3: A A Mackay, 4: M J Scriven, 5: J R Brisbane, 6: T S Carlyon, 7: D M M Moore, Str: James G Perry, Cox: J H E Angas, Cch: John E L Barber
2nd Scotch College - Bow: C Peter Roberts, 2: Kenneth F Walton, 3: Bruce L Burns, 4: David G Holloway, 5: Geoffrey M Hallam, 6: John S Galbraith, 7: John C Boyd, Str: Alexander T Dix, Cox: V Bryce Ricker, Cch: Arthur L Burns
3rd Xavier College - Bow: P Coleman, 2: F Mullins, 3: C Parker, 4: E Hayes, 5: G Awburn, 6: D Richardson, 7: Dermot Coughlin, Str: Brian Fitzpatrick, Cox: R Williams, Cch: Albert Anderson
The losers final was described as A great race, Scotch challenging desperately to the end. One length, two lengths. 5 min 20sec.
Heat results:
E1: 1st WC, 2nd XC, Time: 5:04.0, Margin 1 1/2 lengths
E2: 1st MGS, 2nd SC, Time: 4:56.6, Margin: 1 3/4 lengths
E3: 1st GC, 2nd GGS, Time: 5:09.0, Margin: a few feet
The Argus reported on the heats as follows:
First Heat - Wesley v Xavier
After a delay of nearly 15 minutes caused by a loose bolt on one of Xavier's outriggers the crews got away to an even start and raced bow and bow to Anderson street bridge. Wesley, settling down the better, then led by half a length at the half mile. It was increased in the Henley straight, where Xavier lost some ground through an error in steering. Wesley won by 1 ½ lengths in 5min 4sec.
Second Heat - MGS v Scotch
Scotch, rowing the faster stroke, jumped into the lead immediately, but lost it when Grammar settled down on the run to the bridge. Thereafter Grammar's more effective work through the water, backed by a powerful leg drive and an easy, even recovery, took them farther ahead. The wining margin was 1 ¾ lengths in 4min 56 ¾ sec.
Third Heat - Geelong College v Geelong Grammar
Grammar got away to a good start. College, more ragged, stroked slightly the faster, but did not cover the same water. Grammar, still rowing strongly at the half mile, led by half a length. College then settled down to fine rowing and steadily overhauled Grammar to lead at the Latrobe Terrace. Grammar, using plenty of weight, again drew ahead, but College lengthened the stroke and won a well fought race by a third of a canvas in 5min 9 sec.
Distance: 0.5 mile
Time: 2:46.4
Margins: 2 feet and 1/2 length
Losers final:
Time: 2:45.4
Margins: 1 canvas and 1 1/2 lengths
1st Geelong Grammar - Bow: J Parker, 2: R Cobden, 3: G Spence, 4: H Osborne, 5: D McCullogh, 6: I Ferguson, 7: P Anderson, Str: J Goodwin, Cox: C Bowen
2nd Wesley College - Bow: J Woodhouse, 2: G Troup, 3: H Williams, 4: D Thomas, 5: J Kidd, 6: M Point, 7: E Wood, Str: R Selleck, Cox: P Rankin
3rd Scotch College - Bow: I Johnson, 2: B Hughes, 3: R Mathieson, 4: E Lloyd, 5: F Snell, 6: W Philip, 7: R Macnell, Str: J Mathew, Cox: B Phillipe
The Argus described the final: Through being taken too far in towards the south bank, Wesley lost ground at a critical stage, and was beaten by 2ft in a most exciting finish. Scotch was half a length away. 2 min 46 sec.

Losers Final:
1st Geelong College - Bow: D Doery, 2: F Brown, 3: S Davies, 4: D Hocking, 5: W Barber, 6: J Hodgson, 7: D Graham, Str: I Bence, Cox: A Foreman
2nd Melbourne Grammar
3rd Xavier College - Bow: P Moy, 2: D Fogarty, 3: A Dillon, 4: C Bailey, 5: P Trost, 6: J Brenan, 7: R Britten-Jones, Str: S Byrne, Cox: B Lyons, Cch: Jack Coghlan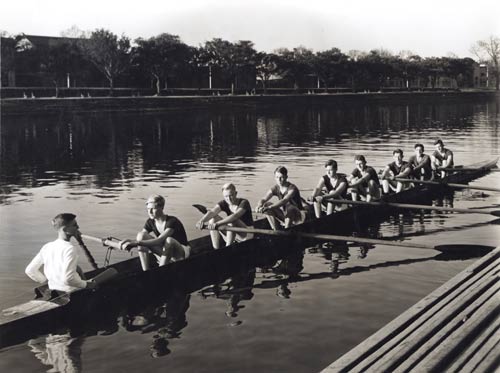 Photo courtesy of Melbourne Grammar Archives
Heats
E1: 1st SC, 2nd XC, Time: 2:43.9, Margin: 1 1/2 lengths (held in Melbourne)
E2: 1st WC, 2nd MGS, Margin: 1/2 length (held in Melbourne)
E3: 1st GGS, 2nd GC, Time: 2:28.4 (held in Geelong)

---
Third Crews
(These races were conducted on Head of the River heats day (14th April) on both the Barwon and the Yarra. These crews did not compete at the Head at the Head of the River regatta on 18th April.)
Metropolitan
Distance: 700 yards
Time: 1:53.0
Margins: 3/4 length and 1 length
Barwon
Time: 2:43.4
Metropolitan race
1st Wesley College
2nd Melbourne Grammar
3rd Xavier College
4th Scotch College
Photo courtesy of Melbourne Grammar Archives
Barwon race
1st Geelong Grammar
2nd Geelong Grammar fourths
3rd Geelong College
---
Fourth Eights
(These races were conducted on Head of the River heats day (14th April) on both the Barwon and the Yarra. These crews did not compete at the Head at the Head of the River regatta.)
Metropolitan
Distance: 5-600 yards
Time: Not known
Margins: 1/2 length and 1 length
Barwon
Time: 2min 3 secs
Metropolitan
1st Wesley College
2nd Melbourne Grammar
3rd Scotch College
4th Xavier College
Photo courtesy of Melbourne Grammar Archives
Barwon
1st Geelong College
2nd Geelong Grammar sixth crew
3rd Geelong Grammar fifth crew
---
Fifth Crews
(These races were conducted on Head of the River heats day (14th April) on both the Barwon and the Yarra. These crews did not compete at the Head at the Head of the River regatta.)
Time: 1min 16 secs
Margin: 1 length
1st Wesley College
2nd Scotch College
3rd Melbourne Grammar
Photo courtesy of Melbourne Grammar Archives
1st Melbourne Grammar
2nd Scotch College
Photo courtesy of Melbourne Grammar Archives
1st Melbourne Grammar
2nd Scotch College
3rd Melbourne Grammar eighths
Photo courtesy of Melbourne Grammar Archives
---
Sources
1945 Regatta program
The Pincott Club Handbook 2006
Scotch Collegian 1945
Lift her home to victory, lads! A centenary history of Xavier College 1906-2006 by Michael Lefebvre
Appendix to A Deepening Roar Scotch College 1851-2001 by James Mitchell, Allen & Unwin 2001
WESLEY, GEELONG COLLEGE, AND M G S CREWS WIN (1945, April 16). The Argus (Melbourne, Vic. : 1848 - 1957), p. 13. Retrieved April 21, 2017, from http://nla.gov.au/nla.news-article1094735
MELB GRAMMAR HEAD OF RIVER (1945, April 19). The Argus (Melbourne, Vic. : 1848 - 1957), p. 11. Retrieved April 21, 2017, from http://nla.gov.au/nla.news-article1093410
Melbourne Grammar Wins (1945, Apr 19). The Age page 6. Retrieved 3rd January 2017, from http://nla.gov.au/nla.news-article206869486