Rowing Victoria State Championships
Background
Unofficial championship racing was undertaken form as early as 1860 with the formation of the Melbourne Regatta. The Melbourne Regatta was clearly the pinnacle of amateur racing in Victoria and the Grand Challenge Cup certainly deserving the recognition of championship status.
However it was not until after the formation of the Victorian Rowing Association in 1876 that consideration was given to formalising Victorian Championships. By 1888, such annual Championships were established and were the most important rowing events of the year.
Until the mid 1950s, the men's Championships were mostly conducted on the Lower Yarra and generally over 2.5 miles or 3 miles. The 1956 Olympic Games and the move of the Interstate Championships to 2000m, saw the same change to race distances of the men's State Championships.
The women's Championships were generally conducted over 1000m until the change at the international and interstate levels to 2000m in the mid 1980s.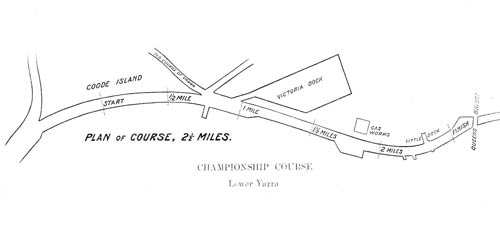 Image from John Lang's The Victorian Oarsman and Rowing Register, 1919 Massina and Company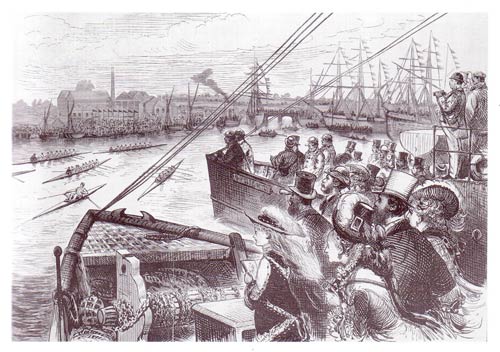 Image of a lithograph of this time titled "The view from the umpire's boat"
The senior and underage Championships are now conducted over the Olympic distance of 2000 meters.
---