1897 Rowing Victoria State Championships
---
Champion Men's Scull
1st C Chapman, Wairewa (NZL)
G Browne, Essendon (Did not finish)
---
Champion Men's Four
(Distance - Not recorded)
Time: 19:30
Margin: 1 3/4 lengths
1st Mercantile – Bow: Barclay G Connor, 2: William Potter, 3: J A Strong, Str: Alex B Sloan, Cox: Victor Jones, Cch: Sid Edwards
2nd Banks
This Championship was conducted on the Lower Yarra on 11th December 1897. Mercantile won this Championship for the third time in succession.
---
Champion Men's Eight
(3 miles)
1st Mercantile – Bow: Stephen J Morell, 2: Frank S Gibbs, 3: William Potter, 4: Barclay G Connor, 5: A E Hood, 6: J Strong, 7: Harold Lindgren, Str: Alex B Sloan, Cox: Victor Jones
2nd Banks
3rd Yarra Yarra
Back row: Stephen Morell, Barclay Connor, Syd Edwards (coach), William Potter
Front row: Frank Gibbs, Harold Lindgren, Alex Sloan, A E Hood, J Strong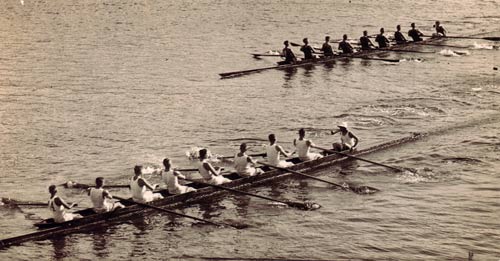 ---
Sources
The Victorian Oarsman with a Rowing Register, by John Lang, published by A H Massina and Company 1919.
Mercantile Rowing Club Annual Report
Champion eight photographs from Mercantile Rowing Club