1910-1911 Rowing Victoria State Championships
The record field in the Sculling Championship was upset by a series of accidents, initially caused by Percy Ivens hitting a log. Ivens had been sculling well at the one mile mark and hit the log which caused him to capsize. Several other scullers then hit his boat.
The weather took its toll on the pairs Championship races this year with the race being postponed. An equal record number of entries were received but only four crews could make the revised date.
The Victorian Rowing Association altered the regatta program this season with the Champion Eight Oared Championship being the first Championship on 19th November 1910.
---
Champion Men's Scull
(2 1/2 miles)
1st Horace E Stevens, Essendon
2nd T E Luke, Ballarat City
3rd J Steele, Civil Service
4th E T J Kerby, Wendouree
5th J Howieson, Civil Service
6th E Christie, Sandhurst
7th A Richards, South Melbourne
8th Percy C Ivens, Mercantile
9th T Barrell, Wendouree
Lower Yarra, March 11th, 1911. Nine entries were received for this event, constituting a record. The race was won by Horace E. Stevens (Essendon), who is to be heartily congratulated on attaining Championship honours. Several unfortunate accidents occurred. Percy C. Ivens (Mercantile) had the misfortune to strike a piece of floating wood half a mile from the start, and capsized. T. Barrell (Wendouree), E. Christie, and A. Richards, all struck Ivens' boat, Barrell being swamped, and the chances of Christie and Richards were also affected by the collision.
Horace Stevens raced for both Essendon and Mercantile.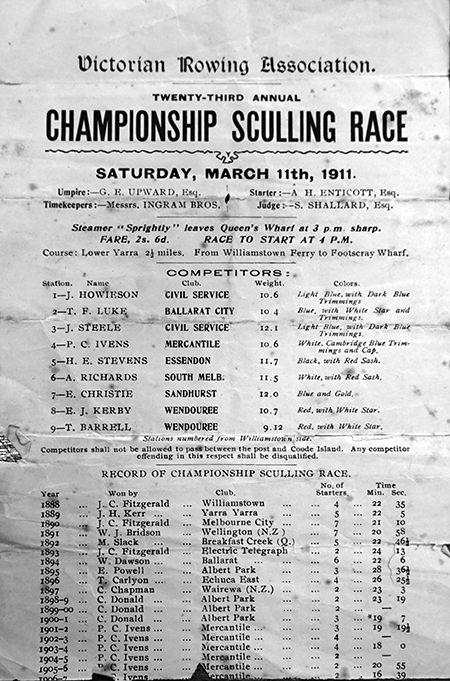 ---
Champion Men's Pair
(1 mile*)
1st Footscray City – Bow: M Moran, Str: H Moran, Cox: G Davidson
2nd Civil Service
3rd Essendon
4th South Melbourne
Saltwater River, March 11th, 1911. This event was set down for December 17th, 1910, but, owing to the rough state of the water, was postponed until the 11th March, 1911, the day fixed for the Champion Sculling race. Nine crews entered, which equals the record entry of 1908-09, but only four crews faced the starter. Several of the crews were unable to compete on the revised date.
*The fast time recorded is explained by the fact that the crews did not row the full mile course.
---
Champion Men's Four
(Distance - Not recorded)
Time: 15:07.6
Margins: 1 1/2 lengths
1st Essendon – Bow: S H Pettitt, 2: H R Newall, 3: J Johnstone, Str: D McNaughtan, Cox: W Irwin
2nd Albert Park
Mercantile (Bow: M C Brown, 2: E Yandell, 3: A Moore, Str: William Potter) and Footscray City did not finish
Lower Yarra, January 14th, 1911. Four crews entered for this event, which was won by Essendon by a length and a half from Albert Park. The race was not as satisfactory as could have been wished for a Championship, the water being so rough that the Mercantile and Footscray crews both swamped before covering half the course. The Essendon Club is heartily congratulated on securing its first in in this event.
---
Champion Men's Eight
(Distance - Not recorded)
1st Albert Park – Bow: C W Croft, 2: J C Henderson, 3: H Lindgren, 4: C H Kohn, 5: F Johnson, 6: Charles Donald, 7: M G Scott, Str: James Donald, Cox: B Arnold
2nd Footscray City
3rd Mercantile - Bow: G Logan, 2: G Emery, 3: Edward Kenny, 4: E Yandell, 5: A Moore, 6: William Potter, 7: M C Brown, Str: Stanley Guinn, Cox: C Bennett
4th Banks
Yarra, 19th November, 1910. Four entries were received for this event, which was again won by Albert park after a hard race with Footscray, Mercantile being third, and Banks fourth. Your Committee is again greatly indebted to the Melbourne Harbor Trust Commissioners for kindly granting the necessary permission to row the race over the course finishing at Spencer-street, this being a safer, fairer, and more convenient course than the one otherwise available on the Lower Yarra.
---
Sources
The Victorian Oarsman with a Rowing Register, by John Lang, published by A H Massina and Company 1919.
Victorian Rowing Association, Reports 1903 - 1944.
Mercantile Rowing Club Annual Report 1910-11