1927-28 Rowing Victoria State Championships
The outstanding feature of the men's races was the large entries in all events except the scull. Men's sweep oared racing was obviously most competitive and as a result, the men's championships were all won by different clubs. Hawthorn Rowing Club won it's first Championship this year.
---
Champion Men's Scull
Row Over
1st A H Cambridge, Bendigo
The Sculling Championship was held prior to the Eight-oared Championship on Saturday, 18th February, 1928, over a 2 1/2 mile course downstream. Mr. A. H. Cambridge was the only entrant, and, in accordance with the Rules of the Association, was obliged to row over the course to obtain the title.
---
Champion Men's Pair
(1 mile)
1st Wendouree – Bow: A Hall, Str: G Hutchins, Cox: A Brayshaw
2nd Mercantile - Bow: H R Rush, Str: R D Emms, Cox: W Green
3rd Ballarat City - Bow: A J Dixon, Str: O Hauser, Cox: O Gercovitch
4th Merbein - Bow: L McTaggart, Str: A Storer, Cox: J Gow
5th Albert Park - Bow: C Brittingham, Str: G R Patterson, Cox: G Axup
6th Hawthorn - Bow: J Murphy, Str: T Wicks, Cox: R Alexander
7th Ballarat - Bow: J Inglis, Str: H Inglis, Cox: F Suffren
8th Barwon - Bow: R Degenhardt, Str: J McLure, Cox: D Harrison
9th Bendigo - Bow: D Marrows, Str: J Hosking
Nine crews entered for the race held on Lake Wendouree, Ballarat, on Saturday, 14th January, 1928. The race was won by the Wendouree crew. Wendouree are again congratulated on their victory in the Pairs, in which race the Club has been exceedingly successful.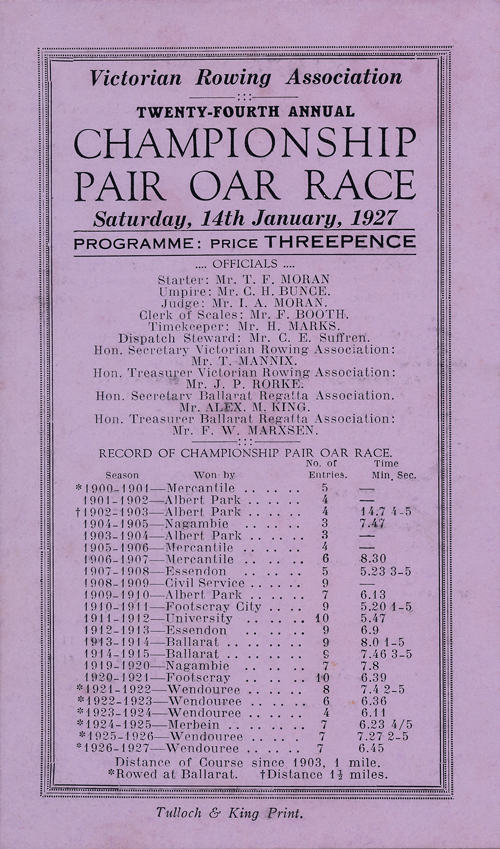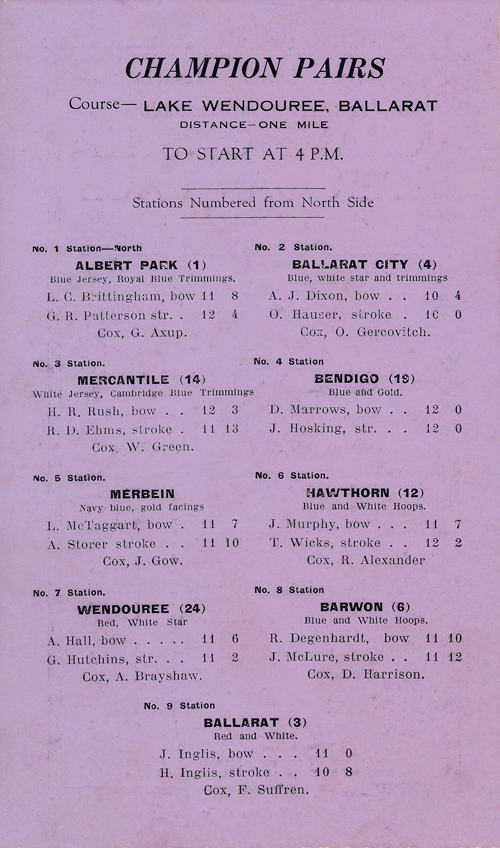 ---
Champion Men's Four
(2 1/2 miles)
1st Hawthorn – Bow: J Murphy, 2: V Barker-Hays, 3: G Coleman, Str: T Wicks, Cox: R Alexander, Coach: George Anderson
2nd Banks
3rd Richmond
4th Albert Park
5th Barwon
6th Essendon
7th Melbourne
DNS Wendouree, Ballarat City
The Four-oared Championship was rowed over a 2 1/2 mile course from 2 chains below the 2 1/2 mile mark in Coode Canal to the 2 chain mark at Queen's Bridge on Saturday, 17th December, 1927. Nine crews entered, Hawthorn Rowing Club winning the event for the first occasion. Wendouree and Ballarat City did not start. Hawthorn are heartily congratulated on their initial victory in the event.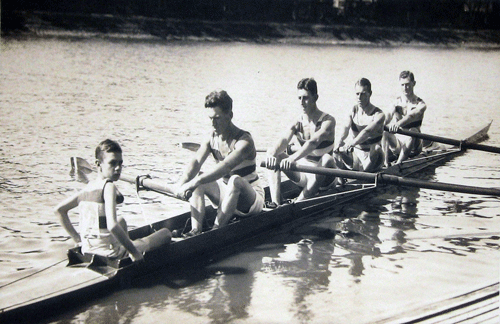 ---
Champion Men's Eight
(3 miles*)
1st Melbourne – Bow: T S Flint, 2: G K McLeod, 3: G O Heyward, 4: J B McFarlane, 5: F C Borrman, 6: E V Porter, 7: B C Edwards, Str: H Schlichting, Cox: J Dutton, Coach: Mr E Horsburgh
2nd Hawthorn
3rd Ballarat
4th Richmond
5th Banks
6th Mercantile - Bow: J A Greenshields, 2: A R Shannon, 3: H G Guin, 4: James G Sprigg, 5: W C Haworth, 6: J L Mounsey, 7: Jack South, Str: Cecil N McKay, Cox: M Green, Cch: Alex B Sloan
7th Albert Park
8th University
Rowed over a three-mile course from the 3 mile 2 chain mark to the 2 chain mark at Queen's Bridge on Saturday, 18th February, 1928, being won by the Melbourne crew. *Owing to a dredge being working at the starting post, it was necessary to reduce the distance about 250 yards. The race was rowed in Clinker boats, due to a shortage of best boats consequent upon the fires during the previous season.
This race was not without controversy. The Mercantile crew collided at the start and claimed that their chances of success were materially affected and that the starters commands could not be heard from their lane. The umpire could not see the incident given that his launch had broken down and his view was blocked by two boats between him and the incident. Whilst the collision was admitted, the appeal was dismissed. An appeal was lodged but also dismissed.
No record can be found of the Championships this year. A newspaper report on Monday 13th February indicated that a meeting would be held to set that date for the VLRA regatta, at which Championships were held and arrangements for the Interstate Championships. It also indicated that the VLRA regatta would most likely be conducted prior to Easter.
The following week, the report on the meeting in The Argus indicated that the VLRA Regatta would be postponed until after the interstate races as several of the clubs found it difficult to train crews for both events.
No subsequent regatta has yet been located. Victoria was represented at the Interstate Championships by what appears to be a YWCA crew.