1908-1909 Rowing Victoria State Championships
Record entries were the highlight of the Championships in this season - nine entries in the pair and six in the eights.
Interestingly, the State selectors asked Harold Brasch to represent the State in the Interstate Sculling Championship despite Richards from South Melbourne having won the Victorian Championships. Brasch was unable to compete due to business reasons so Richards was ultimately selected.
---
Champion Men's Scull
(2 1/2 miles)
1st A Richards, South Melbourne
2nd Harold D Brash, Mercantile
Lower Yarra, October 10th, 1908. This event was decided under favorable conditions, A Richards gaining the distinction from Harold Brasch by a good margin. The South Melbourne Club is to be sincerely congratulated on having for the first time secured Championship honours.
---
Champion Men's Pair
(1 mile)
Time: 5:50
Margins: 2 lengths
1st Civil Service – Bow: J Howieson, Str: W L B Anketell, Cox: S A Jeram
2nd Albert Park
3rd Nagambie
4th Seymour
5th Banks
6th Mercantile - Bow: H E Stevens, Str: Lisle Jones, Cox: C Bennett
7th Footscray City
8th South Melbourne
9th Yarra Yarra
The record entry of nine crews was received for this event, and, owing to this fact, the race was started at the "Tunnel", that being the widest part of the river. Boisterous weather somewhat spoilt the effect of nine crews starting abreast, but the Civil Service representatives – Bow: J Howieson, Str: W L B Anketell, Cox: S A Jeram – by an excellent display of oarsmanship, gained a victory by two lengths. The race was conducted on 16th January 1909 with a record entry of nine crews.
---
Champion Men's Four
(Distance - Not recorded)
1st Nagambie – Bow: J Welch, 2: T Vickers, 3: F Catlin, Str: W Heath, Cox: D C Carter
2nd Footscray City
3rd Mercantile - Bow: G Logan, 2: William Potter, 3: M K Moses, Str: Percy C Ivens, Cox: W Totton
4th Albert Park
5th Civil Service
Lower Yarra, November 28th, 1908. The twenty-first race for this event was contested by five crews, the largest entry since 1890, and was finely won by the Nagambie Club's representatives. The race was rowed in record time, and the winners were heartily congratulated on their excellent performance.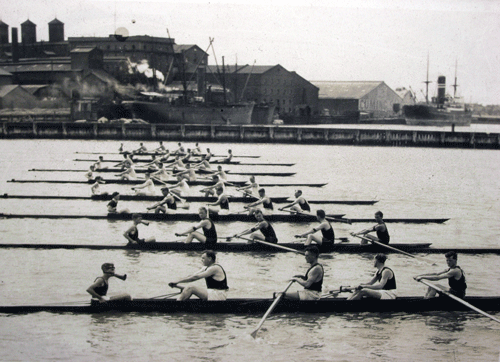 ---
Champion Men's Eight
(Distance - Not recorded)
1st Albert Park – Bow: J Wright, 2: W Weekes, 3: J Johnstone, 4: D McNaughtan, 5: F Johnson, 6: C H Kohn, 7: MG Scott, Str: Charles Donald, Cox: B Arnold
2nd Footscray City
3rd Nagambie
4th Mercantile - Bow: G Ferguson, 2: G Logan, 3: H F Stevens, 4: William Potter, 5: M C Brown, 6: J J Fogarty, 7: A Moore, Str: Lisle Jones, Cox: C Bennett
5th Yarra Yarra
6th Banks
In this race the number of crews starting constituted a record, and for this reason special permission, much appreciated, was obtained from the Melbourne Harbor Trust Commissioners to row the event over the course finishing at the Crane. It was witnessed by a great assemblage of the public, the sight presented by the six competing eight-oared crews being magnificent.
---
Sources
The Victorian Oarsman with a Rowing Register, by John Lang, published by A H Massina and Company 1919.
Victorian Rowing Association, Reports 1903 - 1944.
Mercantile Rowing Club Annual Report 1908-09