1895 Rowing Victoria State Championships
The win by Mercantile in the Champion Fours was the first of so many Championship for that club.
It was also the time when the river improvements of the Upper Yarra were well under way. The river was straightened which made navigation and rowing far easier.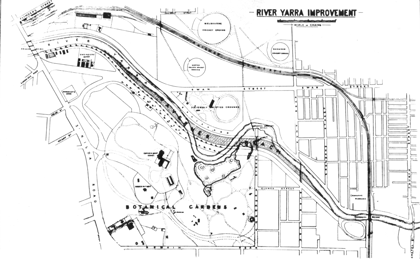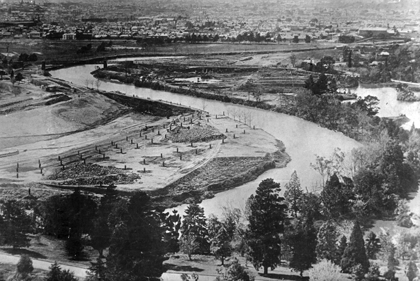 ---
Champion Men's Scull
(3 miles)
1st Edward Powell, Albert Park
2nd G Browne, Essendon
3rd W J Hambleton, Civil Service
---
Champion Men's Four
(Distance - Not recorded)
1st Mercantile – Bow: R Ernie Dawson, 2: Alex B Sloan, 3: Harold Lindgren, Str: W H T (Herb) Davis, Cox: Victor Jones, Cch: Syd Edwards
2nd Albert Park
3rd Wendouree
In the coxswain seat is coach Syd Edwards and Club Captain Frank Gibbs in the scull. The picture was taken in Brickmakers Swamp behind the current boatsheds.
This crew with one change, Charles Donald in and Herb Davis out (retired), won the Intercolonial Four Oared Championship in 1896.
---
Champion Men's Eight
(Distance - Not recorded)
1st Yarra Yarra – Bow: James McDonald, 2: Edward Horsburgh, 3: James Lockington, 4: H A Hearn, 5: D Hancock, 6: D Ross, 7: Alex Chamley, Str: Arthur H Enticott, Cox: G F M Horsburgh
2nd Banks
Back row: James McDonald, D Horsburgh, James Lockington. Seated: H Hearn, Arthur Enticott, Alex Chamley, D Ross. In front: D Hancock, G Horsburgh, Edward Horsburgh
---
Sources
The Victorian Oarsman with a Rowing Register, by John Lang, published by A H Massina and Company 1919.
Champion Four photograph from Mercantile Rowing Club