1907-08 Rowing Victoria State Championships
Yet again the Victorian Rowing Association Premiership was decided by the Champion Eights race, and this year there was controversy. Albert Park steered inside a marker against the course regulations and thus gaining an advantage at a critical part of the race. Further details are below.
Percy Ivens was looking to a third Interstate Sculling Championship in a row this year but fell ill was unable to compete. His club mate Harold Brasch filled in for him but could only manage a second place in the Interstate Championship.
---
Champion Men's Scull
(Distance: 2 1/2 miles) - Row Over
1st Percy C Ivens, Mercantile
The event held on October 12th, 1907, resulted in a row-over for P. C. Ivens (Mercantile R.C.), the only entrant, whose record now shows seven successive wins.
---
Championship Men's Pair
(1 mile)
Time: 5:23.4
Margins: 1 foot
1st Essendon – Bow: H S Wight, Str: D McNaughtan , Cox: W H Reidy
2nd Civil Service
3rd Albert Park
4th Mercantile - Bow: Harold Lindgren, Str: J J Fogarty, Cox: A Wickham
5th Banks
6th Footscray City
Rowed on the Yarra over the mile course extending from opposite the entrance to the canal to the Footscray wharf on Saturday, 30th November, 1907, and proved a splendid race. Six crews started in the event, which was eventually won by the Essendon representatives – Civil Service being beaten by 1 foot.
---
Championship Men's Four
(Distance - Not recorded)
1st Albert Park – Bow: Henry J Whiting, 2: Charles Donald, 3: M G Scott, Str: James Donald, Cox: F Davis
2nd Mercantile - Bow: G Ferguson, 2: William Potter, 3: Harold Lindgren, Str: Percy C Ivens, Cox: A Wickham
Rowed on Lower Yarra on Saturday, November 16th, 1907 with only two crews starting. The race was regarded as a "good race" between these two crews.
---
Champion Men's Eight
(Distance - Not recorded)
1st Mercantile – Bow: G Ferguson, 2: Percy C Ivens, 3: M C Brown, 4: Arch L Dobbie, 5: M K Moss, 6: William Potter, 7: Harold Lindgren, Str: Alex B Sloan, Cox: A Wickham
2nd Albert Park
Held on the Lower Yarra on Saturday, March 21st, 1908, and resulted in the Mercantile Club's representatives securing the coveted honour from Albert Park, who were disqualified. Unfortunately the Albert Park crew steered inside a beacon which marked the course. Mercantile was in front at this time but only by a few feet. The disqualification was therefore an unsatisfactory result for both crews. Mercantile challenged Albert Park for a re-row but this offer was not accepted.

At the January meeting of your committee it was decided that crews competing in all championship events held on the Lower Yarra over the course finishing at Footscray Rowing Club sheds, and all crews competing at regattas held over the course extending from the sugar works to Footscray R.C. shed, shall not go between the beacons and the shore of Coode Island. The Albert Park crew went inside the beacon (as in former years), and, although they passed the winning post first, were disqualified, and the race was awarded to Mercantile.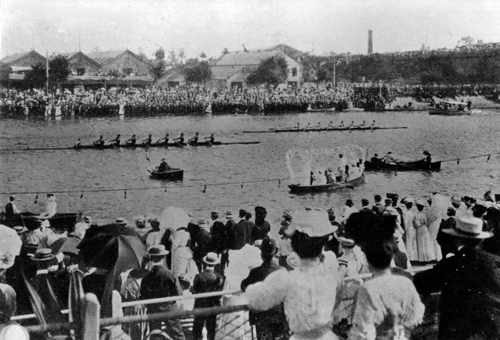 ---
Sources
The Victorian Oarsman with a Rowing Register, by John Lang, published by A H Massina and Company 1919.
Victorian Rowing Association, Reports 1903 - 1944.
Mercantile - a Century of Rowing, by Aitken et al 1980