1904-1905 Rowing Victoria State Championships
The Championships were as usual conducted on various dates. The Champion Scull was conducted on the Lower Yarra on 8th October 1904, the Champion Pair was conducted on 3rd December 1904, the Champion Four on 19th November 1904 (on the Lower Yarra) and the Champion Eight on 25th March 1905.
---
Champion Men's Scull
(2½ miles)
1st Percy C Ivens, Mercantile

2nd Harold D Brash, Mercantile
---
Champion Men's Pair
(1 mile)
Time: 7:23
Margins: 4 lengths and 5 lengths
1st Nagambie – Bow: F Catlin, Str: W Heath, Cox: W Fawcett
2nd Albert Park
3rd Yarra Yarra
The Nagambie Rowing Club history "A Century of Rowing" by Elaine Lodding records this race win as a surprise. The Albert Park pair were considered the clear favourites. The starter was Mr A H Enticott and he got the crews away well. Nagambie went out to a half length lead early and increased that to two lengths by the half mile and went on to win comfortably by four lengths.
---
Champion Men's Four
(Distance - Not recorded)
Time: 14:21
Margin: Not known but the margin was described as close between first and second.
1st Albert Park – Bow: Henry J Whiting, 2: Charles Donald, 3: Alex Chamley, Str: James Donald, Cox: T Buchanan
2nd Ballarat
3rd Mercantile - Bow: Percy Ivens, 2: J J Fogarty, 3: Arch L Dobbie, Str: Alex B Sloan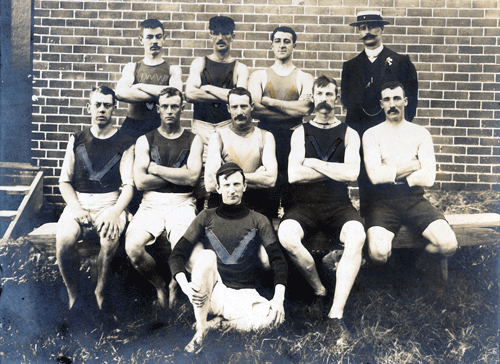 Back row: J W Wright, H Rowe, Henry Whiting, T Davies (selector). Front row: C Tulloch, W Heath, James Donald, Alex Chamley, Charles Donald. Front: James M Macfarlane
---
Champion Men's Eight
(Distance - Not recorded)
1st Ballarat – Bow: C E Tulloch, 2: A Dawson, 3: E J Ryan, 4: T Bourke, 5: W D Dawson, 6: E Cooper, 7: H Rowe, Str: C E Suffren, Cox: B Arnold
2nd Albert Park
3rd Hawthorn
---
Sources
The Victorian Oarsman with a Rowing Register, by John Lang, published by A H Massina and Company 1919.
Victorian Rowing Association, Reports 1903 - 1944.
A Century of Rowing, by Elaine Lodding
Photo from the Guerin Collection