NSW Central Districts Rowing Association
By Peter Bond
Introduction
This history of the NSW Central Districts Rowing Association 1981-2020 by Peter Bond has been reproduced here with the kind permission of the author.
Historical Perspective
In the late nineteenth century, various rowing clubs were formed in country regions outside metropolitan Sydney. On the Hunter River, short lived clubs were formed in Newcastle (1870-1874, 1880-1896 and 1940-1941) and Maitland (1883-1890 and 1923-1931). On the far north coast, clubs were formed on the Clarence River at Grafton (1882) and Maclean (1885) and on a tributary of the Richmond River at Lismore (1896). These northern clubs were more long lasting and are still operational today.
The New South Wales Rowing Association (NSWRA) was formed in 1878 with membership restricted to amateur oarsmen. As prize money was awarded at regattas on the Hunter and the northern rivers well into the 1950s, membership of the NSWRA in the first half of the twentieth century was limited to Sydney metropolitan clubs only.
The Northern Rivers Rowing Association (NRRA) was formed in 1959 for NSW clubs north of the Hawkesbury River. With money prizes no longer presented at regattas, the NRRA affiliated with the NSWRA.
Although Manning River RC was fully involved with the rowing and administrative activities of the NRRA, the club in Taree began to investigate the possibility of forming an association closer to their position on the mid-north coast of NSW.
Prior to the formation of the CDRA, five clubs were operating at various levels of rowing activity in the mid-north coast region: Manning River Rowing Club at Taree, Newcastle University Boat Club (NUBC) on the Hunter River at Raymond Terrace, Hastings River Rowing Club at Port Macquarie, Central Coast Youth Club Rowing Club in Gosford and Hunter Valley Rowing Club in Singleton.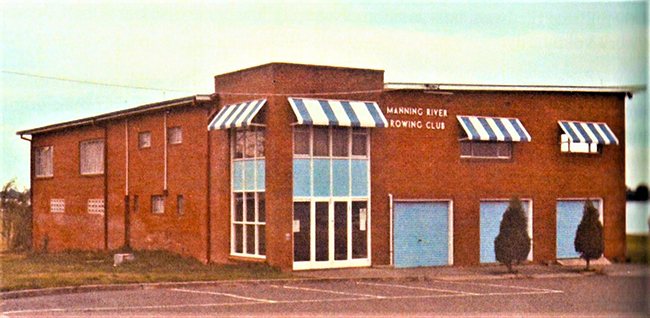 Manning River Rowing Club boatshed - opened 1971