1892 Rowing Victoria State Championships
---
Champion Men's Scull
(3 miles)
1st M J Slack, Breakfast Creek (QLD)
2nd Electric Telegraph - J C Fitzgerald
3rd Corio Bay - J L Bannister
Yarra Yarra - Edward R Ainley - placing unknown
Yarra Yarra - F Galvin - placing unknown
The pre race report of the race in the Melbourne Age 9/11/1892 p.7 was as follows.
This annual event is to take place this morning over the championship course on the Saltwater River, from the Williamstown ferry to Footscray.
The race promises to be one of the finest sculling contests ever seen in the colonies.
Last year. W. Bridson, of New Zealand carried off the honors, beating representative scullers of Victoria, New South Wales and Tasmania.
The only visitor on this occasion is M. Slack, of Brisbane, and he will be opposed by J. L. Bannister, Corio Bay : E. R. Ainley, Yarra Yarra : F. Galvin, Yarra Yarra : and J. Fitzgerald, Electric Telegraph. The Queensland sculler has proved that he can drive his boat along at good speed and can stay over a long distance, so that the Victorians will have their work cut our to prevent the championship leaving the colony. J. Fitzgerald has on two
previous occasions won the championship, and, as he is in good form, should have an excellent chance of winning the race for the third time.
J. L. Bannister is the holder of the Will's Sculls won at the V.R.A. Regatta. He is undoubtedly a strong and fast scullcr, but his steering is faulty at times. If he can keep a good course he should prove to be the best of the Victorian contingent.
E. R. Ainley has been rowing stroke of the Yarra Yarra champion four, and therefore has had little sculling practice of late. He is, however, a most skilful sculler, making up by finished watermanship and generalship for lack of weight.
F. Galvin makes his first bid for championship honors in this race. His best performance so far is the winning of a maiden sculls race, but by steady training he has improved his sculling, and may be relied upon to make a good show.
The race is to be started at 10.45 a.m., and the steamer Sprightly, which has been chartered to carry passengers at the usual tariff of 2s. 6d. per head, will leave the wharf near Queen's-bridge at 10 o'clock sharp.
The following are the names, weights, &c., of the competitors:—
Station No. 1. Yarra Yarra, E. R. Ainley, 10 st 3 lb, (navy blue jersey and cardinal cap).
2, Electric Telegraph, J. O. Fitzgerald, 11 st. 2 lb. (scarlet jersey, blue cap).
3, Yarra Yarra, F. Galvin, 10 st. 10 lb. (navy blue jersey).
4, Corio Bay, J. L. Bannister, 12 st 6 lb. (dark blue).
5, Breakfast Creek (Queensland), M. Slack, 11 st. 6 lb. (red and black hoops).
The Bendigo Independent report on the race as follows.
AMATEUR SCULLING CHAMPIONSHIP.
Considerable interest was excited yesterday in Melbourne amongst rowing men by the contest for the amateur sculling championship which took place on the Saltwater River.
There were five competitors, viz., J. C. Fitzgerald (Electric Telegraph), J. L. Bannister ( Corio Bay), E. R. Ainsley (Yarra Yarra), F. Galvin (Yarra Yarra), and Mr. Slack, of Breakfast Creek, Queensland.
Last year the race was won by Bridson, of New Zealand, but this year it was hoped that Victoria, with her strong representation would be able to keep the honor at home. The men were sent away to a good start, but Slack quickly established a slight lead, with Fitzgerald and Bannister following in the order named.
Slack continued to increase his lead with a long easy stroke, but Fitzgerald and Bannister were rowing well together, with Ainsley next and Galvin in the rear. Slack had a long lead at the Glassworks, and at the sugar works increased it to 10 lengths, and here Bannister nearly got on terms with Fitzgerald but neither of them were able to extend Slack, whose work was much admired, and he finally won with great ease by about eight lengths from Fitzgerald, who beat Bannister by half a length for second place.
The time was 22 min. 45 1/2sec, somewhat slower than last year, but there was a strong current running to-day. Slack, who started a strong favorite was warmly cheered at the close of his performance.
---
Champion Men's Four
(Distance - 3 miles and 200 yards)
Time: 18:50.0. Re-row 18:12.0
1st Yarra Yarra - Bow: C W Horsburgh, 2: J Yeomans, 3: Alex Chamley, Str: Edward R Ainley, Cox: G F M Horsburgh
2nd Tamar (TAS)
3rd Albert Park
4th Essendon
5th South Melbourne
ROWING NOTES BY OUTRIGGER in the Melbourne Leader on 22/10/1892 provided the following pre race report.
The annual four-oared championship race of Victoria is to be rowed this (Saturday) afternoon, over the course on the Saltwater River selected for championship races, viz., from a beacon about a quarter of a mile below the Williamstown Ferry to a mark opposite the Ship Inn at Footscray — a distance of about 3 miles and 200 yards.
The race was re-rowed a week later, and the time was 18 min. 12 sec.
The Melbourne Leader 29/10/1892 p.18, provided the reasons for the re-row.as follows :-
The South Melbourne men had not an opportunity to show whether the confidence they expressed in themselves was justified or not. They started badly and had scarcely time to settle into a racing stroke before the Tamar crew collided with them, resulting in Lee's oar being broken. At the time of the collision Bradley held up his hand to claim a foul, and after the race lodged a protest with the view to have the contest re-rowed.
The Victorian Rowing Association committee were then summoned for Thursday evening to hear the umpire's decision upon the protest, and in view of the possibility of the race being rowed again all the crews were advised to keep in training, advice that has been observed by all but the Essendon four, who, regarding their chances of success as hopeless, have resolved to take a short rest before entering upon another competition.
At the meeting referred to the umpire, Mr. E. Carlile, attended and announced that after careful consideration he had come to the conclusion that the race should be re-rowed to settle beyond dispute which crew could claim
to be champions. It was then agreed that the contest should be re-rowed to-day (Saturday) over the same course, starting at 4 o'clock.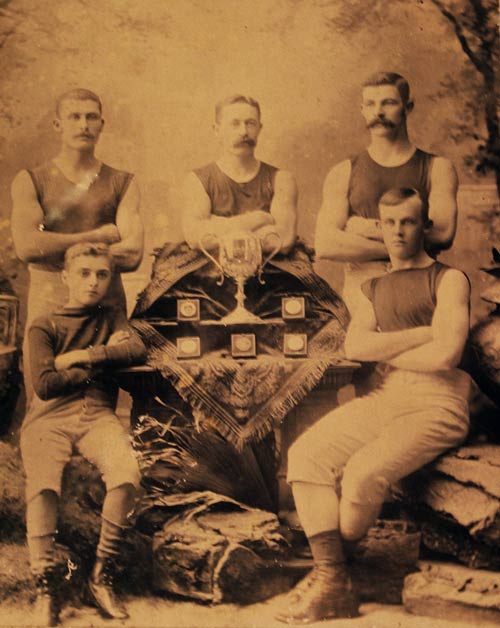 ---
Champion Men's Eight
1st Yarra Yarra – Bow: J McDonald, 2: F Galvin, 3: Charles W Horsburgh, 4: E Horsburgh, 5: A H Enticott, 6: J Yeomans, 7: Alex Chamley, Str: Edward R Ainley, Cox: V Petherick
No race owing to Corio Bay withdrawing and Melbourne not entering in time. Yarra Yarra was the only entry; the same crew as in 1891. The race was awarded to Yarra Yarra on "row over". The Armfield Trophy was won outright by Yarra Yarra Rowing Club.
---
Sources
The Victorian Oarsman with a Rowing Register, by John Lang, published by A H Massina and Company 1919.
Champion four photograph from Yarra Yarra Rowing Club.
Melbourne Leader on 22/10/1892
Melbourne Leader 29/10/1892 p.18,
---