1930 Head of the River
The sixty-third Head of the River returned to the Barwon with bad news for Geelong Grammar. They were disqualified in the final for colliding with Wesley College. Xavier College also suffered from steering issues with Wesley College in their heat. Wesley led early in the heat but move across the Xavier crew forcing them into the south station. The umpire did not take action and so Xavier did not protest. They were praised for their sportsmanship.
The races were conducted on 9th and 10th May 1930.
The popularity of the event was now in question with a long editorial in a Scotch College magazine about the emphasis placed on the regatta. To quote from the article to provide a sample of the line of argument: The objections are not merely raised against the prominance given to the actual event, but also to the publicity given to the training operations long before the race takes place. For an extended period the boys are under the public eye, and after the race, the "lionising" and hero-worship continue among their school-fellows, the younger generation in particular.
The seven seat of the Geelong Grammar crew was future Prime Minister John Grey Gorton.
The Xavier College Captain of Boats Jack Ryland missed out on selection in the winning 1929 crew and illness forced him out of the crew in 1930 at the last moment.
---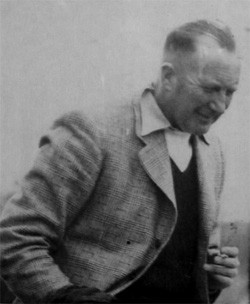 Wally coached many Melbourne Grammar crews from 1930 to 1954. He coached nine winning crews. He was senior chemistry teacher at MGS and took a sciebtific approach to his coaching and experiemented a great deal with his theories. He was a great oarsman himself and also a significant club coach at Mercantile. His other well known trait was his great enthusiasm with junior crews. Photo from Melbourne Grammar.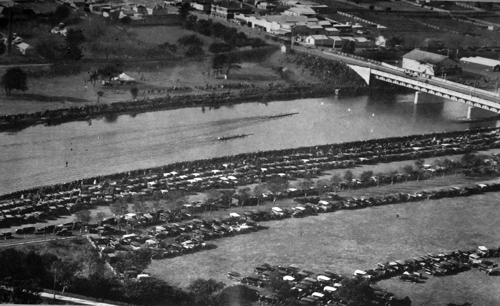 Time: 5:35.2
Margin: 3/4 length (GGS did not compete in the restared race.)
1st Melbourne Grammar - Bow: E D Scott, 2: F E C Loxton, 3: B A Laycock, 4: Kenneth F Cole, 5: D J Wilson, 6: T Luxton, 7: J G Brown, Str: H R Marks, Cox: P J Eckersley, Cch: W N "Wally" Ricketts
2nd Wesley College - Bow: W D'a Curtis, 2: K C W Beckett, 3: R B Walduck, 4: A W Mitchell, 5: J McCulloch, 6: C D Chamberlain, 7: J G Girdwood, Str: H R Millikan, Cox: J D Mackay, Cch: Charles Donald
Geelong Grammar disqualified - Bow: N C Campbell, 2: R E White, 3: P A Thornley, 4: H M Greenfield, 5: A W A Cartwright, 6: J G Barclay, 7: John G Gorton, Str: T A Gatenby, Cox: D L Green, Cch: William H Pincott
It is reported that Geelong Grammar cut off a bend and clashed with Wesley. The race was stopped and Geelong removed.
The Age report was as follows:
There was another immense attendance of spectators, all of them keyed up in anticipation of a very close race. In this they were doomed to disappointment, because of a dramatic incident which led to the disqualification of the Geelong Grammar School crew, when about a third of the course had been covered.
It transpired that the Geelong crew, which was on the north station, had early in the race moved over towards thy Wesley boat, which was in the centre. The coxswain corrected his error, but again allowed his boat to get off its course, with the result that the bow oars of Geelong crew interfered with those on the stroke side of the Wesley boat. Thereupon the umpire fired a shot to stop the race. Many of the spectators were unaware what had happened until they saw the Melbourne Grammar and Wesley crews turn their boats and paddle back to the start, while Geelong Grammar paddled sadly back to their boat house. It was a most unfortunate incident, and to a large extent spoiled the final.
Following, as it did on the incident in Friday's racing, when Wesley narrowly escaped a similar fate, it marked the 1930 contest as one which will be long remembered for these incidents. The only previous disqualification was in 1916, when Wesley was penalised. This was also on the Barwon, but it is not due to any fault as far as this course is concerned, for there is no better river course in Victoria. At the time the clash occurred it appeared that Melbourne Grammar had about one-third of a length lead on Wesley, which In turn was slightly ahead of the Geelong crew.
The remaining two crews wasted little time in getting to the line. It made their task a much harder one than had there been no interruption, for the distance which had been rowed at high pressure without doubt took its toll of the crews. As they were on the line, a sharp rain storm swept over the course and caused a scatter. It quickly cleared, however, and conditions were quite good as the race was rowed. Melbourne Grammar was to first to show out. Rowing with great vigor and good length, the crew steadily forged ahead, and at the quarter-mile had about a canvas lead. At half a mile the difference was about half a length, which was increased to close on a length at three-quarters of a mile. Grammar all along looked winners, for the crew was rowing a fine length, with plenty of vigor. As the race progressed the Wesley crew, in its efforts to catch up, became very short in its work, which necessarily took a lot out of the crew. Nevertheless, Wesley made a wonderful fight of it. In the last 800 yards the crew struck a very high rate, and reduced Grammar's lead to ¾ of a length when the line was passed. Time 5 min 35 1-5th sec.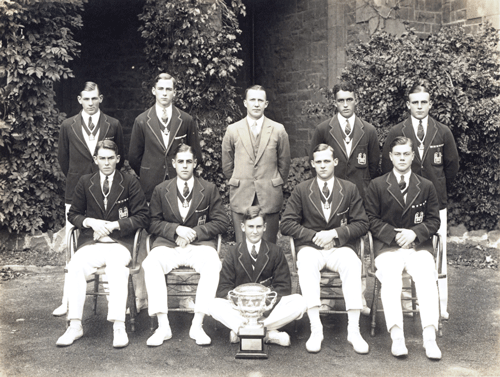 Photo courtesy of Melbourne Grammar archives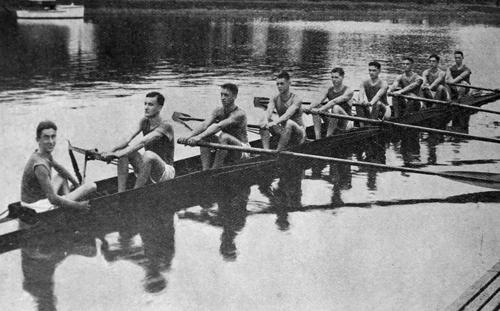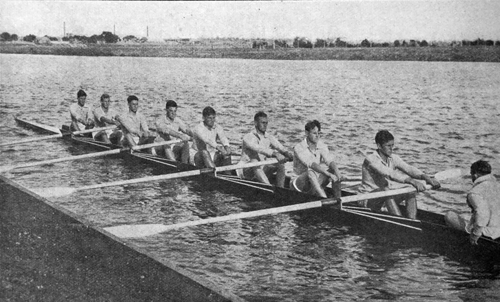 Other crews competing were:
Scotch College - Bow: Sidney C Powell, 2: John F Ross, 3: Colin S McKay, 4: Gordon R Webb, 5: Henry D L Thompson, 6: Ernest D Lardner, 7: Hew F G McDonald, Str: William D Refshauge, Cox: Kenneth F E Cook, Cch: Dr Charles W B Littlejohn
Xavier College - Bow: J A Hartung, 2: Gerald F Jones, 3: Geoff E Gray, 4: M C Davies, 5: C E Long, 6: E Fuller McKenna, 7: Alan F Redding, Str: Colin M Wilkinson, Cox: Eddie A Fakhry, Cch: Mark Shea
Geelong College - Bow: J K Watson, 2: J H Gough, 3: J P Stoker, 4: S W Robertson, 5: F G Funston, 6: A E Forster, 7: J H Cato, Str: A R Hinchliffe, Cox: E M Emerson, Cch: C J Collyer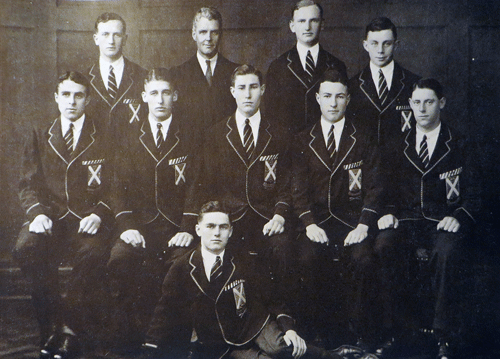 S C Powell, Dr C W B Littlejohn, C McKay, J F Ross, H D L Thompson, E D Lardner, W D Refshauge, H F G McDonald, G R Webb, K F E Cook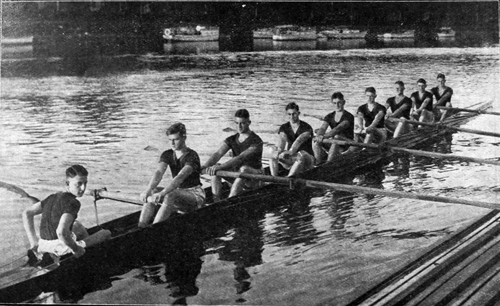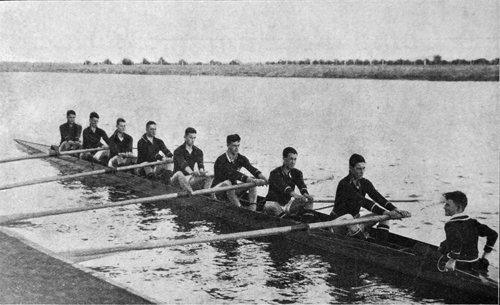 Heats
E1: 1st GGS, 2nd SC - Time: 5:10, Margin: 1 length
E2: 1st WC, 2nd XC - Time: 5:09, Margin: 0.5 length
E3: 1st MGS, 2nd GC - Time: 5:12, Margin: 3 lengths
The third heat with MGS leading from GC
The Age reported on the heats in the following terms -
First Heat - Geelong Grammar v Scotch
Scotch were first to show out. At a ¼ of a mile they were half a length ahead of Geelong, and at half a mile their lead had increased still more. They were rowing a good deal faster than the Geelong crew, and looked like being able to maintain their advantage. However, a change came, for superior length and weight of Geelong Grammar began to take effect. The Geelong stroke was keeping his crew steady, and after the half mile they made rapid progress, until passing Collins Bros' mill they drew level. From there onto the finish they quickly drew ahead. Their lead was increased by a bad falling away on the part of Scotch. When they judge's pistol was fired Geelong Grammar School were a length in front. The excellent time of 5 min 10 sec was recorded.
Second Heat - Xavier v Wesley
Contrary to expectations Xavier were first away. Both crews set a merry pace and rowed "all out" for a lead. At ¼ mile Wesley began to improve their position, and at half a mile had a good ¾ length lead. Meantime they had left the north station and were by the half mile in the centre position. Wesley maintained an excellent length passing the woolen mills. Both boats were in correct stations, and a great race to the post was witnessed. Wesley was too good, however, and finished half a length to the good. Many of the spectators expected that a protest would be lodged against Wesley, but this did not occur. Time 5 mins 9 sec.
Third Heat - MGS v Geelong College
The third heat between MGS and Geelong College does not call for much description. It was a first-class heavy crew against a game little crew, which rowed excellently. MGS were quickly in front, and had no difficulty winning by 3 lengths.

---
Second Crews
(This race was not conducted at the Head of the River regatta and was conducted amongst Melbourne metropolitan schools on Saturday 3rd May.)
Time: No time taken
Margins: 3 feet, 1 length and 0.5 length
1st Wesley College - Bow: L R D Pyke, 2: K B Leigh, 3: V R Say, 4: P S Woodruff, 5: A B Foxcroft, 6: T G Luff, 7: J E Hartnell, Str: A A Parish, Cox: G V Harrism Cch: R J D Turnbull
2nd Melbourne Grammar - Bow: L I Lloyd, 2: R Benson, 3: L Aitken, 4: J W P Wilson, 5: R A Wilmoth, 6: R A Craig, 7: G F Atyeo, Str: H R Smith, Cox: A Ket, Cch: H K Hunt
3rd Scotch College - Bow: A E Carlyle, 2: N H Straus, 3: R Blyth, 4: L F Orr, 5: S L Oke, 6: R Ferguson, 7: R B Campbell, Str: R J Cheney, Cox: R A Cliff, Cch: C E Boyes
4th Xavier College - Bow: W T Burnett, 2: D Sheahan, 3: H Mulcahy, 4: R McMinn, 5: G Grey, 6: A Grant, 7: J Roche, Str: J Gartlan, Cox: J England, Cch: Marcus Burke
Wesley won by 3 feet to MGS, Scotch were a length astern with Xavier half a length in the rear.
---
Third Crews
(This race was not conducted at the Head of the River regatta and was conducted amongst Melbourne metropolitan schools on the Upper Yarra on Saturday 3rd May.)
Time: No time taken
Margins: Dead heat, canvas and 2 lengths
=1st Wesley College - Bow: H V Lamb, 2: T R J Walduck, 3: A N Waite, 4: N R Millikan, 5: N F Prescott, 6: D V Peck, 7: D A V Eastaugh, Str: H K Richardson, Cox: R J Clarke, Cch: W G Rolfe
=1st Melbourne Grammar - Bow: C G Pitts, 2: K B Brownside, 3: J E H Rutter, 4: K H Watson, 5: C R Galletly, 6: T W Saxton, 7: J H Thomas, Str: T H Collins, Cox: R Eckersley, Cch: C R Franklin
3rd Scotch College - Bow: C S Tomlinson, 2: A C Young, 3: W White, 4: N C Elliott, 5: G I Anderson, 6: I M Bertram, 7: T H E Mitchell, Str: J R Collie, Cox: H Wilson, Cch: W Max Bailey
4th Xavier College - Bow: C M McClean, 2: A D McClean, 3: A Prytz, 4: R Whitehead, 5: G O'Keefe, 6: G G Perrignon, 7: R Burns, Str: A England, Cox: F Lavan, Cch: J Keleher
Dead heat between Wesley and MGS with Scotch only a canvas behind in third with Xavier two lengths astern.
---
Fourth Crews
(This race was not conducted at the Head of the River regatta and was conducted amongst Melbourne metropolitan schools on Saturday 3rd May.)
Time: No time taken
Margins: 1, 3/4 and 2 lengths
1st Melbourne Grammar - Bow: W H Miller, 2: S E Vance, 3: A H T Pitcher, 4: A D Cook, 5: T Fitzgerald, 6: P B Bellew, 7: H Heseltine, Str: G J Talbot, Cox: R C Scarlett, Cch: J E Giles
2nd Wesley College - Bow: K H Robin, 2: J B Curtis, 3: E V Saynor, 4: D J Oldmeadow, 5: R A Fisher, 6: L M Brown, 7: F Sanguinetti, Str: G L Millard, Cox: W Mason-Cox, Cch: W G Rolfe
3rd Scotch College - Bow: H Wilson, 2: T C Adams, 3: L F Laidlaw, 4: K Gardner, 5: D D Drummond, 6: R M Hearn, 7: A G Cochrane, Str: D M Banks, Cox: C Stirling, Cch: David B Skewes
4th Xavier College - Bow: C Fontaine, 2: B Buxton, 3: T Keogh, 4: A Ley, 5: D O'Brien, 6: F Murphy, 7: R Calvert, Str: J McCaffrey, Cox: J Riordan, Cch: W Fox
MGS won by a length to Wesley, with Scotch ¾ of a length back and Xavier two lengths father back.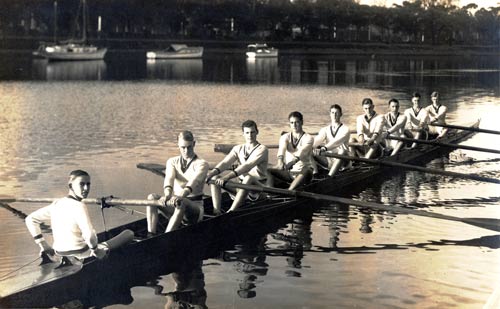 From left: R C Scarlet, G J Talbot, H Heseltine, P B Bellew, T Fitzgerald, D A Cook, A H T Pitcher, S E Vance and W H Miller
Photo courtesy of MGS archives
---
Sources
1930 APS Head of the River Program
The Pincott Club Handbook 2006
Scotch Collegian May 1940
Lift her home to victory, lads! A centenary history of Xavier College 1906-2006 by Michael Lefebvre
Appendix to A Deepening Roar Scotch College 1851-2001 by James Mitchell, Allen & Unwin 2001
HEAD OF THE RIVER. (1930, May 5). The Argus (Melbourne, Vic. : 1848 - 1957), p. 12. Retrieved March 27, 2017, from http://nla.gov.au/nla.news-article4085264
HEAD OF THE RIVER. (1930, May 10). The Age (Melbourne, Vic. : 1854 - 1954), p. 15. Retrieved March 28, 2017, from http://nla.gov.au/nla.news-article203073583