1956 Head of the River
The eighty-ninth Head of the River was conducted on the Barwon with blustery conditions for the heats and strong winds on the finals day. Xavier College had a good year with finals in every senior crew and a clean sweep of the junior regatta.
The distances rowed varied due to the difficulty in getting crews away. Starter Jack Mounsey started the main race a good 1.5 lengths down the course.
Future great oarsmen and future politicians featured in the crews with David Ramage joining Norwood and Caithness in the Geelong crew. On the future federal politician front, Andrew Peacock raced for Scotch whilst Stuart McArthur stroked the winning crew for Geelong College.
---
Officials
Starter: Jack Mounsey
Time: 4:58.0
Margins: 1 length and 3/4 length
Losers final
Time: 5:04.7
Margins: 3/4 length and 3 feet
1st Geelong College - Bow: P T Campbell, 2: D R Messenger, 3: J McDonald, 4: David B Ramage, 5: Derek E H Norwood, 6: David M Caithness, 7: Duncan McDonell, Str: F Stuart McArthur, Cox: A T John, Cch: Albert B Bell
2nd Scotch College - Bow: Andrew S Peacock, 2: Maxwell J Errington, 3: Anthony S Olsson, : 4: Colin C Grant, 5: J Peter Rowland, 6: A Russell Frater, 7: Robert E Lee, Str: Neil C W Courtney, Cox: F Peter Newman, Cch: Laurence H Christie
3rd Xavier College - Bow: K J Johnston, 2: W M O'Connell, 3: J B Galbraith, 4: J F Cade, 5: Peter L Gilon, 6: J D Tynan, 7: P J Doyle, Str: J Bruce Wallace, Cox: A J McCabe-Doyle, Cch: Charles G Saleh
The Geelong crew was stroked beautifully by Stuart McArthur, who had also stroked the crew in the previous year. Whilst Geelong led for most of the race, he made his move 400 yards from the finish and went away to win comfortably. The high rating Scotch crew could not respond to the sustained Geelong sprint.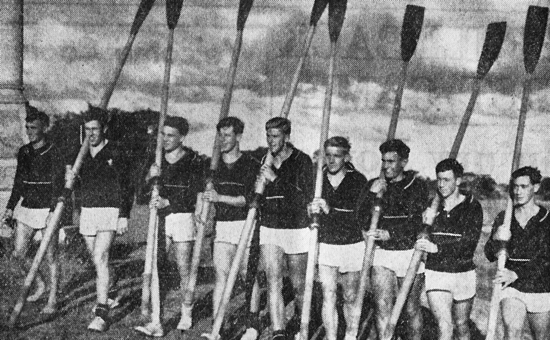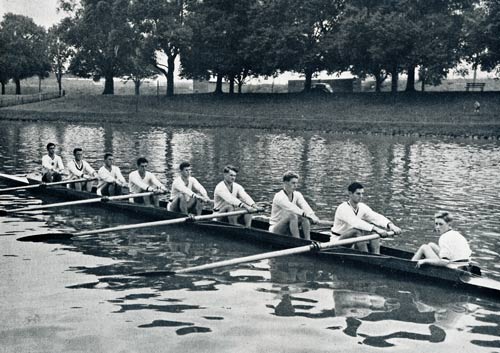 Losers final:
1st Geelong Grammar - Bow: J D Wilson, 2: S M Welsh, 3: C J D Forsyth, 4: M J Scott, 5: D R Morton, 6: J G Gatenby, 7: M R Jones, Str: B E Lillie, Cox: N P W Allen, Cch: John E L Barber
2nd Wesley College - Bow: D J Rawling, 2: L D Gordon, 3: J W Cook, 4: G G Smith 5: B F Goddard, 6: M McN Bailey, 7: Paul M Guest, Str: D G Selleck, Cox: P C Streader, Cch: Alan W Mitchell
3rd Melbourne Grammar- Bow: G R Coldham, 2: A G Johnson, 3: J N Bishop, 4: I A Taylor, 5: R F Richards, 6: R A Jones, 7: D B Brown, Str: F B W Laycock, Cox: J B Richards, Cch: Anthony J Smith
Heats
E1: 1st GC, 2nd WC, Time:4:44.7, Margin: 1 length
E2: 1st XC, 2nd MGS, Time: 4:42.3, Margin: 1 1/4 lengths
E3: 1st SC, 2nd GGS, Time: 4:43.0, Margin: 3/4 length

Time: 4:03.6
Margins: 1 1/4 lengths and 1/2 length
Distance: 0.75 Mile
Losers final:
Time: 4:06.2
Margins: 1 foot and 1/2 canvas
1st Geelong College - Bow: S G Langslow, 2: G S Robson, 3: D C Wall , 4: L M Bell, 5: P H Troy , 6: H R Dickinson, 7: D M John, Str: I D Blair, Cox: I R Wills, Cch: J M Ferguson
2nd Melbourne Grammar
3rd Xavier College - Bow: I Cantwell, 2: J McEncroe, 3: A Kelly, 4: D Drum, 5: R Dobson, 6: B Nixon, 7: A Vio, Str: M Hutchinson, Cox: J Andre, Cch: Fr M O'OMahony SJ
Loser final:
1st Geelong Grammar
2nd Wesley College
3rd Scotch College - Bow: J F Macrae, 2: T T Tilley, 3: A M Cordell, 4: R F Kent, 5: A A Staley, 6: M H Munro, 7: J L Osborne, Str: A J Hollins, Cox: R M Hawthorne, Cch: M R Wood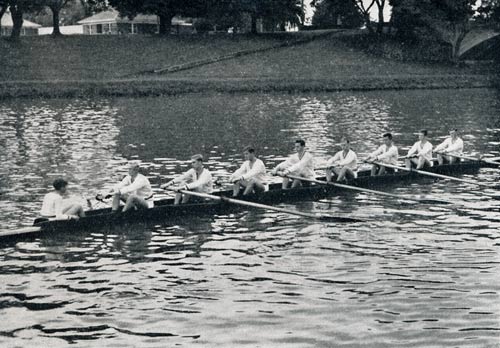 Photo: The Scotch Collegian June 1956
Heats
E1: 1st MGS, 2nd WC, Time: 3:46, Margin 2 lengths
E2: 1st GC, 2nd GGS, Time: 3:45, Margin: 2 1/2 lengths
E3: 1st XC, 2nd SC, Time: 3:45.4, Margin: 1/2 canvas
Time: 2:31.8
Margins: 2 feet and 3/4 length
Distance: 1/2 mile
Losers final
Time: 2:34.1
Margin: 3/4 length
1st Melbourne Grammar - Bow: D R Granger, 2: P T Armstrong, 3: M W M Halliday, 4: P W Dodwell, 5: C J Coe, 6: J A A Bishop, 7: R L C Sutcliffe, Str: C V M Wright, Cox: M J Sewell, Cch: J Thwaites
2nd Geelong Grammar
3rd Xavier College was a finalist but placing is unknown.
Losers final (margin: 0.75 length, time: 2:34.1)
1st Geelong College
2nd Wesley College
3rd Scotch College - Bow: H D Learmonth, 2: B K Vial, 3: I R Drake, 4: J A Russel, 5: H G Merry, 6: J R Wilson, 7: B W Griffiths, Str: Ken M Hume, Cox: C T Stuart, Cch: Dr I Gillies
The Scotch crew had equipment problems in both heat and final. They fixed the problem in the heat and restarted but rowed on regardless in the final.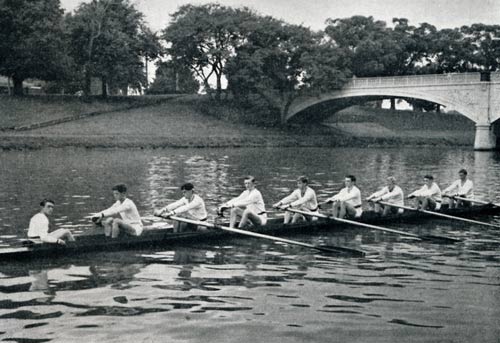 Photo: The Scotch Collegian June 1956
Heats
E1: 1st XC, 2nd GC, Time: 2:29.6, Margin: 1/3 length
E2: 1st MGS, 2nd SC, Time: 2:29.3, Margin: 3 feet
E3: 1st GGS, 2nd WC, Time: 2:26.2, Margin: 2 1/2 lengths