1921 Head of the River
The fifty-fourth Head of the River returned to the Barwon and would now be raced at this venue every third year going forward.
Third eights competition was commenced this year and was conducted with the seconds eights race the week before the Head of the River.
Index to Results:
---
Starter: Major H Speed
Umpire: Mr A J Shepherd
Judge: Walter Wright
Clerk of Scales: A G Colenso
Time: 5:47.2
Margins: 0.3 length and 1.5 lengths
1st Scotch College - Bow: Bryan T Keon-Cohen, 2: Douglas A Carter, 3: George B McKenzie, 4: Norman D Millar, 5: James H L Henderson, 6: Hugh C Dick, 7: Charels T Chapman, Str: Douglas J W Stone, Cox: William M Shaw, Cch: Alexander B Sloan
2nd Melbourne Grammar - Bow: S G Carnegie, 2: W J Begg, 3: T R Lyle, 4: C G Higgins, 5: R Grey-Smith, 6: N W Lockyer, 7: T A Alston, Str: B Bryans, Cox: J M S Harris, Cch: Major E W Tulloch
3rd Wesley College - Bow: H C Forster, 2: A W Finlay, 3: C L Lilburne, 4: T Standing, 5: R H Lee, 6: F B Glover, 7: A D McIntosh, Str: N J Abernethy, Cox: F N Lee, Cch: Charles Donald
Photo from Wesley College Chronicle
The Age report of the final follows:
The starter, Major H. Speed, sent the three crews off to an excellent start, Scotch being on the North, Wesley in the centre, and Melbourne Grammar on the south. Scotch got away beautifully, and at once got a lead of a few feet. Wesley were very unsteady, and the boat was rolling badly, causing them to drop slightly behind Melbourne Grammar. Over the first ¼ of a mile there was little between the boats, but half a mile from the start Scotch had half a length on the dark blues, with Wesley another ¼ of a length away. The Scotch coach, Mr. A. B. Sloan, was on the bank at the half-mile mark, and in response to his call the crew quickened slightly and drew further away. At the bridge Melbourne were a full length behind the leaders, Wesley being a little more than a length further back. Melbourne Grammar stroke then spirted, being well backed by his crew. Maintaining their form splendidly under top pressure, the dark blues gradually crept up on Scotch, amidst the deafening roar of thousands of voices. Stone, the Scotch stroke, however, rowed with fine judgement, and did not hustle his crew, with the result that he reached the judge's post a 1/3 of a length in front of Melbourne Grammar, who were a length a half in front of Wesley. Time 5 min 47 sec.
Other crews competing were:
Geelong College - Bow: W L Waugh, 2: D W Hope, 3: T W Campbell, 4: D McR Kennedy, 5: J R Macmillan, 6: G G Pern, 7: N K Russell, Str: C C Bell, Cox: I S M Murphy, Cch: H J Young
Xavier College - Bow: C Parkin, 2: C Lennon, 3: J Mulcahy, 4: K Whitehead, 5: L Robertson, 6: C Quinn, 7: L Lachal, Str: Ernest Rorke, Cox: P Lynch, Cch: Wilfred "Bill" F Cahill
Geelong Grammar - Bow: S L S Jackson, 2: C H Richardson, 3: R G Ritchie, 4: R Jamieson, 5: R L Wilkins, 6: F S Cole, 7 H Kinnear, Str: G C Northcote, Cox: J E F Mann, Cch: L C Robson
Heat results
E1: 1st MGS, 2nd GC - Time: 5:49.4, Margin: 1.25 lengths
E2: 1st WC, 2nd XC - Time: 5:49.0, Margin 0.5 length
E3: 1st SC, 2nd GGS - Time: 5:37.4, Margin: 1.75 lengths
The Age reported on the heats as follows:
First Heat
Melbourne Grammar v Geelong College
Melbourne Grammar on the south and Geelong College on the centre station punctually in the first hear, both getting away well together. Shortly after the start Grammar got a slight lead, which they maintained without making undue effort. Approaching the half mile Geelong College made their big effort, but Grammar still had a canvas after covering half the distance to the bridge, Approaching the bridge the dark blues made an effort, as a result of which they reached the staging ¾ of a length in front. About 100 yards from the finish the leaders quickened, and rowing very well crossed the line a length and a ¼ in front of Geelong College. Time 5 min 49 2-5th sec.

Second Heat
Wesley v Xavier
Wesley had the south station, and Xavier the centre. Rowing at the faster rate of striking. Xavier got away level, but they were splashing badly , whereas the blade work in the Wesley boat was exceedingly good. Half way to the bridge the two crews were still about level, Xavier striking at 34, and Wesley about 32 to the minute. Wesley then began to gradually draw away, and had half a length at the bridge. At this point Xavier made a great effort, and drew up on the leaders. Wesley, hard pressed, were, however, rowing the better form, and reached the finish half a length to the good. Time 5 min 49 sec.
Third Heat
Scotch College v Geelong Grammar
This heat was expected to provide the best race of the day. Scotch had the south and Geelong the centre station. Shortly after the start Scotch began to forge ahead, and half way to the bridge they had over a ¼ of a length lead. The leaders were rowing at 33 strokes, compared with 34 by Geelong Grammar. At the bridge Scotch were exactly a length to the good, rowing a long, even stroke, whereas the Grammar crew were getting short, with a bad recovery. Scotch put in a fine finish, as a result of which they won by a length and ¾. Time 5 min 37 2-5 sec.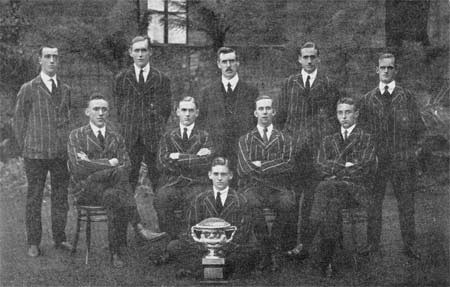 Reproduced from 'Lift her Home to Victory, Lads - A Centenary History of Xavier College Rowing' by Michael Lefebvre
---
Second Crews
(Not conducted at the Head of the River regatta. These races were conducted on the Upper Yarra on 7th May.)
Time: NTT
Margins: 1 1/2 length and 2 lengths
1st Scotch College
2nd Wesley College
3rd Melbourne Grammar
---
Third Crews
(Not conducted at the Head of the River regatta. These races were conducted on the Upper Yarra on 7th May.)
1st Melbourne Grammar
2nd Scotch College
---
Sources
1921 Regatta program
The Pincott Club Handbook 2006
Lift her home to victory, lads! A centenary history of Xavier College 1906-2006 by Michael Lefebvre
Appendix to A Deepening Roar Scotch College 1851-2001 by James Mitchell, Allen & Unwin 2001
Photo of SC crew from the Scotch Collegian magazine
Photo of the XC crew reproduced with permission from Lift her Home to Victory, Lads - A Centenary History of Xavier College Rowing by Michael Lefebvre
HEAD OF THE RIVER. (1921, May 14). The Age (Melbourne, Vic. : 1854 - 1954), p. 11. Retrieved March 16, 2017, from http://nla.gov.au/nla.news-article203972530
HEAD OF THE RIVER. (1921, May 16). The Age (Melbourne, Vic. : 1854 - 1954), p. 7. Retrieved March 16, 2017, from http://nla.gov.au/nla.news-article203973593