1944 Head of the River
The seventy-seventh Head of the River was conducted on the Yarra with only the Geelong schools firsts and seconds coming to Melbourne.
The Losers Final was conducted again with all heat losing crews participating. It is therefore the first official year of the small final. The race was conducted on the finals day.
After a very long career as the Geelong Grammar coach, William H Pincott retires after serious illness.
Second crews again raced which showed a decrease in war restrictions. More importantly all schools competed.
---
Officials
APS Hon Secretary: Euan M Davidson
Starter: H J Green
Umpires: Edward Kenny at the Bridge, Marcus Burke at the Bend, Jack L Mounsey at the Stagings
Judge: H T James
Timekeeper: Ray Todd
Time: 5:04.0
Margin: 1 1/2 lengths
Losers final:
Time: 5:01.1
Margins: 6 lengths and 1 foot
1st Geelong College - Bow: E R Ashton, 2: W F Humphreys, 3: D W Mackay, 4: Donald R T Macmillan, 5: I M McIlwain, 6: I E Cameron, 7: G H K Tippett, Str: N J Spalding, Cox: A L Bennett, Cch: Charles G Saleh
2nd Melbourne Grammar - Bow: R J Scott, 2: H B Clark, 3: P L Baillieu, 4: R J Batchelor, 5: B McK Birrell, 6: D W Wales, 7: R D Watson, Str: D G Harrison, Cox: R McN Decker, Cch: Walter E " Wally" Ricketts
3rd Wesley College - Bow: K H Grant, 2: R Rosanove, 3: R T Drew, 4: K W E Vear, 5: G L Fudge, 6: I F Hibbins, 7: G W Eastaugh, Str: A S Wood, Cox: C J Hall, Cch: Neil H McNeil
Loser final:
1st Geelong Grammar - Bow: J A McArthur, 2: W J Grose, 3: C A Taylor, 4: R B King, 5: D E Charles, 6: K B Nelson, 7: K J Fulton, Str: R M Wynne, Cox: D G Crozier, Cch: William H Pincott and J E L Barber
2nd Scotch College - Bow: T P Ritchie, 2: Alexander T Dix, 3: Bruce L Burns, 4: Robert I Gillies, 5: John D Davis, 6: Malcolm L Fitzpatrick, 7: Graham E Proce, Str: Robert deC Shaw, Cox: John L Todd, Cch: Arthur L Burns
3rd Xavier College - Bow: C G Dawson, 2: A J Troup, 3: B S Dooley, 4: F A Mullins, 5: G T Awburn, 6: E T Hayes, 7: R D Bishop, Str: J Anthony Lewis, Cox: B K Grutzner, Cch: Albert Anderson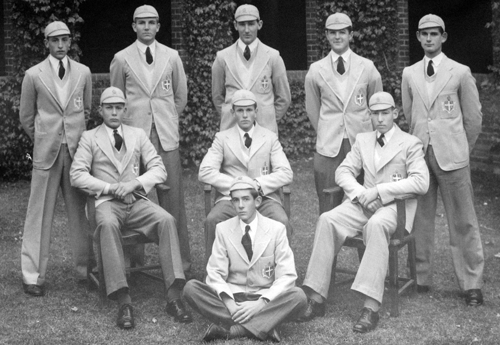 Back row: J A McArthur, C A Taylor, D E Charles, R B King, W J Grose
Seated: K J Fulton, R M Wynne, K B Nelson
In front: D G Crozier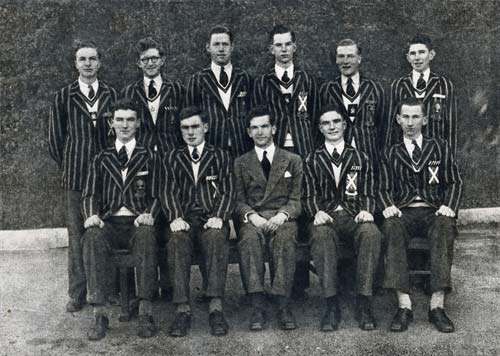 Back row: D M Jamieson, T P Ritchie, G E Price, B L Burns, J D Davis, J L Todd
Front row: M L Fitzpatrick, R deC Shaw, Mr A L Burns, A T Dix, R I Gillies
Photo: Scotch Collegian August 1944
The Age reported on the finals as follows:
As the crews lined up for the start, a strong head wind was blowing against them. MGS had the favored position on the south side, and actually led by over a length from College, with Wesley, on an erratic course, hopelessly out of it. The race then seemed the keeping of the dark blues, rowing steadily, but with a powerful leg drive and a snappy catch.
Geelong, however, was seen to be gaining on MGS. Gradually the Geelong stroke quickened his rate, and the crew, rowing as one man, wore down the dark blues, whose form under pressure went to pieces. In comparative calm water down the Henley straight, Geelong raced in to a lead of ¾ of a length, and were actually going away easily when no. 4 in the Grammar crew caught a crab. The lads recovered quickly, and although well beaten, raced on. Geelong forged ahead and crossed the line easy winners by 1 ½ lengths in 5min 4sec. Wesley trailed MGS by 1 ¼ length.
Losers final
Margin was six lengths. Xavier led to the bridge, when the cox steered them into a concrete ferry


Heat results:
E1: 1st WC, 2nd SC, Time: 5:20.0, Margin: 3/4 length and rowed on the Upper Yarra
E2: 1st MGS, 2nd XC, Time: 5:11.6, Margin: 3 lengths and rowed on the Upper Yarra
E3: 1st GC, 2nd GGS, Time: 4:20.0, Margin: 3 lengths and rowed on the Barwon
The Argus reported on the heats as follows:
First Heat - Scotch v Wesley
Scotch led temporarily after the start, but at the end of half a mile Wesley had the lead, and passed into the Henley straight the greater part of a length ahead. Hanging on grimly, Scotch had not lost any further ground by the time the Henley staging was reached, and a sprint half-way down the staging reduced Wesley's lead to half a length. Thence onward, however, Wesley's stronger rowing told, and Scotch lost by a length. Time: 5min 20sec.
Second Heat - MGS v Xavier
MGS jumped clear at the start, and after a good race to the bridge had Xavier's measure. The first half mile gave Grammar a two lengths lead, and this was increased to three lengths at the finish. Time 5min 11sec.
Third Heat - Geelong College v Geelong Grammar
At Geelong a large crowd saw Geelong College achieve a good win over Geelong Grammar in bad conditions. A strong westerly blew down the mile course, and the Barwon was rough. College, on the north bank, settled down quickly and had the boat moving freely in the first dozen strokes. Grammar, relying on the long and steady swing, rated at about 34 to College's 36. At Pakington street College had a half length advantage, and was rowing well within itself. Grammar quickened the stroking rate and gained some ground, but College drew away again and finished strongly to win by three lengths. NTT.
Distance: 0.5 mile
Time: 2:43.0
Margin: 1/3 length
Losers final:
Time: 2:35.0
Margins: 1 length and one canvas
1st Wesley College - Bow: R Whiteside, 2: A Stubbs, 3: G Galt, 4: R Loder, 5: T Harrison, 6: P Bailey, 7: D Elsworth, Str: W Duncan, Cox: P Duncan
2nd Geelong Grammar
3rd Melbourne Grammar
Losers final
1st Scotch College - Bow: D G Holloway, 2: J Cameron, 3: P C Roberts, 4: K Waltori, 5: G Hallam, 6: J Beyer, 7: D F MacLeish, Str: D Walton, Cox: M J Smith
2nd Xavier College - Bow: J McCarthy, 2: J Clayton, 3: R Britten-Jones, 4: D Richardson, 5: P Coleman, 6: R Gorman, 7: D Coughlin, Str: W Hill, Cox: R Moore, Cch: Rev J Smith SJ
3rd Geelong College
Heat results:
E1: 1st MGS, 2nd XC, Time: 2:44.0, Margin: 1 canvas
E2: 1st WC, 2nd SC, Time: 2:42.0, Margin: 1 1/4 length
E3: 1st GGS, 2nd GC, 3rd GGS 3rd crew
---
Third Crews
(This race did not form part of the Head of the River regatta. The metropolitan race was raced on the Upper Yarra and the Geelong race on the Barwon on 16th April.)
Metropolitan
Time: 1:39.0
Margin: 2 1/2 lengths and 3 feet
1st Wesley College
2nd Scotch College - Bow: L O Gilsenan, 2: K R Cox, 3: J C Boyd, 4: J S Galbraith, 5: R Salthouse, 6: H Middleton, 7: D G Holloway, Str: B Hughes, Cox: B. Phillipe
3rd Melbourne Grammar
On the Barwon:
1st Geelong Grammar third crew
2nd Geelong Grammar fourth crew
3rd Geelong College
---
Fourth Crews
(This race did not form part of the Head of the River regatta. The metropolitan race was raced on the Upper Yarra and the Geelong race on the Barwon on 16th April.)
Metropolitan
Time: 1:49.0
Margins: 3/4 length and 4 feet
1st Wesley College
2nd Scotch College - Bow: D S McGregor, 2: W Mather, 3: F Snell, 4: I Cann , 5: J Molyneaux, 6: B Mathew, 7: P Dent, Str: W Philip, Cox: B Ricker
3rd Melbourne Grammar
On the Barwon:
1st Geelong College
2nd Geelong Grammar sixth crew
3rd Geelong Grammar seventh crew
---
Fifth Crews
(This race did not form part of the Head of the River regatta. The metropolitan race was raced on the Upper Yarra and the Geelong race on the Barwon on 16th April.)
Time: 1:23.0
Margins: 1 Canvas and 1/2 length
1st Melbourne Grammar
2nd Wesley College
3rd Scotch College - Bow: R O Wootton, 2: A B Falk, 3: R E Macneil, 4: B White, 5: J D Aberdeen, 6: W D L Ride, 7: I R Johnson, Str: E D Lloyd, Cox: J S Green
---
Sixth Crews
(This race did not form part of the Head of the River regatta. The metropolitan race was raced on the Upper Yarra and the Geelong race on the Barwon on 16th April.)
1st Melbourne Grammar
2nd Scotch College - Bow: M J Smith, 2: J K Leggett, 3: W Johnstone, 4: D J Hughes, 5: R Mathieson, 6: P Richards, 7: D K Low, Str: D J Crichton, Cox: W Elliot
---
Seventh Crews
(This race did not form part of the Head of the River regatta. The metropolitan race was raced on the Upper Yarra and the Geelong race on the Barwon on 16th April.)
1st Scotch College - Bow: D Muir, 2: N F Daniel, 3: O Bryce, 4: B F Kain, 5: J S Margetts, 6: A O Jackson, 7: N Seidal, Str: P Rofe, Cox: West
2nd Melbourne Grammar 7ths
3rd Melbourne Grammar 8ths
---
Sources
APR regatta program 1944
The Pincott Club Handbook 2006
Scotch Collegian 1944
Lift her home to victory, lads! A centenary history of Xavier College 1906-2006 by Michael Lefebvre
Appendix to A Deepening Roar Scotch College 1851-2001 by James Mitchell, Allen & Unwin 2001
Wesley College Chronicle 1944
MGS, WESLEY, AND GEELONG COLLEGE (1944, April 20). The Argus (Melbourne, Vic. : 1848 - 1957), p. 12. Retrieved April 21, 2017, from http://nla.gov.au/nla.news-article11820219
Head of River (1944, April 24). The Age (Melbourne, Vic. : 1854 - 1954), p. 3. Retrieved April 21, 2017, from http://nla.gov.au/nla.news-article206791542