1922 Head of the River
The fifty-fifth Head of the River returned to the Upper Yarra with a remarkable set of circumstances to unfold.
Scotch and Xavier had a dead heat in their heat before 40,000 spectators. A re-row was called for 5.30pm but it was clear not all the rowers had recovered. Their schools withdrew the crews from the re row.
Following lengthy debates the next day when both crews had recovered, APS Rowing Committee declared that both crews had forfeited their right to race in the final. The race was to be conducted between the other two heat winners only. There was considerable disappointment by all schools.
The heats were conducted on 12th May with the final on 13th May.
Index to Results:
Time: 5:22.2
Margins: 1/2 length
1st Geelong Grammar - Bow: S L S Jackson, 2: K W Kernot, 3: J J Fagan, 4: E L G Guest, 5: W H S Newman, 6: R L Wilkins, 7: R W M Onslow, Str: G C Northcote, Cox: J H Webb, Cch: L C Robson
2nd Melbourne Grammar - Bow: R R Webb, 2: L C L Murray, 3: J W Rhoden, 4: D C Mackay, 5: D Baillieu, 6: T R Lyle, 7: C E Alsop, Str: L K Corteen, Cox: J N S Harris
The Age reported on the final as follows:
The assemblage of spectators was a vast one; it must have numbered 70,000 or more.
The Melbourne Grammar boys had the north and Geelong Grammar the centre station. Both crews went off to an even start, the rowing in each boat being clean and good. Slowly the Melburnians crept ahead, and they were about 4 feet in front as they passed under the bridge. Going on to the corner the dark blues, rowing particularly well, slightly increased their lead, and as the boats straightened up for the last half mil the Geelong boys were about 10 feet behind. The Melbourne Grammar boys steered a beautiful course round the corner, but the Geelong boy, as in the heat on Friday, kept out a little too far. The Geelong crew now quickened their rate of striking, and slowly drew up on the leaders, the two crews being level at Brander's. The Melbourne Grammar boys began to feel the strain, though their rowing up to this point had been very good, Geelong kept going with a fine lift and drive, and slowly forged ahead, being about 10 feet to the good half way along the Henley staging. A further effort on the part of the light blues sent them further ahead, and they reached the finishing line half a length ahead of Melbourne Grammar. The time for the race was 5 min 22 1-5 sec.

Other crews competing:
Scotch College - Bow: Reginald M Marquard, 2: Stanley G Hawthorne, 3: Robert E Chisholm, 4: Victor H Beament, 5: George B McKenzie, 6: Donald C Swanson, 7: Charles T Chapman, Str: Alexander T Park, Cox: William J McGregor, Cch: Alexander B Sloan
Xavier College - Bow: K W Murphy, 2: J R Thomson, 3: W G Brownless, 4: L V Lachal, 5: J F Dynon, 6: C M Quinn, 7: F E Gorman, Str: K E Whitehead, Cox: P T Lynch, Cch: Wilfred "Bill" Cahill
Geelong College - Bow: G F Waugh, 2: A J H Gray, 3: R B Ronaldson, 4: A L Rentoul, 5: R C McKay, 6: C R H Lockwood, 7: A D Sproat, Str: H A Anderson, Cox: I S M Murphy, Cch: H J Young
Wesley College - Bow: J J Richmond, 2: K P Bladen, 3: A H Barrenger, 4: G S Daley, 5: C L Lilburne, 6: A W Finlay, 7: T Standing, Str: N J Abernethy, Cox: F N Lee, Cch: Charles Donald
Heats results
E1: Dead heat XC & SC - Time: 5:19
E2: 1st MGS, 2nd GC - Time: 5:16.2, Margin: 2/3 length
E3: 1st GGS, 2nd WC - Time: 5:06.6, Margin: 1/2 length
The Age reported on the heats as follows:
First Heat - Scotch v Xavier
Scotch College started off at 36, whilst Xavier struck 38, rowing cleaner than Scotch. The Xavier lads immediately began to forge ahead, and shot the bridge with a lead of a 1/3 of a length. Going on the corner Scotch had slowed down to 33, whilst Xavier had slowed to 35, and had increased their lead to half a length, which advantage they still held when the boats straightened up for the last half mile. Approaching Brander's Scotch made an effort and began to move up. Xavier however, responded, and again got their ½ length lead, but the effort slightly upset the combination, and Scotch, aided by an even swing, were only a canvas behind half way along the Henley staging. Scotch, rowing at 36, gradually crept up on Xavier, who rowed about one stroke faster, and both crews crossed the line together. The public appeared quite satisfied when the judge announced the result as a dead heat. Time 5 min 19 sec.
Second Heat - Melbourne Grammar v Geelong College
Melbourne Grammar on the north station and Geelong College on the centre station, both got off at 38, the two crews remaining level to the bridge. Geelong College steered straight to the bridge, and when the rudder was put on it threw the boat over to the bow side. Both crews passed under the bridge together, but on the run to the corner Grammar, rowing well at 36, gained half a length lead. The Geelong boys, however, hung on well, and were still half a length behind at Brander's. The Melburnians then made an effort, which the Geelong boys promptly answered, both crews raising the rate to 38, at which rate they finished. Melbourne Grammar having slightly increased their lead, reached the finishing post two thirds of a length in front. Time 5 min 16 1-5th sec.
Third Heat - Wesley College v Geelong Grammar
Wesley College on the north and Geelong Grammar on the centre. Both started at 38, Wesley blade work being rater dirty for the first few strokes. The Geelong boys went away with a hard, clean lift and drive, and had a ¼ of a length lead at the bridge. Geelong were then rowing a steady 35, Wesley striking 36, both rowing well. Wesley began to draw up coming to the corner and were level entering the straight. At Brander's Geelong Grammar rowing well, drew away a third of a length, but on the run to the Henley staging Wesley almost got level again. Geelong Grammar however, were too strong and they again drew away and won by ½ a length. Time: 5 min 6 3-5th sec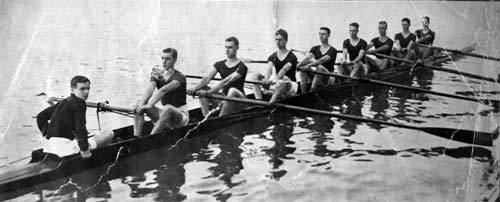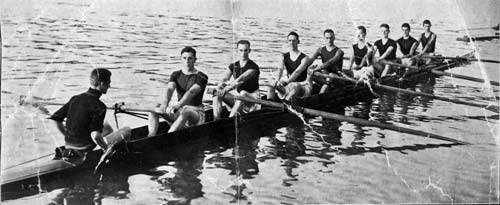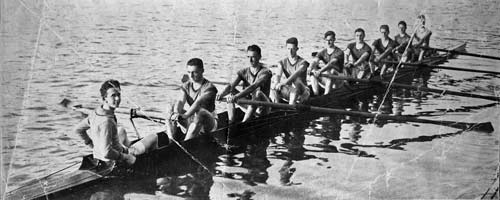 ---
Second Crews
(This race was conducted on the Yarra River on Saturday 6th May, the weekend before the Head of the River.)
Time: NTT
Margins: 1 length, 2 lengths and 3/4 length
1st Wesley College - Bow: S Nash, 2: W Cumming, 3: A W Smith, 4: K C Davies, 5: V Baker, 6: E A Eddy, 7: K P Bladden, Str: A D Jones, Cox: F N Lee
2nd Scotch College - Bow: H D Phillips, Str: A F Sloan, 3: L K Hunter, 4: N Williams, 5: A E Pratt, 6: S D Millar, 7: P Learmonth, Str: S Shaw, Cox: Howarth
3rd Xavier College - Bow: C Ryan, 2: H Hussy, 3: R Murphy, 4: E Sullivan, 5: B Dynon, 6: H Daley, 7: C Shannon, Str: A Dalton, Cox: W McLoughlin
4th Melbourne Grammar - Bow: J M Norton, 2: P Ramsden, 3: R Brawn, 4: N Kennedy, 5: J Garrin, 6: C C Seymour, 7: C R Weir, Str: W J Wilcox, Cox: H Barrett
The Age reported on the second and third crews races by the provision of crew names and results. They added that: Supporters of the four metropolitan schools assembled on the south bank of the river in large numbers on Saturday afternoon.
---
Third Crews
(This race was conducted on the Yarra River on Saturday 6th May, the weekend before the Head of the River.)
Time: NTT
Margins: 3 feet and 1 1/2 lengths
1st Melbourne Grammar - Bow: W Hargreaves, 2: P A Jenkins, 3: W A Macaw, 4: A G Zwar, 5: C D Watson, 6: L G Travers, 7: J H Dorman, Str: E P Bainbridge, Cox: C McMicking
2nd Scotch College - Bow: A K Ballantyne, 2: W J Swanson, 3: A McLean, 4: J P Hearne, 5: S W Williams, 6: L H Lorimer, 7: W J Simpson, Str: J P Gillan, Cox: K Wardon
3rd Wesley College - Bow: A K Mansell, 2: A G Jones, 3: W W Cattlin, 4: H J Kernan, 5: C W Matthews, 6: L W Overell, 7: R H Cadford, Str: A Ralton, Cox: H A Lavers
---
Sources
The Pincott Club Handbook 2006
Lift her home to victory, lads! A centenary history of Xavier College 1906-2006 by Michael Lefebvre
Appendix to A Deepening Roar Scotch College 1851-2001 by James Mitchell, Allen & Unwin 2001
Photos from souvenir from the celebration dinner held on the night of the Head of the River
HEAD OF THE RIVER RACE. (1922, May 8). The Age (Melbourne, Vic. : 1854 - 1954), p. 6. Retrieved March 19, 2017, from http://nla.gov.au/nla.news-article205040034
REMARKABLE SEQUEL TO HEAD OF RIVER RACE. (1922, May 13). The Age (Melbourne, Vic. : 1854 - 1954), p. 14. Retrieved March 19, 2017, from http://nla.gov.au/nla.news-article205047655
HEAD OF THE RIVER. (1922, May 15). The Age (Melbourne, Vic. : 1854 - 1954), p. 7. Retrieved March 19, 2017, from http://nla.gov.au/nla.news-article205038421