1947 Head of the River
The eightieth Head of the River was held on the Upper Yarra for the last time in a decade due to the unruly behaviour of the crowd. The Head of the River was only ever raced again on the Upper Yarra in 1957 & 1958.
The crowd behaviour was enough to be raised in the newspapers of the day and cause a full enquiry by the Headmasters. There was estimated to be 50,000 spectators.
The heats were held on Wednesday 16th April in Melbourne for the metropolitan crews and on the same day in Geelong for the Barwon based crews.
The stroke of the winning crew R B Selleck judged his race well very well. By way of interest, his father G G Selleck stroked the winning Wesley crew in 1915.
---
Officials
APS Committee: W N Ricketts (MGS -Chairman), J H Campbell (GC), A Marshall (GGS), A W L Mitchell (SC), Alan W Mitchell (WC), Rev E W Morris SJ (XC), E M Davidson (Hon Secretary)
Starters: H J Green and J L Mounsey
Umpires and Timekeepers: Edward Kenny and B Griffiths
Judge: H T James
Despatch Steward: J P Rourke
---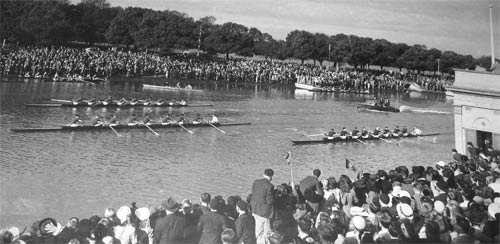 Distance: 1 mile less 66 yards
Time: 4:46.2
Margin: 1/3 length & 3/4 length
Losers final:
Time: 4:46.0
Margins: 1 length and 3/4 length
1st Wesley College - Bow: R E Mylius, 2: W B Crothers, 3: B Tutton, 4: B J Anderson, 5: J S Macglashan, 6: S F Muir-Smith, 7: J D S Kidd, Str: R B Selleck, Cox: J H Fielden, Cch: Alan W Mitchell
2nd Geelong College - Bow: I D Ramsay, 2: K J Chesswas, 3: J R Sweetnam, 4: R W Buntine, 5: H J Spalding, 6: R W Purnell, 7: J D Wotherspoon, Str: J W Caffrey, Cox: C J Galbraith, Cch: Albert B Bell
3rd Melbourne Grammar - Bow: G B O'Byrne, 2: G L Hardy, 3: D C Rollason, 4: M Debenham, 5: D C Debenham, 6: B E Turner, 7: H I Prince, Str: H D F Ward, Cox: Gordon Sargood, Cch: Walter E "Wally" Ricketts
Back row (from left): G.L. Hardy(2), M. Debenham (4), W.N. Ricketts Esq., D.C. Rollason (3) and G.B. O'Byrne (bow). Front row: B.E. Turner (6), H.D.F. Ward (stroke), G. Sargood (cox), H.I. Prince (7) and D.C. Debenham (5)
Photo courtesy of Melbourne Grammar Archives
The Age reported on the final as follows:
The crews shot away well together, with Geelong College on the north station, Wesley centre and MGS on the south. Wesley, stroking 38, gained a slight lead to the bridge from Geelong, with Melbourne a few feet further back.
With the early advantage of the big bend, Geelong was in front from Wesley and Melbourne as they straightened up for the run along Henley straight.
Selleck increased the tempo to 35, and the long racer's "nose" was in front just before the Henley staging. The Geelong cox called on his crew for a dozen, and they were again in front. Wesley settled down and gradually passed Geelong, but 150 yards from the judge College was again with them.
Wesley quickened to 37, 100 yards from the post, and flashed past the judge to tremendous cheering to win one of the keenest races seen for many years.
Wesley won by one-third of a length, with a length between second and third in 4min 46.2sec.
Losers final:
1st Scotch College - Bow: Gerald D Mitchell, 2: Rodney L Benjamin, 3: Ian K Mountain, 4: Peter L Barrett, 5: John D Moir, 6: Roger G Abrecht, 7: Neil F Daniel, Str: William G Philip, Cox: Robert M Mounsey, Cch: Charles G Saleh
2nd Geelong Grammar - Bow: J S Jose, 2: A H Purves, 3: C R Reeves, 4: R F McKendrick, 5: A J Montague, 6: H C Stretch, 7: P Hayes, Str: G E Carroll, Cox: R Coster-Zeeman, Cch: John E L Barber
3rd Xavier College- Bow: J D Booth, 2: J A Horgan, 3: K M Silk, 4: D J Molloy, 5: N M O'Bryan, 6: P R McNamara, 7: Clive F Bailey, Str: Brian J Doyle, Cox: Hubert R Frederico, Cch: Albert J Anderson
Heat results:
E1: 1st GC, 2nd GGS, Margin: One canvas, Time: 5:14.2 (on the Barwon)
E2: 1st WC, 2nd SC, Margin: One canvas, Time: 4:37.2 (record by 4 secs)
E3: 1st MGS, 2nd XC, Margin 1/3 length, Time: 4:45.8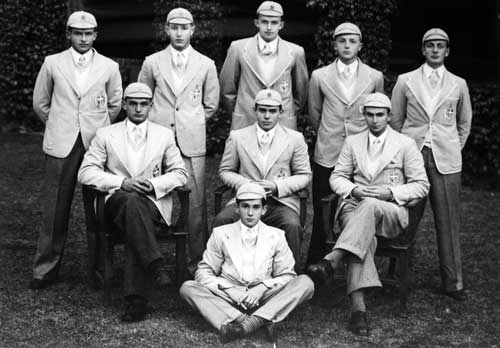 Back row: A H Purves, R F McKendrick, C R Reeves, J S Jose, A T Montague
Front row: P Hayes, G E Carroll, H C Stretch
In front: R Coster
Photo from GGS boatshed
Distance: 0.5 mile
Time: 2:35.4
Margins: 1.25 and 0.3 length
Losers final
Time: 2:30.4
Margins: 0.3 and 1 length
1st Scotch College - Bow: J H Ramsay, 2: J S Edwards, 3: J C M Bennett, 4: L B Stubbs, 5: G R McLeish, 6: R H Cole, 7: W F Breidahl, Str: R Mathieson, Cox: R H Brown, Cch: A W L Mitchell
2nd Geelong Grammar - Bow: I E Blackwell, 2: F B Grubb, 3: T P R Guthrie, 4: H M O Raymond, 5: D J Kent, 6: Garth O V Manton, 7: C R Preece, Str: J S Jose, Cox: C L Carr, Cch: A S Mitchell
3rd Xavier College - Bow: W F O'Dea, 2: F Romanin, 3: R A Fazio, 4: W M McCubbery, 5: P S Carr, 6: G J O'Keeffe, 7: P J Kennedy, Str: I S Rainford, Cox: P R Pluckett, Cch: Jack J Coghlan
Losers final
1sat Melbourne Grammar - Bow: J M Withers, 2: S B Bodinnar, 3: P Kibby, 4: P L Thompson, 5: R B Lulofs, 6: J D Scales, 7: J T C Hewison, Str: R G Day, Cox: B A Morgan, Cch: W McKean
2nd Geelong College - Bow: R I Boon, 2: S E Fraser, 3: J B Burgess, 4: G F Douglas, 5: J K Dempsey, 6: D B Lawler, 7: N G Cameron, Str: A D Hope, Cox: R H Reynolds, Cch: Donald R T Macmillan
3rd Wesley College - Bow: G Heath, 2: B C Jones, 3: C J Hunt, 4: I F H Ross, 5: A J Thompson, 6: M F A Robertson, 7: B J Short, Str: J R M Bottomer, Cox: D M Bone, Cch: W H Mason-Cox
Heats
E1: 1st GGS, 2nd GC, Time: 2:48.0, Margin: 2 3/4 lengths
E2: 1st XC, 2nd WC, Time: 2:20.8, Margin: 3/4 length
E3: 1st SC, 2nd MGS, Time: 2:26.6, Margin: 1 1/2 lengths
Distance: 0.5 mile
Time: 2:35.6
Margin: 1/3 length
Losers final
Time: 2:31.0
Margin: 1/2 length and 2 feet
1st Melbourne Grammar - Bow: D Weir, 2: B D Crelin, 3: R B D Rigg, 4: J H Brett, 5: E A D Jowett, 6: J S Monks, 7: F H Osborn, Str: R Weir, Cox: D N Sargood, Cch: G W S Crow
2nd Xavier College - Bow: P D Banfield, 2: M B Lefebve, 3: A T Cantwell, 4: L J San Miguel, 5: L J Crameri, 6: G A Santospirito, 7: F X Murphy, Str: G R Chapman, Cox: P J Gleeson, Cch: Jack J Mulcahy
3rd Geelong College - Bow: J D Wiggins, 2: J M Fleming, 3: D T Grant, 4: D J Morris, 5: A F McIlwain, 6: S W G Johnson, 7: J M Borthwick, Str: W G Mackay, Cox: G D Best, Cch: J S Cook

Losers final
1st Geelong Grammar - Bow: D W Smith, 2: R J Stalker, 3: B Dickinson, 4: D W Cameron, 5: D J Sloan, 6: D S Thewlis, 7: F D S Gilder, Str: D A Morwood, Cox: H S Hawkins, Cch: I C Everist
2nd Wesley College - Bow: J L Blyth, 2: P F De Hais, 3: J I Fielding, 4: D W Woodford, 5: J D Bailey, 6: W R Fox, 7: I R W Johnston, Str: P G Rankin, Cox: A A McCutcheon, Cch: I S Parkin
3rd Scotch College - Bow: I Blaikie, 2: H R Booth, 3: J T De Ravin, 4: J Broben, 5: G H Fewster, 6: J F Kent, 7: R Alston, Str: P N Welch, Cox: G O Goudie
Heats
E1: 1st XC, 2nd SC, Time: 2:21.2, Margin: canvas
E2: 1st MGS, 2nd WC, Time: 2:30.6, Margin: 2 feet
E3: 1st GC, 2nd GGS, Time: 2:53.0, Margin: 4 feet
---
Fourth Crews
(These races were conducted on Wednesday 16th April on both the Barwon and the Yarra and did not form part of the Head of the River regatta.)
Barwon races
Distance: 0.33 mile
Time: 2:20.0
Margin: 2 lengths
Yarra races
Distance: 0.25 mile
Time: 1:30.8
Margins: 1/3 length and a canvas
Geelong Crews on the Barwon
1st Geelong College - Bow: W J Waugh, 2: R J Jeffreys, 3: J R Freeman, 4: J R Cox, 5: J H Sutcliffe, 6: J E Varley, 7: B F Glover, Str: N J Charley, Cox: J Temple Watts, Cch: D R Bridges
2nd Geelong Grammar (4th crew) - Bow: D J Wordsworth, 2: R Gardiner, 3: E G Mohr, 4: R J Nelson, 5: C B Dawes, J A D Piper, 7: G M Pizzey, Str: D L Nance, Cox: M K Hornabrook, Cch: Rev S E Jones
3rd Geelong Grammar (5th crew) - Bow: C F Barry, 2: P J McConaghy, 3: A A Blythe, 4: G E Turner, 5: R A L Nance, 6: A S N Ashkanazy, 7: P C Philips, Str: G N Kennison, Cox: P B Wright, Cch: L A Hardy
Melbourne crews on the Yarra
1st Melbourne Grammar - Bow: D G B Bodycomb, 2: D A Sankey, 3: J M Capp, 4: M L Archer, 5: A C Watt, 6: G Magoffin, 7: R J Holdaway, Str: K C Griffith, Cox: B S Andrews, Cch: A F Hargrave
2nd Scotch College - Bow: G P Mackenzie, 2: J G Cathcart, 3: J W G Meyer, 4: J P Hodges, 5: G T Dunwoody, 6: D W Hobbs, 7: W H Baughurst, Str: A J Mitchell, Cox: R J Wills, Cch: A T Dix
3rd Xavier College - Bow: R L Moore, 2: J F McCooey, 3: J P Lachal, 4: G S Fennell, 5: J A Gobbo, 6: M L Niall, 7: P F Moloughney, Str: E T Darcy, Cox; B J Lynch, Cch: G Elias
4th Wesley College - Bow: G G Thomas, 2: C G Gaylard, 3: J B Milnes, 4: R A Levy, 5: M K Middleditch, 6: A R Bartram, 7: B K Wilson, Str: R H Bitcon, Cox: R Beaconsfield, Cch: A S Wood
---
Fifth Crews
(This races was conducted on Wednesday 16th April on the Yarra and did not form part of the Head of the River regatta.)
Distance: 0.25 mile
Time: 1:07.2
Margins: 3/4 length, 1 foot
1st Melbourne Grammar School - Bow: F A Billson, 2: R J S Purbrick, 3: B S Dyson, 4: P J Scales, 5: H T Davis, 6: B D Harman, 7: H R Johnson, Str: A T Rose, Cox: R H LaM Stowell
2nd Scotch College - Bow: D Pincus, 2: G H Reynolds, 3: J M Bowden, 4: A J McLachlan, 5: P H Daniell, 6: R D Oliver, 7: R B A Noack, Str: R A Leslie, Cox: D R Provan, Cch: I Gillies
3rd Wesley College - Bow: J H Collbeck, 2: R G Leeton, 3: G C Dreverman, 4: G M Fudge, 5: K D Muirden, 6: D J Richards, 7: T L Reed, Str: I G McKeown, Cox: J W Hood, Cch: K H Grant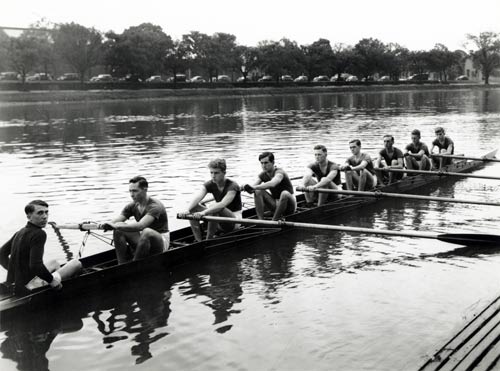 ---
Sources
1947 Regatta program
The Pincott Club Handbook 2006
Lift her home to victory, lads! A centenary history of Xavier College 1906-2006 by Michael Lefebvre
Appendix to A Deepening Roar Scotch College 1851-2001 by James Mitchell, Allen & Unwin 2001
WESLEY SETS RECORD TO BEAT SCOTCH (1947, April 17). The Argus (Melbourne, Vic. : 1848 - 1957), p. 4. Retrieved April 23, 2017, from http://nla.gov.au/nla.news-article22421244
WESLEY'S HEAD OF RIVER WIN (1947, April 21). The Age (Melbourne, Vic. : 1854 - 1954), p. 4. Retrieved April 23, 2017, from http://nla.gov.au/nla.news-article206029887
Head of River (1947, April 17). The Age (Melbourne, Vic. : 1854 - 1954), p. 4. Retrieved April 23, 2017, from http://nla.gov.au/nla.news-article206020260