1916 Head of the River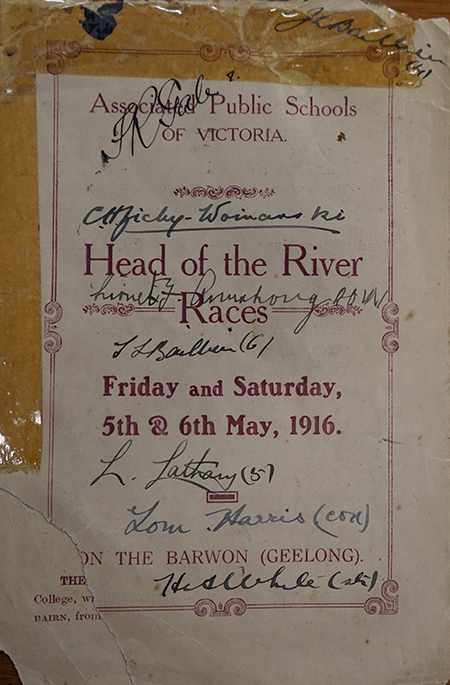 1916 program cover showing signatures of some of the MGS crew
The forty-ninth Head of the River returned to the Barwon in accordance with the Headmasters agreement that the race be conducted there every 5 years.
Melbourne Grammar won it's first eight oared Head of the River race.
Interestingly this crew had two brothers and a cousin in the crew, namely Jim and Tom Baillieu with cousin Lambert Latham. They, or their father, wrote to their brother Harry Baillieu MC, who was in the Royal artillery on the Western Front, about the win. In recognition of the victory, he sought permission from his senior officer to fire off several rounds as a gun salute - permission was granted as long as it was in the general direction of German lines.
An unofficial second crew race was conducted on the Yarra. Eric Carroll, stroke of the Xavier College second crew, challenged three other metropolitan second crews to a half mile race. Scotch and Wesley responded and Wesley won the race.
---
Officials
Starter and Umpire: Henry Young
Judge: H J H Storrer
Timekeeper: W Wright
Clerk of Scales: A Colenso
---
Head of the River
Time: 5:33.8
Margin: 1/2 length
1st Melbourne Grammar - Bow: Lionel F Armstrong, 2: C H Zichy-Woinarski, 3: J A Campbell, 4: Jim Latham Baillieu, 5: Lambert (Pozzie) Latham, 6: Tom Latham Baillieu, 7: F R Gale, Str: H A White, Cox: Tom A Harris, Cch: Harry Ross-Soden
2nd Geelong Grammar - Bow: C L Nicholas, 2: I S Black, 3: H C Thomson, 4: C E G Beveridge, 5: C S W Cooke, 6: N F Armitage, 7: J L Jardine, Str: J L Webster, Cox: R H H Perry, Cch: E J Curnow
Disqualified - Wesley College - Bow: J F Williams, 2: L J Daly, 3: L R Cole, 4: J H Lockwood, 5: W E Maddocks, 6: E D Barden, 7: C M Bowring, Str: G T Gemmell, Cox: G A Cook, Cch: Charles Donald
The Geelong Advertiser provided a detailed commentary on the race.
Nobody could name a fault in the conditions for the Head of the River eights on the Barwon this year.
All three got away well, the flankers a little more lively than the Light Blues
in the centre: and in a dozen strokes Melbourne Grammar had a canvas, and Wesley and Geelong were see-sawing at each catch. Passing the Austral, Wesley showed two feet in front of Geelong and the dark blues on the north side were drawing away with their short lively stroke till they were a third of a length clear. As the crews lengthened out, the Melburnians continued to move away and held half a length, advantage at Pakington-street, where Geelong appeared to have just squeezed in front of Wesley.
Fifty yards further, Wesley's stroke-side oars were clattering against bow side's of the Geelong boat, and the firing of the umpire's gun signalled a hopeless foul. Wesley, who should have held South station, were, obviously at fault, almost in centre position. Though the rear crews and the train of vehicles mopped.
(Wesley were disqualified and a second race was rowed at 4.30pm)
When the two Grammars ranged up for the second row, Geelong had south station and Melbourne in the centre. The wind had moved more to the quarter but the river was scarcely ruffled. Both crews got away cleanly, and Geelong were smarter than at first try. The dark blues rowed the shorter stroke, and quickly had the nose of their boat in front. At the Austral they showed out by three feet; half-way to Pakington-Street they had a bare canvas. They were rowing a longer stroke than before with good body ork, and Geelong, too, had a nice, swing, but scarcely the same lift. They livened up past Pakington-street, and amid immense cheers and encouragement steadily bridged, the gap. At the Albion, in response to a whistle signal, the light blues put in a quick half dozen, and drew almost on level terms; and it was this manoeuvre, in the opinion of old river exports, that beat them. A few lengths further on, at the bend to the bridge, is the spot for south bank crews to make their effort, but at this point Geelong began to fall away, and Melburnians, sitting their beat admirably, drew out again. Geelong rallied, but smoother form took their opponents away inch by inch and they won, according to the judge, Mr. H. J. H. Storrer, by barely half a length.
Time: 5 mins 33 4-5th secs.

Other crews competing were:
Xavier College - Bow: M Gorman, 2: O Conroy, 3: E Carroll, 4: T King, 5: A Gorman, 6: J San Miguel, 7: J Kennedy, Str: J Noonan, Cox: G Poole, Cch: David Ross
Scotch College - Bow: James E Shilliday, 2: James R Shaw, 3: Norman L Edwards, 4: Arthur W H Booth, 5: Aitchison Grieve, 6: William B Shaw, 7: Leslie F Edmunds, Str: John G Morrison, Cox: Keith Bailhache, Cch: Clive H Disher
Geelong College - Bow: W R MacPherson, 2: J H Waugh, 3: R N Campbell, 4: L E Reid, 5: C G Carr, 6: W E Macmillan, 7: T B Hawkes, Str: I A Campbell, Cox: C C Bell, Cch: William H Pincott
Heats:
E1: 1st GGS, 2nd XC, Time: 5:30.0, Margin: 3 lengths
E2: 1st WC, 2nd GC, Time: 5:19.4, Margin: 2 lengths
E3: 1st MGS, 2nd SC, Time: 5:17.2, Margin: 3/4 length
The Geelong Advertiser provided good commentary on the heats.
First heat
Geelong Grammar (centre station) v Xavier College (south station)
As anticipated this heat was a foregone conclusion for the Geelong Grammar School. There was no snap in the Xaviers' work, and they were in the rear throughout. Putting vigor into their strokes at the start, the Grammarians quickly established a lead, and there was daylight between the boats in the first few hundred yards. There was no need for the light Blues to exert themselves at any stage, but their general work elicited favorable comments. Rowing well within themselves they won without the slightest effort by four lengths. The time was no criterion, as the Grammarians were never at their top after getting the early lead. Time: 5 mins 30 secs.
Second Heat
Wesley College (centre station) v Geelong College (south station)
This heat was capitally contested, especially in the first half of the race. Both crews got away together, and made a determined bid for the lead, Wesley were the first to show in front, But the Geelong Collegians stuck to them, and there was scarcely half a length between the boats approaching Pakington-street. Driving their boat along well, Wesley continued to draw away and led by a length at the mills. In the stretch to the bridge they gained a further advantage, and holding their opponents in the final run won by two lengths. Geelong College made a plucky showing, but the pace beat them in the latter stages. Wesley, who were coached by one of Victoria's most successful oarsman, put plenty of power into their strokes, and pleased their many admirers by their fine performance.
Time: 5 mins 19 2-5th secs.
Third Heat
Melbourne Grammar (south station) v Scotch College (centre station)
It was known that the Melbourne Grammar School crew were capable of smart sprint work, but those who had seen the eights at work expected the Scotch College to last better than their opponents, and to win in the final stages. Melbourne Grammar School, however, won on their merits, and their victory was very popular. The Grammarians, with short snappy strokes, secured the lead at the start, but Scotch plugged along with grim determination. Both crews were doing good work, and the supporters of the two schools frantically cheered them. Melbourne led by three-quarters of a length at the mills and a length at the bridge, and they were bending to their oars well. Scotch made a fine effort in the final stretch, and got to within three-quarters of a length of their opponents when the line was crossed. Both crews rowed an excellent race, and Melbourne's well sustained effort gained for them deserved applause. They showed pace and stamina., and finished very spiritedly.
Time: 5 mins 17 1-5th secs
---
Sources
The Pincott Club Handbook 2006
The Victorian Oarsman by John Lang 1919 - A H Massina & Company
Lift her home to victory, lads! A centenary history of Xavier College 1906-2006 by Michael Lefebvre
Appendix to A Deepening Roar Scotch College 1851-2001 by James Mitchell, Allen & Unwin 2001
HEAD OF THE RIVER RACE. (1916, May 6). Geelong Advertiser (Vic. : 1859 - 1929), p. 4. Retrieved March 11, 2017, from http://nla.gov.au/nla.news-article132733912
MELBOURNE G.E.G.S. WIN. (1916, May 8). Geelong Advertiser (Vic. : 1859 - 1929), p. 4. Retrieved March 11, 2017, from http://nla.gov.au/nla.news-article132734077

Photo of the finish is courtesy of the Cordner Family

1916 APS Head of the River program - MCC archives