1948 Head of the River
The move to the Barwon was made to overcome the crowd control issues of past years. The crowd was reduced to only 15,000 people and well behaved. The heats for the eighty-first Head of the River were conducted on Friday 16th May and the finals were conducted on the next day.
The Fairbairn Cup was again presented on the day to the winning stroke, Brian Doyle of the Xavier crew. The race was a worthy contest with Melbourne Grammar starting the best. Xavier fought back to level by the half mile. However the Xavierians suffered a shipwreck and allowed the Melbourne crew to get a 1/2 length advantage. After the crew settled, Doyle decided that it was now or never and called for a push. This worked well and they moved back to level. The effort was beautiful and allowed Xavier to then push away to win by 3/4 length. Geelong College were a further 1/2 length back.
Sadly, this was to be the last Xavier victory until 1999.
Two members of the 1956 bronze medal winning Australian Olympic eight raced this year. Brian Doyle from the winning crew and Garth Manton from the last placed Geelong Grammar crew. Manton's crew mate Brian Dawe was reserve for this crew.
---
Officials
APS Committee: Walter N Ricketts (MGS - Chairman), J H Campbell (GC), A Marshall (GGS), A W L Mitchell (SC), Alan W Mitchell (WC), Rev E W Morris (XC), E M Davidson (Hon Secretary)
Starters: H J Green and J L Mounsey
Umpires and Timekeepers: Edward Kenny and L Storrer
Judges: Lewis Hirst and T S Barnfather
Despatch Steward: J P Rorke
Clerk of Course: N E Purnell
Distance: 1 mile and 66 yards
Time: 5:06.0
Margins: 3/4 length & 1/2 length
Losers final:
Time: 5:04.0
Margin: 1/2 length
1st Xavier College - Bow: John D Booth, 2: Ian S Rainford, 3: James A Gobbo, 4: Norman M O'Bryan, 5: Lee J Crameri, 6: Gerard A Santospirito, 7: Gerard J O'Keeffe, Str: Brian J Doyle, Cox: Phillip R Plunckett, Cch: Jack Mulcahy
2nd Mebourne Grammar - Bow: J T C Hewison, 2: Roger D Day, 3: R B Lulofs, 4: Anthony J Smith, 5: D C Debenham, 6: E A D Jowlett, 7: J M Withers, Str: H D F Ward, Cox: B A Morgan, Cch: Walter N Ricketts
3rd Geelong College - Bow: I D Ramsay, 2: J B Burgess, 3: D J Morris, 4: J E Varley, 5: R W Purnell, 6: D B Lawler, 7: S W G Johnson, Str: R J Jeffreys, Cox; H M Lilburne, Cch: Albert B Bell
The Argus reported on the final as follows:
In splendid conditions, with a light southerly just rippling the water, the three crews – MGS (north bank), Geelong College (centre), and Xavier (south) – dashed away to a perfectly even start and raced for the first 200 yards with bows level.
Then MGS, rowing with fine length and great vigor, forged ahead slightly, with Xavier and Geelong College still together. As they neared the half-mile MGS still had about a ¼ length advantage over Xavier, and Geelong College had dropped back slightly.
As they passed the half-mile the Xavier boat suddenly rolled to bow side, three of the blades on stroke side all but missed the water, and for two or three strokes the crew floundered.
It was a fatal situation that could have been fatal to Xavier's chances, for MGS quickened and puled out to a lead of one-third of a length. Then Brian Doyle, Xavier stroke, with the coolness of a veteran, rallied his crew, and gave them a chance to settle down, then called for a dozen. The response was wonderful.
To the ¾ mile it was a stern chase after MGS. Geelong College was beaten off. Little by little Xavier crept up until with only 100 yards the boats were level. MGS sprinted, and Xavier responded by raising its striking rate, and hit the front. Another desperate challenge by MGS – its last – was fought off, and amid the roar of 15,000 spectators, Xavier went on to win by ¾ of a length from MGS, with Geelong College half a length farther back. Time was 5min 6sec.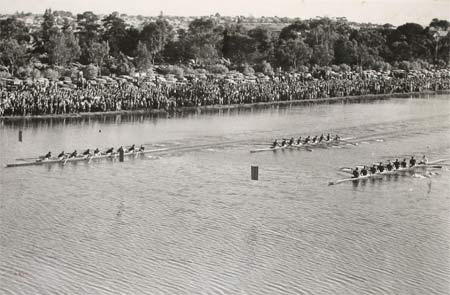 Photo XC boatshed
Photo XC boatshed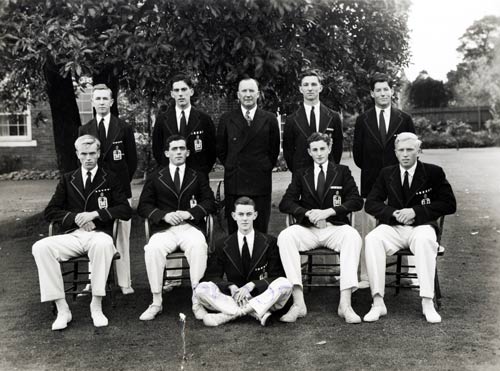 Photo courtesy of Melbourne Grammar Archives
Losers Final
1st Scotch College - Bow: George A Freeman, 2: James F Kent, 3: James H Ramsay, 4: Ian H Munro, 5: John T De Ravin, 6: Peter L Barrett, 7: Graeme R McLeish, Str: John S Edwards, Cox: William M Bailey, Cchs: Charles G Saleh and James M Ferguson
2nd Wesley College - Bow: C J Hunt, 2: A R Bartram, 3: B C Jones, 4: B Tutton, 5: A J Thompson, 6: M F A Robertson, 7: J C Mcglashan, Str: S F Muir-Smith, Cox: J H Fielden, Cch: Alan W Mitchell
3rd Geelong Grammar - Bow: D A Morwood, 2: D S Thewlis, 3: John S Rowe, 4: J S Jose, 5: G R Reeves, 6: Garth O V Manton, 7: G Brian Dawes, Str: G E Carroll, Cox: P B Wright, Cch: John E L Barber
Heat results:
E1: 1st XC, 2nd WC, Margin: 1/4 length, Time: 5:01.2
E2: 1st MGS, 2nd GGS, Margin: 1/2 length, Time: 5:02.2
The two heaviest crews – Melbourne Grammar and Geelong Grammar – met in a thrilling second heat. The Dark Blues established an early lead, and rowed with telling smoothness and power. They were never head, and although repeatedly challenged by Geelong Grammar, unleashed a typical "Ricketts" sprint over the last 200 yards, and won by a third of a length.
E3: 1st GC, 2nd SC - SC withdrew during the race after equipment failure.
Racing with plenty of dash and holding a slight lead 25 seconds after the start of the third heat of the Head of the River contest on the Barwon yesterday, Scotch College, the favorites, ceased rowing when No. 4 lost his seat. Geelong College had no opposition, and paddled home for a solo victory.


Back row: D A Morwood, J S Jose, G R Reeve, John S Rowe, D S Thewlis
Front row: C Brian Dawes, G E Carroll, Garth O V Manton
In front: P B Wright
Photo GGS boatshed
Time: Not known
Margin: 3 feet
Losers final:
Time: 2:30.5
Margin: 1/2 length
1st Scotch College - Bow: M D G Murray, 2: J B Hodges, 3: D W Hobbs, 4: Warwick O Granowski, 5: M B Menelaus, 6: F W Shepherd, 7: G H Fewster, Str: A J Mitchell, Cox: R C Stuart, Cch: J M Ferguson
2nd Melbourne Grammar - Bow: F A Billson, 2: A T Rose, 3: D Weir, 4: J D Scales, 5: F H Osborn, 6: B S Dyson, 7: R A Grieve, Str: K C Griffith, Cox: D N Sargood, Cch: W McKean
3rd Geelong Grammar - Bow: D W Smith, 2: P C Phillips, 3: D J Wordsworth, 4: A J Brown, 5: R A Walker, 6: J A D Piper, 7: A A Blythe, Str: R J Stalker, Cox: C L Carr, Cch: A S Marshall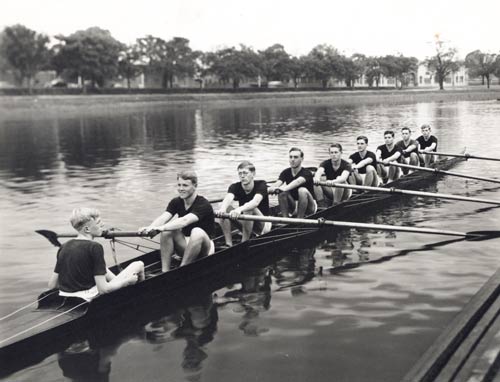 Photo courtesy of Melbourne Grammar Archives
Losers final:
1st Wesley College - Bow: J L Blyth, 2: J R M Bottomer, 3: I R W Johnston, 4: W R Fox, 5: J D Bailey, 6: G Heath, 7: T L Read, Str: D W Woodford, cox: R Beaconsfield, Cch: R Boynton
2nd Geelong College - Bow: W J Waugh, 2: W G Mackay, 3: K F Bell, 4: I R Mackay, 5: A F McIlwain, 6: J R Sweetnam, 7: J M Neale, Str: N L Sykes, Cox: G D Best, Cch: B Kelly
3rd Xavier College - Bow: P D Banfield, 2: J F McCooey, 3: G R Chapman, 4: G L Rush, 5: P F Moloughney, 6: E J Darcy, 7: F X Murphy, Str: R M Williams, Cox: P J Gleeson, cch: Jack J Coghlan
Heats:
E1: 1st SC, 2nd WC, Margin: 1/2 length, Time: 2:42.0
E2: 1st MGS, 2nd GC, Margin 3 feet, Time: 2: 43.0
E3: 1st GGS, 2nd XC, Margin: 2 lengths, Time: 2:42.0
Time: Not known
Margin: 3 lengths
Losers final
Margin: 1/2 length
1st Melbourne Grammar - Bow: G W Rothwell, 2: R S Johnson, 3: J S B Langdon, 4: D Olliff, 5: W J Craig, 6: B C Z Woinarski, 7: R B D Rigg, Str: D Wallace-Mitchell, Cox: G J McIntosh, Cch: A F Hargrave
2nd Wesley College - Bow: B K Wilson, 2: W H Williamson, 3: J C Spencer, 4: P F DeHais, 5: G T Castle, 6: I F H Ross, 7: J I Fielding, Str: R H Bitcon, Cox: C G Durrell, Cch: I S Parkin
3rd Geelong Grammar - Bow: P J McConaghy, 2: R Y Gardiner, 3: P H D Sleigh, 4: C H Mylius, 5: A S N Ashkanasy, 6: N A Beischer, 7: F D S Gilder, Str: G N Kennison, Cox: H Elford, Cch: Rev S E Jones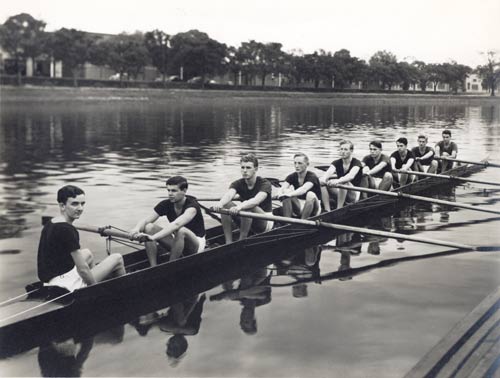 Photo courtesy of Melbourne Grammar Archives
Losers final
1st Geelong College - Bow: E C Baird, 2: W A Shaw, 3: J W John, 4: R H Cheetham, 5: I R D Campbell, 6: D L Karmouche, 7: D M New, Str: T G Lawler, cox: J N Button, Cch: P Neil Everist
2nd Scotch College - Bow: Bow: I M Ogilvy, 2: R J D Oliver, 3: I H Cochrane, 4: R Carr, 5: G T Dunwoody, 6: P N Welch, 7: David B Bills, Str: J R Mitchell, Cox: G R Penington, Cch: R I Gillies
3rd Xavier College - Bow: Hubert R Frederico, 2: J P Lachal, 3: J D Chisholm, 4: R M Joshua, 5: G J Troup, 6: M L Niall, 7: A K Joyce, Str: C K Rabl, Cox: B J Lynch, Cch: G Elias
Heats:
E1: 1st GGS, 2nd SC, Margin: 1/2 length
E2: 1st MGS, 2nd XC, Margin: 1 3/4 length
E3: 1st WC, 2nd GC, Margin 1/3 length
---
Sources
1948 Regatta program
The Pincott Club Handbook 2006
Lift her home to victory, lads! A centenary history of Xavier College 1906-2006 by Michael Lefebvre
Appendix to A Deepening Roar Scotch College 1851-2001 by James Mitchell, Allen & Unwin 2001
Mishap Deprives Scotch of Chance for Honor (1948, April 17). The Age (Melbourne, Vic. : 1854 - 1954), p. 16. Retrieved April 23, 2017, from http://nla.gov.au/nla.news-article206875031
Stroke's Generalship Saved Xavier From Defeat On Barwon (1948, April 19). The Argus (Melbourne, Vic. : 1848 - 1957), p. 5. Retrieved April 23, 2017, from http://nla.gov.au/nla.news-article22550119
Head of River By Even Time (1948, April 19). The Age (Melbourne, Vic. : 1854 - 1954), p. 8. Retrieved April 23, 2017, from http://nla.gov.au/nla.news-article206883397