1954 Head of the River
Geelong Grammar continues their good fortune with a sound win over Melbourne Grammar. The weather for the eighty-seventh Head of the River was good with warm sunshine and a 30,000 crowd.
There were a number of issues for the big race. Firstly, Xavier's rudder was damaged upon launching and required replacement. Xavier were then blown against the bank in the strong southerly and had to be moved into position by officials.
Melbourne got the best of the start but Geelong and Xavier soon passed Melbourne and the race was to settled between these two crews. The middle part of the race was even between these two crews. But from the mill, Geelong drew away.
Time: 5:02.0
Margins: 1 length and 3/4 length
Loser final:
Time: 4:55.0
Margins: 1 1/2 length and 1 length
1st Geelong Grammar - Bow: Ian C Kininmonth, 2: Andrew F Chirnside, 3: David R Clutter, 4: John B Sutherland, 5: Peter W Coy, 6: G F Collison, 7: Robin B Ritchie, Str: Ian G Urquhart, Cox: John F Mann, Cch: Roger M Blomfield
2nd Melbourne Grammar - Bow: C W Grant, 2: B S Paul, 3: W R Riche, 4: H Wallace-Mitchell, 5: J B Ward, 6: J N Bryson, 7: J W Michie, Str: J C Grimwade, Cox: G E Hazard, Cch: Roger G Day
3rd Xavier College - Bow: M J Eather, 2: J A Feely, 3: D B Jones, 4: P J Sullivan, 5: H D Curnow, 6: H W Clark, 7: P R Dowling, Str: Leo R Hart, Cox: G D Reilly, Cchs: Jack J Mulcahy & Fr M J O'Mahony SJ
The Age report on the final follows.
"20,000 people watch finish"
Geelong Grammar, the heaviest crew in the race, rowed with great power for a schoolboy eight, and showed more strength than its opponents over the closing stages.
Xavier left its shed for the start late because of a fault in the rudder, but the race was started almost on time.
Xavier was quickest to settle down and stroking cleanly, led slightly from Geelong Grammar, with MGS close at hand.
After 200 yards, Xavier and Geelong were on level terms. Xavier, driving hard, again went to the front with a ¼ of the course covered, but only a few feet separated the three crews.
Geelong Grammar was half a canvas ahead of Xavier after the first half mile, which was rowed in 2min 20sec. With a third of a mile to go, MGS, which had challenged the other two crews all the way, dropped back a little and it was obvious that the Light Blues and Xavier would fight out the finish.
Geelong Grammar increased its lead with hard driving and a slightly faster rating, but Xavier fought back strongly. Xavier's crew fought vigorously over the closing stages but could not make any impression on the more powerful Geelong eight.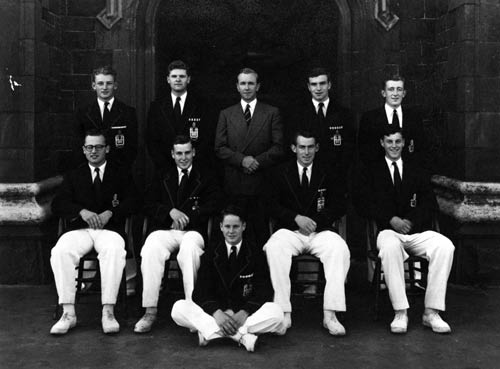 Standing: B.S. Paul (2), H. Wallace-Mitchell (4), R.G. Day, Esq. (Coach), W.R. Riches (3), C.W. Grant (Bow). Seated: J.N.B. Bryson (6), J.C. Grimwade (Stroke), G.E. Hazard (Cox), J.W. Michie (7), J.B. Ward (5)
Photo courtesy of Melbourne Grammar Archives
Losers Final
1st Geelong College - Bow: G G Wills, 2: W W Lawler, 3: J O Saxton, 4: W A W Wood, 5: G J Davidson, 6: I W Macmillan, 7:B S Kinder, Str: A W McDonald, Cox: Roger L Moore, Cch: Albert B Bell
2nd Wesley College - Bow: M J Lee, 2: B R G McKeown, 3: I P Rockman, 4: D Ian Allen, 5: T H Jackett, 6: Peter J Guest, 7: M H J Higgs, Str: J W Frederick, Cox: L Castles, Cch: Alan W Mitchell
3rd Scotch College - Bow: David M Bruce, 2: Nigel E C Cooper, 3: Robert J O'Neill, 4: Alfred J McKelvie, 5: Michael J Edgar, 6: David H Munro, 7: Alasdair M W Courtney, Str: James D Moran, Cox: Graeme D Lawrence, Cch: Laurence H Christie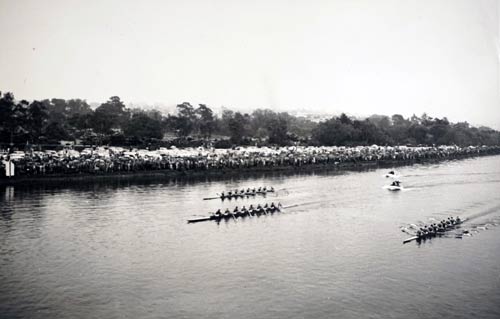 Photo courtesy of Ian Allen
Photo: Ian Allen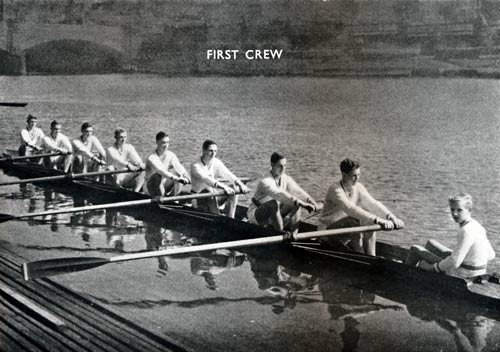 Photo: The Scotch Collegian June 1954
Heat results:
1st XC, 2nd GC, Time: 4:48.0, Margin: 1 length
1st MGS, 2nd SC, Time: 4:53.0, Margin: 1/2 length
1st GGS, 2nd WC, Time: 4:44.5, Margin: 1/2 length
The Argus reported as follows on the heats.
First Heat - Xavier v Geelong College
The only surprise [of the day] was Xavier's one-length, all-the-way, lead from the quarter mile to win over Geelong College in 4min 48sec.
Second Heat - MGS v Scotch
MGS was hard pressed to win by half a length from Scotch which also raced above its training form and finished only half a length behind the Dark Blues. Time for this heat was 4min 53sec.
Third Heat - Geelong Grammar v Wesley
It was anticipated that the meeting of Geelong Grammar and Wesley would provide the "heat of the day", and so it proved. Though Geelong Grammar had a stern chase from the start to within 300 yards of the finish, its splendidly powerful rowing in an exceptionally long sprint cut down Wesley's lead at every stroke.
As the two boats neared the line, Geelong Grammar was travelling two yards to every one by Wesley.
Geelong Grammar's time, 4min 44.5sec, was 7.5sec slower than the course record, made by this school's crew when it defeated MGS last year. Grammar won by ½ a length.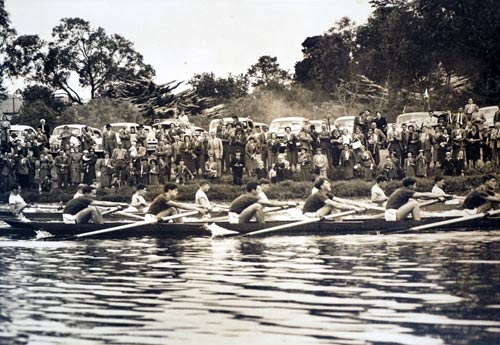 Photo: Ian Allen
Time: 2:27
Margins: 3/4 length and 1 length
Losers final
Time: 2:33Margins: 1/2 length and 1/2 length
1st Geelong College
2nd Geelong Grammar
3rd Xavier College - Bow: R Flynn, 2: M McEniry, 3: N Regan, 4: P Darling, 5: W Greville, 6: B Mahoney, 7: W Galbraith, Str: M Henderson, Cox: J Andre, Cch: G Elias
Losers final:
1st Melbourne Grammar
2nd Scotch College - Bow: A Kirsner, 2: A R Fraser, 3: D J MacDonald, 4: D L Bardas, 5: D K Sennitt, 6: Graeme A McCall, 7: W D Leslie, Str: G T Tilley, Cox: K S Kasper, Cch: M R Wood
3rd Wesley College

Heats
E1: 1st XC, 2nd WC, Time: 2:30, Margin: a canvas
E2: 1st GGS, 2nd MGS, Time: 2:27.6, Margin: 3/4 length
E3: 1st GC, 2nd SC, Time: 2:27, Margin: 1/2 length
Time: 2:33,2
Margins: 1 length and a canvas
Losers final:
Time: 2:33.5
Margins: dead heat and 1/3 length
1st Melbourne Grammar - Bow: B Vance, 2: C Hunt, 3: T J Parker, 4: H Henderson, 5: G Johnson, 6: A Johnson, 7: D B Brown, Str: R Laycock ; Seated: Cox: P Manger, Cch Anthony J Smith
2nd Geelong Grammar
3rd Wesley College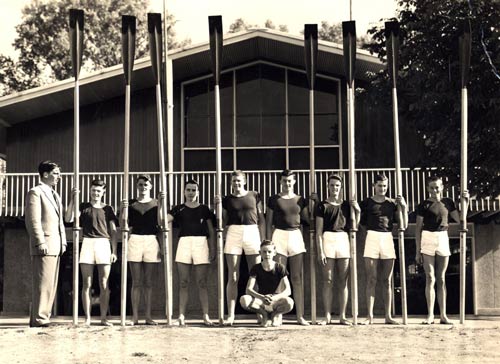 L to R: Coach Anthony J Smith, Bow: B Vance, 2: C Hunt, 3: T J Parker, 4: H Henderson, 5: G Johnson, 6: A Johnson, 7: D B Brown, Str: R Laycock, Seated: Cox: P Manger
Photo courtesy of Melbourne Grammar Archives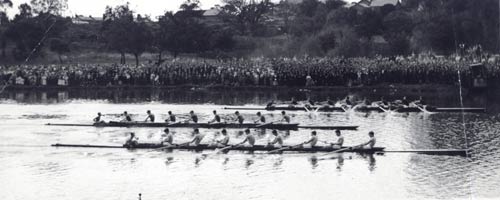 Photo courtesy of Melbourne Grammar Archives
Losers final
= 1st Xavier College
= 1st Geelong College
3rd Scotch College - Bow: Robert E Lee, 2: G A Hall, 3: W S Tingate, 4: M H Munro, 5: J G P Ham, 6: Ian R A Law, 7: W V Waddell, Str: P G Russell, Cox: R B Beveridge, Cch: D F McLeish
Heats:
E1: 1st MGS, 2nd GC, Time: 2:30, Margin a canvas
E2: 1st WC, 2nd SC, Time: 2:33.5, Margin: a canvas
E3: 1st GGS, 2nd SC, Time: 2:31.r, Margin: 1/2 length
---
Sources
The Pincott Club Handbook 2006
Lift her home to victory, lads! A centenary history of Xavier College 1906-2006 by Michael Lefebvre
Appendix to A Deepening Roar Scotch College 1851-2001 by James Mitchell, Allen & Unwin 2001
Geelong Grammar best prospect for final (1954, April 10). The Argus (Melbourne, Vic. : 1848 - 1957), p. 42. Retrieved April 24, 2017, from http://nla.gov.au/nla.news-article26602294
GEELONG GRAMMAR WINS RIVER TITLE (1954, April 12). The Age (Melbourne, Vic. : 1854 - 1954), p. 16. Retrieved April 24, 2017, from http://nla.gov.au/nla.news-article205705309