1909 Head of the River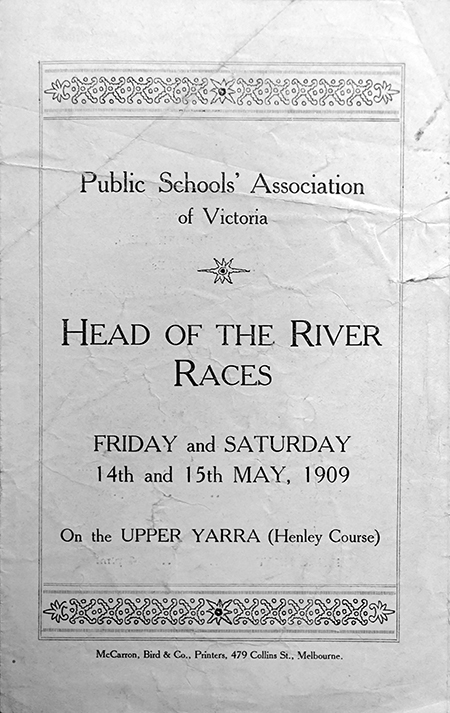 1909 regatta program cover
The forty-second Head of the River race was moved to May from the October date. This was a swap with athletics which now moved to the October date.
The Upper Yarra course was again used with the three crew final now established.
The race was won well by Wesley from Geelong Grammar and Melbourne Grammar. This was a complete turn around from the results of the previous year. Geelong Grammar accounted for Xavier in the heat. Prior to the race, the Scotch crew was highly regarded, but they could not row sufficiently well together.
---
Officials
Starter: T Davies
Umpire: A J Shepherd
Judge: C McDonell
Clerk of Scales: P C Dowling
---
Head of the River
Time: 5:12.0
Margins: 1 length and 1/2 length
1st Wesley College - Bow: H S Dickenson, 2: N Surgeon, 3: H A Fleming, 4: W L Armstrong, 5: L A Pattinson, 6: H L Rintel, 7: J L Doubleday, Str: J A Prout, Cox: S M Lewis, Cch: Charles Donald
2nd Geelong Grammar - Bow: F Austin, 2: F H Lascelles, 3: P W Dobson, 4: J Simson, 5: B W Briggs, 6: C N Armytage, 7: E L Smith, Str: G A Ritchie, Cox: R Chomley, Cch: A F Garrard
3rd Melbourne Grammar - Bow: H V Adams, 2: C G Moule, 3: H Gellion, 4: H F Maudsley, 5: E S Anderson, 6: L R Marks, 7: Harry Latham Baillieu, Str: C M Williams, Cox: I C Watt, Cch: W E P Austin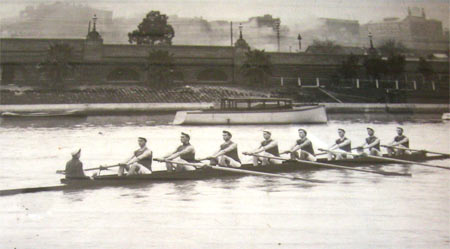 Photo reproduced with permission from MGS archives
The Age reported on the final in the following terms:
The north and south side crews moved smartly from the start, but Wesley, not having their boat straight and rowing very dirty, just escaped touching the Melbourne Grammar. At the bridge the latter led by two feet, the others being level. From here the Wesley gave a fine exhibition of unflurried rowing, and passed the corner half a length ahead of Geelong, who led Melbourne by a few feet. In the straight the leaders, with a good length stroke, well held to the finish, kept their position The Geelong and Melbourne crews, however, rowed a close race, with the latter at Brander's Ferry in second place. The order was unchanged to near the finish, where Wesley were a length ahead of Geelong, who by a fine effort had got in front of Melbourne. The winning post was passed by Wesley three-quarters of a length ahead. Geelong being a third of a length from Melbourne Grammar.
Other crews:
Xavier College - Bow: B Sheppard, 2: J Hopkins, 3: Edgar W Burne, 4: T J O'Brien, 5: E X Ryan, 6: P J Morrissey, 7: R P MacGillicuddy, Str: Gordon T Kirby, Cox: G A Cusson, Cch: Jack Fogarty
Geelong College - Bow: W B Pearce, 2: W A S Dunlop, 3: G C D Reid, 4: J C Kininmonth, 5: P G Pullar, 6: J D Blair, 7: J D Hearne, Str: J B Gibson, Cox: J M Broughton, Cch: William H Pincott
Scotch College - Bow: Frank W Fay, 2: Clyde A C Thompson, 3: Clive S Steele, 4: Graeme Stobie, 5: Albert E V Hartkopf, 6: Olaf F de Lacy, 7: Ashley R Grist, Str: Athol H J Harding, Cox: Leonard T Mullett, Cch: Alexander B Sloan
Heat results:
E1: 1st MGS, 2nd GC, Time: 5:10.6, Margin: 1 1/4 lengths
E2: 1st WC, 2nd SC,Time: 5:10.0, Margin: 1 length
E3: 1st GGS, 2nd XC, Time: 5:21.4, Margin: 1 1/2 lengths
The Age reported on the heats as follows:
First heat
On moving away from the start boats, Geelong were quicker in reaching top, and led through botanical bridge by four feet. Melbourne however, were rowing strongly, and at the corner had gained a lead of half a length, which increased rounding the point to three quarters. Both crews were going well. The leaders by their fine length and even rowing must have surpassed any practice work; while the Geelong, excepting a light finish, were keeping good form. Brander's was passed by Melbourne a length ahead, and eventually they won by a length and a quarter.
Second heat
As expected, this heat proved a great race. Wesley got going very quickly, and were within a foot of Scotch at the Bridge. In the row to the corner Wesley gained a few feet, which they increased to half a length in the turn. The strong leg drive and even rowing gained a few more feet for the north side crew. Scotch, approaching Brander's, put in effective work and reduced the lead to half a length. From this out they made further gain, eventually passing the post a length to the bad.
Third heat
Both crews got away well. Geelong leading by half a length to the bridge. Xavier made up slightly at the corner and held their opponents for about half a mile, when the greater power of Geelong began to tell and enabled them to win by two lengths.

---
Sources
The Victorian Oarsman by John Lang 1919 - A H Massina & Company
Lift her home to victory, lads! A centenary history of Xavier College 1906-2006 by Michael Lefebvre
The Pincott Club Handbook 2006
MGS first crew names from MGS boatshed
Wesley crew picture sourced from the Wesley boatshed
Appendix to A Deepening Roar Scotch College 1851-2001 by James Mitchell, Allen & Unwin 2001
THE PUBLIC SCHOOL BOAT RACE. (1909, May 15). The Age (Melbourne, Vic. : 1854 - 1954), p. 15. Retrieved February 20, 2017, from http://nla.gov.au/nla.news-article196129379
PUBLIC SCHOOLS BOAT RACE. (1909, May 17). The Age (Melbourne, Vic. : 1854 - 1954), p. 6. Retrieved February 20, 2017, from http://nla.gov.au/nla.news-article196116244