1946 Head of the River
The seventy-ninth Head of the River returned to the Upper Yarra with Scotch winning by a narrow margin from Geelong College.
Cahrlie Saleh from Geelong College fame coached the Scotch crew for the first time and the Xavier crew was stroked by Clive Bailey who was to coach the Xavierian crews in later years. Brian Doyle was bow in the Xavier crew as a 15 year old. Brian went onto stroke a winning Xavier crew in 1948, stroke an Australian eight to a bronze medal at the Olympic Games and also coach future Xavier crews.
Also coxing the Wesley second crew was Bob Duncan who went onto to be the starter the Head of the River from 1961 until his retirement in 2000.
The third crews joined the Head of the River regatta this year.
---
Officials
APS Committee: E M Davidson (Hon Secretary)
On the Yarra
Starter: H J Green
Umpires: Edward Kenny, J L Mounsey
Judge: H T James
Timekeeper (Junior races): J Blake
On the Barwon
Starter: H Markin
Umpire: L Storrer
Timekeeper: H Stott
Despatch Steward: P Coleman
Judges: Lewis Hirst, T S Barnfather
Distance: 1 mile less 66 yards
Time: 4:47.4
Margins: 3 feet and 1 1/2 lengths
Losers final
Time: 4:44.4
Margins: 1/2 length and then a dead heat for 2nd and 3rd
1st Scotch College - Bow: Neil F Daniel, 2: Barrie White, 3: John D Moir, 4: A Don Jackson, 5: Othesia Xeros, 6: John S Galbraith, 7: C Peter Roberts, Str: William G Phillip Cox: Malcolm D G Murray, Cch: Charles G Saleh
2nd Geelong College - Bow: J A Hooper, 2: T R Sutterby, 3: R C Morris, 4: Donald R T Macmillan, 5: H J Spalding, 6: K J Morton, 7: R M Wagstaff, Str: N L Barrett, Cox: D R Salmon, Cch: Albert B Bell
3rd Melbourne Grammar - Bow: K R Lowenstern, 2: C R Machin, 3: W Q C Cain, 4: D O Bowden, 5: M A Watt, 6: R B Gutteridge, 7: H I Prince, Str: P M Johansen, Cox: Gordon Sargood, Cch: Walter E "Wally" Ricketts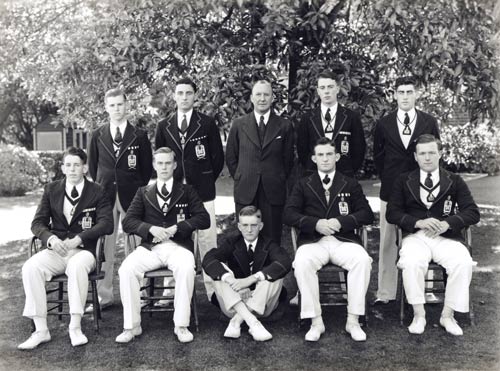 Back row (from left): C.R. Machin (2), D.O. Bowden (4), W.N. Ricketts Esq., W.Q.C. Cain (3) and K.R. Lowenstern (bow). Front row: R.B. Gutteridge (6), P.M. Johansen (stroke), G. Sargood (cox), H.I. Prince (7) and M.A. Watt (5)
Photo courtesy of Melbourne Grammar Archives
The Age reported on the final as follows:
When Mr. H. Green, the starter, sent the three chosen crews, Geelong Grammar (north station), Melbourne Grammar (centre), and Scotch College (south), the favourites, off to a good start, the wing and swift stream were in their favor. Scotch raced off with the style of veterans, at the high rate of 40, to immediately snatch a lead from MGS and Geelong College, which had been outgeneraled by the dashing Scotch eight, and were not as "lively" as usual.
Quickly into their length and stroked superbly by W. G. Phillip, Scotch boys led to the bridge by half a length from Grammar, with the Geelong a half length further back. The Scotch cox on the intriguing south side, steered to save his crew all the distance possible, and did a clever job.
At that stage the Geelong blade work was faulty, and later led to disaster. Gathering themselves together, the Geelong boys unwound a magnificent burst, Barrett quickened for a heartening response form his crew and it was wonderful to see the frail racing craft pass MGS and actually head Scotch just before approaching the big bend.
It was an amazing special sprint, but in that turn for the straight Geelong went a shade wide, and it was there that blade work was bad and an oarsman crabbed. Scotch then rowed on to a half-length lead, and appeared a certainty for the race, while racing well at a comfortable rate.
Suddenly it was seen that Geelong College had staged a marvelous comeback, and the lads in green challenged with grim determination as they swung together with a determined, powerful catch and leg drive.
Halfway up the Henley staging Scotch led only by a canvas, and the race provoked wild excitement. Geelong actually raised its rate of striking and was just about on level terms with Scotch, with MGS a length further back, when Scotch came again and landed the win, to tremendous cheering by three feet, with MGS 1 ½ lengths away in third. Time: 4 min 47.4 sec.

Losers final:
1st Wesley College - Bow: D R Kennedy, 2: W B Crothers, 3: H L Williams, 4: D O Oldfield, 5: E C Wood, 6: J D Kidd, 7: R P E Whiteside, Str: R B Selleck, Cox: J H Fielden, Cch: Alan W Mitchell
=2nd Geelong Grammar - Bow: P J Kennison, 2: J S Goodwin, 3: G T Kryger, 4: O McK Coltman, 5: P G F Henderson, 6: S M McNaughton, 7: F M Davison, Str: R S de Fegely, Cox: C V T Bowen, Cch: John E L Barber
=2nd Xavier College - Bow: Brian J Doyle, 2: B G Fitzpatrick, 3: P F Bladin, 4: M F Kirsch, 5: T J Bushell, 6: D H Richardson, 7: G T Awburn, Str: Clive F Bailey, Cox: J W Sexton, Cch: Albert Anderson

Heat results:
E1: 1st SC, 2nd XC, Time 4:41.8 (course record), Margin: 3 1/2 lengths
E2: 1st MGS, 2nd WC, Time: 5:02.0, Margin: 2 lengths
E3: 1st GC, 2nd GGS, Time: 4:55.6, Margin: 1 1/2 lengths

The Argus reported on the heats as follows:
First Heat - Scotch v Xavier
Scotch maintained a long steady stroke of not more than 36 to the minute right to the end of the race, and, rowing with precision, gave Xavier no chance to settle down. With only 100 yards covered, Scotch led by one-third of a length, and at the turn were two lengths clear.
A desperate effort by Xavier about 200 yards from the finish only shortened the stroke and encouraged splashing. Scotch went on to win by 3 and a half lengths in 4min 41.8 sec.
Second Heat - MGS v Wesley
In the second heat MGS and Wesley staged one of the most exciting races for years. Wesley raced into the straight a length and a half ahead of the Grammar boys, who, however, were unperturbed, and made no attempt to shorten their stroke. This was in marked contrast to teams in the junior eights
About 400 yards from home the two crews were racing neck and neck. Grammar, then Wesley drawing slightly to the lead. With a final effort, Grammar won on the last stroke by only 3ft. Time: 5 min 2 sec.
Third Heat - Geelong Grammar v Geelong College
Rowing easily at the finish, Geelong College defeated Geelong Grammar by 1 ½ lengths. The time of 4min 55.6 sec was the fastest recorded by College on the course. Geelong Grammar moved away to a cleaner start, striking at 40 and gaining a slight advantage over College. Then College, rowing with more vigor, assumed the lead, which was never lost.
At Pakington Street, College was 1 ¼ lengths clear and was lengthening the stroke. Grammar challenged strongly and reduced the lead, but it was a dying effort which failed to make any appreciable effect on College.

Diostance: 0.5 mile
Time: 2:19.8
Margins: 1/3 length and 1 1/4 length
Losers final:
Time: 2:17.4
Margins: 1/2 length and 1 length
1st Scotch College
2nd Geelong Grammar
3rd Melbourne Grammar - Bow: G B O'Byrne, 2: H D F Ward, 3: M Debenham, 4: K N Russell, 5: R B D Rigg, 6: R A S Riley, 7: D J P Langdon, Str: J P Strachan, Cox: D G Begg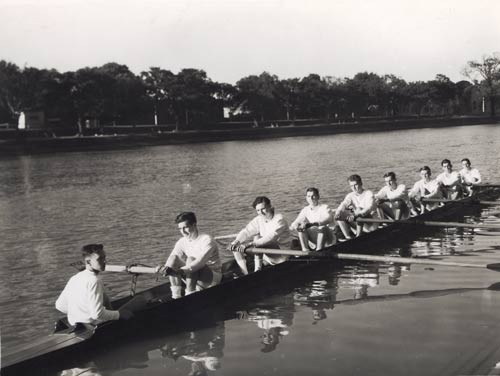 Photo courtesy of Melbourne Grammar Archives
Losers final
1st Wesley College - Bow: L W Knight, 2: R J Taylor, 3: J S Woodhouse, 4: S F Muir-Smith, 5: D C Macglashan, 6: E J Wagstaff, 7: K Govett, Str: G A Carbines, Cox: Robert B Duncan
2nd Geelong College
3rd Xavier College - Bow: J Booth, 2: A Horgan, 3: A Lewis, 4: P McNamara, 5: K Owen, 6: D Fogarty, 7: K Silk, Str: S Byrne, Cox: J McCooey, Cch: Jack Coghlan
Heats
E1: 1st SC, 2nd WC, Time: 2:18.4, Margins: 2 1/2 lengths
E2: 1st MGS, 2nd XC Time: 2:25.4, Margin: 1 length
E3: 1st GGS, 2nd GC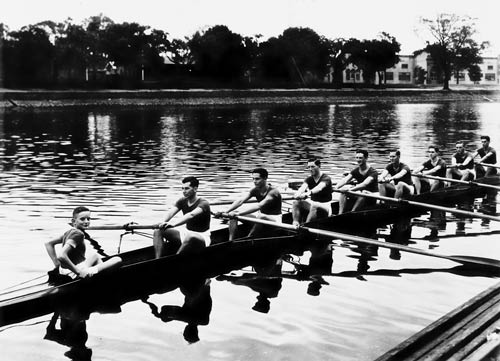 Photo courtesy of Bob Duncan
Distance: 700 yards
Time: 1:30.0
Margins: 3 feet and 3 feet
Losers final
Time: 1 min 42 secs
Margins: a canvas and 3 feet
1st Wesley College
2nd Scotch College
3rd Geelong Grammar
Losers final
1st Geelong College
2nd Melbourne Grammar - Bow: D R Anderson, 2: W H Tickner, 3: R G Day, 4: J S Monks, 5: P Kibby, 6: P F Kaye, 7: B P Selleck, Str: S B Bodinnar, Cox: H B Bold
3rd Xavier College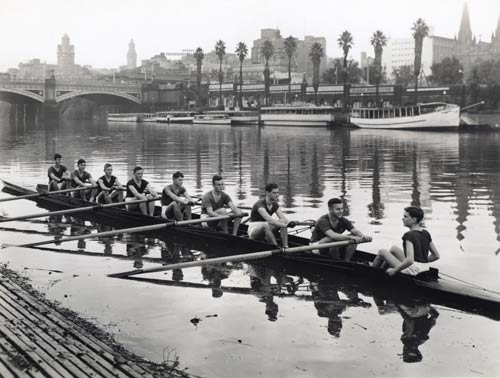 Photo courtesy of Melbourne Grammar Archives
Heats
E1: 1st GGS, 2nd GC
E2: 1st SC, 2nd MGS
E3: 1st WC, 2nd XC
---
Fourth Crews
(These races were conducted on the Barwon for the Geelong crews and on the Upper Yarra for the Melbourne crews. The Geelong and Melbourne crews did not race each other nor did they race on the finals day.)
Metropolitan
Distance 5-600 yards
Time: not known
Margins: not known
Barwon
Time: 2:03.8
Margin: not known
Melbourne Crews
1st Melbourne Grammar - Bow: F S Seward, 2: G L Hardy, 3: P L Thompson, 4: B D Crellin, 5: D C Debenham, 6: J B Stuckey, 7: D C Rollason, Str: B E Turner, Cox: B A Morgan
2nd Scotch College
3rd Xavier College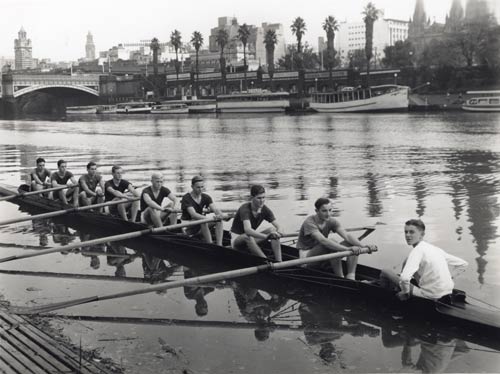 Photo courtesy of Melbourne Grammar Archives
Geelong crews
1st Geelong Grammar
2nd Geelong College
---
Fifth Crews
(This race was conducted amongst Melbourne crews only and raced on 10th April on the Upper Yarra.)
Distance: 0.25 mile
Time: not known
1st Scotch College
2nd Wesley College
3rd Melbourne Grammar - Bow: D Weir, 2: A Holloway, 3: D G B Bodycomb, 4: B D Crellin, 5: R J Holdaway, 6: J H Brett, 7: H W Bannister, Str: R Weir, Cox: D N Sargood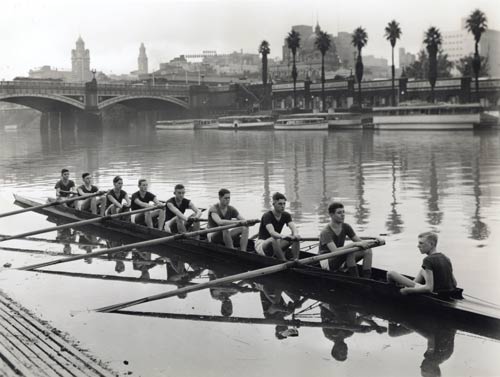 Photo courtesy of Melbourne Grammar Archives
---
Sources
1946 Regatta program
The Pincott Club Handbook 2006
Lift her home to victory, lads! A centenary history of Xavier College 1906-2006 by Michael Lefebvre
Appendix to A Deepening Roar Scotch College 1851-2001 by James Mitchell, Allen & Unwin 2001
SCOTCH CLIP 8 SECS OFF RECORD MGS AND GEELONG COLLEGE ALSO WIN (1946, April 11). The Argus (Melbourne, Vic. : 1848 - 1957), p. 18. Retrieved April 21, 2017, from http://nla.gov.au/nla.news-article22249354
HEAR OF RIVER (1946, April 15). The Age (Melbourne, Vic. : 1854 - 1954), p. 8. Retrieved April 23, 2017, from http://nla.gov.au/nla.news-article206099379