1949 Head of the River
The eighty-second Head of the River was now semi permanent on the Barwon and was conducted on 22nd and 23rd April.
It was argued that the construction of the Swan Street Bridge was the reason for the transfer, but all commentators believe the Headmasters wanted the change to the Barwon because of the misbehaviour of 1947.
Melbourne Grammar overcame the favourites Xavier College well from start to finish. Despite the result, Brian Doyle, the stroke of the Xavier crew and the four time first crew participant, regarded the 49 crew as the best schoolboy crew.
---
Officials
APS Committee: Walter N Ricketts (MGS - Chairman), J H Campbell (GC), A Marshall (GGS), A W L Mitchell (SC), Alan W Mitchell (WC), Rev E W Morris (XC), Ewan M Davidson (Hon Secretary)
Starters: J L Mounsey and H J Markin
Umpires and Timekeepers: Edward Kenny and L Storrer
Judges: Lewis Hirst. T S Barnfather and W H Pincott
Despatch Steward: J P Rorke
Clerk of Course: N E Purnell
Clerk of Scales: V Profitt
Time: 4:44.4
Margins: 3 lengths and one canvas
Losers final:
Time: 4:59.4
Margin: 1 1/4 lengths
1st Melbourne Grammar - Bow: Roger G Day, 2: M R Keeley, 3: F H Osborn, 4: David Olliff, 5: W J Craig, 6: Anthony J Smith, 7: J M Withers, Str: H D F Ward, Cox: J B Mitchell, Cch: Walter N Ricketts
2nd Xavier College - Bow: R M Williams, 2: W A Comerford, 3: R N Joshua, 4: M J Corridon, 5: P F Moloughney, 6: B A Borghesi, 7: Gerard J O'Keefe, Str: Brian J Doyle, Cox: B J Lynch, Cch: Jack Mulcahy
3rd Geelong Grammar - Bow: A A Blythe, 2: C H Mylius, 3: A S N Ashkanasy, 4: R Y Gardiner, 5: W J Cliff, 6: G M Tallis, 7: John S Rowe, Str: J S Jose, Cox: D K Sholl, Cch: John E L Barber
The crews were drawn with XC on the north, MGS centre and GGS on the south. XC got the best of the start but MGS soon settled and led the race. They were never troubled and the race for second place became more interesting. In the end XC just managed to pip GGS to finish second.
The Argus reported on te final as follows.
Crews in the Head of the River final on the Barwon on Saturday had no covered more than 100 yards after an even start before MGS's boat edged slightly to the front.
From that point MGS's superiority steadily asserted itself. The crew rowing very strongly, but was not being bustled.
At the ¼ mile MGS had a lead of three-quarters of a length, and at the half mile were a clear length. Then the MGS stroke called for a greater effort, and the crew went right away to win by 3 lengths.
Xavier and Geelong Grammar fought each other over the whole of the course. There was never more than a third of a length between them, and the lead see-sawed. Xavier's splendid effort gave it second place by a canvas.
Back row (from left): M.R. Keeley, D. Olliff, W.N. Ricketts Esq., F.H. Osborn and R.D. Day. Seated: A.J. Smith, H.D.F. Ward, J.B. Mitchell (cox), J.M. Withers and W.J. Craig
Photo courtesy of Melbourne Grammar Archives
Losers Final
1st Scotch College - Bow: Albert B Wallace, 2: James F Kent, 3: Denis J Pickwell, 4: Warwick O Granowski, 5: John C Duncan, 6: Frederick W Shepherd, 7: Malcolm D G Murray, Str: Richard J D Oliver, Cox: William M Bailey, Cch: Charles G Saleh
2nd Wesley College - Bow: J C Spencer, 2: C G Gaylard, 3: A R Bartram, 4: I F H Ross, 5: N Sutherland, 6: D W Woodford, 7: G T Castles, Str: M F A Robertson, Cox: M R Lee, Cch: Alan W Mitchell
3rd Geelong College - Bow: W C Anderson, 2: N L Sykes, 3: I R D Campbell, 4: T G Lawler, 5: A F McIllwain, 6: D B Lawler, 7: D J Morris, Str: I R Mackay, Cox: H M Lilburne, Cch: Albert B Bell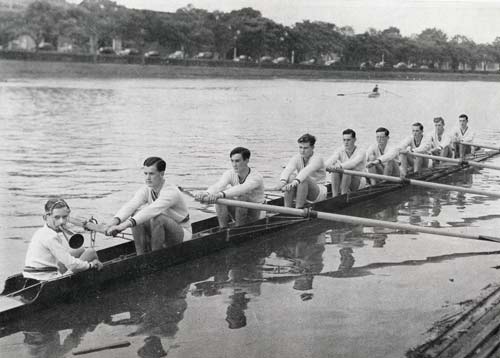 Heat results
E1: 1st XC, 2nd GC, Time: 4:56, Margin: 3/4 length
E2: 1st MGS, 2nd SC, Time: 4:47.8, Margin: 2 lengths
E3: 1st GGS, 2nd WC, Time: 4:54.0, Margin: 0.6 length
The Age reported on the heats as follows.
First Heat
Xavier and Geelong College got away to an even start and both crews swung steadily over the first ¾ of a mile with little between them. Approaching the mill, however, Xavier, rowing very evenly, with power and perfect timing, gradually pulled away to win by ¾ of a length in 4min 46sec.
Second Heat
MGS, the heaviest crew in the field, took the lead from Scotch early. Striking a slower rate than Scotch, Grammar was half a length in front at the end of a ¼ mile, and increased the lead to a length at the half mile. Here Scotch made a determined challenge, but without success.
Still rowing with perfect style, Grammar drew away to cross the line two lengths ahead in 4min 47sec, lowering the record of 4min 55.4sec established for this course by Geelong College in 1946.
Third Heat
Geelong Grammar, against Wesley, got away to a good start and established an early lead, which it increased to half a length at the half-mile. Despite a determined effort by Wesley near the finishing post, Geelong was never seriously challenged and won by ¾ of a length in 4min 54sec.

Distance: 0.5 mile
Time: Not known
Margin: 1/3 length
Losers final
Margin: 1/2 length
1st Wesley College - Bow: D Stone, 2: J H Rowe, 3: J R Daley, 4: W T Green, 5: J C Morrison, 6: T W Nest, 7: B C D Kermode, Str: A G Simmons, Cox: K A Guyot, Cch: R Boynton
2nd Geelong Grammar - Bow: R A L Nance, 2: A J Brown, 3: F H Bathurst, 4: G N Kennison, 5: R A Vasey, 6: C W Jones, 7: I H Anderson, Str: C R Dugdale, Cox: D C Cross, Cch: A S Marshall
3rd Scotch College - Bow: I M Ogilvy, 2: I H Munro, 3: J B Hodges, 4: I M McEacharn, 5: R J Carr, 6: B J Shaw, 7: George P MacKenzie, Str: J R Mitchell, Cox: R C Stuart, Cch: A W L Mitchell
The first half of the race was very even with WC having only a slight advantage. WC then opened up the lead gradually and won comfortably.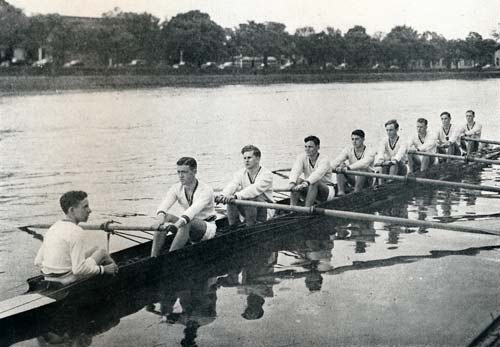 Losers final
1st Melbourne Grammar - Bow: F H Bilson, 2: K E Tibb, 3: J S B Langdon, 4: E S Millear, 5: D H Breedon, 6: P L Wilson, 7: J D Scales, Str: P F G Clements, Cox: Frank C Covill, W McKean
2nd Geelong College - Bow: E C Baird, 2: P F Richardson, 3: C S Baird, 4: A L Heggie, 5: P J Negri, 6: R H Cheetham, 7: A Michael H Aikman, Str: G A Hope, Cox: G D Best, Cch: P Neil Everist
3rd Xavier College - Bow: Hubert R Frederico, 2: D F Connor, 3: M J Prendergast, 4: A J Healy, 5: K M Adamson, 6: T M Ryan, 7: I B Maughan, Str: C K Rabl, Cox: J R Petty, Cch: Jack Coghlan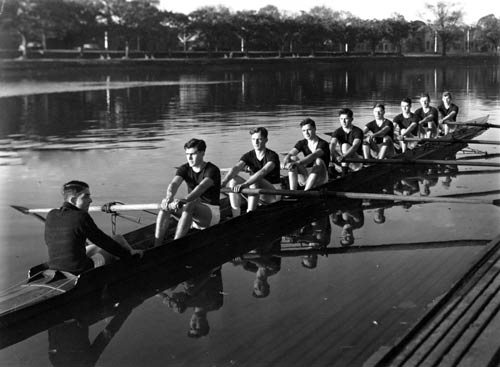 Photo courtesy of Melbourne Grammar Archives
Heats
E1: 1st SC, 2nd GC. Time: 2:40.0, Margin: 1/3 length
E2: 1st GGS, 2nd MGS. Time: 2:36.4, Margin 3/4 length
E3: 1st WC, 2nd XC. Time: 2:34.2, Margin: 1 1/4 lengths
Distance: 0.5 mile
Time: Not known
Margin: 1 length
Losers final
Margin: canvas
1st Wesley College - Bow: R M Valentine, 2: R G Evans, 3: K R Lacey, 4: R D F Thomson, 5: J P Hall, 6: M R Bottomley, 7: J M Partridge, Str: W H Williamson, Cox: L Worth, Cch: I S Parkin
2nd Melbourne Grammar - Bow: C H L Murray, 2: P W Blesson, 3: G P Jenson-Muir, 4: R P S Hayman, 5: W B Capp, 6: J G Willis, 7: K H A Levi, Str: D A Shaw, Cox: D H Greig, Cch: A F Hargrave
3rd Geelong Grammar - Bow: D G Michaelis, 2: P J Gordon, 3: H F Smith, 4: D B Coultas, 5: E J Baeniziger, 6: B J Myer, 7: M J Cook, Str: J G K Nevett, Cox: V E Vine, Cch: R M Bloomfield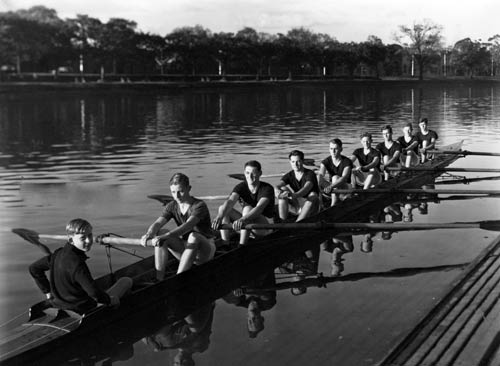 Photo courtesy of Mebourne Grammar Archives
Losers final
1st Scotch College - Bow: A E D Gunn, 2: E P Leggett, 3: G M Purdy, 4: H A C Falconer, 5: J W Dartnell, 6: J B Allison, 7: J K Hopkins, Str: J P Madsen, cox: R A Buchanan, Cch: R I Gillies
2nd Geelong College - Bow: J G Gibb, 2: B Jacobs, 3: D Duncan, 4: F G McFarland, 5: P G Fleming, 6: W V Thomson, 7: J H Bowman, Str: K Eastwood, Cox: J N Button, Cch: H Shaw
3rd Xavier College - Bow: L G Souza, 2: J F Doherty, 3: M D Lewis, 4: J D Anderson, 5: D L Elms, 6: J E O'Connor, 7: T J Byrne, Str: D J Burne, Cox: SL Schwarz, Cch: G Elias
Heats
E1: 1st MGS, 2nd GC, Time: 2:37.5, Margin: 1/3 length
E2: 1st GGS, 2nd XC, Time: 2:36.5, Margin: 2 lengths
E3: 1st WC, 2nd SC. Time: 2:36.5, Margin: 3/4 length
---
Sources
1949 Regatta program
The Pincott Club Handbook 2006
Lift her home to victory, lads! A centenary history of Xavier College 1906-2006 by Michael Lefebvre
Appendix to A Deepening Roar Scotch College 1851-2001 by James Mitchell, Allen & Unwin 2001
Head-of-River Heats on the Barwon (1949, April 23). The Age (Melbourne, Vic. : 1854 - 1954), p. 12. Retrieved April 23, 2017, from http://nla.gov.au/nla.news-article206074293
GRAMMARS EASY BOAT RACE WIN (1949, April 25). The Argus (Melbourne, Vic. : 1848 - 1957), p. 5. Retrieved April 24, 2017, from http://nla.gov.au/nla.news-article22724437