1900 Head of the River
The thirty-third Head of the River was the last of the four oared races.
The race was conducted on the new Upper Yarra course on 12th October and for the first time with a four crew first and final.
The Scotch crew led from the start and were steered well. The Wesley cox did not steer so well but it only impacted the margin, not the result.
The MGS crew contained Stanley Bruce, future Prime Minister of Australia. He was Captain of rowing, football and cricket in his final year.
---
Officials
Starter: Mr Harold A C Irving
Umpire: Mr William Potter
Judge: Mr Fred D Bird
---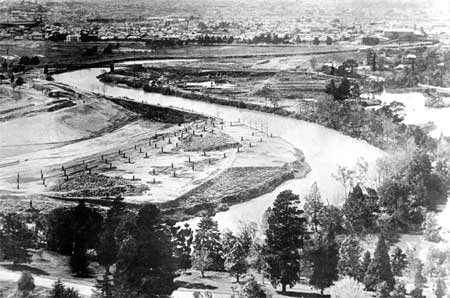 The new course of the river can be seen from the middle of the left hand side.
From the Lindblade Collection, Mercantile Rowing Club
Time: NTT
Margins: 4, 4 & 2 lengths
1st Scotch College - Bow: Gilbert G L Jackson, 2: Herbert B Shaw, 3: Sydney W Smith, Str: John A Fraser, Cox: Hunter Macdonald, Cch: Alexander B Sloan
2nd Wesley College - Bow: G L Donaldson, 2: R Wawn, 3: J Breen, Str: A J Pearce, Cox: W Palmer, Cch: J Powell
3rd Melbourne Grammar - Bow: C H Anderson, 2: H Rutter, 3: Stanley M Bruce, Str: B C Merrillees, Cox: R W Heath, Cch: A B Gregory
4th Geelong Grammar - Bow: A C Sherrin, 2: D Austin, 3: J McLaughlin, Str: V H Garde, Cox: S Lang, Cch: A F Garrard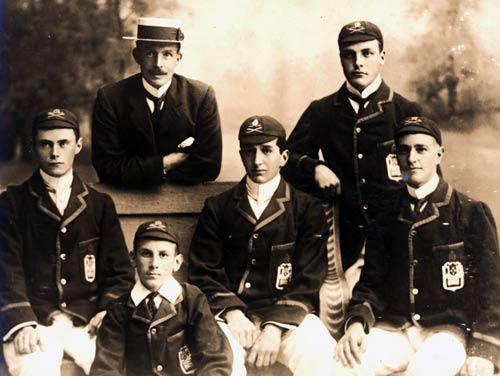 B.C. Merrillees (stroke), Mr A.B. Gregory (coach), R.W. Heath (Cox), S.M. Bruce (3), H. Rutter (2), C.H. Anderson (bow)
Photo courtesy of Melbourne Grammar Archives - Cat No 4484
The Argus reported as follows:
Mr. H. A. C. Irving (starter) lost little time in getting the boats away, Melbourne Grammar School were on the south side, Geelong Grammar School and Scotch College next, with Wesley on the north station. Scotch College got the worst of the start, but both Wesley and Scotch Colleges soon took the lead, and at the end of the first 50 yards were together, a length ahead of their rivals. Wesley had the benefit of the first turn, but their coxswain in trying to make the best use of his station kept too close to the bank, and both bow and No. 3's oars touched the bank, and a crab was caught. Scotch College thus gained half a length, and rowing very strongly, maintained their lead, and gradually increasing it won by four lengths. Wesley stopped rowing just before the finish, but resuming just beat Melbourne Grammar School, who were a length head of Geelong. The winners, who were heartily cheered at the finish, were coached by Mr. A. B. Sloan, captain of the Mercantile Club.
---
Second Crews
(This was not conducted at the Head of the River regatta but on 18th May on the Barwon.)
Time: NTT
Margins: 2 lengths and 1 foot
1st Melbourne Grammar - Bow: M G Robb, 2: H Rutter, 3: Stanley M Bruce, Str: W H Webb, Cox: R W Heath, Cchs: Messrs W A Purves and A J Evans
2nd Geelong Grammar
3rd Wesley College
Standing (from left): H. Rutter, Mr W.A. Purves and M.G. Robb. Seated: W.H. Webb, Mr A.J. Evans and S.M. Bruce. Out front: R.W. Heath (cox)
Photo courtesy of Melbourne Grammar Archives - Cat No 4485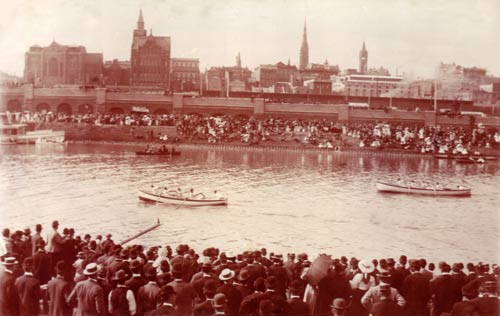 The boats seen here are string test gig fours
Source: The Lindblade collection, Mercantile Rowing Club
---
Sources
The Pincott Club Handbook 2006
MGS first crew names from MGS boatshed
The Victorian Oarsman by John Lang 1919 - A H Massina & Company
Lift her home to victory, lads! A centenary history of Xavier College 1906-2006 by Michael Lefebvre
Appendix to A Deepening Roar Scotch College 1851-2001 by James Mitchell, Allen & Unwin 2001
Scotch College and Melbourne Grammar Archives
PUBLIC SCHOOLS BOAT RACE. (1900, October 13). The Argus (Melbourne, Vic. : 1848 - 1957), p. 6. Retrieved February 7, 2017, from http://nla.gov.au/nla.news-article9559685