1927 Australian University Championships— Nepean River Penrith NSW
As the Interstate Championships moved to Penrith, so did the University Championships. The race was conducted on 4th June 1927.
Not only did the University of Western Australia race for the first time, but they won. The WA crew used the same boat as their State's King's Cup crew.
It was the first time that all six universities competed.
Also noteable is the inclusion of a Men's Sculling Championship which was won by the Sydney University sculler, K A Flavelle.
---
Men's Scull
Time: Unknown
Margin: 1.5 lengths
1st Sydney University - Kenneth A Flavelle
2nd Melbourne University - Sydney R Bell
---
Men's Eight
Time: 17:30
Margins:
1 1/4 lengths &
4 lengths
1st University of Western Australia - Bow: James Boulder Lyon Johnston, 2: Geoffrey Builder, 3: Howard Vincent Reilly, 4: Harold Graham, 5: Henry Phillip Mitchell, 6: Walley Marshall Nunn, 7: Hugh MacLean Wilson, Str: Francis Arthur "Jellicoe" Williams, Cox: Thomas Angelo Rodriguez, Emerg: William Edward Weaver, Cch: S B Gravenhall
2nd Melbourne University - Bow: Louis Robertson Sharp, 2: F Konrad S Hirschfeld, 3: Richard Geoffrey de Crespigny, 4: Edward Watchorn Turner, 5: W Balcombe Griffiths, 6: H Lindsay Yuncken, 7: James Wingfield Barnaby, Str: Arthur Rex Mayhew Johnson, Cox: Gilbert John Jones, Cch: E C H Taylor
3rd University of Tasmania - Bow: Geoffrey Forbes Sorrell, 2: Stanley Darling, 3: Harold Neil Smith, 4: D L Harvey, 5: Desmond Tasman Oldham, 6: Athol Joseph Wadley, 7: D C Walch, Str: Donald McDonald Urquhart, Cox: Harold Mackenzie Freeburgh Cch: H K Goyen, Mgr: J J Edwards
4th Adelaide University - Bow: John Lionel Hayward, 2: Cedric Alfred Neal Smith, 3: Sholto John Douglas, 4: A J Jarvis, 5: Malcolm August Trudinger, 6: Samuel Ernest Terrill, 7: Erwin John Riebe, Str: William M Morgan, Cox: Allan Walkley, Cch: Stan Y Facy
5th Sydney University - Bow: Arthur P Blake, 2: Francis R Blood, 3: Herbert G Sweet, 4: Max R Morey, 5: Gilbert E Phillips, 6: Robert Cecil Dence, 7: Bryan M Carson, Str: Robert B Brown, Cox: Geoffrey H Robin, Cch: Roger B Fitzhardinge
6th University of Queensland - Bow: Edmond Rowlands Behne, 2: Norman Smith, 3: James Alfred Andrew Pollock, 4: Thomas Reginald Groom, 5: Archibald Perry Douglas, 6: Charles Newton Barton, 7: Gerald William Barlow, Str: John Elwin Collins, Cox: Albert Harding Jones, Cch: Arthur H Watson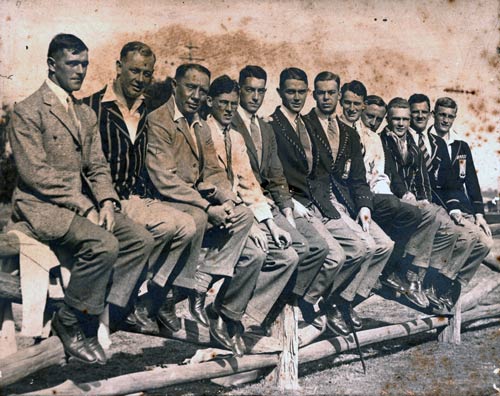 photo reporduced with permission of MGS archives