2023 Interstate Championships
Champion Lakes, Perth WA
Images for this regatta can be found at Australian Rowing Images.
The sport returned to Perth after a long absence of 13 years. The facilities were superb but again the weather in WA caused the athletes grief on many days of the National Championships, but not for the Interstate Championships. The weather seems to know when we are racing in WA.
It was to be the sky blues day with only a few blemishes.
Beyond this superb NSW performance was the record winning tally of 10 victories in the Queen's Cup by Lucy Stephan. With her 2023 win, she passed great multi-winners of this event such as Margaret Mackenzie, Pauline Frasca and Kim Brennan.
Rupert Guinness at reported for Rowing Australia as follows:
Dual Olympian Lucy Stephan OAM etched her name into Australian rowing history on Sunday, with the Victorian great becoming the first rower to race 10 times in a winning Queen's Cup Women's Coxed Eight crew at the Interstate Championships. Stephan, a Gold Medallist in the Coxless Four at the Tokyo Olympics, stroked Victoria to an emphatic back-to-back victory at the Champion Lakes Regatta Centre in the event that became an eight-oared race in 1999.
The Victorians won the Cup race in a time of 6:14.30s, ahead of arch-rivals NSW (6.23s back) and Queensland, who took Bronze 9.39s behind the winner.
"I mean I'm not going to lie. The thought was there at the start line … 'If this is my 10th and if I do it, I'll break the record'," Stephan said. "But it goes without saying that when you are from the Big White V, you've got years and years of amazing girls and pedigree before me. I wouldn't be able to do it without them for sure." Asked what the secret to success in a Queen's Cup is, Stephan said: "I don't want to give away secrets … but I think it's going out there rowing, rowing hard and the belief you can do it. It also goes without saying you have amazing clubs down in Victoria and we push one another to go fast."
Stephan's record of rowing in 10 winning Queen's Cup eight-oared crews includes seven wins from 2012 to 2018, with more titles in 2021, 2022 and now 2023.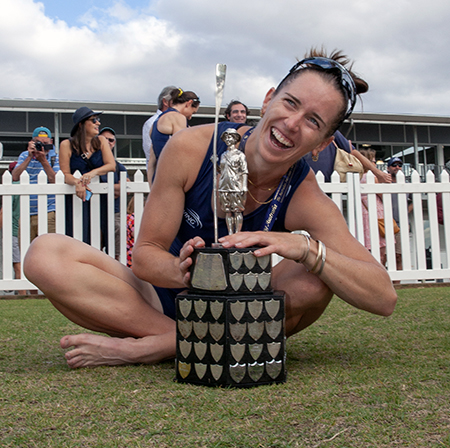 Lucy Stephan with the trophy after her 10th win
Index to Results
Team New South Wales was again the dominant State team taking out the Rowing Australia Cup with six wins out of the ten races.
The final Interstate Medal Tally Standing is as follows (as per Rowing Australia Medals Table):
1st – New South Wales
2nd – Victoria
3rd – Queensland
4th – Australian Capital Territory
5th – South Australia
6th – Tasmania
7th – Western Australia
Results (in pdf format)
Day 7 of the Australian Championships - Sunday 2nd April 2023
Results of the National Championships can be found on the National Championships pages.
Summary of racing
Rowing Australia reported on the events as follows:
Jackson Kench and Will O'Shannessy, who rowed in the victorious NSW King's Cup crew, said it was a satisfying day for their state compatriots as they closed out the Australian Rowing Championships in style. "It's always a highlight to be in a field of the best athletes in the country," O'Shannessy told Rowing Australia.
Tara Rigney capped off a remarkable regatta by achieving a clean sweep by in the Interstate Women's Single Scull. The 24-year-old, who celebrated her birthday at Champion Lakes, had already claimed the Open Women's Single Scull and Open Women's Double Scull earlier in the week.
Cormac Kennedy-Leverett from Queensland emerged victorious in the President's Cup for the Interstate Men's Single Scull, beating Caleb Antill by 3.37 seconds. Despite the upcoming Paris Olympics, Kennedy-Leverett is not concerned about his selection for the Men's Quad, stating that he simply wants to "see the Quad continue to succeed".
The Penrith Cup showcased the best male lightweight rowers from each state, with Victoria taking home the win in a blazing time of 6:24.20s. Meanwhile, New South Wales proved too strong in the Women's Lightweight Quadruple Scull, finishing ahead of the defending champions, Tasmania, with 11.45s and securing the Victoria Cup for 2023.
Sophie Jerapetritis (2-seat) has been a formidable force for NSW in the Victoria Cup, competing seven times before today. She added another victory to her impressive record, securing her second win in the event.
New South Wales also dominated the Youth Eight events, winning both the Men's and Women's races. The Men's crew finished 2.28s ahead of Victoria, while the Women's crew finished 1.52s in front of their southern rivals.
---
Organising Committee and Umpires
Rowing Australia headed by RA Events Manager Alice Evans. Other members included Daniel Tackenberg (Rowing WA), Chris Grummitt, Michael Eastaughffe, Fred Taylor, Anthony Brown and Brett Ralph (Technical Delegate).
Jury - David Grubits VIC - President of the Jury, Grant Ford WA - Deputy President of the Jury, Ashley Dillon VIC, Phil Fraser TAS, Catherine Garrington ACT, Merran Holmes NSW, Rene Klupacs VIC, Paul Knight SA, Ross Litchfield VIC, Duncan Mackinnon VIC, Stewart McQuade QLD, Tim Morris TAS, Brian Nash WA, Caroline Schomberg QLD, Greg Smith NSW, Rob Stobie QLD, Chris Symons TAS, Chris Tucker NSW, Zara Underwood QLD, Brett Woolfitt WA.
---
Men's Interstate Eight-Oared Championship–The King's Cup
Times:
5:36.60
5:39.75
5:43.90
5:51.67
1st New South Wales - Bow: S Hardy, 2: Jackson Kench, 3: Alex Nichol, 4: George Finlayson, 5: Spencer Turrin, 6: Will O'Shannessy, 7: Jack Hargreaves, Str: Alex Purnell, Cox: Kendall Brodie, Coaches: Jason Baker, Dan Noonan
2nd Victoria - Bow: Alex Wolf, 2: Rohan Lavery, 3: H.Wynn-Pope, 4: Simon Keenan, 5: J Robertson, 6: Tim Masters, 7: Ben Canham, Str: Angus Widdicombe, Cox: L Burnell, Coach: Matthew Ryan
3rd Queensland - Bow: E Apel, 2: M Salisbury, 3: D Rhodes, 4: Harley Moore, 5: Cormac Kennedy-Leverett, 6: P Holt, 7: J Lord, Str: M Rowe, Cox: J Cooke, Coaches: S Rowe, C Holliday
4th Western Australia - Bow: L Davis, 2: R Rees-Turner, 3: J Cleary, 4: Joshua Hicks, 5: M McQuillan, 6: S Marsh, 7: J Daubney, Str: A Rossi, Cox: E Scott, Coaches: Mark Beer, D Moharich
Medals presented to NSW by President Rob Scott
---
Men's Interstate Sculling Championship–The President's Cup
Times:
7:00.68
7:05.55
7:05.72
7:08.56
7:13.42
7:16.40
1st Queensland - Cormac Kennedy-Leverett, Coach: B.Southwell
2nd ACT - Caleb Antill, Coaches: David Fraumano, Tom Creber
3rd Western Australia - Sam Marsh, Coach: S Balosso
4th South Australia - Alex Hill, Coach: Nicholas Mitchell
5th New South Wales - Campbell Watts, Coach: D McLachlan
6th Victoria - Dominic Frederico
7th Tasmania - J Wilson
Antill, Kennedy-Leverett and Marsh enjoying the podium
---
Men's Interstate Lightweight Four Championship–The Penrith Cup
Times:
6:24.20
6:25.44
6:28.13
6:30.84
6:31.25
6:33.31
1st Victoria - Bow: Jordan Roberts, 2: Tom Hastings, 3: C Rahdon, Str: Ben Whitmee, Coach: Alistair Matthews
2nd Queensland - Bow: J Price, 2: B Heseltine, 3: C Place, Str: J Bowser, Coaches: A Radero, M Game
3rd South Australia - Bow: K Miller, 2: Oscar McGuinness, 3: M Moore, Str: C Moore, Coach: S Morton
4th Tasmania - Bow: Deon Birtwistle, 2: L Dean, 3: C Ryan, Str: Oscar Birtwistle, Coach: T Barrett
5th Western Australia - Bow: M Lo Presti, 2: Patrick Boere, 3: P Ward, Str: R James, Coaches: Neville Kempton, S Balosso
6th New South Wales - Bow: J Waldersee, 2: J Henderson, 3: J Waddell, Str: Sean Murphy, Coaches: Michael Smith, Graham Gardiner
Victorians enjoying their win
---
Men's Interstate Youth Eight Championship–The Noel F Wilkinson Trophy
Times:
5:55.79
5:58.07
6:05.78
6:07.98
6:08.67
1st New South Wales - Bow: A Hoskin, 2: C Jewell, 3: B Smith, 4: O St Pierre, 5: M Thompson, 6: R Menzies, 7: J Wilson, Str: N Pender, Cox: B Blackmore Cram, Coaches: Matthias Ungemach, Tim McLaren
2nd Victoria - Bow: M Marro, 2: T Foley, 3: M Porter, 4: R Cornelius, 5: Jake Polkinghorne, 6: Oscar Scalzo, 7: Austin Reinehr, Str: W Hooper, Cox: N Gelagotis, Coach: T Minifie
3rd Queensland - Bow: F Harris, 2: B Clarke, 3: D Weightman, 4: N Munro, 5: R Atkinson, 6: M Martin, 7: L Tucker, Str: D Watter, Cox: L Maclean, Coach: R Martin
4th Western Australia - Bow: J Cassey, 2: J Sangster, 3: L Moroney, 4: A Solomon, 5: C Stevenson, 6: J Hantke, 7; H Davies, Str: A Almassi, Cox: C Anspach, Coaches: A Thompson, T Gatti, J Colangelo
5th South Australia - Bow: C Hoskin, 2: E Chipperfield, 3: J Schirmer, 4: X van Oijen, 5: N Burr, 6: J Felderhof, 7: J Beale, Str: A Holland, Cox: A Hughes, Coach: Nichoas Mitchell
The New South Welshmen with the well deserved trophy
---
Men's Interstate PR3 Scull Championship
Times:
7:50.43
7:58.65
8:08.98
9:09.72
9:10.49
1st New South Wales - H Nichols, Coach: O Mackintosh
2nd South Australia - Jed Altschwager, Coach: Nicholas Mitchell
3rd Queensland - Mac Russell, Coach: M Russell
4th ACT - S John, Coach: W Hatcher
5th Victoria - Aaron Skinner, Coach: David Skinner
Altschwager, Nichols and Russell
---
Women's Interstate Eight Championship–The Queen's Cup
Times:
6:14.30
6:20.53
6:23.69
6:28.02
6:39.45
7:01.00
1st Victoria - Bow: Georgie Gleeson, 2: Ria Thompson, 3: Katrina Werry, 4: Amanda Bateman, 5: Sarah Hawe, 6: Paige Barr, 7: Jessica Morrison, Str: Lusy Stephan, Cox: Hayley Verbunt, Coach: Alistair Matthews
2nd New South Wales - Bow: L Graham, 2: E Price, 3: J Ford, 4: L Gourley, 5: Rowena Meredith, 6: Georgie Rowe, 7: E Sheppard, Str: Hariet Hudson, Cox: H Cowap, Coaches: Laryssa Biesenthal, Judith Ungemach
3rd Queensland - Bow: J Scott, 2: L Nothdurft, 3: M Williams, 4: L Hope, 5: P Robinson, 6: S Tisdall, 7: L Alton, Str: E Pozzi, Cox: L Lunney, Coach: Phil Bourguignon
4th Western Australia - Bow: C Netherway, 2: L Franklin, 3: Z McKellar, 4: G Hughes, 5: G Patten, 6: J Swick, 7: R Pretorius, Str: B Cox, Cox: N Rogers, Coaches: J Hewlett, B Hutton
5th South Australia - Bow: S Tickner, 2: C Wilson, 3: J Richter, 4: J Malcolm, 5: D Macolino, 6: G Taeger, 7: E Bramwell, Str: Olympia Aldersey, Cox: A Carrodus, Coach: T Doornbos
6th ACT - Bow: P Gray, 2: A Moylan, 3: N Greenland, 4: E Kelly, 5: T Caudle, 6: E Moran, 7: E Lambden, Str: C Khan, Cox: C Barr, Coaches: Tom Creber, Nigel Harding
Stephan not letting go of 'her' trophy after 10 wins
---
Women's Interstate Lightweight Quad Scull Championship–The Victoria Cup
Times:
6:51.49
7:02.94
7:07.67
7:17.08
7:20.21
1st New South Wales - Bow: G Sypher, 2: Sophie Jerapetritis, 3: G Miansarow, Str: L Coleman, Coaches: J Hanley, C Glynn
2nd Tasmania - Bow: P Teale, 2: S Robinson, 3: Eve Mure, Str: A Reardon, Coach: Paul Newbon
3rd Western Australia - Bow: L Glendinning, 2: S Gravestock, 3: L Davies, Str: R Morris, Coaches: M Cochran, G White
4th Victoria - Bow: Demi Kyriacopoulos, 2: C Ball, 3: M Foley, Str: A Di Cosmo, Coaches: Virginia Lee, E Crute
5th Queensland - Bow: O Cook, 2: I Walker, 3: J Powell, Str: M Durbridge, Coaches: M Russell, D Vandas
A resounding win by NSW duly celebrated
---
Women's Interstate Youth Eight Championship–The Bicentennial Cup
Times:
6:34.86
6:36.38
6:44.22
6:49.73
6:53.01
7:05.08
1st New South Wales - Bow: L Page, 2: L Sypher, 3: S Fahd, 4: S Preller, 5: F Neville, 6: T Botha, 7: T Knoke-Driver, Str: I Scammell, Cox: E Bolster, Coaches: L Carter, F Dieu
2nd Victoria - Bow: Remy McKay, 2: B Cullen, 3: C Will, 4: M Cartwright, 5: Anna Morrison, 6: S Marriott, 7: R Cantwell, Str: Z Lavery, Cox: S Balla-Kellett, Coach: C McConville
3rd Queensland - Bow: G Geldard, 2: M Bishop, 3: E Bridgefoot, 4: S Malcolm, 5: S Wightman, 6: J Malcolm, 7: E Smith, Str: N Duncan-Banks, Cox: S Ridgway, Coaches: S Shakespear, A McNicol
4th Western Australia - Bow: S Cross, 2: T Webb, 3: A Ambrosino, 4: G Spencer, 5: L Fievez, 6: S Reading, 7: H Cannon, Str: C Broad, Cox: T Rogers, Coaches: J O'Dea, T Gatti, J Colangelo
5th Tasmania - Bow: L Hucker, 2: L Tippett, 3: A Florance, 4: C Greenhill, 5: E Spaulding, 6: M Brown, 7: L Calvert, Str: H Riches, Cox: S Ellis, Coach: S Finlayson
6th South Australia - Bow: C Newman, 2: B Kollberg, 3: F Rosenbauer, 4: A Morrow, 5: E Neuhaus, 6: G Taeger, 7: G Seppelt, Str: C Romaniuk, Cox: M Newland, Coach: Christine MacLaren
A great race with New South Wales taking the honours
---
Women's Interstate Sculling Championship–The Nell Slatter Trophy
Times:
7:42.07
7:49.26
8:08.28
8:20.34
8:20.39
8:21.98
1st New South Wales - Tara Rigney, Coach: A Young
2nd Queensland - Caitlin Cronin, Coach: B Southwell
3rd South Australia - Molly Goodman, Coach: Nicholas Mitchell
4th Victoria - Sophie Reinehr
5th ACT - N Greenland, Coach: Tom Creber
6th Tasmania - S Ashlin
7th Western Australia - J Patterson, Coach: J Hewlett
Cronin, Rigney and Goodman
---
Women's Interstate PR3 Sculling Championship
Times:
8:46.92
8:55.74
9:20.17
9:34.30
1st ACT - Nikki Ayers, Coaches: David Fraumano, Tom Creber
2nd Victoria - S Lutze, Coach: E Crute
3rd New South Wales - J Story, Coach: K Hextell
4th Queensland - K Mitchell, Coach: B Southwell
Lutze, Ayers and Story