1909 Interstate Championships
15 May 1909, Hamilton Reach Brisbane River QLD
Index to Results
---
33rd Men's Interstate Eight-Oared Championship–The King's Cup
Distance: 3 miles
Time: 16.02
Margins: 1 1/2 & 3 lengths
1st TAS - Bow: Andrew Forsyth, 2: William Needham, 3: Mick Easton, 4: V P Lithgow, 5: Jack Woodhouse, 6: Dan Munro, 7: Keith Heritage, Str: Jack H Artis, Cox: Claude Coogan, Cch: James Coogan
2nd VIC - Bow: George Ferguson, 2: D Cunningham, 3: V H Gard, 4: J J Fogarty, 5: Edwin E James, 6: C H Kohn, 7: F Johnson, Str: William L B Anketell, Cox: L McLennan, Emerg: J W Wright, Cchs: (In MEL: Charles Donald and C E Kellett and in Brisbane George Upward), Selectors: Arthur J Shephard, Jim M MacFarlane & J A Williams, Mgr: J W Hamilton
3rd NSW - Bow: Rollo N Bray, 2: Walter G Kolts, 3: Thomas Joseph Fitzpatrick, 4: Arthur Mayfield Merrington, 5: J F Reid, 6: Charles N Smith, 7: Harry Hauenstein, Str: Jack H D Goldie, Cox: Robert G K "Ken" Waley, Cch: Allan Ramsey, Mgr: Alex W Thompson, Emerg: F P Kelly, Selector: Roger Fitzhardinge
4th QLD - Bow: J H Williams, 2: J Cunningham, 3: E J Dunlop, 4: G R Howard Gill, 5: W C Poulson, 6: J G Petrie, 7: A Petrie, Str: J Ferguson, Cox: G MacKenzie, Cch: S B Boland
5th SA - Bow: F R Peterson, 2: R A Joyner, 3: J J Healy, 4: T H Petereson, 5: W G Wigg, 6: E M Luxmore, 7: R F Richardson, Str: T A Whyte, Cox: W S Webb
The race was marred by heavy rain and wind. The eights race was a finely contested race between Tasmania and Victoria. Victoria got away badly and Tasmania took the early lead which they held throughout the race. NSW were in second place at the mile mark, a couple of lengths in front of Victoria. However Victoria rowed through NSW during the second mile and went unsuccessfully after Tasmania who went on to win by 1 1/2 lengths. WA did not race in accordance with the interstate conference agreement that exempted them from travelling to Brisbane.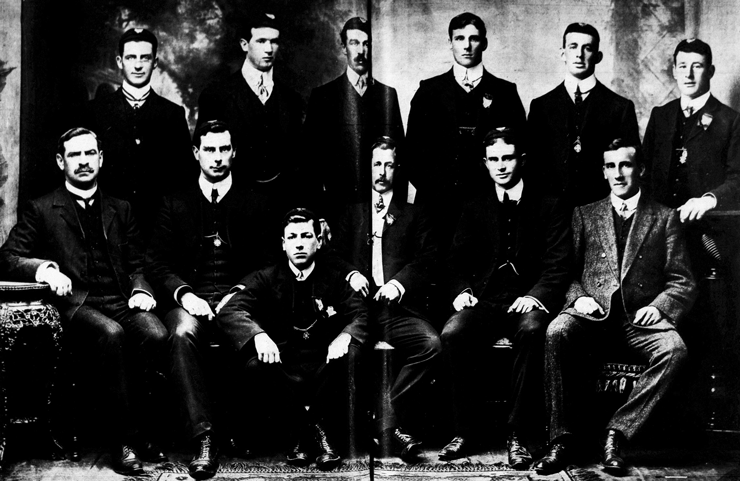 Back row: Andrew Forsyth (bow), Keith Heritage (7), Jack Woodhouse (5), William Needham (2), V Lithgow (4), Mick Easton (3). Front row: James Coogan (coach), Dan Munro (6), Claude Coogan (cox), Jack Artis (stroke), R W Dean (emerg), Fred Coverdale (sculler)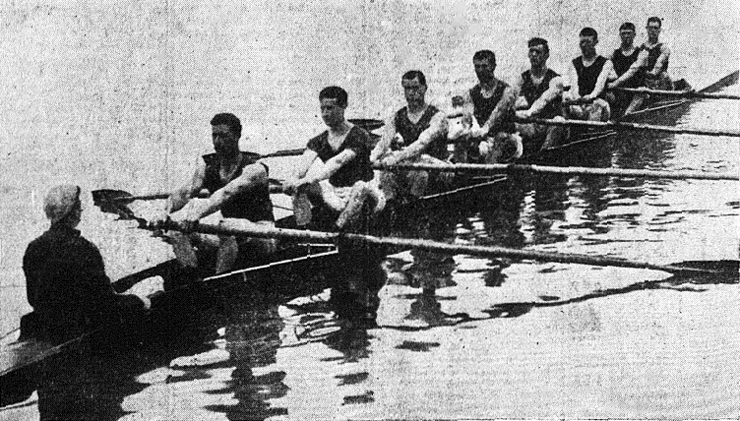 ---
Men's Interstate Sculling Championship–The President's Cup
Distance: 2.5 Miles
Time: 16.02.0
16.05.0?
Margin: 8 lengths
1st NSW - John R Towns
2nd TAS - Fred Cloverdale
3rd QLD - A Dennis
4th VIC - A Richards
The sculling race was won by John Towns of NSW from the start. It was reported that there was some advantage in the lanes in both races.
---
Sources
The Victorian Oarsman by John Lang, published by Massina & Co 1919
Sydney Rows by Alan May published by Sydney Rowing Club 1970
Mercantile A Century of Rowing by Aitken et al, published by Mercantile Rowing Club 1980
The Examiner 15 May 1909
Tasmanian Mail 29 May 1909