2016 Interstate Championships
20 March 2016, Sydney International Regatta Centre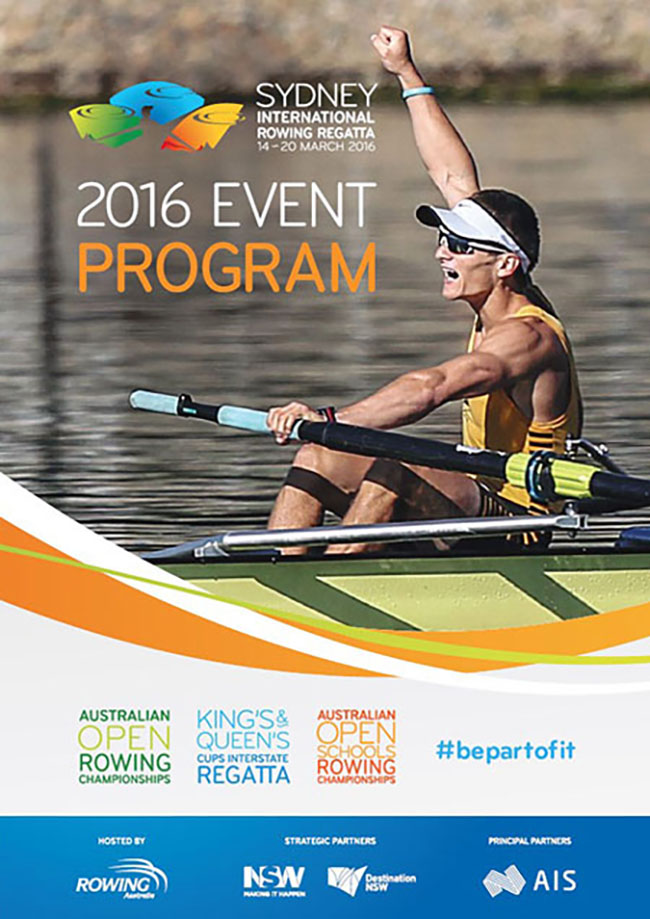 This regatta was conducted in great conditions for most of the week. The Olympic team competed in various events but unfortunately some selection activities immediately following the regatta prevented some people from competing in the Victoria Cup.
The regatta also saw the introduction of the legs, trunk and arms para-rowing events for the first time. Also the regatta saw the Victorians take out the Queen's Cup for the twelfth time in succession.
A moving tribute to 2012 Olympic silver medallist Sarah Tait was conducted at the end of the Interstate presentations. Sarah had recently lost her battle with cancer.
Documents
Results sheet for the Interstate Regatta and other events conducted on Day 7 of the Australian Championships in pdf format are available on this link.
The full regatta program can be found through this link.
Index to Results
Rowing Australia Cup
The Rowing Australia Cup was won by Victoria. The final point score was:
Interstate Point Score

| State | Points |
| --- | --- |
| Victoria | 52 |
| Queensland | 46 |
| Western Australia | 37 |
| New South Wales | 34 |
| South Australia | 20 |
| Tasmania | 18 |
| Australian Capital Territory | 12 |
---
Men's Interstate Eight-Oared Championship–The King's Cup
Times:
5:24.36
5:27.96
5:34.01
5:34.66
5:35.25
1st Victoria - Bow: Josh Hooper, 2: Samuel Hookway, 3: Benjamin Coombs, 4: Tim Masters, 5: William Lockwood, 6: Josh Dunkley-Smith, 7: Charles Risbey, Str: Joshua Booth, Cox: David Webster, Cch: Christian Ryan
2nd New South Wales - Bow: Christopher Cunningham-Reid, 2: James Medway, 3: Robert Black, 4: Spencer Turrin, 5: Nicholas Purnell, 6: James Chapman, 7: Cameron Girdlestone, Str: Alexander Lloyd, Cox: William Raven, Cchs: Mark Prater and Nicholas Garratt
3rd South Australia - Box: Hugo Langsford, 2: Tim Santin, 3: Ned Kinnear, 4: Drew Clements, 5: Nathan Bowden, 6: Christopher Morgan, 7: James McRae, Str: Alexander Hill, Cox: Georgia Litt, Cchs:Aleco Lanfranco and Brenton Terrell
4th Queensland - Bow: Jack Armitage, 2: Tim McDonnell, 3: Benjamin Morley, 4: Darcy Wruck, 5: Nathan Goldstone, 6: Scott Laidler, 7: Angus Lillicrap, Str: Harley Moore, Cox: Caitlin Hockings, Cchs: Christian Oneto and Zoltan Shepherd
5th Western Australia - Bow: Timothy Widdicombe, 2: Mattias Johansson, 3: Christopher Hayes, 4: Cameron Brewer, 5: Matthew Cochran, 6: Rhys Grant, 7: David Watts, Str: Joshua Hicks, Cox: Max Montanari, Cchs: Rhett Ayliffe and Lachlan Chapman
---
Men's Interstate Sculling Championship–The President's Cup
Times:
6:46.32
6:46.72
6:48.47
6:50.89
6:58.65
6:59.38
6:59.50


1st Western Australia - Rhys Grant, Cch: Rhett Ayliffe
2nd Victoria - Karsten Forsterling, Cch: Bill Tait
3rd South Australia - Christopher Morgan
4th Australian Capital Territory - Luke Letcher
5th Tasmania - Max McQueeney, Cchs: Peter Volker and Brett Crow
6th Queensland - Brett Morley
7th New South Wales - Alex Purnell
---
Men's Interstate Lightweight Four Championship–The Penrith Cup
Times:
6:03.35
6:06.60
6:08.46
6:08.93
6:14.52
6:17.93

1st Queensland - Bow: Jack Price, 2: Hamish Parry, 3: Adam Kachyckyj, Str: Nicholas Silcox, Cch: Keiran Dwyer
2nd Western Australia - Bow: James Kerr, 2: Cameron Fowler, 3: Perry Ward, Str: Timothy Widdicombe, Cchs: Paul Bolton and Antonio Maurogiovanni
3rd New South Wales - Bow: James Waldersee, 2: Jack Hanley, 3: James Chuter, Str: William Clark, Cchs: Lachlan Carter and Tim McLaren
4th Victoria - Bow: Carl Tomczak, 2: Tim Day, 3: William Day, Str: James Wilson, Cch: Jeff Watt
5th Australian Capital Territory - Bow: Thomas Perry, 2: Callum MacKenzie, 3: Francis Snelgar, Str: Mack Wilcox, Cch: Andrew MacKenzie
6th Tasmania - Bow: Oliver Marsden, 2: Alister Foot, 3: Ashley Reardon, Str: Daniel Bloomfield, Cch: Brett Crow
---
Men's Interstate Youth Eight Championship–The Noel F Wilkinson Trophy
Times:
5:40.05
5:43.85
5:46.03
5:57.11
6:02.84
6:11.37
1st New South Wales - Bow: Callum Rossi, 2: Matthew Curtin, 3: Charles Patterson, 4: Hamish McDonald, 5: Henry Kamp, 6: Tom Schramko, 7: Hugh Courts, Str: Zac Von Appen, Cox: Claudia Lowe, Cchs: William Raven and Jason Baker
2nd Queensland - Bow: James Doring, 2: Thomas Davidson, 3: Callum Chisholm, 4: Elliott Apel, 5: George Lethbridge, 6: Adam Bakker, 7: Nick Pettigrew, Str: Oliver Smith, Cox: Ashleigh Hockings, Cchs: Paul Pettigrew and John Bowes
3rd Western Australia - Bow: Luke Salerno, 2: Ruan Greyling, 3: David Latham, 4: Willis Armstrong, 5: Fraser Pensini, 6: Gavin Pensini, 7: Patrick Boere, Str: Samuel Marsh, Cox: Darwin Friend, Cchs: James Bracey and Joseph Tamigi
4th Victoria - Bow: James Hoban, 2: Max Mezger, 3: Jack Lawrence, 4: Angus Maloney, 5: Alexander Clarke, 6: Alexander Wolf, 7: Lachlan May, Str: James McCann, Cox: James Rook, Cch: John Saunders
5th South Australia - Bow: Jack Korcz, 2: George Jaensch, 3: Matthew Nielsen, 4: James Nicholas, 5: Matthew Stamatas, 6: Kane Grant, 7: Ethan Mons, Str: Jack Deans, Cox: Belle Hannon, Cch: Ron Mobbs
6th Tasmania - Bow: Thomas Barrett, 2: Angus McGlashan, 3: Jack Barrett, 4: Alec Paterson, 5: Henry Johnstone, 6: Alexander Hutchinson, 7: Matthew Byrne, Str: Nathaniel Graham, Cox: Andre Nash, Cch: Peter Holloway
---
Men's Interstate Legs Trunk and Arms Scull Championship
Times:
3:42.95
3:44.44
3:55.38
4:05.28
5:12.67
5:31.71
1st New South Wales - Kevin du Toit, Cch: Ellen Randell
2nd Western Australia - Brock Ingram, Cch: Catriona Walker
3rd Tasmania - Alistair Chong, Cch: Lance Morrisby.
4th Victoria - Aaron Skinner, Cch: Tom Bertrand
5th Queensland - Cameron Kosmala, Cch: Bill Caldwell
6th Aust Capital Territory - Ian Cooper, Cch: Elliott Bowyer
---
Women's Interstate Eight Championship–The Queen's Cup
Times:
6:07.90
6:10.30
6:20.29
6:25.51
6:37.58
1st Victoria - Bow: Addy Dunkley-Smith, 2: Jessica Morrison, 3: Madeleine Thomas, 4: Kimberley Brennan, 5: Sophie Sutherland, 6: Katrina Bateman, 7: Lucy Stephan, Str: Charlotte Sutherland, Cox: Sarah Banting, Cch: Simon Gadsden
2nd Queensland - Bow: Charlotte Travers, 2: Madeleine Coonan, 3: Sally Kehoe, 4: Caitlin Cronin, 5: Jessica Hall, 6: Tessa Carty, 7: Fiona Albert, Str: Maddie Edmunds, Cox: Daniella Serra, Cchs: Kate Borger, Benjamin Southwell and Tom Westgarth
3rd New South Wales - Bow: Elizabeth Halsall, 2: Serena Cox, 3: Georgina Gotch, 4: Fiona Ewing, 5: Rowena Meredith, 6: Leah Saunders, 7: Jessie Allen, Str: Genevieve Horton, Cox: Kendall Brodie, Cchs: Daniel Noonan and Alfred Young
4th South Australia - Bow: Lucy Triggs, 2: Anna Collins, 3: Narelle Badenoch, 4: Lauren Wearne, 5: Olympia Aldersey, 6: Bridget Badenoch, 7: Rhiannon Hughes. Str: Molly Goodman, Cox: Sophie Terp, Cchs: David McGrath and Jarrad Schar
5th Western Australia - Bow: Jessica Donnelly, 2: Amanda Rukawai, 3: Alexis Whelan, 4: Holly Child, 5: Maia Simmonds, 6: Kathryn Farley, 7: Caitlin Taylor, Str: Alexandra Hagan, Cox: Lauren Warschauer, Cch: Jakob Fischer
---
Women's Interstate Sculling Championship–The Nell Slatter Trophy
Times:
7:23.21
7:33.06
7:34.76
7:48.05
7:59.00
8:01.87
1st Victoria - Kim Brennan, Cch: Lyall McCarthy
2nd Queensland - Sally Kehoe
3rd Australian Capital Territory - Cara Grzeskowiak
4th Western Australia - Alexandra Hagan, Cch Rhett Ayliffe
5th New South Wales - Aisyah Gala, Cch: Alan Bennett
6th Tasmania - Ciona Wilson, Cchs: Anthony Edwards and John Driessen
---
Women's Interstate Lightweight Quad Scull Championship–The Victoria Cup
Times:
6:33.56
6:36.80
6:45.02
6:52.98
6:55.78

1st Victoria - Bow: Stephanie Radford, 2: Alice Arch, 3: Alice McNamara, Str: India McKenzie, Cch: Bert Cocu
2nd Queensland - Bow: Erin Smith, 2: Madeleine Williams, 3: Wallis Russell, Str: Amy James, Cch: Alex Field
3rd Tasmania - Bow: Eve Mure, 2: Louisa Stewart, 3: Annabel Gibson, Str: Caitlin Bloomfield, Cch: Paul Newbon
4th New South Wales - Bow: Rebecca Humphris, 2: Georgina Masters, 3: Sophie Jerapetritis, Str: Laura Dunn, Cchs: Tess Dixon and Ellen Randell
5th Western Australia - Bow: Pascale Ketelaar, 2: Maria Othzen, 3: Janelle Austin, Str: Maia Simmonds. Cchs: Aidan Smith and Jamie Hewlett
---
Women's Interstate Youth Eight Championship–The Bicentennial Cup
Times:
6:20.40
6:24.89
6:25.25
6:38.06
6:38.17
6:38.61
1st Queensland - Bow: Lucy Coleman, 2: Tyler Ferris, 3: Miller Ferris, 4: Morgan Riemer, 5: Kate Rowan, 6: Eloise Parker, 7: Lily Alton, Str: Ellen Pozzi, Cox: Stephanie Long, Cchs: Jennifer Gilbert and Edward Draydon
2nd Victoria - Bow: Gemma Sibillin, 2: Kirsten Green, 3: Kate Duggan, 4: Amanda Bateman, 5: Maddison Brown, 6: Chloe Betts, 7: Elise Franetic, Str: India Lissa Dempsey, Cox: Alexis Louise Hancock, Cch: Brigette Carlile
3rd Western Australia - Bow: Samantha Brenz-Verca, 2: Molly Booker, 3: Eliza Kelly, 4: India Warren-Hicks, 5: Annabelle McIntyre, 6: Georgia Wheeler, 7: Bronwyn Cox, Str: Bree Kennedy-Smith, Cox: Genevieve Vinciguerra, Cch: Chris Holliday
4th Tasmania - Bow: Olivia Browning, 2: Chloe Cottier, 3: Lilli Reardon, 4: Isobel Robertson, 5: Lauren Conway, 6: Madeline Greenhill, 7: Madeline Tippett, Str: Anneka Reardon, Cox: Alexandra Gruber, Cch: David Tippett
5th South Australia - Bow: Celia Cowan, 2: Carys Jones, 3: Mariah Hatchard, 4: Sophie Freeman, 5: Zoe Molloy, 6: Ella Bramwell, 7: Verayna Zilm, Str: Mackenzie Lum, Cox: Bonnie Hall, Cchs: Catherine McDougall and Simon Lane
6th New South Wales - Bow: Grace Galloway, 2: Bridie O'Gorman, 3: Lara Wainwright, 4: Grace Reid, 5: Lauren Fornasaro, 6: Emma Fessey, 7: Olivia Bartram, Str: Ella Connaghan, Cox: Rebecca Harrisson, Cchs: David Gely and Judith Ungemach
---
Women's Interstate Legs Truck and Arms Scull Championship
Times:
4:05.32
4:34.46
5:15.92

1st New South Wales - Kathleen Murdoch, Cch: Lindsay Callaghan
2nd Tasmania - Emma Jago, Cch: Jenna Driessen
3rd Victoria - Kate Lapthorne, Cch: Andrew O'Brien