2021 Interstate Championships
Lake Barrington, Tasmania
There was much anticipation for these Championships after the cancellation of the 2020 regatta. However it was no certainty with outbreaks of COVID-19 occurring with regularity.
The regatta drew a large entry and it pushed telecommunications to the limit and made emergency planning for such a crowd difficult.
It was pleasing to return to Lake Barrington after a break since 2009. It introduced a new generation of rowers yet to experience the charms of this course.
A limited number of images of this regatta can be found at Australian Rowing Images through the Australian Championships page.
The full program for this regatta can be found through this link - 2021 regatta program.
Index to Results
Whilst Victoria won the blue ribbon events of the King's and Queen's Cups, NSW won the overall point score for the Rowing Australia Cup for the Interstate Regatta.
The results in pdf format can be found through this link - results Day 7 Australian Championships.
---
Organising Committee and Umpires
Organising Committee
Rowing Australia headed by RA Events Manager Alice Evans. Other members included Rob Prescott (Rowing Tasmania), Chris Grummitt, Michael Eastaughffe, Fred Taylor, Anthony Brown and Brett Ralph (Technical Delegate).
Jury
Geoff Northam ACT - President of the Jury, Caroline Schomberg QLD - Assistant President of the Jury, Alan Butorac ACT, Catherine Garrington ACT, Chris Tucker NSW, Greg Smith NSW, Bruce McCarthy QLD, Karen Mills QLD, Rod Roy QLD, Stuart McQuade QLD, Zara Underwood QLD, Barney Cundell SA, Greg Melbourne SA, Steve Pennington SA, Vicky Knight SA, Philip Fraser TAS, Bill Webster VIC, Rene Klupacs VIC, Andrew Guerin VIC, Dave Grubits VIC
Technical Officials
Anthony (Tony) Wimble NSW/QLD, Ashley Dillon VIC, Ben Page ACT, Terry Blyth SA, Paul Knight SA, Robert Stobie QLD, Tim Morris TAS, Chloe Schauble QLD, Guy Bicknell NSW, Jaqueline Williams ACT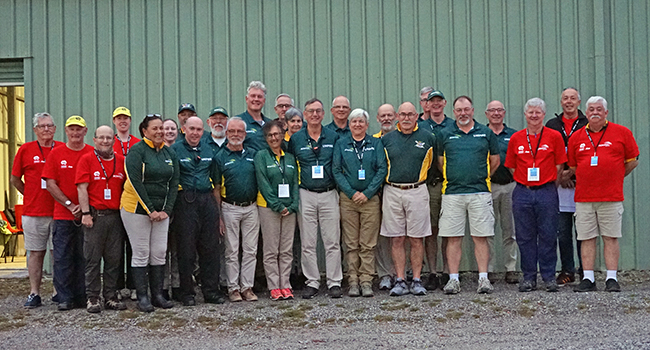 Jury and technical officials at regatta conclusion
---
Men's Interstate Eight-Oared Championship–The King's Cup
Times:
5:45.02
5:45.18
5:57.62
6:00.41
6:06.61
6:09.23

1st Victoria - Bow: Benjamin Canham, 2: Ben Coombs, 3: Jack Robertson, 4: Rohan Lavery, 5: Nick Lavery, 6: Simon Keenan, 7: Joshua Booth, Str: Angus Widdicombe, Cox: Stuart Sim, Coaches: Matthew Ryan, Michael McKay
2nd New South Wales - Bow: Sam Hardy, 2: Will O'Shannessy, 3: Nicholas Purnell, 4: Campbell Watts, 5: Spencer Turrin, 6: Alex Purnell, 7: Jack Hargreaves, Str: Jack O'Brien, Cox: Kendall Brodie
3rd Queensland - Bow: Elliott Apel, 2: Benjamin Pincus, 3: Jackson Free, 4: Nick Ringlestein, 5: Darcy McCluskey, 6: Cormac Kennedy-Leverett, 7: Miller Rowe, Str: Paddy Holt, Cox: Isaac Schmidt, Coach: Richard Powell
4th Western Australia - Bow: Gus Laufmann, 2: Rohan James, 3: Jack Cleary, 4: Sam Marsh, 5: David Watts, 6: Myles McQuillan, 7: Patrick Boere, Str: Joshua Hicks, Cox: Max Montanari, Coaches: Mark Beer, Neville Kempton
5th South Australia - Bow: James Price, 2: Harrison Francis, 3: Matthew Nielsen, 4: Drew Clements, 5: Kane Grant, 6: Ross Hamilton, 7: Angus Dawson, Str: Tim Santin, Cox: Alannah Gilsmore, Coaches: Aimee Maling, William Raven
6th Tasmania - Bow: Luke Haas, 2: Lucas Wigston, 3: Matthew Wyton, 4: Finnian Colley, 5: Joseph Wilson, 6: Wilson Mure, 7: Mitchell Digney, Str: Henry Youl, Cox: Poppy Eastaugh, Coaches: Brett Crow, Andrew Hull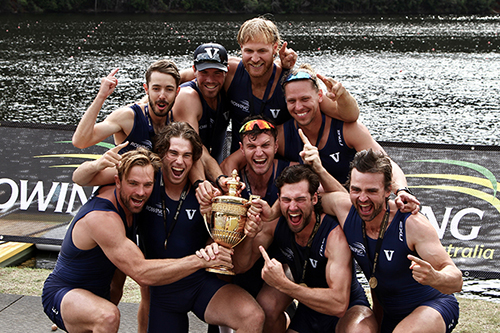 ---
Men's Interstate Sculling Championship–The President's Cup
Times:
7:46.80
7:47.53
7:55.25
8:00.96
8:16.89
8:21.98

1st South Australia - Alexander Hill, Cch: Jason Lane
2nd New South Wales - Cameron Girdlestone, Cch: Donald McLachlan
3rd ACT - Luke Letcher, Cch: David Fraumano
4th Queensland - Hamish Parry
5th Victoria - Red Matthews, Cch: Michael McKay
6th Western Australia - Tim Sander, Cch: Mark Beer
---
Men's Interstate Lightweight Four Championship–The Penrith Cup
Times:
6:18.33
6:20.48
6:21.33
6:26.47

1st Queensland - Bow: David Carter, 2: Christian Place, 3: Jack Bowser, Str: Tom Williamson, Cchs: Leo Karadimitris, Jack Armitage
2nd New South Wales - Bow: Peter Waldersee, 2: Wyatt Batt, 3: Michael McCrea, Str: Sean Murphy, Cchs: Alex Field, Aidan Smit
3rd Victoria - Bow: Sam Oostendorp, 2: Dom Frederico, 3: Harry Cathcart, Str: Thomas Hastings, Cch: Thomas Creber
4th Tasmania - Bow: Jacob Crow, 2: Alec Paterson, 3: Connor Ryan, Str: Angus Paynter, Cchs: John Driessen, Trevor Barrett
---
Men's Interstate Youth Eight Championship–The Noel F Wilkinson Trophy
Times:
5:59.33
6:02.25
6:06.20
6:11.70
6:23.99
6:31.84

1st Victoria - Bow: Marcus Cameron, 2: Martin Kulesza, 3: Jamie Arnold, 4: Marcus Emmett, 5: Fraser Miscamble, 6: Nick Smith, 7: James Scott, Str: Harry Fox, Cox: Charlie Durkin, Cchs: Matthew Ryan, Zachary Smith
2nd New South Wales - Bow: Alexander Wood, 2: Henry Furrer, 3: Torben Ungemach, 4: Elliot Simpson, 5: Lexi McClean, 6: Max Von Appen, 7: Tom Anderson, Str: Nikolas Pender, Cox: Hannah Scarborough, Cchs: Christopher Holliday, Dustyn Butler
3rd Queensland - Bow: Mitch Salisbury, 2: Lachlan Wright, 3: Mackenzie Branch, 4: Jarrod Lord, 5: Alexander Sullivan, 6: Patrick Long, 7: Noah Rosemann, Str: Dylan Rhodes, Cox: Jayden Klemenc, Cchs: Matt Toon, Mike Partridge
4th Western Australia - Bow: Liam Davis, 2: Digby Marshall, 3: Dejan Bouwhuis, 4: Riley Rees-Turner, 5: Johnson Daubney, 6: Hayden Coote, 7: Cameron Glover, Str: Alex Rossi, Cox: Nicolas Rogers, Cchs: Tom Gatti, Ethan Aird
5th South Australia - Bow: Nick Burr, 2: Callum Deckers, 3: Adam Holland, 4: Sam Button, 5: Jeremy Beale, 6: Joshua Felderhof, 7: Angus Shute, Str: Nick Blackman, Cox: Mitch Parker, Cchs: Will Maling, Tim Belcher
6th Tasmania - Bow: Laurie Dean, 2: Aiden Midson, 3: Jarrod Connolly, 4: Andrew Monks, 5: Tom Messer, 6: William Birchmore, 7: Thomas Morgan, Str: Harry Bevan, Cox: Grace Robertson, Cchs: Brendan Long, Alex Thompson
---
Men's Interstate PR3 Scull Championship
Times:
8:52.90
9:00.12
9:14.01
9:19.98
9:38.28
9:47.69
1st South Australia - Jed Altschwager, Cch: Jason Lane
2nd Queensland - Mac Russell, Cch: Michael Russell
3rd ACT - Nicholas Neales, Cch: Charlie MacKenzie
4th New South Wales - Ben Gibson, Cch: Donovan Cech
5th Victoria - Aaron Skinner, Cch: David Skinner
6th Tasmania - Michael Taylor, Cch: Michael Nermut
---
Women's Interstate Eight Championship–The Queen's Cup
Times:
6:28.01
6:39.62
6:51.76
7:05.99
7:08.98
6:41.94

1st Victoria - Bow: Georgie Gleeson, 2: Katrina Werry, 3: Eliza Gaffney, 4: Sarah Hawe, 5: Amanda Bateman, 6: Jess Morrison, 7: Lucy Stephan, Str: Rosie Popa, Cox: James Rook, Coaches: Alistair Matthews, James Rook
2nd New South Wales - Bow: Lauren Graham, 2: Georgina Gotch, 3: Rowena Meredith, 4: Harriet Hudson, 5: Genevieve Horton, 6: Georgie Rowe, 7: Leah Saunders, Str: Emma Fessey, Cox: Talia Barnet-Hepples
3rd Queensland - Bow: Jess Scott, 2: Leukie Smith, 3: Anna Kirkwood, 4: Lexie Nothdurft, 5: Eloise Parker, 6: Kate Rowan, 7: Lily Alton, Str: Jacinta Edmunds, Cox: Elizabeth Egerton, Coaches: Benjamin Southwell, Agustin Radero
4th South Australia - Bow: Sophia Nery, 2: Christie Shanahan, 3: Erica Webb, 4: Katelyn Nicholson, 5: Mieka Webb, 6: Olympia Aldersey, 7: Ella Bramwell, Str: Molly Goodman, Cox: Bonnie Hall, Coaches: Tom Doornbos, Ron Mobbs
5th Tasmania - Bow: Jessica Malisauskas, 2: Lili Wrigley, 3: Courtney Blyth, 4: Hannah Dobbie, 5: Julie Janssens, 6: Sarah Ashlin, 7: Ciona Wilson, Str: Isabelle Higgins, Cox: Daisy Pilkington, Coach: Abbie Crow
6th Western Australia - Bow: Clare Netherway, 2: Joely Patterson, 3: Emma Wilson, 4: Olivia Jones, 5: Bronwyn Cox, 6: Annabelle McIntyre, 7: Genevieve Hart, Str: Giorgia Patten, Cox: Andrew Le [Relegated]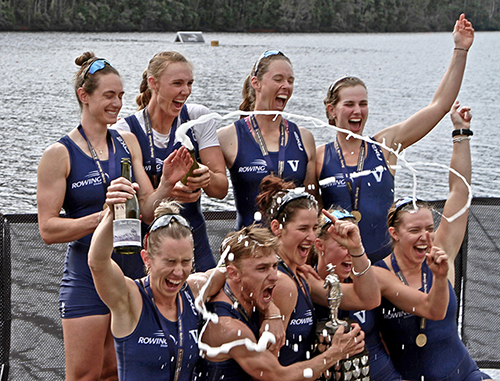 ---
Women's Interstate Lightweight Quad Scull Championship–The Victoria Cup
Times:
7:11.47
7:15.88
7:17.13
7:22.41
7:24.13
8:16.42
1st Tasmania - Bow: Kate Hall, 2: Anneka Reardon, 3: Eve Mure, Str: Georgia Nesbitt, Cchs: Paul Newbon
2nd Queensland - Bow: Gemma Dane, 2: Madeleine Williams, 3: Sophie Gerber, Str: Wallis Russell, Cchs: Michael Russell, Blaine Heseltine, David Tippett
3rd New South Wales - Bow: Annelise Isaacs, 2: Sophie Jerapetritis, 3: Lucy Coleman, Str: Sarah Pound, Cchs: Hally Chapman, Matthew Curtin
4th Western Australia - Bow: Lola Davies, 2: Ruth Morris, 3: Georgia Seed, Str: Suzannah Gravestock, Cch: Stefano Balosso
5th Victoria - Bow: Maggie Foley, 2: Phoebe Wolf, 3: Sophie Walmsley, Str: Mila Marston, Cch: Mitchell Nelson
6th ACT - Bow: Adair Ferguson, 2: Ella Andreina Beniamini, 3: Charlotte Ryan, Str: Ellie Barr, Cch: Nigel Harding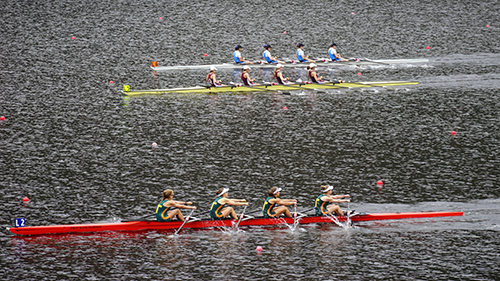 ---
Women's Interstate Youth Eight Championship–The Bicentennial Cup
Times:
6:40.72
6:42.41
6:43.88
6:55.37
6:57.16
6:57.37
7:12.76
1st Western Australia - Bow: Rebecca Bolster, 2: Lola Quinn, 3: Clare Netherway, 4: Zoe McKellar, 5: Jacqui Swick, 6: Joely Patterson, 7: Genevieve Hart, Str: Rebecca Pretorius, Cox: Emily Jowett-Blinman, Cchs: Greg Willson, Jack O'Dea
2nd Victoria - Bow: Louisa Bongrain, 2: Aaliah Dawson, 3: Katerina Bitzios, 4: Katie Easton, 5: Olivia Sargeant, 6: Paige Barr, 7: Emily Sutherland, Str: Sophie Reinehr, Cox: Hayley Verbunt, Cch: Samuel Fennessy
3rd New South Wales - Bow: Grace Sypher, 2: Lily Gavan, 3: Lily Eales, 4: Niamh Graham, 5: Sophie Houston, 6: Laura Gourley, 7: Caitlin McManus-Barrett, Str: Evie Thomson, Cox: Hannah Cowap, Cchs: Lachlan Carter, Jack Hanley
4th Queensland - Bow: Danica Free, 2: Issy Drewe, 3: Karly Firmin, 4: Jade Mansell, 5: Phoebe Robinson, 6: Alexandra Rooney, &: Ellyn Hill, Str: Nancy Duncan-Banks, Cox: Sadie Ridgway, Cchs: Duncan Free, Andrew McNicol
5th Tasmania - Bow: Phoebe Teale, 2: Anna Blackwell, 3: Amy Bain, 4: Molly McCausland, 5: Greta Brown, 6: Abbey Boutcher, 7: Sophie Robinson, Str: Kate Oliver, Cox: Chloe Mead, Cchs: Shaun Finlayson, Graham Scattergood
6th South Australia - Bow: Sophie Tickner, 2: Victoria Binns, 3: Milla Barei, 4: Georgina Birchall, 5: Jemima Richter, 6: Clare Romaniuk, 7: Sophie Barr, Str: Cleo Wilson, Cox: Kate Crowley, Cchs: Brynley Millward, Patrick Ey
7th ACT - Bow: Cara Martin, 2: Claudia Downes, 3: Ellora Kelly, 4: Harriet Wallace, 5: Eloise Lambden, 6: Elisabeth Gregory, 7: Zoe Bond, Str: Madeline Vagg, Cox: Sasha McDonagh, Cchs: Nigel Harding, Renae Domaschenz, Sarah Cook
---
Women's Interstate Sculling Championship–The Nell Slatter Trophy
Times:
8:20.45
8:21.39
8:34.52
8:42.95
8:58.36
9:07.06
1st New South Wales - Tara Rigney, Cch: Alfie Young
2nd Queensland - Caitlin Cronin, Cch: Benjamin Southwell
3rd Victoria - Ria Thompson, Cchs: Alistair Matthews, James Rook
4th South Australia - Verayna Zilm, Cch: Jason Lane
5th ACT - Lilli Reardon, Cch: Nigel Harding
6th Western Australia - Thea Adamson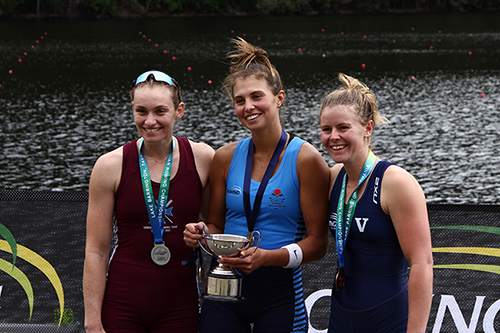 ---
Women's Interstate PR3 Sculling Championship
Times:
10:30.72
10:40.52
11:41.22
12:33.78
1st ACT - Nikki Ayers, Cchs: David Fraumano, David Bagnall
2nd Victoria - Jessica Gallagher, Cch: Hannah Every-Hall
3rd New South Wales - Bronte Marshall, Cchs: Barbara Ramjan, Anne Craig, Liam James
4th Queensland - Rebecca Markwell, Cch: Allan Gough