1928 Interstate Championships
Women's: 28 Apr 1928, Hen & Chicken Bay, Parramatta River NSW
Men's: 5 May 1928, Nepean River NSW
Index to Results
---
47th Men's Interstate Eight-Oared Championship–The King's Cup
Time: 16.50.4
Margin: 1 length
1st WA - Bow: Clay Duke, 2: Athol Thomas, 3: William (Bill) A Browne, 4: Jim Shaw, 5: A (Steve) McHenry, 6: George Orgill, 7: Bert Buzolic, Str: W Murray Church, Cox: Owen Carrick, Cch: Paddy J Ryan, Emerg: W Buscomb
2nd QLD - Bow: D McDowell, 2: Jack Cullen, 3: J Mansfield, 4: L Anderson, 5: S Watson, 6: R Weir, 7: A Anderson, Str: J Anderson, Cox: P Lambert, Emerg: T Barton, Cch: M Raffin, Manager: G N Smoothey
3rd TAS - Bow: F Fazackerley, 2: A Hudson, 3: A Bucirde, 4: N Stilwell, 5: L Gibson, 6: H Wilkinson, 7: D Haywood, Str: G Leitch, Cox: H McK Freeburgh, Emerg: Reg Beauchamp, Cch: Fred Coverdale, Mgr: L McPartlan
4th VIC - Bow: K Taylor, 2: R Jelbart, 3: R Grover Heyward, 4: L Glynn, 5: L Scully, 6: E V Porter, 7: Jack South, Str: B C Edwards, Cox: J Dutton, Emerg: R Merriman, Cch: E Horsburgh, Mgr: H E Butler. Cecil McKay & Richard Emms were selected originally but were unable to make the journey. Selectors, E Kenny, J B Suffren & coach
5th NSW - J P Butler, Arthur J Cashman, Oswald (Ossie) R Dowling, Charles (Chic) W Hurley, William E Livingston, Sidney Raper, Walter C H Ridley, George S Wallis, Str: Malcolm G Mackenzie Cox: Reg J Daly, Cch: Ernie E Keary, Mgr: W E Wilson
6th SA - Bow: F Davey, 2: C White, 3: K White, 4: T Jelley, 5: L White, 6: A Hallett. 7: L Goerecke, Str: W Salkeld, Cox: C Turner, Cch: A A P Connolly, Mgr: J Kitson, Emerg: A Cormack
This was the first time that this event had been held at Penrith. Prior to this time, the event was held on the Parramatta River in Sydney whenever it was conducted in NSW. The Prime Minister S M Bruce, a keen rowing man, the State Governor and the Acting Premier were amongst the crowd of over 20,000.
This was the third win in four starts by WA with only four city clubs and two weak country clubs to choose from. Coach and sole selector of the crews was P J "Paddy" Ryan. The eights race was memorable with less than a length separating the six crew for most of the race. It is also memorable because the racing by the Queensland crew was also superb, fighting all the way with WA. NSW had selection issues again with the Mosman contingent making demands regarding composition of the crew; two Mosman rowers withdrew.

Bow: Clay Duke, 2: Athol Thomas, 3: William (Bill) A Browne, 4: Jim Shaw, 5: A (Steve) McHenry, 6: George Orgill, 7: Bert Buzolic, Str: W Murray Church, Cox: Owen Carrick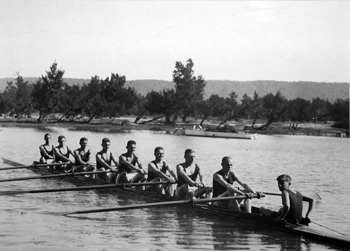 Bow: K Taylor, 2: R Jelbart, 3: R Grover Heyward, 4: L Glynn, 5: L Scully, 6: E V Porter, 7: Jack South, Str: B C Edwards, Cox: J Dutton
---
Men's Interstate Sculling Championship–The President's Cup
Distance: 2 1/2 mile
Time: 15.30.40
Margin: Easily although estimated margins 30 and 10 lengths
1st NSW - Henry (Bobby) Pearce
2nd TAS - Rex Marsh
3rd VIC - Arthur H Cambridge
4th QLD - A Buckley
Bobby Pearce's race was described as phenomenal by the Victorian Rowing Association in its Annual Report. The margin of 30 lengths between first and second gives a sense of the race.
---
Women's Interstate Four-Oared Championship–The ULVA Trophy
Distance: 1/2 Mile
Time: 3.33.2
Margins: 2 lengths & 1/2 length
1st NSW - Bow: Flo Thurston, 2: Win Durrell, 3: Iris Pike, Str: Rose C Goodman, Cox: Mr Jim Boultbee, Cch: Mr Claude Rosevear
2nd SA - Bow: E Elma, 2: M Quin, 3: A Hill, Str: J Thomas, Cox: L Hill
3rd QLD - Bow: G Carr, 2: O Lutz, 3: M Reid, Str: K Beardmore, Cox: Mr N Hooper
4th VIC - Bow: M Constable, 2: T Eyres, 3: P Burren, Str: T Atkins, Cox: C Buchanan, Emerg: E Connor, Cch: T Buchanan, Mgr: R Williams
This was the first win by NSW since the start of the Championships in 1920. The crew came from Sydney Women's Rowing Club, a club which had commenced in 1910. Their coach was a hard working Claude Rosevear whose son Ossie was a well known supporter of the sport during his life. The cox was also the father of well-known rowing man John Boultbee. The NSW crew racowed with good length and with consistency; their win never in doubt.
However the South Australian's race was well regarded and considered to be "plucky". The margin would not have been as great as 2 lengths had the South Australians not stopped rowing when judges gun fired when NSW crossed the line.
---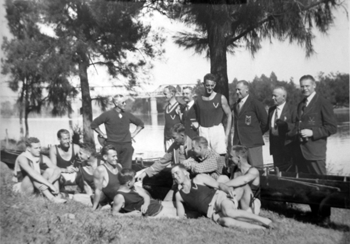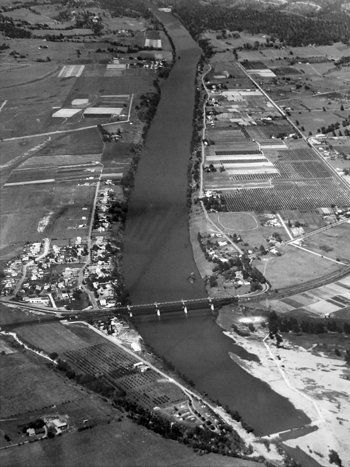 ---
Sources
Regatta Program
Victorian Rowing Association annual report
Author's own records