1926 Interstate Championships
Women's: 1 May 1926, Brisbane River QLD
Men's: 8 May 1926, Brisbane River QLD
Photo Gallery
Index to Results
---
Regatta Officials
Starter: Mr C Rudd
Umpire: F W de Little
Judge: Hon J F Donovan
Timekeepers: R Wilson & E E McCaskie
Weight Steward: H Kyle
Chairman: R G Howard Gill
Treasurer: P C Hooper
Hon Sec: G N Smoothey
---
Men's Interstate Eight-Oared Championship–The King's Cup
Distance: 3 miles
Time: 15.43
Margins: 1, 3/4 & 2 lengths
1st TAS - Bow: Edward Elrick, 2: D Haywood, 3: W Hull, 4: G Richardson, 5: J A Inglis, 6: A Filbee, 7: L R Smith, Str: J L Hallam, Cox: A Griggs, Cch & Mgr: Cecil L McVilly, Emerg: H Wilkinson
2nd SA - Bow: A Pilmore, 2: J Guerin, 3: H W Doecke, 4: A V Scott, 5: D Marshall, 6: L Stone, 7: A Loxton, Str: Walter H Pfeiffer, Cox: R A Cummings, Cch: E Higgs, Emerg: C F Kretschmer, Mgr: J P Marcus
3rd VIC - Bow: W A Holtham, 2: G J Adam, 3: L A J Scully, 4: F C Borrman, 5: W L Pincott, 6: E J Farrell, 7: R (Bob) V Gregg, Str: H A Schlichting, Cox: B E Coombes, Emerg: Jack L Mounsey, Cchs & selectors: Charles Donald & Edward Kenny, Mgr: Jimmy P Rorke
4th QLD - Bow: H G Poole, 2: E G Cook, 3: R Shaw, 4: R Couzens, 5: H Blackman, 6: J J Poole, 7: S McFarlane, Str: M Raffin, Cox: J Hughes, Cch: John Copp, Emerg: D Castles
NSW did not finish - Bow: George S Wallis, 2: J T Vindin, 3: Phillip G Dowling, 4: Gilbert E Phillips, 5: J Lowrey, 6: William (Bill) C H Ridley, 7: Charles (Chic) W Hurley, Str: William E Livingston, Emerg: Oswald (Ossie) R Dowling, Cox: R J Daly, Cch: Stuart S Amess, Mgr: E J Buckley
The Queensland crew put a good fight and were in the lead after a mile. However the strength of the Tasmanian, South Australian and Victorian crews showed through in the second half of the race. NSW ceased rowing before completing the race. On a sad note, the Victorian bow man died in the months following the race.
Bow: Edward Elrick, 2: D Haywood, 3: W Hull, 4: G Richardson, 5: J A Inglis, 6: A Filbee, 7: L R Smith, Str: J L Hallam, Cox: A Griggs
---
Men's Interstate Sculling Championship–The President's Cup
Time: 15.35.0
Distance: 2 1/2 miles
Margins: 1 1/2 and 2 lengths
1st QLD - Arthur A Baynes
2nd NSW - Jack A Goulding
3rd VIC - Arthur Cambridge
4th TAS - Les C Nimmo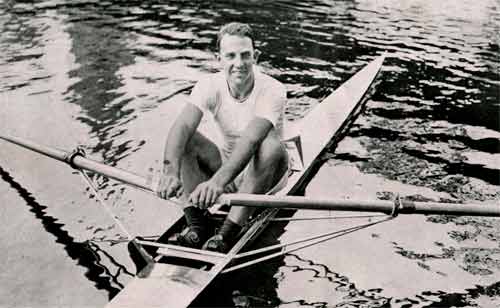 The scullers race for the President's Cup for the first time at these Championships. The trophy was presented to the AARC by their inaugural president, Mr E C Watchorn of Tasmania. The sculling race also proved to be a great race with a stirring struggle between the first three placed scullers with close margins considering the 2 1/2 mile race. Nimmo from Tasmania again suffered an accident, this time to his fin and caused a foul to Cambridge. The nineteen year old Goulding led for a good part of the race before the experienced Baynes rowed him down. Perhaps the promising young sculler Goulding had caused Baynes too much grief as Baynes retired after this race.
---
Women's Interstate Four-Oared Championship–The ULVA Trophy
Distance: 1/2 Mile
No time taken
Margin: 6 lengths
1st SA - Bow: G O'Malley, 2: M Quin, 3: Adele Hill, Str: J Thomas, Cox: Len Hill
2nd QLD - Bow: C Hooper, 2: R George, 3: A Hinckfuss, Str: E Palmer, Cox: Mr C Dix
The South Australians were far too strong in this two crew race.
---
Sources
Regatta program
Author's records