1931 NSW AAGPS Head of the River
Shore won this year from Sydney High and St Josephs in third place. The margins were again close with one canvas between first and second.
---
Organising Committee and Officials
Organising Committee: AAGPS
1st Sydney Church of England Grammar School (Shore)
2nd Sydney High School
3rd St Josephs College
4th The King's School
Other crews:
St Ignatius College - Bow: Des Byrnes, Mick Beirne, Les Byrnes, Lou Anivitti, Joe Tully, Dave Burfitt, Frank Cruise, Jack Townsend, Cch: A O Pfafflin
Heats:
E1: 1st Sydney High, 2nd Kings' School, 3rd Shore, 4th St Ignatius College
The following image of the final stages of this race appears in the 1988 book of Peter Taylor, A Celebration of Shore. It has been reproduced on the school website at: Shore history and war publications. - Sydney Church of England Grammar School from where this image has been taken.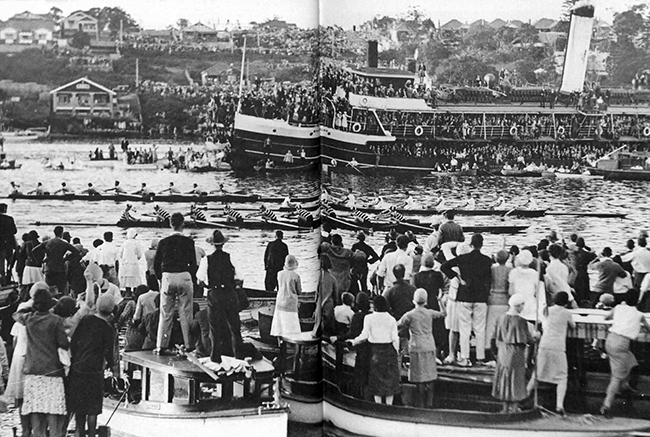 Time: 5 mins 47 secs (equal record for this course)
1st Sydney High School
2nd Sydney Church of England Grammar School
3rd St Joseph's College
4th Sydney Grammar School
Other crews:
St Ignatius College
1st St Jospeh's College
2nd Sydney High School
3rd Sydney Church of England Grammar School
4th Scots' College
Sources include:
The Record, Sydney High School Vol XXIII No 1, 1931
A Celebration of Rowing, Sydney Church of England Grammar School by Peter Taylor, 1988