1929 NSW AAGPS Head of the River
Sydney High School was not to be denied two years running and came back with a fine win in both heat and final. This made nine wins from 10 starts. George Hancock was again the coach.
The conditions on the finals day were difficult with a strong cross wind making for choppy conditions.
---
Organising Committee and Officials
Organising Committee: AAGPS
Time: 9 mins 19 secs
Margins: 3 feet, 0.75 length, 3 lengths
1st Sydney High School - Bow: B C Gardiner, 2: H V Rees, 3: F H Berger, 4: H F Bolton, 5: D J Duffy, 6: J B Robinson, 7: Ron C Eubel (Captain of Boats), Str: R G "Bulge" Walker, Cox: A E Kahn, Cch: George Hancock
2nd Sydney Grammar School
3rd Sydney Church of England Grammar School
4th Newington College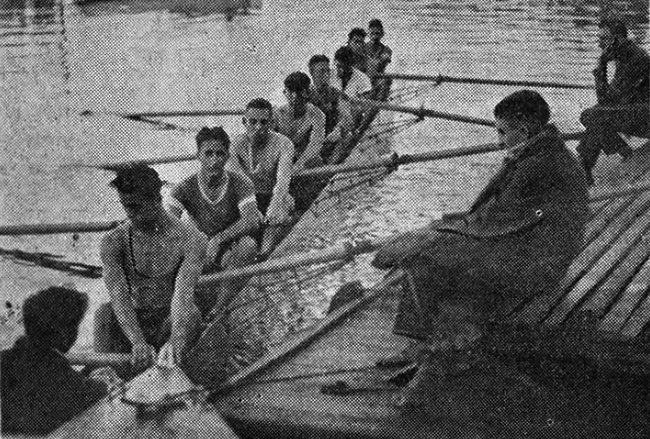 Sydney High School Eight after winning their race
Time: 6 mins 27.5 secs
Margins: 2 lengths, 0.5 length
1st Sydney High School - Bow: R Nicholson, 2: G Millard, 3: E Baber, Str: J Broughton, Cox. J Hill, Coach Mr C Smith.
2nd Newington College
3rd St Ignatius College
Time: 6 min 44 secs
Margin: 1.5 lengths, 2 lengths
1st St Ignatius College - Cch: W B Williamson
2nd Sydney High School - Bow: R Crebbin, 2: J Quinlan, 3: D Ferguson, Str: C Gerrard, Cox: R Henderson, Coach: Mr K Dainer
3rd St Joseph's College
4th Scots College
Heats: St Ignatius won their heat on Wednesday by 10 lengths in good conditions and started favourite.
Sources include:
The Record, Sydney High School, Vol XXI No 1, 1929