1993 QLD GPS Head of the River
The 71st boys Head of the River was conducted on Saturday 27th March 1993 at Lake Wivenhoe, Queensland.
The winning crew came from Brisbane Boys College. The crew with two changes, Matt Kesby into the two seat and Lachlan Winterbotham into the coxswain seat, competed at Henley Royal Regatta later that year. The crew won the Princess Elizabeth Challenge Cup. Simon Newcomb, then at the school, then started a move to create a Queen Elizabeth Cup in Australia for a schoolboy challenge event. Rowing Australia took over the work undertaken by Simon and changed the direction of the endeavour to the Interstate Women's Eight Oared Championship, the Queen's Cup.
---
Organising Committee
Great Public Schools Association
---
Open Championship First Eight
The O'Connor Cup
1st Brisbane Boys' College - Bow: Trent Jensen, 2: Tim Bentley, 3: Nick Hollingworth, 4: Neil Simmonds, 5: Scott Wilson, 6: Greg Brown, 7: Haimish Karrasch, Str: Lachlan Brown, Cox: Jon Morrow, Coach: Ian Luxford
2nd The Southport School
3rd Gregory Terrace - Bow: C. McSweeney, 2: C. Christensen, 3: M. Boulton, 4: M. Noonan, 5: J. O'Hara, 6: M. Ritchie, 7: M. Morrison, Str: I. Thomson, Cox: A. Gibson
4th Anglican Church Grammar School - Bow: C. Quarterman, 2: P. Frew, 3: A. McLeod, 4: B. Dodd, 5: T. Jordan, 6: C. Craddock, 7: J. Davies, Str: G. Worrell, Cox: J. A. Pollock, Coach: B. Greenland
1993 Victorious Brisbane Boys' College First VIII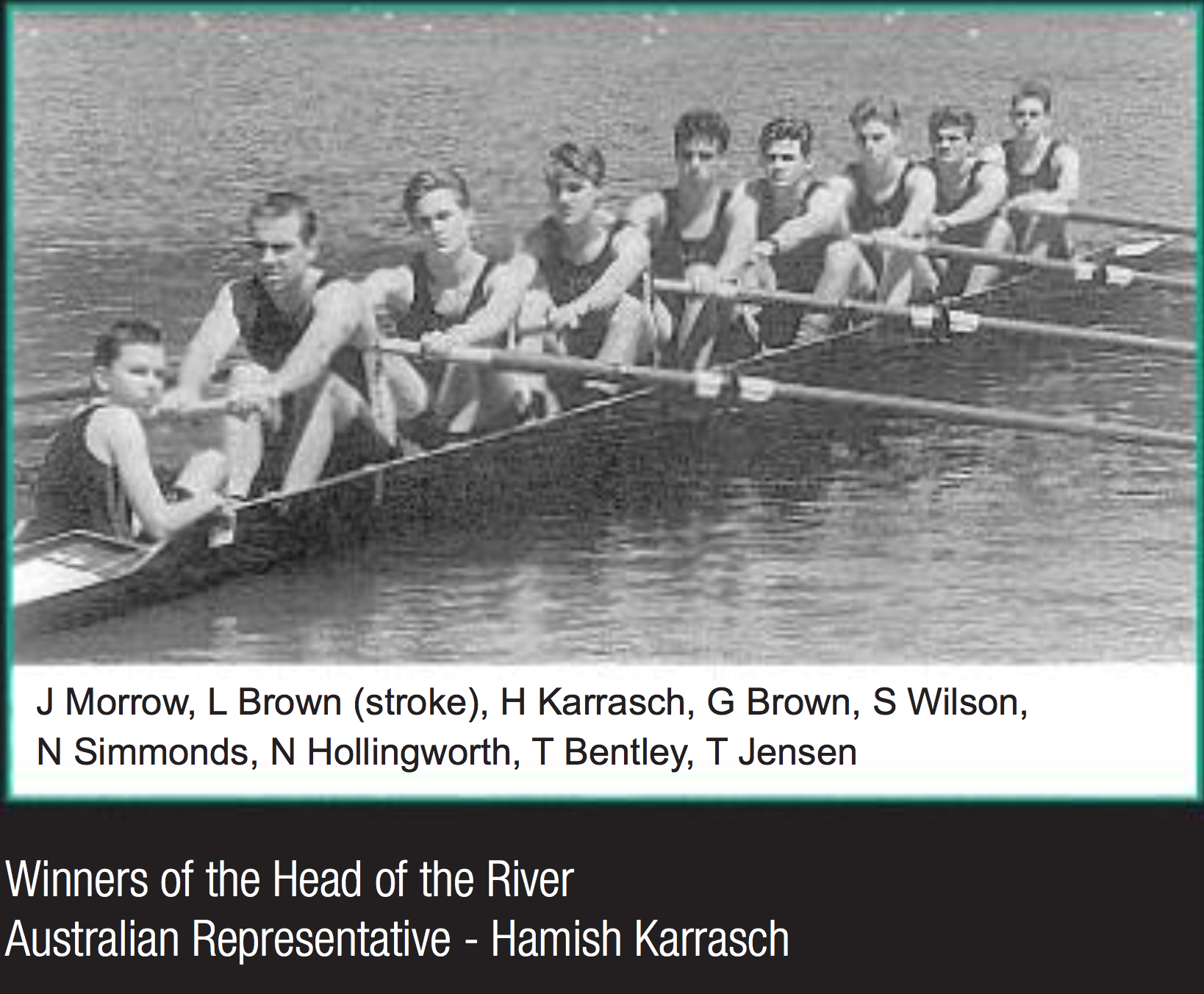 Brisbane Boys' College at the Henley Regatta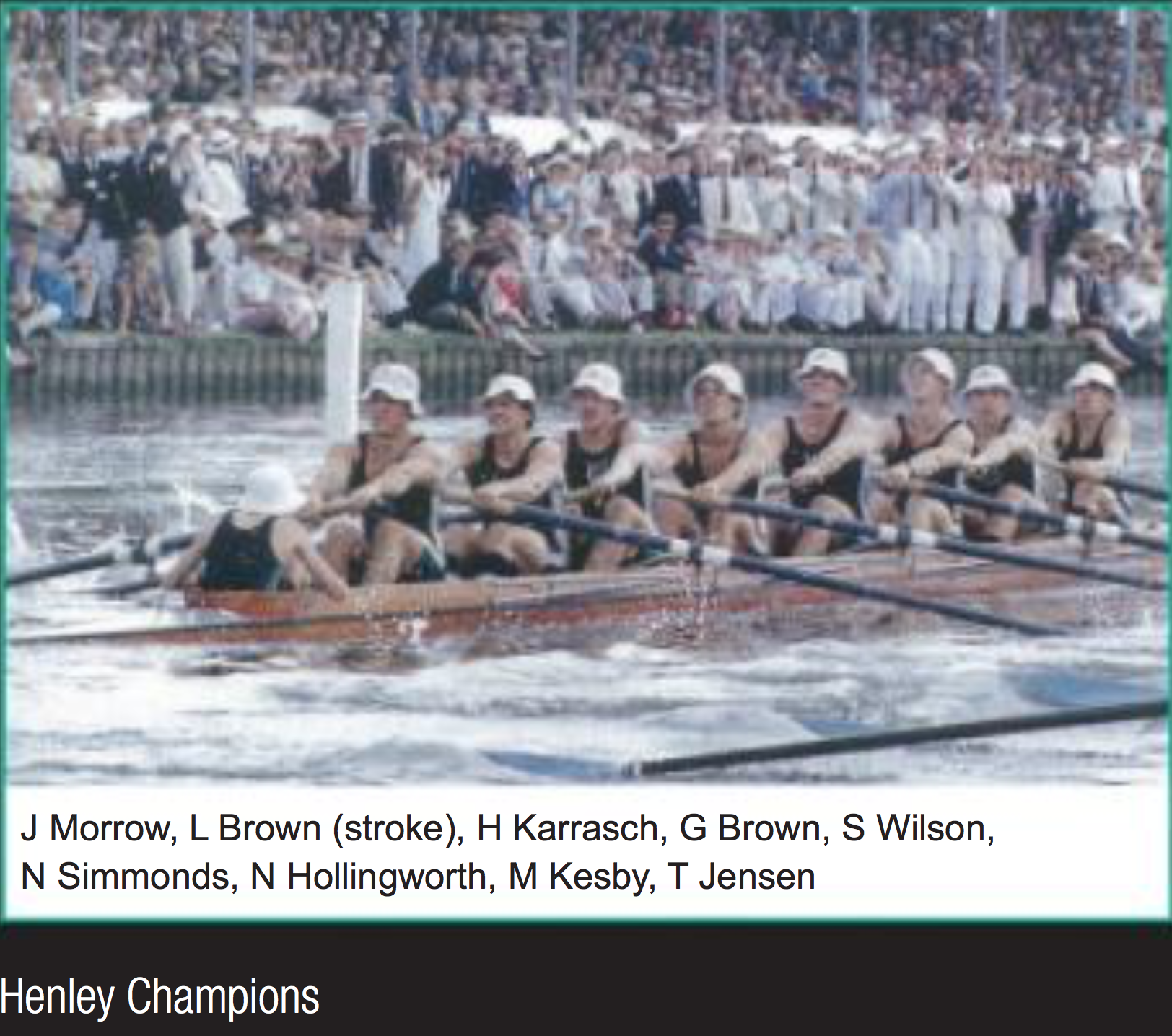 ---
Open Second Eight
Distance: 2000 Metres
1st Brisbane Boys' College
2nd Anglican Church Grammar School - Bow: J. Grainger, 2: A. Gillespie, 3: M. Walker, 4: A. Hodgetts, 5: C. Robinson, 6: D. Scott, 7: I. Evans, Str: A. Davies, Cox: A. Wood, Coach: A. Rowan
3rd Brisbane Grammar School
Other Competing Crews:
Gregory Terrace - Bow: M. Toon, 2: M. Smith, 3: D. McConaghy, 4: A. Joseph, 5: R. George, 6: C. Sergiacomi, 7: P. Raven, Str: M. Reordan, Cox: M. Hoare
---
Open Third Eight
Distance: 2000 Metres
1st Anglican Church Grammar School - Bow: H. Blunck, 2: N. Doyle, 3: W. Burton, 4: G. Breay, 5: W. Behrend, 6: C. Cowlishaw, 7: A. McMaugh, Str: R. Joseph, Cox: D. Paddy, Coach: A. Dickson
2nd Brisbane Boys' College
3rd Gregory Terrace - Bow: L. Graham, 2: D. Clarke, 3: K. Durack, 4: N. Cavallaro, 5: S. Martin, 6: K. Martin, 7: N. Williams, Str: P. Barry, Cox: R. Rollston
---
Under 16 First Eight
Distance: 2000 Metres
1st Brisbane Boys' College
2nd Gregory Terrace - Bow: P. Rush, 2: S. Lewis, 3: C. Norden, 4: P. Joseph, 5: A. Alfod, 6: D. Cavalucci, 7: B. Beckwith, Str: M. Christensen, Cox: B. Grice
3rd Anglican Church Grammar School - Bow: S. Fraser, 2: A. Taylor, 3: K. Breay, 4: M. Stinson, 5: I. Herbert, 6: B. Tidey, 7: B. Elliot, Str: A. J. Jell, Cox: A. Thompson, Coach: G. Edmonds
Other Competing Crews:
The Southport School
Brisbane Grammar School
Brisbane State High School
---
Under 16 Second Eight
Distance: 2000 Metres
1st Brisbane Boys' College
2nd Gregory Terrace - Bow: C. Oneto, 2: G. Newcombe, 3: P. Hawkins, 4: P. Cook, 5: A. Flynn, 6: N. Dwyer, 7: M. Croker, Str: J. Woolhouse, Cox: K. Kelly
3rd Anglican Church Grammar School - Bow: B. Lewis, 2: C. Robey, 3: J. P. Lenz, 4: B. Kirkwood, 5: R. Lovell, 6: R. Kelly, 7: J. Livingstone, Str: S. Northcott, Cox: M. Best, Coach: P. A. Jell
Other Competing Crews:
The Southport School
Brisbane State High School
Brisbane Grammar School
---
Under 16 First Four
Distance: 1500 Metres
1st The Southport School
2nd Brisbane Grammar School
3rd Brisbane Boys' College
4th Anglican Church Grammar School - Bow: B. Olsen, 2: D. McNamara, 3: C. Amble, Str: D. Marr, Cox: M. Micheletti, Coach: D. Green
Other Competing Crews:

Gregory Terrace - Bow: C. Galt, 2: M. Dalton, 3: T. Achurch, Str: C. Carrigan, Cox: L. Hakwins
---
Under 16 Second Four
Distance: 1500 Metres
1st Brisbane Boys' College
2nd Brisbane Grammar School
3rd Anglican Church Grammar School - Bow: S. Osio, 2: J. Perry, 3: B. Masters, Str: J. Finnila, Cox: A. Wilkie, Coach: D. Green
Other Competing Crews:
Gregory Terrace - Bow: P. Noonan, 2: J. Clarebunt, 3: M. O'Loan, Str: P. Hefferan, Cox: E. Romaniuk
---
Under 15 First Four
Distance: 1500 Metres
1st Brisbane Grammar School
2nd Anglican Church Grammar School - Bow: E. Taylor, 2: A. White, 3: A. Feathers-tonhaugh, Str: C. Davis, Cox: S. Paddy, Coach: C. A. A. Elliot
3rd Brisbane Boys' College
Other Competing Crews:
Gregory Terrace - Bow C. Stringfellow, 2: J. O'Hara, 3: S. Winter, Str: J. Westlake, Cox: M. Toon
Brisbane State High School
The Southport School
---
Boys Under 15 Second Four
Distance: 1500 Metres
1st Anglican Church Grammar School
2nd Brisbane Grammar School
3rd Gregory Terrace - Bow: S. Jones, 2: Ruzzene, 3: B. Carroll, Str: J. Luck, Cox: D. Kloza
Other Competing Crews:
Brisbane State High School
The Southport School
Brisbane Boys' College
---
Under 15 Third Four
Distance: 1500 Metres
1st Brisbane Grammar School
2nd Anglican Church Grammar School - Bow: J. Ellemor, 2: M. Woodhead, 3: S. Bishop, Str: E. McCormack, Cox: S. Freshney, Coach: J. Craddock
3rd Brisbane Boys' College
Other Competing Crews:
Gregory Terrace - Bow: A. Thomson, 2: T. Parry, 3: T. Mylne, Str: A. Ritchie, Cox: L. Bowes

---
Under 15 Fourth Four
Distance: 1500 Metres
1st Brisbane Boys' College
2nd Anglican Church Grammar School - Bow: R. Quarterman, 2: J. Augustin, 3: R. Unwin, Str: R. Fryer, Cox: B. King, Coach: J. Craddock
3rd Brisbane Grammar School
Other Competing Crews:
Gregory Terrace - Bow: D. Rush, 2: J. Atkinson, 3: V. McCormack, Str: G. McInerney, Cox: K. Russet
The Southport School
Brisbane State High School
---
Under 15 Fifth Four
Distance: 1500 Metres
1st Brisbane Boys' College
2nd Anglican Church Grammar School - Bow: A. Martin, 2: A. Schmidt, 3: J. Evans, Str: C. Smallhorn, Cox: S. Hill, Coach: J. Douglas / A. Ward
3rd Brisbane Grammar School
Other Competing Crews:
Gregory Terrace - Bow: B. Byrne, 2: D. Baker, 3: L. Bennett, Str: J. Copley, Cox: B. Long
---
Boys Under 15 Sixth Four
Distance: 1500 Metres
1st Anglican Church Grammar School - Bow: D. Caldwell, 2: T. Collins, 3: D. Carney, Str: G. Webb, Cox: N. Batty, Coach: J. Douglas / A. Ward
2nd Brisbane Grammar School
3rd Gregory Terrace - Bow: P. Bowes, 2: K. Hoeft, 3: D. Tynan, Str: J. Josephson, Cox: D. Bartels
Other Competing Crews:
Brisbane Boys' College
The Southport School
Brisbane State High School