1956 QLD GPS Head of the River
The 1956 Head of the River was conducted on the 21st April 1956 on the Milton Reach of the Brisbane River.
Below are some predictions that were made by the Brisbane newspapers:
"Dave Magoffin, one of Queensland's leading rowing coaches, said last night that the B.B.C. crew is favourite to win the Head of the River, over 2000 Metres on Milton Reach at 4pm tomorrow, their closest rivals are expected to be Gregory Terrace and Grammar. The latter won last years event. B.B.C., a lively crew, will have no. 3 position in the middle of the river. At training their starts have been fast and they should take an early lead. Terrace is also very fast off the mark, have drawn no. 5 position on the south bank which could be a handicap because of the dead water near Davies park. Terrace drew the same position last year."
Page 13, The Courier-Mail, April 20 1956 edition
"After only two attempts at the Head of the River, Gregory Terrace have come up this time with a combination that has very bright prospects of winning the GPS 2 000 metre classic on Saturday. A high-rating crew, they should establish an early lead and then dictate the terms of the race. However, Jim Russell is confident that if another crew beats his men off the mark or paces with them early, they will be able to handle the situation just the same. They are by no means polished but are experienced and strong, and in training have been turning in some surprisingly good rows. Over the week-end they commenced a course rating 42, dropped to 40, and then lifted to 42 again for the sprint home. They cleared never less than two feet at any stage. In a pipe opener here last month they finished well back behind Gregory Terrace and C.E.G.S. but are reported to have improved considerably in the meantime. Southport are due in Brisbane today (Tuesday 17 April 1956) to wind up their training. C.E.G.S. have probably had the most strenuous training schedule, and this solid combination is right at its peak. A sparkling full pressure work out during the week-end gave supporters hopes of seeing the school record its first win since 1941."
Page 34, Brisbane Telegraph, April 17 1956 Edition
"Other crews did full pressure training rows this week and the lightweight Southport crew did not raise a sweat. Coach Clavill Bere has adopted an idea of the late Professor Cotton in carving out this plan: Cotton believes that only sufficient work should be done in the week preceding a race to allow crew to retain its feel and timing. The rest allows the crew to hold its peak. Southport stroke, Ian Cameron, and his cousin, John Adam, stroke of B.B.C. have developed a friendly rivalry which has been aided by the luck of the draw. Southport will start from no. 2 and B.B.C. no. 3. B.B.C. also is a lightweight crew Rowing together well, it has very neat blade work. The only exaggerate discordant note is an exaggerated layback at the finish of the stroke by one member of the crew. Four of the B.B.C. crew, John Adam, Barton Clark, Ian Magnus, and John Wilson, are sons of doctors. Rowing identities claim that trying to tip the winner of the Head of the River is most difficult. This may well be, for Churchie, Terrace, and BGS all have shown good form at various times during the past week and any one could cause an upset."
Page 40, The Brisbane Telegraph, April 20 1956 Edition
A record 20 000 spectators were present to see Brisbane Boys' College win the 1956 Head of the River comfortably by 1.25 lengths.
---
Organising Committee
Great Public Schools Association
Known Officials:
Starter: Cliff Cullen

---
All Schools' Championship First Eight
The O'Connor Cup
Distance:
2000 Metres
Winning Times: 5:58.00 (a record)
Margins:
1.25 Lengths (1-2)
0.5 Lengths (2-3)
1st Brisbane Boys' College - Bow: John Wilson, 2: Graeme Kerrison, 3: Russell Philip, 4: Robert Bodman, 5: Ian Mayes, 6: Ian Cook, 7: Barton Clarke, Str: John Adam, Cox: Ted Egerton, Coach: David Magoffin
2nd The Southport School - Bow: G. Ryland, 2: W. Horn, 3: P. Calander, 4: B. Hervey, 5: R. Kelly, 6: W. Campbell, 7: C. Tyson, Str: I. Cameron, Cox: B. Ryland
3rd Anglican Church Grammar School - Bow: I. Gault, 2: D. Parker, 3: E. Anning, 4: R. Walker, 5: P. Jorss, 6: K. Siddle, 7: E. Reeve, Str: P. Apel, Cox: R. Chapman, Coach: C. R. Lyndon
4th Brisbane Grammar School
5th Gregory Terrace
Winning Brisbane Boys' College Crew.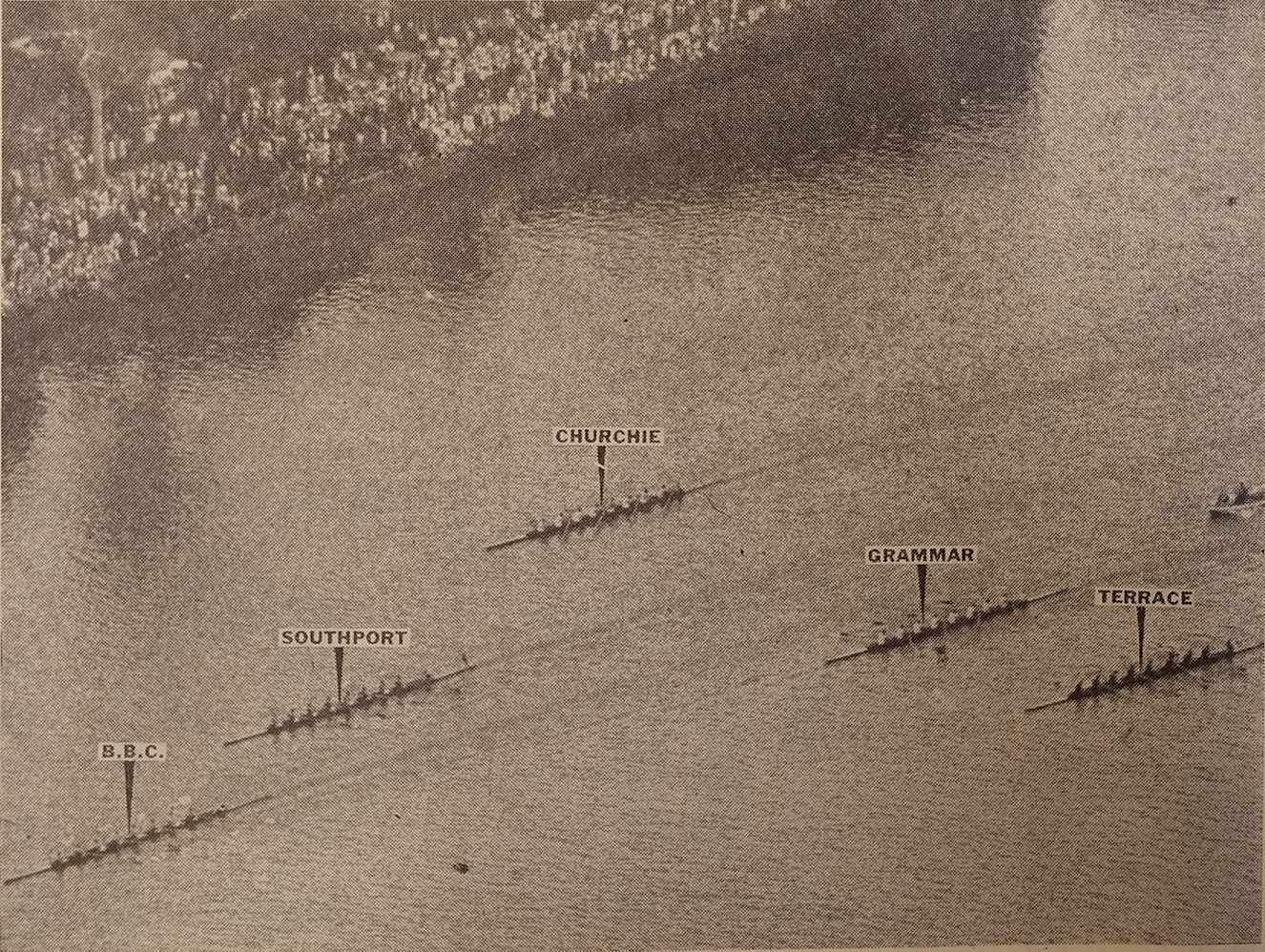 Runners Up Southport Crew: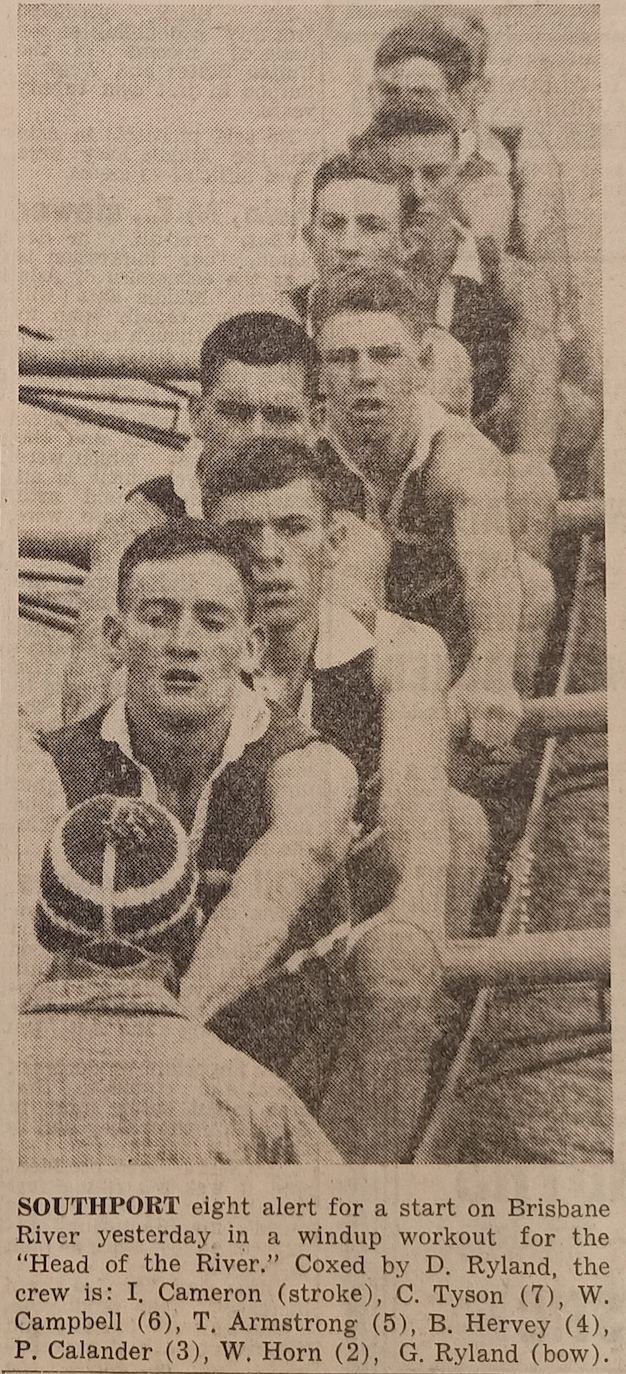 Third Place Church of England Grammar School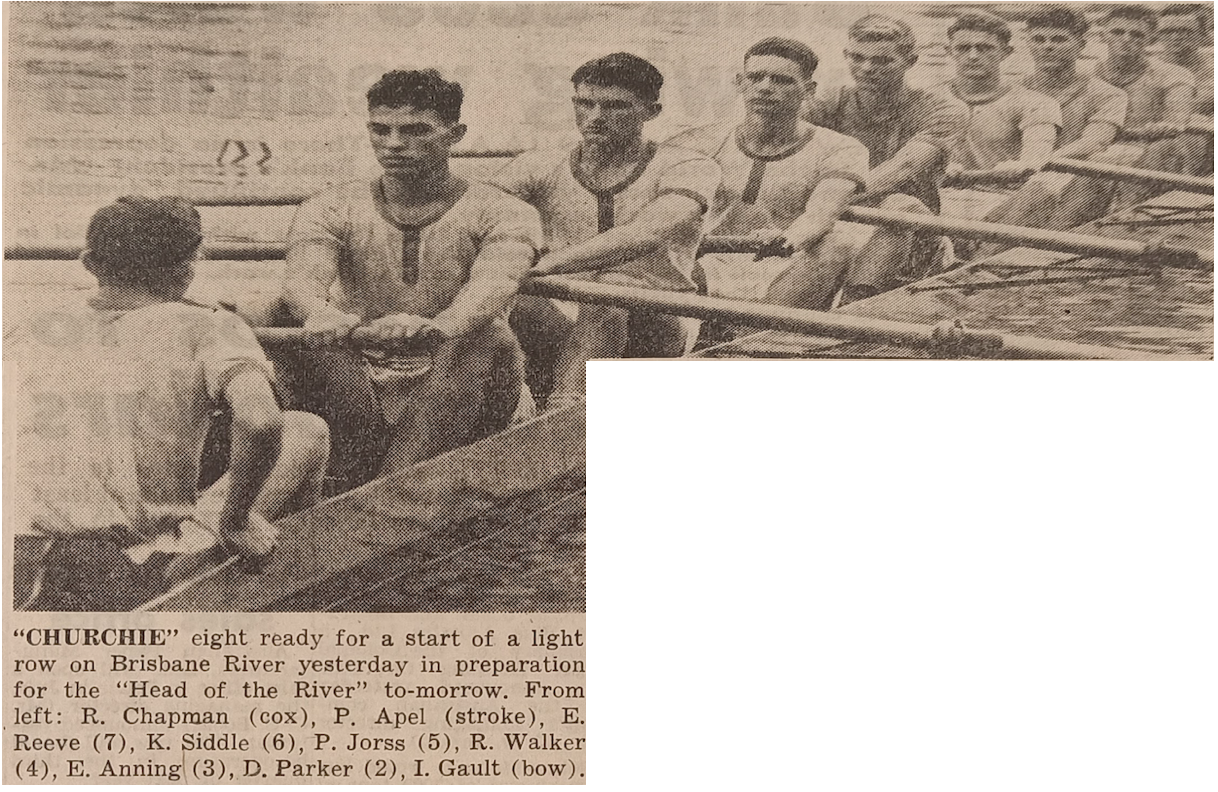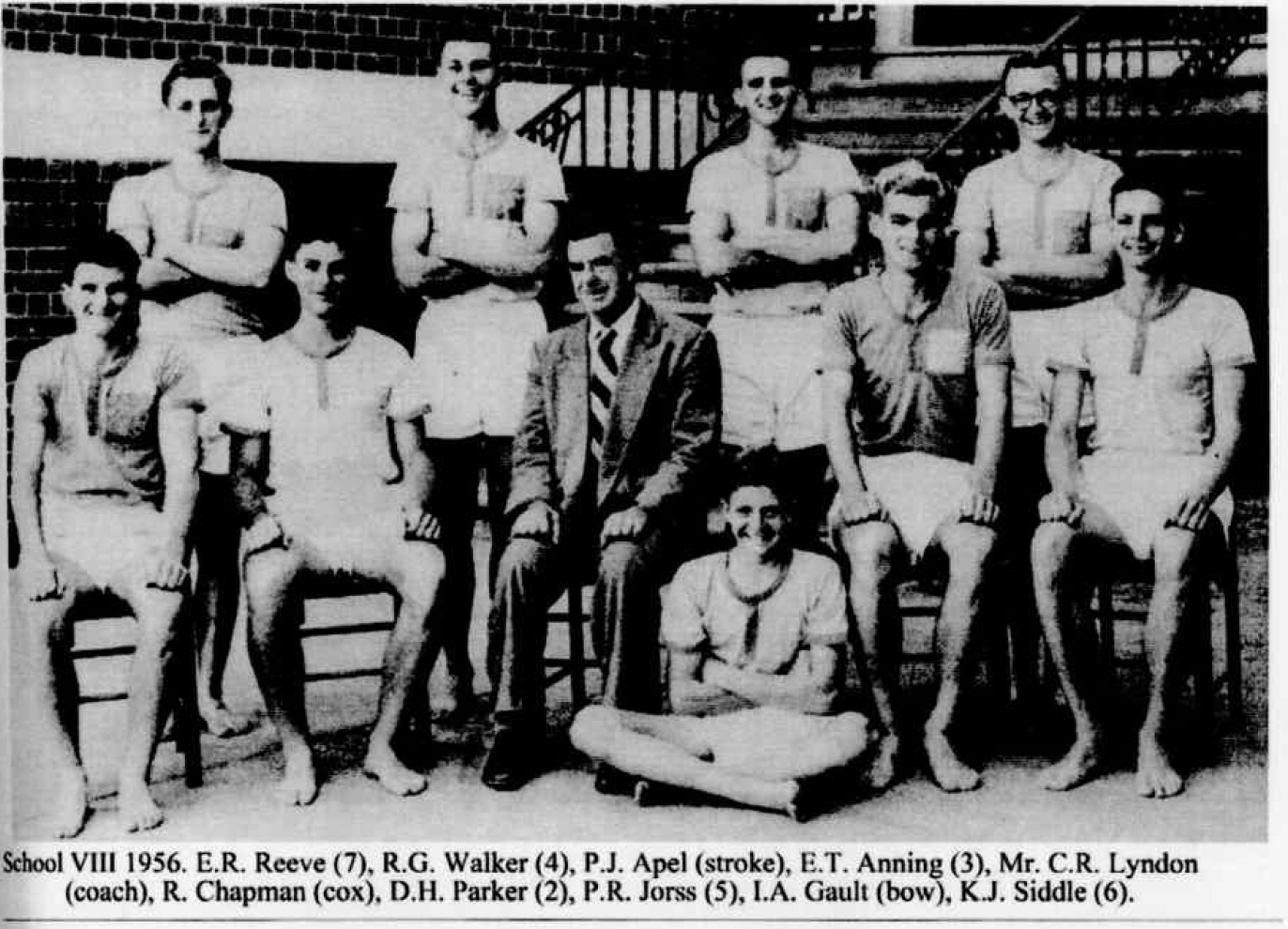 Peter Jorss, the five seat in the 1956 Anglican Church Grammar School First VIII, represented Queensland in the 1960 & 1961 Kings Cup.
In 1955, Anglican Church Grammar School recognised the significant contributions of Henry Emmanuel Roberts to the school by naming an eight-oared racing boat in his honour, the H. E. Roberts. Roberts was the second longest serving and second Headmaster of the School (1947-1969). He carried on the traditions of Canon Morris and throughout his Headmastership Churchie was the pre-eminent sporting school of the GPS Association. However, rowing was not a strong sport during his years ,with only two Head of the River wins (five seconds, five thirds).Nevertheless he had an affinity with the Brisbane River having sailed on it with his father and he supported the rowing club as much as possible.The H.E. Roberts was the first racing eight in the shed and it was a particularly well made plywood hull that lasted more than twelve years in use. Churchie's 1956 First VIII rowed in this boat at the 1956 Head of the River.
In 1956, Anglican Church Grammar School recognised the enormous contributions of Grace Campbell by naming a four-oared racing boat in her honour. Campbell was one of two sisters who worked tirelessly for the School in support of Canon Morris and retired at the same time he did. Grace Campbell started in 1913 as a teacher of the younger boys. She also filled to rolls of secretary, Burser and House mistress for some years and only gave up teaching because she was so invaluable in the other roles.
---
The Race Described
"Brisbane Boys' College rowed a text book race to smash a full minute off the record time when they won the 1956 Head of the River yesterday afternoon.
A record crowd of over 20 000 waited over half an hour after the advertised starting time to see one of the finest school-boy crews in Queensland rowing history. B.B.C. covered the 2000 metre Toowong Olympic course in 5 min 58 sec as compared with the previous record of 6 min 56 second set by Brisbane Grammar last year. The race was rowed under ideal conditions, with a slight following tide and no wind. The half-hour delay at the start was due to a cross-stream current which bunched the crews too close together, but starter Cliff Cullen finally got the shells away perfectly. Gregory Terrace, with a short stroke, took an initial lead, rowing at a high rating, but quickly lost the advantage as B.B.C., Southport and Church of England Grammar took over. At the 100 metre peg Southport and B.B.C. were matching stroke for stroke with the other three crews together a length behind.
From then on it was a family affair. B.B.C. stroke, John Adam and Southport stroke, Ian Cameron, are cousins and the race developed into a battle between the strokes. The B.B.C. crew however, responded best and over the closing hundred yards, pulled ahead to win by a clear 1 ¼ lengths. According to B.B.C. coach, Dave Magoffin, the crew rowed exactly to instructions, and he was sure of victory after the first 100 yards. He told the Truth that "this crew is the finest schoolboy combination he has ever handled. Bodman, Cook and Clarke of B.B.C.'s winning crew rowed in last year's crew and the remainder came up from junior crews. They were one of the lightest crews in the race: their timing and blade work were perfect and they were easily the most coordinated crew. Brisbane Boys' College followed their great win in the eights by winning the first fours". In all, 39 crews rowed in the regatta which is a record for the schools carnival. It was a day of records, - record time, record entries, record crowd. Last year's innovation of inter school eights has given school eights a tremendous impetus and the Head of the River in Brisbane is now the equal of any of the southern carnivals.
Some day we may see an Australian schools' championship and Brisbane's crew this year would be hard to beat. Perhaps this is an idea to which the school authorities could give some attention. An interstate trip would be a fitting reward for a crew good enough to win the local Head of the River."
Page 22, Truth (Brisbane), April 22nd 1956 Edition
---
All Schools' First Four
Distance: 0.75 Mile
Winning Time: 4:04.00
Margins:
3 Lengths (1-2)
Dead Heat for Second
1st Brisbane Boys' College - Bow: D. Blunck, 2: L. J. Thomas, 3: B. Q. Clark, Str: J. T. Drewe, Cox: I. A. McDougall
2nd Gregory Terrace & Anglican Church Grammar School
Gregory Terrace - Bow: D. C. Driver, 2: R. B. Dunworth, 3: J. H. Townley, Str: K. J. Lusk, Cox: R. Cole
Anglican Church Grammar School
- Bow: R. McLellan, 2: J. Ledez, 3: R. Adams, Str: D. Wendgen, Cox: M. Jones, Coach: L. Roberts
4th The Southport School
5th Brisbane Grammar School
---
All Schools' Second Four
Distance: 0.75 Mile
Winning Time: 4:52.00
Margins:
1.25 Lengths (1-2)
1 Canvas (2-3)
1st The Southport School - Bow: P. A. Chapman, 2: R. B. Cooke, 3: J. T. Ireland, Str: A. Fippos, Cox: A. F. H. Matthews
2nd Brisbane Boys' College - Bow: R. L. Davis, 2: J. Sinnamon, 3: E. W. Thompson, Str: D. Jones, Cox: D. J. Ruddy
3rd Anglican Church Grammar School - Bow: J. Geddes, 2: G. Kidd, 3: T. Ellis, Str: J. Kidd, Cox: D. Edwards, Cox: A. Kidd
4th Brisbane Grammar School
5th Gregory Terrace
---
All Schools' Third Four
Distance: 0.5 Mile
Winning Time: 2:51.00
Margins:
0.5 Length (1-2)
1 Length (2-3)
1st Brisbane Boys' College - Bow: J. Shaw, 2: D. H. McKenzie, 3: R. M. Paterson, Str: D. Warriner, Cox: W. S. Parker
2nd Anglican Church Grammar School - Bow: K. Bishop, 2: J. Jell, 3: M. Alp, Str: L. Hansen, Cox: M. Jones
3rd The Southport School - Bow: J. Holland, 2: D. R. Campbell, 3: R. J. L. Walker, Str: P. K. McIntyre, Cox: W. C. Cooper
4th Gregory Terrace
5th Brisbane Grammar School
---
All Schools' Fourth Four
Distance: 0.5 Mile
Winning Time: 3:17.00
Margins:
0.75 Length (1-2)
Dead Heat for Second
0.5 Length (2-4)
1st The Southport School - Bow: R. Elliot, 2: K. McGowan, 3: G. E. Davidson, Str: J. F. S. Crombie, Cox: A. G. Tyson
2nd Gregory Terrace & Anglican Church Grammar School
Gregory Terrace - Bow: D. F. Dann, 2: P. Groom, 3: P. Robertson, str: N. W. O'Brien, Cox: P. R. Colecox
Anglican Church Grammar School - Bow: K. Johnson, 2: P. Varley, 3: D. Rainey, Str: R. Cook, Cox: O. Edwards
4th Brisbane Boys' College - Bow: R. Britnell, 2: K. D. Dodds, 3: P. Groom, Str: D. Robertson, Cox: S. C. Wright
5th Brisbane Grammar School
Other Competing Crews
Anglican Church Grammar School - Bow: E. Ellemor, 2: B. Hinckfuss, 3: T. Cohen, Str: R. Grant, Cox: B. Crawford
Anglican Church Grammar School - Bow: D. Fitzsimmonds, 2: S. Bowden, 3: J. Watts, Str: J. Webb, Cox: P. Harburg
Anglican Church Grammar School - Bow: D. Cheeseman, 2: K. McKenzie, 3: M. Turner, Str: S. Blunck, Cox: R. Kingwell
---
All Schools Fifth Four
Distance: 0.5 Mile
Winning Time: 2:56.00
Margins:
0.5 Length (1-2)
1 Length (2-3)
1st Anglican Church Grammar School - Bow: G. Isbell, 2: D. Jorse, 3: G. Thomas, Str: A. Hogarth, Cox: M. Gibbons
2nd Anglican Church Grammar School - Bow: S. Loder, 2: R. Sparks, 3: A. Arden, Str: L. Harris, Cox: R. Rowley
3rd Brisbane Grammar School - Bow: G. P. Maynard, 2: D. L. Kirk, 3: M. A. H. Thurlow, Str: D. G. Felgate, Cox: P. M. Austin
Other Competing Crews:
Anglican Church Grammar School - Bow: G. Jones, 2: A. Frank, 3: T. Carseldine, Str: B. Wainright, Cox:
Anglican Church Grammar School - Bow: S. Loder, 2: R. Sparkes, 3: A. Arden, Str: L. Harris, Cox: R. Rowley
---
Sources
Page 13, The Courier-Mail, April 20th 1956 Edition https://archive.org/details/img-20201121110902
Page 34, Brisbane Telegraph, April 17th 1956 Edition https://archive.org/details/screen-shot-2021-03-25-at-1.38.17-pm
Page 40, The Brisbane Telegraph, April 20th 1956 Edition https://archive.org/details/20-april-1956b
Page 32, The Sunday Mail, April 22nd 1956 Edition https://archive.org/details/img-20201121111125
Page 32, The Sunday Mail, April 22nd 1956 Edition https://archive.org/details/img-20201121111113
Page 22, Truth (Brisbane), April 22nd 1956 Edition https://archive.org/details/0008_20210325
Churchie Rowing by Peter Jell, Published by Anglican Church Grammar School