1972 QLD GPS Head of the River
The 1972 GPS Head of the River was conducted on Saturday April 8th 1972 on the Milton Reach of the Brisbane River.
An excerpt from Gregory Terrace's 1972 School Newsletter (Page 57) reads:
"Weather for a week or two before the Head kept the river in a swirl, but on the day conditions were near perfect to allow B.B.C. to show their class in a decisive win ahead of Grammar, Churchie, Southport, Terrace and State High in that order."
---
Organising Committee
Great Public Schools Association

---
All Schools' Championship First Eight
The O'Connor Cup
Distance: 2000 Metres
Winning Times: 6:24.30
Margins:
5.4s (1-2)
9.4s (2-3)
1st Brisbane Boys' College - Bow: Rod Banks, 2: Chris Worcester, 3: Harry Foxton, 4: Ross Fraser, 5: James Skerman, 6: Richard Bell, 7: Bruce W. Crichton, Str: Scott. M. Foote, Cox: Ian. Terry, Coach: John D. Murphy
2nd Brisbane Grammar School - Bow: Henderson, 2: Martin, 3: Sinden, 4: Macpherson, 5: Ellwood, 6: Millman, 7: Jackson, Str: Bewg, Cox: Merritt
3rd Church of England Grammar School - Bow: S. W. Sheehan, 2: G. M. Keatinge, 3: A. P. Struss, 4: P. Van den Broek, 5: R. S. Brown, 6: R. R. Ferrier, 7: D. E. Appleton, Str: P. C. Hopton, Cox: J. E. Nalder. Coach: G. Jones
4th The Southport School
5th Gregory Terrace - Bow: M. Vlasic, 2: M. Foley, 3: C. Smith, 4: I. Ogilve, 5: M. Smith, 6: J. Tooma, 7: J. Starr-Nolan, Str: J. Bliss, Cox: D. McCrossin
6th Brisbane State High School
The Victorious 1972 Brisbane Boys' College First VIII at the Finish


1972 Church of England Grammar School First VIII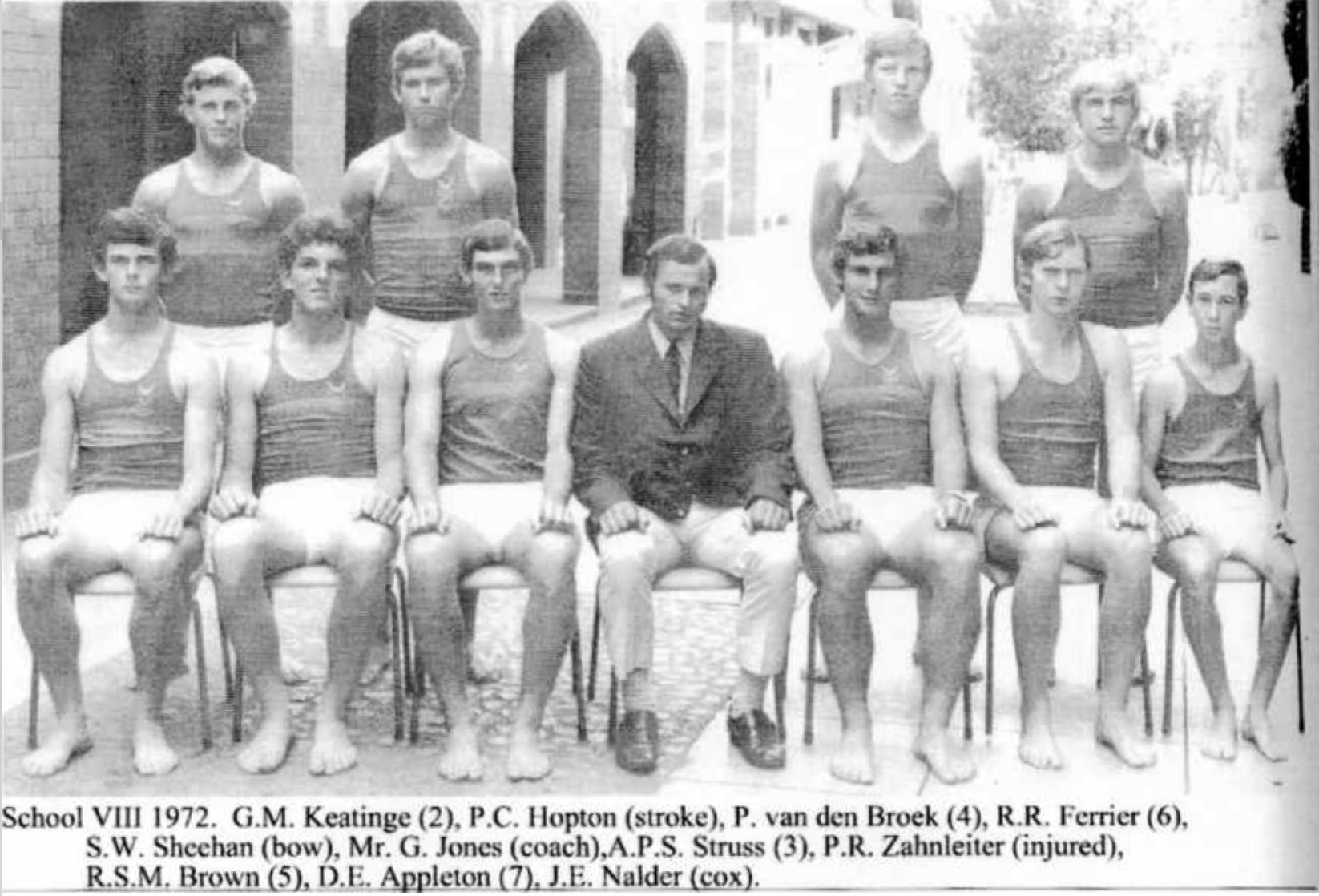 1972 Gregory Terrace First VIII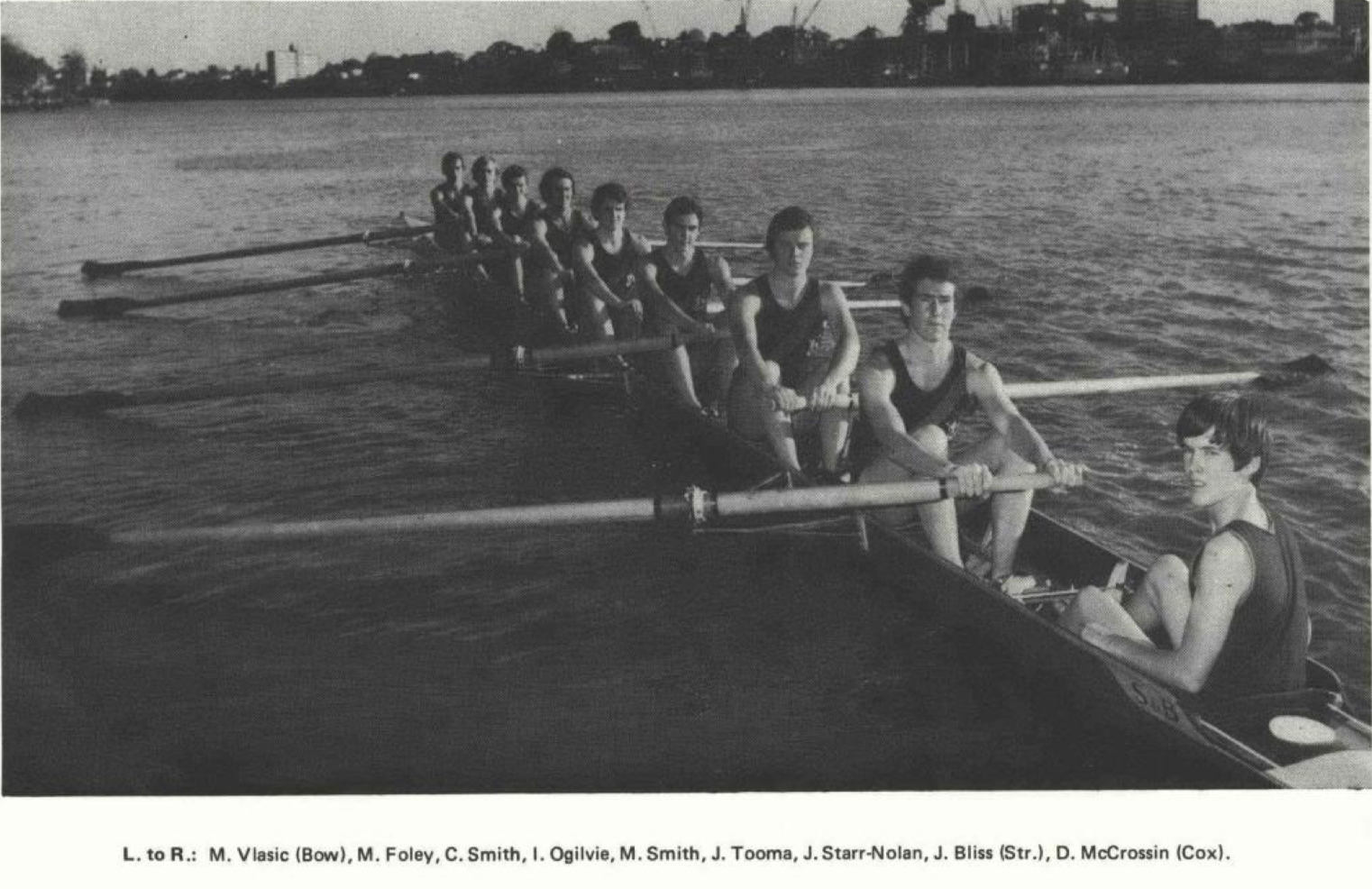 ---
The Race Described
The O'Connor Cup
"Brisbane Boys' College eight yesterday demoralised its rowing opposition to win the Head of the River held on Milton Reach. B.B.C. won the feature 2000 - metre race by a comfortable two lengths from a strongly favoured Brisbane Grammar eight.
Conditions at the start of the race, at 1.15 p.m., were excellent - the best in years for the high race of the school rowing season. The water was very slack and no wind was noticeable. These ideal conditions meant all crews had equal advantage and the eventual winners, B.B.C., were simply too good for the rest.
Started Well
Brisbane Grammar started well and led the field slightly at the 500-metre mark. The B.B.C. crew, working to a plan, increased their effort without increasing their rating. They hoped this extra effort would bring them even with the Grammar crew - a strong eight with an average weight of 13st. But, not only did they get even with the Grammar crew at the 1000 metre mark, they drew slightly ahead 200 metres later.
At this stage, B.B.C., coxed by Ian Terry , were rating 35 strokes a minute. They lifted this to 42 for the 400-metre sprint to the line. Grammar, Churchie, and the other crews, could not match this excellent performance. B.B.C. went to the line 5.4 sec ahead of second placegetter, Grammar with Churchie three lengths back third.
For the B.B.C. eight yesterday was a complete reverse about of last year's Head, when they came last. Their coach, John Murphy, took over only this year, and its jubilant over his crew's success. He said his crew was undoubtedly the best on the river yesterday, but he expected stiff opposition from Grammar. The crew also were excited about their win.
Fours Title
They are: Scott Foote (stroke), Bruce Crichton, Richard Bell, Jim Skerman, Ross Fraser, Chris Worcester, Harry Foxton, Rod Banks (bow), and cox Ian Terry. Four of the crew - Scott Foote, Jim Skerman, Richard Bell and Chris Worcester - won the Australian schoolboys' fours championship on Easter Monday at Lake Kurwongbah, Petrie."
Page 34, The Sunday Mail, Sunday April 9th 1972 Edition
---
All Schools' First Four
Distance: 1500 Metres
Winning Time: 4:50.50
Margins:
1.9s (1-2)
2.0s (2-3)
1st Church of England Grammar School - Bow: R. W. Pixley, 2: I. R. Ketchion, 3: C. C. Thomas, Str: P. Loominga, Cox: R. Lovf
2nd Brisbane Boys' College - Bow: Morley, 2: Vebergang, 3: Adams, Str: Hindmarsh, Cox: Worchester
3rd Brisbane Grammar School - Bow: Stocker, 2: MacNish, 3: Wacker, Str: Fox, Cox: Lavers
Other Competing Crews:
Gregory Terrace - Bow: M. Sexton, 2: M. Rynne, 3: R. Long, Str: D. Usasz, Cox: N. Sargeant
"Churchie made up for is loss in the eights with fine wins in the other two top events - the first and second fours. The Churchie, first four crew - Rob Pixley (stroke), Ian Ketchion, Caleb Thomas, Peter Loominga and cox Dave Francis, have been rowing together as a crew only for a couple weeks. And with an average weight of only 10st 4lb their effort in defeating B.B.C. and Grammar in the first fours was most impressive."
Page 34, The Sunday Mail, Sunday April 9th 1972 Edition
1972 Gregory Terrace First IV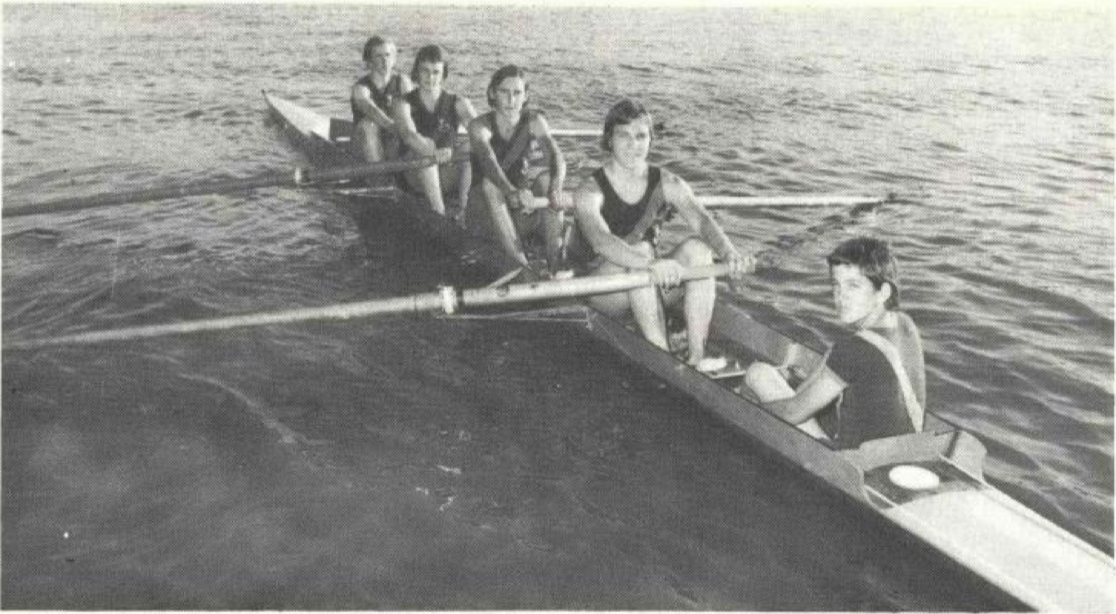 ---
All Schools' Second Four
Distance: 1500 Metres
Winning Time: 4:45.00
Margins:
2.5s (1-2)
5.7s (2-3)
1st Church of England Grammar School - Bow: W. S. Chatterton, 2: M. M. Lean, 3: M. W. Lucas, Str: J. H. Allen, Cox: C. B. Hart
2nd Brisbane Boys' College
3rd The Southport School
Other Competing Crews:
Gregory Terrace - Bow: P. Toon, 2: W. Reid, 3: J. Bowes, Str: D. Kunde, Cox: J. Carew
1972 Church of England Grammar School Second IV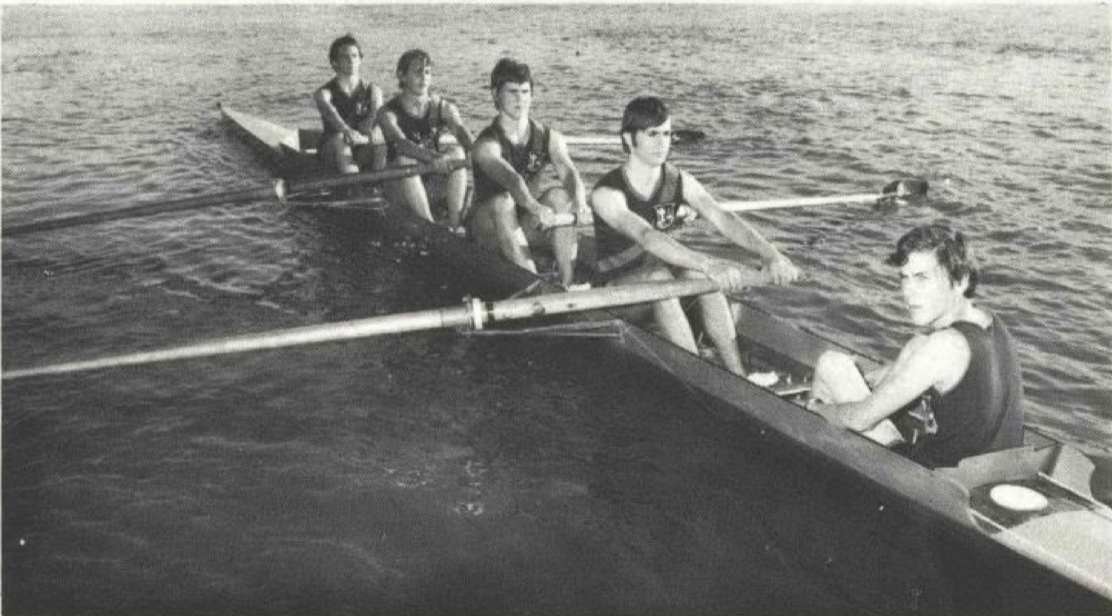 ---
All Schools' Third Four
Distance: 1500 Metres
Winning Time: 3:18.00
Margins:
3.9s (1-2)
2.0s (2-3)
1st Brisbane Grammar School - Bow: A. McIntyre, 2: Howell, 3: McKenzie, Str: McIntyre, Cox: Barkia
2nd Brisbane State High School
3rd Church of England Grammar School - Bow: P. Paxton-Hall, 2: K. J. Orken, 3: T. N. Burt, Str: G. A. Neilson, Cox: K. R. Smith
Other Competing Crews:
Gregory Terrace
- Bow: n/a, 2: n/a, 3: C. Jensen, Str: B. Winter, Cox: R. Gauld
---
All Schools' Fourth Four
Distance: 1000 Metres
Winning Time: 2:41.00
Margins:
5.1s (1-2)
1.0s (2-3)
1st Church of England Grammar School - Bow: P. A. Ross, 2: R. K. Stuart, 3: G. R. Winks, Str: B. L. Wolley, Cox: G. M. Wallace
2nd Gregory Terrace - Bow: n/a, 2: M. McLaughlin, 3: B. Gassman, Str: M. Power, Cox: C. Baker
3rd The Southport School
---
All Schools' Fifth Four
Distance: 750 Metres
Winning Time: 2:31.70
Margins:
1.4s (1-2)
0.9s (2-3)
1st Brisbane State High School - Bow: Wieck, 2: Selwood, 3: Donohue, Str: Thomson, Cox: Applegate
2nd The Southport School
3rd Church of England Grammar School - Bow: P. G. Hill, 2: N. R. Wetzig, 3: A. C. Harding, Str: I. F. Wallace, Cox: D. W. Thornley
Other Competing Crews:
Gregory Terrace
- Bow: J. Stewart, 2: A. Conte, 3: R. Suchiewicki, Str: B. Josephson, Cox: D. Yates
---
All Schools' Sixth Four
Distance: 750 Metres
Winning Time: 2:16.10
Margins:
0.4s (1-2)
0.3s (2-3)
1st Church of England Grammar School - Bow: L. P. Pilkington, 2: S. F. Wynne, 3: P. F. Auld, Str: P. Quartermass, Cox: R. A. Wood
2nd Brisbane State High School
3rd Gregory Terrace - Bow: P. Dillon, 2: D. Ledwich, 3: A. Graham, Str: R. Christ, Cox: M. Pierce
---
All Schools' Seventh Four
Distance: 750 Metres
Winning Time: 2:05.50
Margins:
2.5s (1-2)
5.7s (2-3)
1st Brisbane State High School - Bow: Marshall, 2: Barnes, 3: Donaldson, Str: McCann, Cox: Lowry
2nd Church of England Grammar School - Bow: S. R. Stephens, 2: G. L. Thompson, 3: P. W. Keys, Str: D. W. Bletchly, Cox: P. A. Grant
3rd Gregory Terrace - Bow: M. Herd, 2: D. Farnwoth, 3: N. Gauld, Str: S. Pradella, Cox: D. Gooch
---
All Schools' Eighth Four
Distance: 750 Metres
Winning Time: 2:34.50
Margins:
5.7s (1-2)
1.1s (2-3)
1st Brisbane State High School - Bow: Lewis, 2: Hope, 3: Russell, Str: Trenberry, Cox: Appelgate
2nd Brisbane Grammar School
3rd The Southport School
Other Competing Crews:
Church of England Grammar School - Bow: L. E. Jillet, 2: P. J. Rayner, 3: R. A. Lonn, Str: R. W. Ferrier, Cox: R. H. Foxley
Gregory Terrace
- Bow: S. Booker, 2: W. Doyle, 3: M. Rogenkamp, Str: J. Ashton, Cox: J. Gilbert
---
All Schools' Ninth Four
Distance: 750 Metres
Winning Time: 2:30.30
Margins:
2.0s (1-2)
6.2s (2-3)
1st Brisbane Grammar School - Bow: Thompson, 2: Scott, 3: Howden, Str: Morgan, Cox: Taylor
2nd Church of England Grammar School - Bow: J. S. Rees, 2: J. D. Curlewis, 3: J. W. Opstelton, Str: C. Armstrong, Cox: D. C. Wilkinson
3rd The Southport School
Other Competing Crews
Gregory Terrace
- Bow: n/a, 2: F. Calvisi, 3: B. Wilkinson, Str: P. Elson, Cox: J. Patane
---
All Schools' Tenth Four
Distance: 750 Metres
Winning Time: 2:40.00
Margins:
7.5s (1-2)
2.8s (2-3)
1st Church of England Grammar School - Bow: M. S. Rogers, 2: D. J. Buck, 3: P. A. Allen, Str: M. G. Poulsen, Cox: G. A. James
2nd Brisbane Grammar School
3rd Brisbane State High School
Other Competing Crews
Gregory Terrace
- Bow: J. Bliss, 2: S. Arundell, 3: S. Durkin, Str: B. Ogilve, Cox: M. Sheehy
---
All Schools' Eleventh Four
Distance: 750 Metres
Winning Time: 2:48.50
Margins:
2.2s (1-2)
0.5s (2-3)
1st Brisbane Grammar School - Bow: MacIntosh, 2: Murday, 3: Coxon, Str: Atthow, Cox: Hall
2nd Brisbane Boys' College
3rd The Southport School
Other Competing Crews:
Church of England Grammar School - Bow: P. W. Acton, 2: R. Meisner, 3: P. G. Barrett, Str: A. MacDonald, Cox: R. G. Duhig
Gregory Terrace
- Bow: M. Freemantle, 2: D. Haley, 3: D. Maher, Str: J. Minns, Cox: J. Gilbert