1966 QLD GPS Head of the River
The 1966 GPS Head of the River was conducted on Saturday April 3rd 1966 on the Milton Reach.
Below are two excerpts from The Courier Mail and the Sunday Mail written in the lead up to the regatta giving predictions for the main event and the day after providing a summary of the day's events respectively.
"B.B.C. and Southport Favoured
MOST school rowing coaches select B.B.C. and Southport as the crew to beat in today's Head of the River on the Milton Reach
B.B.C. heavyweights at an average 12st 6lbs, and favourites for the title, rounded off their training with a light exercise yesterday. Coach Dave Magoffin said the crew was rowing as well as other winners he had coached. He was pleased with No. 3 lane from which B.B.C. has won two "Head" races.
"One of best"
Southport coach Clavil Bere said his crew was "one of the best Southport has had." Southport's 450 miles of rowing coupled with intensive land training has produced a powerful eight. The crew, Bere said, had adapted itself to Brisbane conditions. The river was deeper and it was easier to row on their Nerang course. Southport matches B.B.C. in weight at 12st 6lbs but has drawn No. 6 lane, which could be troublesome under adverse conditions.
Could be close
State High coach Denis Donnelly predicts a close race if the tide moves faster than usual along the northern bank. This would benefit lanes 1, 2, and 3, occupied by State High, Grammar and B.B.C. State High at an average 12st, has been working soundly this week, but Donnelly believes B.B.C. will take a lot of beating
Grammar fast
Grammar a lightweight crew under Englishman Barry Montague are fast and could surprise. They are well drawn in No. 2 lane. Churchie who have been training with a modified German techniques, are a crew which always finish strongly. The Terrace crew, at just under 12st, will be rowing in a 10-year-old boat appearing in its last "Head." It is a heavy crew by Terrace standards and this could give them extra momentum.
The finish is opposite the Regatta Hotel, Coronation Drive"
Page 17, The Courier-Mail, Saturday April 2nd 1966 Edition
"B.B.C. completely dominated yesterday's Head of the River rowing regatta with seven wins and four seconds from 12 starts.
College capped the day with one of the easiest wins in the glamour event of the programme, the School Eights.
It probably was the greatest rowing effort by any school in a Brisbane River Head Regatta. B.B.C. crews won the Head, the third, fifth, sixth, seventh, 10th and 11th fours and close seconds in the second, fourth and ninth fours, they were unplaced only in the first fours.
Great finish
Their Head win could not have been bettered, although anyone following omens before the race could have been mislead when Southport crews captured the two glamour fours events - the first and second fours.
Southport rarely give glimpses of pre-race form and their two fours victories were won in such style as to suggest they might have a surprise in store for the Head - the last race on the programme. But it was not to be.
Their fours wins, however, were executed in outstanding fashion with brilliant finishing bursts to beat the opposition only yards from the line.
Southport's most spectacular win came in the first fours when they edged out State High by two feet with Churchie a canvas away third in the best finish in a day of close racing. Southport took the second fours by half a length from B.B.C. with State High three-quarters of a length away, third.
Placings
Full official placings in the Head of the River eights were - B.B.C. 1, B.S.H.S. 2, Southport 3, Grammar 4, Terrace 5, Churchie 6.
Time for the 2000 metres was a very creditable 6 min 9.2 secs. Moored boat starts, used in yesterday's Head proved highly successful and will probably be continued."
Page 35, The Sunday Mail, Sunday April 3rd 1966 Edition
---
Organising Committee
Great Public Schools Association

---
All Schools' Championship First Eight
The O'Connor Cup
Distance: 2000 Metres
Winning Time: 6:09.50
Margins:
1.75 Lengths (1-2)
0.5 Lengths (2-3)
1st Brisbane Boys' College - Bow: Geoff I. Lingham, 2: Warren N. Jenkins, 3: David J. Matley, 4: Rod J. Townsend, 5: Charles A. Clarke, 6: Paul A. Loder, 7: David J. Brown, Str: Peter F. Meyer, Cox: Stephen J. Odgers, Coach: David O. Magoffin
2nd Brisbane State High School - Bow: Giskeriany, 2: Moffett, 3: Wilson, 4: Kelly, 5: Dementy, 6: Everingham, 7: Marcovich, Str: Jeffery , Cox: Nicholson
3rd The Southport School - Bow: Chandler, 2: Williams, 3: Smith, 4: Spooner, 5: Newton, 6: Douglas, 7: Alexander, Str: Hughes, Cox: Thelander
4th Brisbane Grammar School
5th Gregory Terrace - Bow: I. Johnston, 2: D. Croft, 3: S. Mulligan, 4: S. Grieve, 5: R. Handy, 6: A. Patching, 7: M. Hackett, Str: V. Cavalucci, Cox: L. Waters
6th Church of England Grammar School - Bow: P. J. Schmidt, 2: R. S. Elliot, 3: J. M. Hunter, 4: M. C. Pearson, 5: M. C. Harold, 6: W. J. Meynink, 7: R. W. Ayres, Str: C. K. McDonald, Cox: R. M. Grant, Coach: E. Fry
1966 Brisbane Boys' College Victorious Crew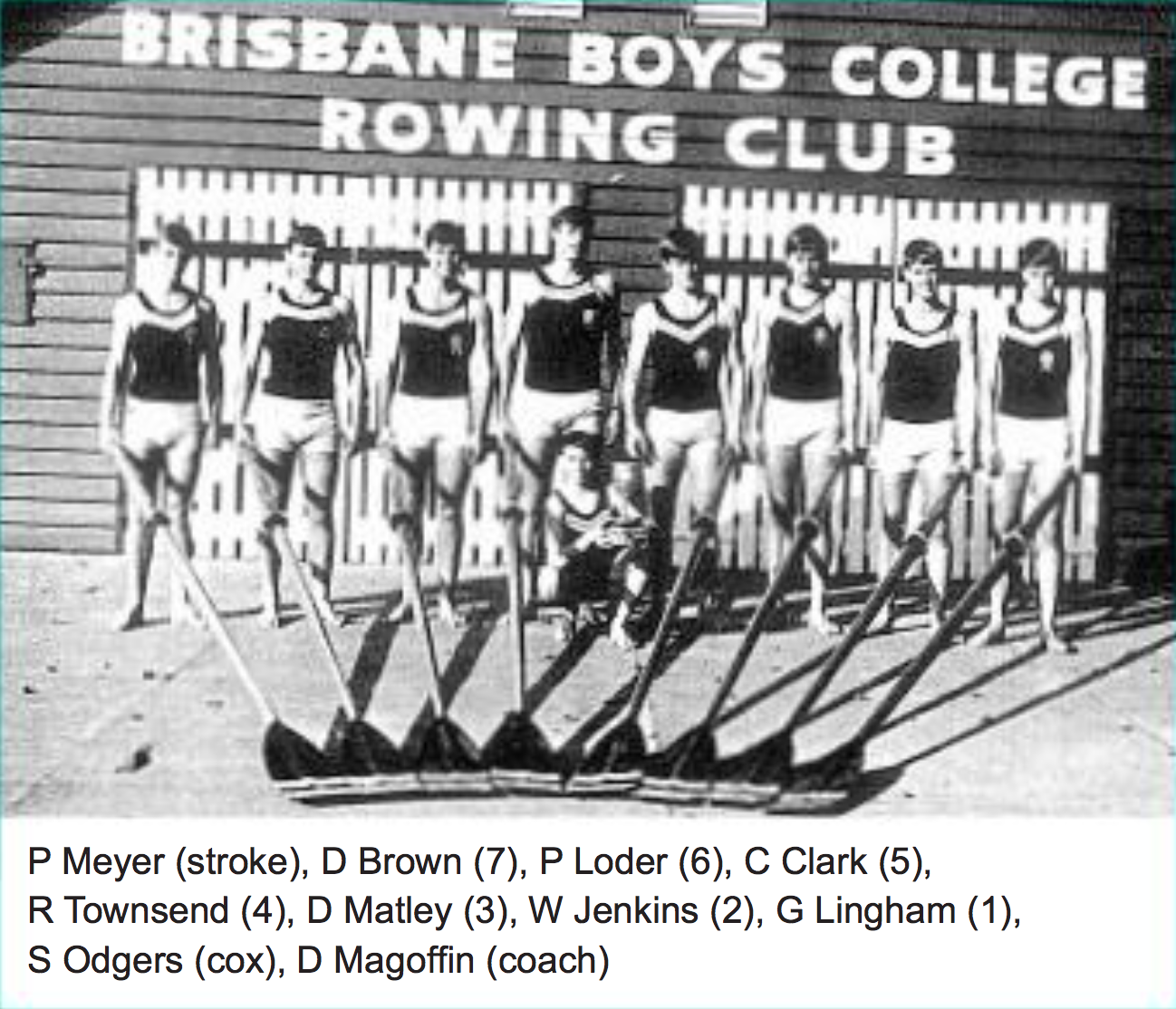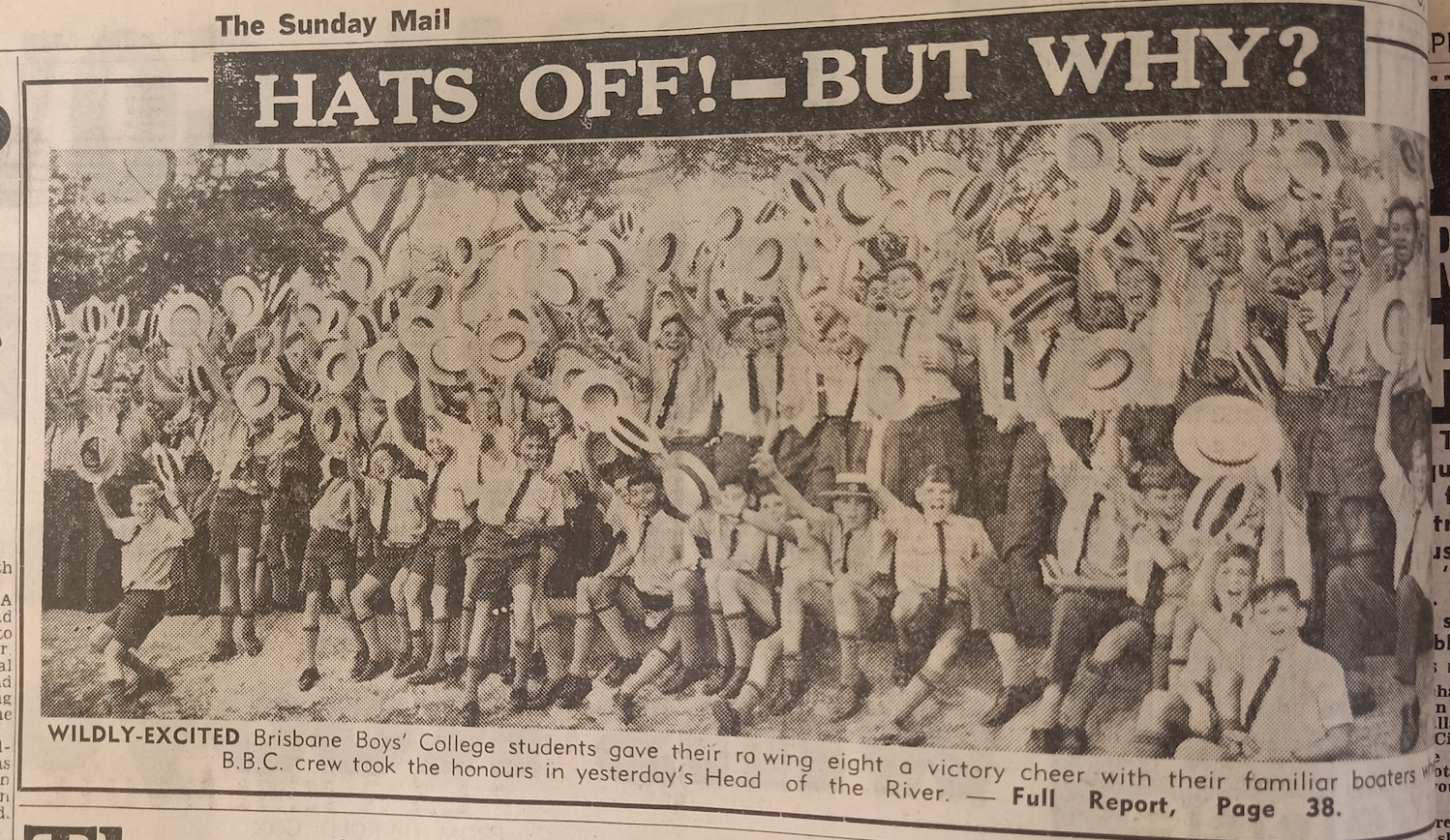 The 1966 Brisbane Boys' College First VIII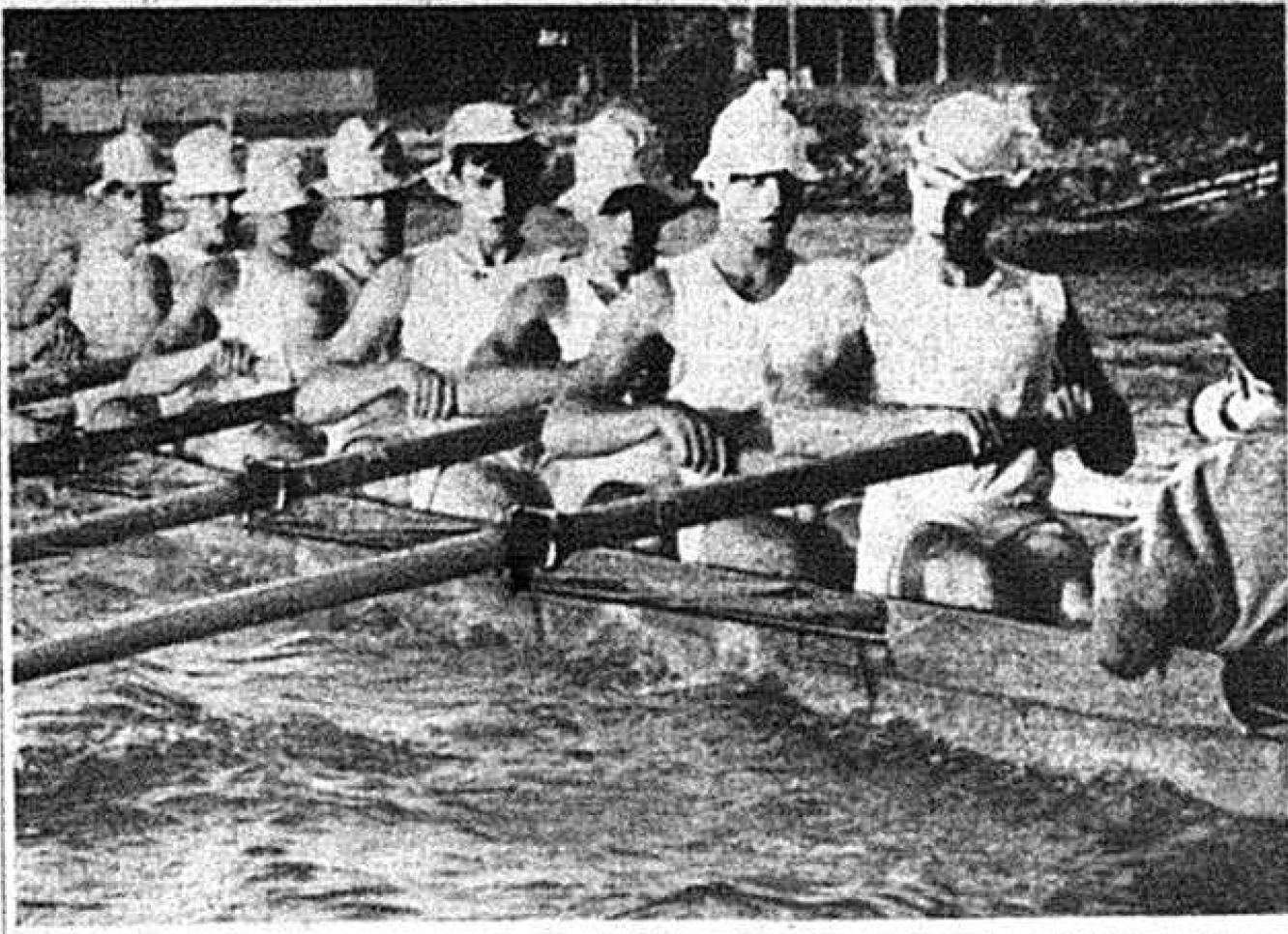 1966 Gregory Terrace First VIII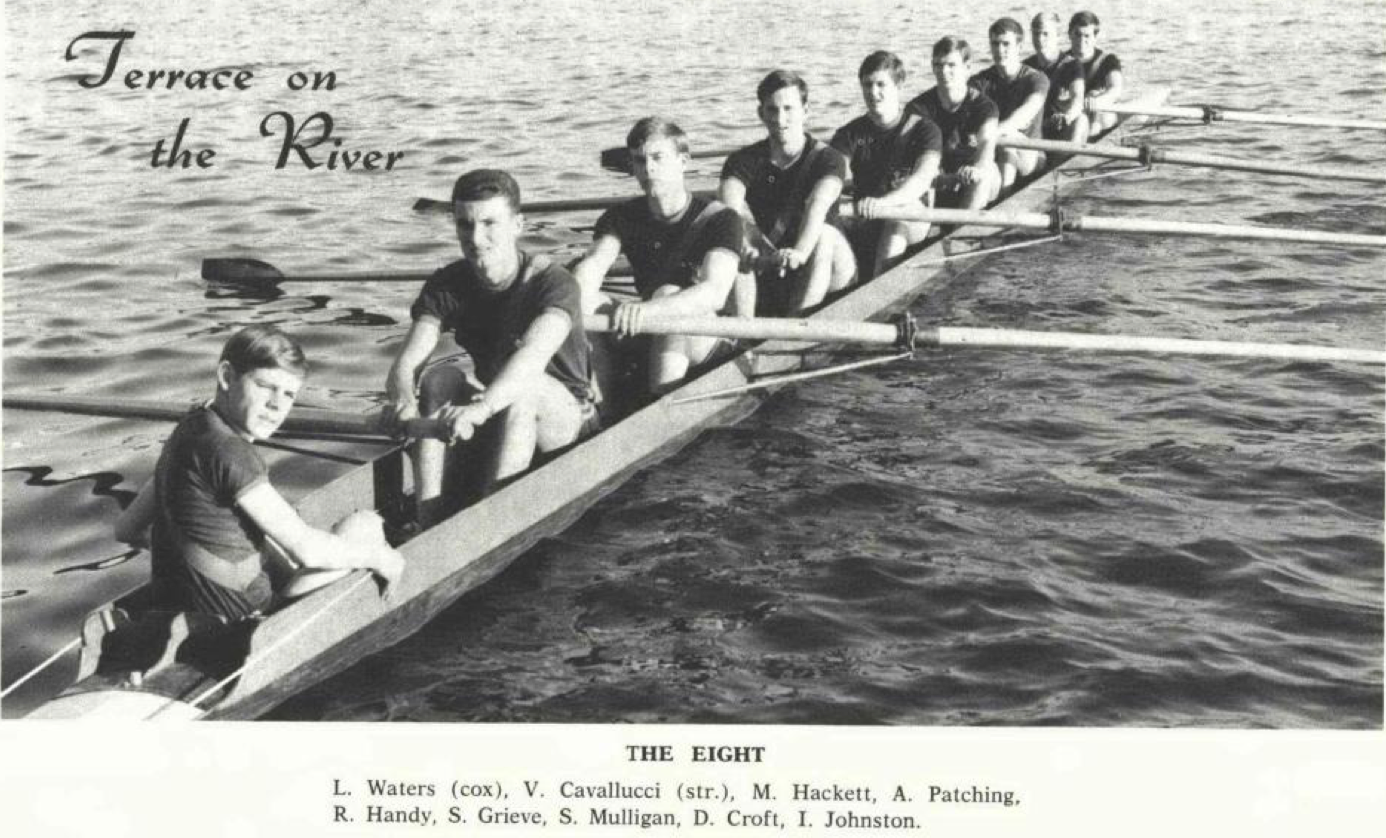 1966 Church of England Grammar School First VIII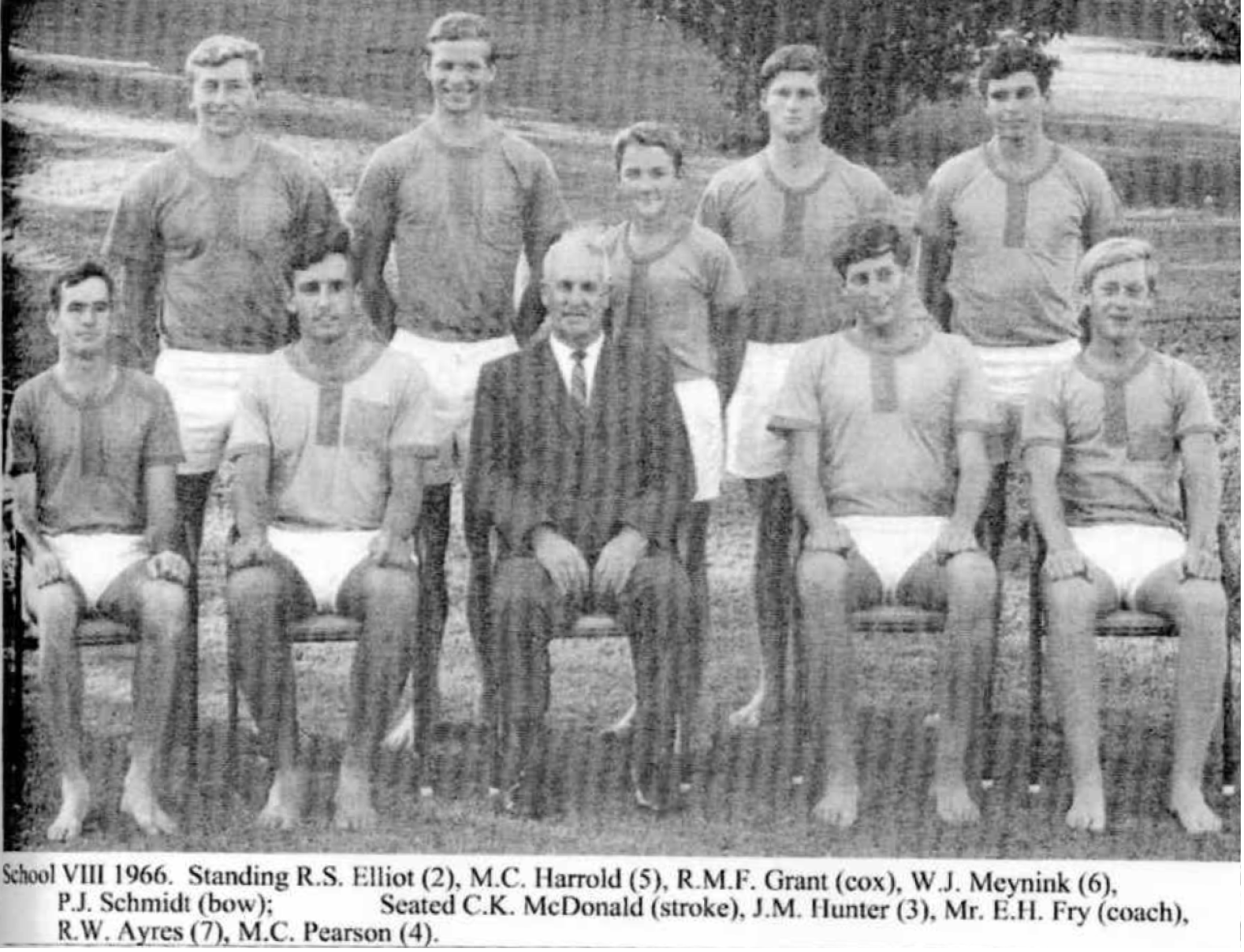 "At the Terrace Regatta held on St. Joseph's Day 19th March, MR Early Fry coach of the Churchie crew and the "Gayundah" Sea Cadets organised the moored starts for the Eights. So successful was this that the GPS association decided to use it at the Head of the River a fortnight later."
Archive Story of Terrace, Number 8: Rowing, Published by St. Joseph's College, Gregory Terrace
---
The Race Described
"B.B.C. crew too powerful in 'Head' race
The young rowing giants of Brisbane Boys' College scored one of the easiest Head of the River wins on Milton Reach yesterday.
B.B.C. won by 1 ¾ lengths over a surprise packet State High crew, with the highly fancied The Southport School half a length away in third position. B.B.C. took the race by the throat soon after the start and never let go. They were never headed.
They followed their coach Dave Magoffin's instructions "get out in front by 500 metres" almost to the letter. Passing Davies park B.B.C. were clear of the field, and looked the class crew of the race.
They never faltered in their run to the line and never had to put on the pressure.
There was a strong challenge from the Southport School with about 600 metres to go but the crew elected to stay on the south bank instead of making straight for the line. But they would never have caught B.B.C. B.B.C., rowing beautifully, had everything in reserve for any late challenge.
The victorious stroke, Peter Meyer, said after the win: "I didn't have to call for an effort at any stage. But we were ready just the same.
It was a personal triumph for Meyer and Magoffin. It was Meyer's second Head victory as stroke - a feat recorded only once before, by the great B.B.C. stroke John Adam. Meyer strokes the College crew to a tied victory with Grammar last year.
Scotch Up
MELBOURNE - Scotch College won the Head of the River in record time on the Barwon at Geelong yesterday.
They beat Melbourne Grammar by three-quarter length with Geelong College third. The time was 4 min 31.2 sec. Scotch took charge just after the half-mile and held off a strong challenge from Melbourne Grammar."
Page 38, The Sunday Mail, April 3rd 1966 Edition
"On the Head of the River day, 2nd April, the river was reasonably calm, with only a slight south-east wind blowing... The Head of the River at 3.45 was started with a moored start for the first time. This type of start gives everyone an even start, and leads to fairer races. After the start, all crews were together except for BBC who had edged to the lead. By the 300 metre mark BBC, with power-rowing, led by a clear length from BSHS who were just ahead of TSS. By this time BGS, GT and CEGS crews were dropping back.
BBC pulled away to win by 1 3/4 lengths from BSHS who held off the fast-finishing TSS crew who were 1/2 a length away third. They were followed by BGS, GT and CEGS."
Page 204, Churchie Rowing by Peter Jell, Published by Anglican Church Grammar School
---
All Schools' First Four
Distance: 1250 Metres
Winning Time: 4:25.50
Margins:
2 Feet (1-2)
1 Canvas (2-3)
1st The Southport School - Bow: Fraser, 2: Griffiths, 3: Tresillian, Str: Rabazon, Cox: Gilchrist
2nd Brisbane State High School - Bow: Raymond, 2: Keily, 3: Pitt, Str: Austin, Cox: Busch
3rd Church of England Grammar School - Bow: J. L. Webb, 2: L. G. Wilson, 3: D. M. Collyer, Str: R. Miller, Cox: Miller, Coach: T. Holt
Other Competing Crews
Gregory Terrace - Bow: G. Galt, 2: P. Dunne, 3: M. Hand, Str: N. Fanning, Cox: D. Tisdall
1966 Gregory Terrace First IV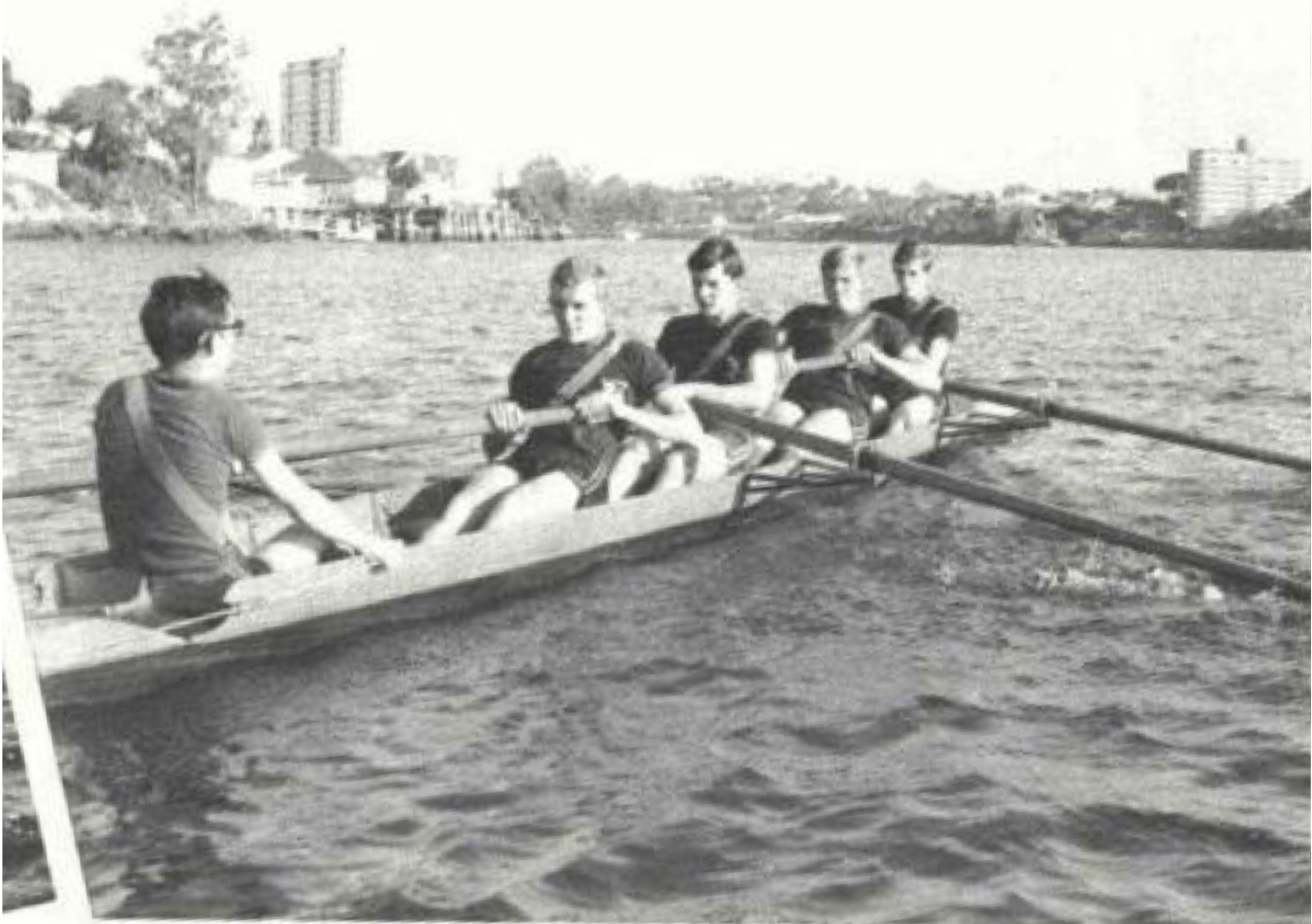 ---
All Schools' Second Four
Distance: 1250 Metres
Winning Time: 4:25.50
Margins:
2 Feet (1-2)
1 Canvas (2-3)
1st The Southport School - Bow: Maxwell, 2: Hooke, 3: Mylne, Str: McKenzie, Cox: Moule
2nd Brisbane Boys' College - Bow: McCheshney-Clark, 2: Wong, 3: Job, Str: Smith, Cox: Simpson
3rd Brisbane State High School - Bow: Slinger, 2: Paulichuck, 3: Lingard, Str: Northway, Cox: McCarthy
Other Competing Crews
Church of England Grammar School - Bow: F. Underwood, 2: I. Theodoridis, 3: G. B. Leacock, Str: J. R. Bruce, Cox: F. Way, Coach: B. Whelan
Gregory Terrace - Bow: K. Woods, 2: R. Hamilton, 3: P. Ashton, Str: M. O'Rourke, Cox: G. Halligan
1966 Gregory Terrace Second IV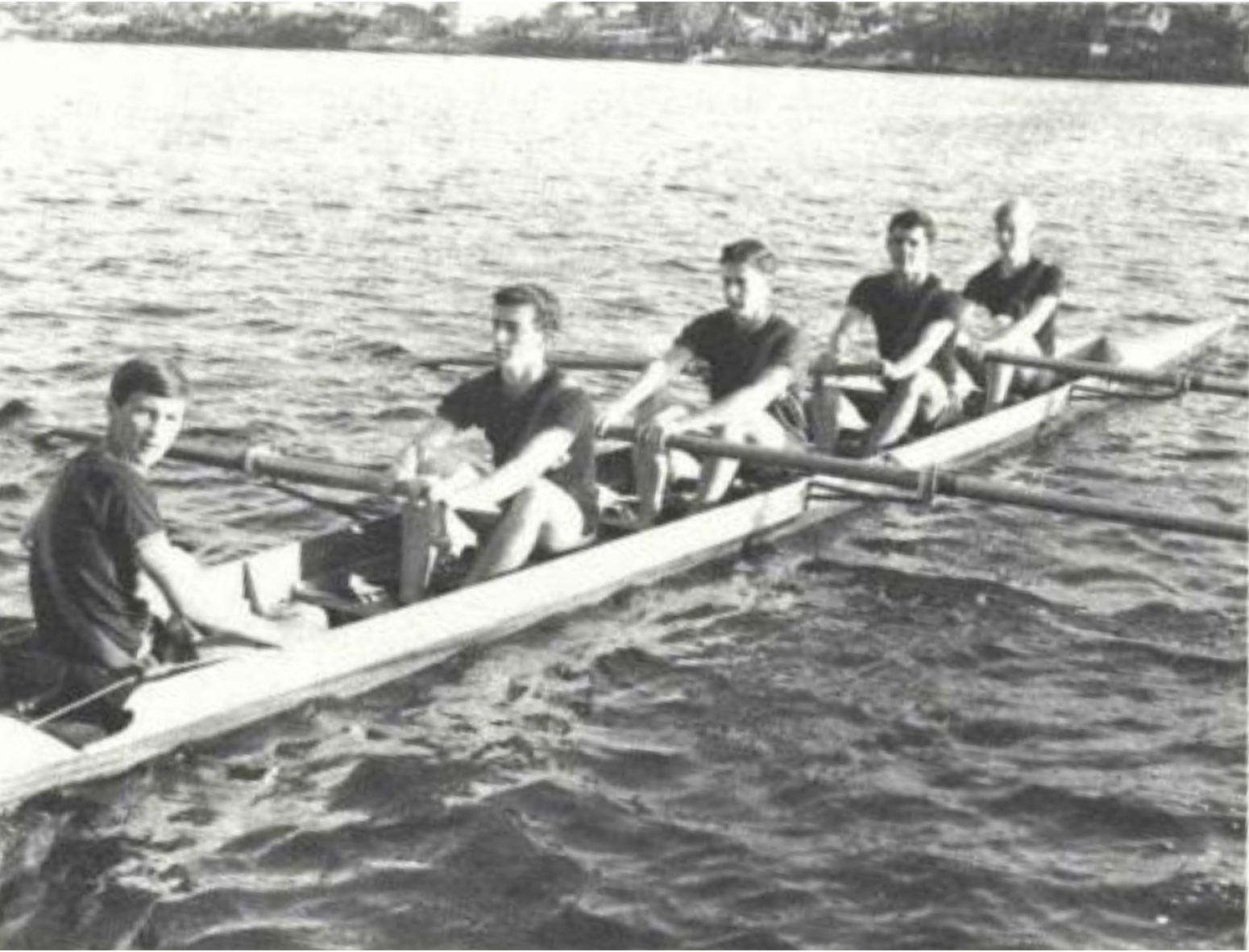 ---
All Schools' Third Four
Distance: 750 Metres
Winning Time: 2:59.00
Margins:
1.25 Lengths (1-2)
1.5 Lengths (2-3)
1st Brisbane Boys' College
2nd Brisbane Grammar School
3rd Gregory Terrace - Bow: A. White, 2: G. McMahon, 3: L. Bertini, Str: B. McAllan, Cox: D. McEniery
Other Competing Crews
Church of England Grammar School - Bow: G. E. Curtis, 2: J. R. Langton, 3: C. S. Cooper, Str: W. L. Te Kloot, Cox: W. E. Sparkes
---
All Schools' Fourth Four
Distance: 750 Metres
Winning Time: 3:40.50
Margins:
1 Length (1-2)
1.25 Lengths (2-3)
1st Church of England Grammar School - Bow: A. B. Crotty, 2: W. T. South, 3: R. I. Paul, Str: G. A. Corones, Cox: W. M. Smyth
2nd Brisbane Boys' College
3rd Brisbane State High School
Other Competing Crews:
Gregory Terrace - Bow: C. Beech, 2: M. Mather, 3: C. Stilwell, Str: P. Gregg, Cox: C. Bermingham
---
All Schools' Fifth Four
Distance: 750 Metres
Winning Time: 3:10.00
Margins:
0.75 Lengths (1-2)
0.5 Lengths (2-3)
1st Brisbane Boys' College
2nd Church of England Grammar School - Bow: L. G. Butler, 2: B. J. Rogers, 3: B. G. Wilson, Str: P. J. Trotter, Cox: D. Nicholls
3rd Brisbane Grammar School
Other Competing Crews:
Gregory Terrace - Bow: P. Dunne, 2: N. Schodel, 3: J. Farnworth, Str: P. Clarke, Cox: J. Mayze
---
All Schools' Sixth Four
Distance: 750 Metres
Winning Time: 2:43.50
Margins:
0.5 Length (1-2)
0.75 Length (2-3)
1st Brisbane Boys' College
2nd Gregory Terrace
3rd The Southport School
Other Competing Crews
Church of England Grammar School - Bow: H. E. Gibson, 2: J. Arrowmsith, 3: A. L. Phillips, Str: D. W. Drake, Cox: T. B. Francis
Gregory Terrace - Bow: D. Coutts, 2: L. Cavanagh, 3: C. Raven, Str: P. Lofgren, Cox: D. Splatt
---
All Schools' Seventh Four
Distance: 750 Metres
Winning Time: 3:60.50
Margins:
0.75 Lengths (1-2)
0.5 Lengths (2-3)
1st Brisbane Boys' College
2nd Gregory Terrace - Bow: N. Graham, 2: F. Vine, 3: M. Muir-McCarey, Str: T. Potter
3rd Church of England Grammar School - Bow: W. Sheehan, 2: S. Johnson, 3: J. S. Phipps, Str: J. D. Seccombe, Cox: D. W. Glasson
---
All Schools' Eighth Four
Distance: 750 Metres
Winning Time: 3:20.00
Margins:
1.5 Lengths (1-2)
1 Canvas (2-3)
1st Gregory Terrace - Bow: P. Cosgrave, 2: T. Juratowitch, 3: G. Galt, Str: B. McCloy
2nd Brisbane Boys' College
3rd Church of England Grammar School - Bow: P. R. Constant, 2: D. R. Price, 3: M. C. Hollaway, Str: J. C. Davis, Cox: P. C. Ford
---
All Schools' Ninth Four
Distance: 750 Metres
Winning Time: 3:50.50
Margins:
2 feet (1-2)
0.5 Length (2-3)
1st Church of England Grammar School - Bow: P. G. Smith, 2: W. Sommer, 3: P. F. Quinton, Str: J. S. McManus, Cox: I. Brake
2nd Gregory Terrace - Bow: P. Carroll, 2: G. Gordon, 3: A. Ferris, Str: B. Nitkiewicz
3rd Brisbane Grammar School
---
All Schools' Tenth Four
Distance: 750 Metres
Winning Time: 3:15.00
Margins:
1.25 Lengths (1-2)
2 Feet (2-3)
1st Brisbane Boys' College
2nd Church of England Grammar School - Bow: J. M. Hopton, 2: C. McBride, 3: W. R. Watson, Str: R. G. Bell, Cox: R. F. King-Scott
3rd Brisbane State High School
Other Competing Crews:
Gregory Terrace - Bow: J. Mulholland, 2: C. Volter, 3: D. Courtney, Str: B. Donovan
---
All Schools' Eleventh Four
Distance: 750 Metres
Winning Time: 4:52.00
Margins:
1 Length (1-2)
2 Feet (2-3)
1st Brisbane Boys' College
2nd Gregory Terrace - Bow: J. Drapes, 2: B. Bowden, 3: D. Keleher, Str: R. Mulligan
3rd Brisbane Grammar School
Other Competing Crews
5th Church of England Grammar School - Bow: B. R. Jorss, 2: D. C. Wynter, 3: R. N. Zimmer, Str: D. J. Murray, Cox: P. A. Jell
---
Sources
Page 17, The Courier-Mail, Saturday April 2nd 1966 Edition https://archive.org/details/page-17-the-courier-mail-sunday-april-2nd-1966-edition
Page 18, The Courier-Mail, Saturday April 2nd 1966 Edition https://archive.org/details/page-18-the-courier-mail-saturday-april-2nd-1966-edition
Page 1, The Sunday Mail, Sunday April 3rd 1966 Edition https://archive.org/details/img-20201214075024
Page 35, The Sunday Mail, Sunday April 3rd 1966 Edition https://archive.org/details/img-20201214075129
Page 38, The Sunday Mail, Sunday April 3rd 1966 Edition https://archive.org/details/img-20201214075044
Page n/a, The Sunday Mail, Sunday April 3rd 1966 Edition https://archive.org/details/img-20201214075118
Page 76-78, St. Joseph's College, Gregory Terrace, 1966 Edition https://media.digistormhosting.com.au/sjgt-au-qld-91-oldboys/documents/1966-St-Joseph-College-Terrace.pdf?mtime=20180403144401
Page 13, Brisbane Boys' College 2016 Regatta Programme https://issuu.com/collegianmagazine/docs/2016_regatta_program_issuu
Churchie Rowing by Peter Jell, Published by Anglican Church Grammar School
Archive Story of Terrace, Number 8: Rowing, Published by St. Joseph's College, Gregory Terrace