1983 QLD GPS Head of the River
The 1983 GPS Head of the River was conducted on 26th March 1983 on Saturday 26th March 1983 at Hinze Dam, Queensland.
---
Organising Committee:
Great Public Schools Association
---
Open First Eight
The O'Connor Cup
After a protest and an appeal - declared "NO RACE"
Finishing Order:
Brisbane Grammar School
The Southport School
Gregory Terrace - Bow: David English, 2: Kent Bodman, 3: Timothy Browne, 4: Gregory Sopinski, 5: Raymond Pope, 6: Michael Russell, 7: Ian Carroll, Str: Iain Hodge, Cox: Chris Reardon
Brisbane Boys' College - Bow: M. Salter, 2: , T. Patterson, 3: C. Baildon, 4: C. Wood, 5: R. Graham, 6: D. Collins, 7: L. Meehan, Str: D. Addis, Cox: C. Grummitt
Church of England Grammar School - Bow: W. P. Apel, 2: A. B. Bradley, 3: B. V. Wagner, 4: B. R. Tanton, 5: J. F. Skerly, 6: R. A. Danen, 7: M. J. Tierney, Str: D. M. Hartley, Cox: P. J. Tierney, Coach: J. Campbell
1983 Brisbane Boys' College First VIII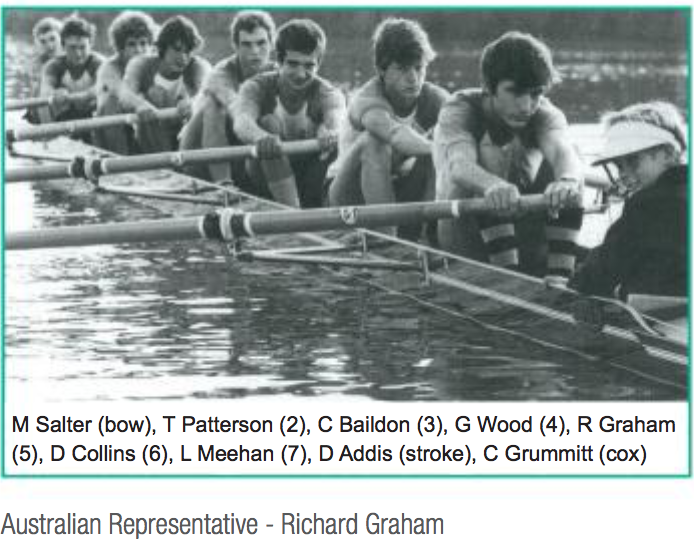 ---
Open Second Eight
Distance: 2000 Metres
1st The Southport School
2nd Brisbane Grammar School
3rd Brisbane Boys' College
4th Church of EnglandGrammar School - Bow: P. J. Stevens, 2: D. R. Cool, 3: S. Waddington, 4: A. J. Wilson, 5: P. J. Oxenford, 6: N. J. Appleton, 7: A. A. Richards, Str: T. G. Meyer, Cox: R. C. Mort, Coach: G. Amezdroz
5th Gregory Terrace - Bow: P. Stapleton, 2: N. Abrahams, 3: M. Campbell, 4: G. Migotto, 5: L. Di Clemente, 6: K. Coghlan, 7: L. Murphy, Str: A. Clark, Cox: P. McDowall
Peter J. Oxenford, the five seat in the 1983 Anglican Church Grammar Second Eight, represented Queensland in the 1985 Noel F, Wilkinson Youth Interstate Eight Championship.
---
Open First Four
Distance: 1000 Metres
1st The Southport School
2nd Brisbane Grammar School
3rd Brisbane Boys' College
Other Competing Crews:
Church of England Grammar School - Bow: M. F. Seymour, 2: A. K. Melrose, 3: S. R. Fraser, Str: B. G. Moore, Cox: W. L. Earnshaw, Coach: R. Magnusson
---
Open Second Four
Distance: 1000 Metres
1st Brisbane Grammar School
2nd The Southport School
3rd Brisbane Boys' College
Other Competing Crews:
Church of England Grammar School - Bow: M. S. Smith, 2: P. J. Syvret, 3: P. H. Ploetz, Str: J. C. Briant, Cox: P. J. Bedgood, Coach: R. Magnusson
---
Open Third Four
Distance: 1000 Metres
1st Brisbane Boys' College
2nd The Southport School
3rd Gregory Terrace
Other Competing Crews:
Church of England Grammar School - Bow: B. J. Bell, 2: P. Karamisheff, 3: A. W. Lee, Str: F. C. Bond, Cox: S. D. Watkins, Coach: P. Stevens
---
Open Fourth Four
Distance: 1000 Metres
1st Brisbane Boys' College
2nd Brisbane Grammar School
3rd Brisbane State High School
Other Competing Crews:
Church of England Grammar School - Bow: J. I. McKenzie, 2: T. F. Bredhauer, 3: C. R. Barrett, Str: D. J. Quodling, Cox: C. R. Baldwin, Coach: M. Capern
---
Under 16 First Eight
Distance: 1500 Metres
1st The Southport School
2nd Brisbane Boys' College
3rd Brisbane State High School
Other Competing Crews:
Church of England Grammar School - Bow: T. A. Hunter, 2: B. C. Hinckfuss, 3: B. J. Downes, 4: T. F. Wood, 5: B. J. Shaxon, 6: D. G. Maxwell, 7: M. R. Magnusson, Str: C. J. Cunningham, Cox: M. W. Weekes, Coach: W. Hughes
Gregory Terrace - Bow: K. Taylor, 2: J. Wilkinson, 3: H. Munro, 4: C. Monk, 5: S. Gassman, 6: A. Arnold, 7: N. Walsh, Str: D. Sawnson, Cox: J. Stitt
---
Under 16 First Four
Distance: 1000 Metres
1st The Southport School
2nd Church of England Grammar School - Bow: R. G. Hewitt, 2: B. C. Cox, 3: J. C. Mudge, Str: C. R. Brandon, Cox: I. M. Scholes, Coach: N. Stevens
3rd Brisbane Grammar School
---
Under 16 Second Four
Distance: 1000 Metres
1st Brisbane Boys' College
2nd The Southport School
3rd Brisbane Grammar School
Other Competing Crews:
Church of England Grammar School - Bow: E. J. Quayle, 2: G. T. Davies, 3: P. D. Abbott, Str:J. R. Stone, Cox: P. J. Crooke, Coach: J. Waddington
---
Under 16 Third Four
Distance: 1000 Metres
1st Brisbane Boys' College
2nd Church of England Grammar School - Bow: D. J. Borthwick, 2: R. T. Birks, 3: J. Collins, Str: C. B. Francis, Cox: A. Keating, Coach: J. Morice
3rd The Southport School
---
Under 16 Fourth Four
Distance: 1000 Metres
1st The Southport School
2nd Church of England Grammar School - Bow: R. C. Foots, 2: H. L. Frith, 3: J. A. Pollard, Str: C. G. Morris, Cox: R. L. Withey, Coach: J. Garnsey
3rd Brisbane Boys' College
---
Under 15 First Four
Distance: 1000 Metres
1st The Southport School
2nd Brisbane Boys' College
3rd Brisbane Grammar School
Other Competing Crews:
Church of England Grammar School - Bow: S. C. Garraway, 2: J. McPherson, 3: S. J. M. Harris, Str: J. S. Crew, Cox: P. E. C. Waugh, Coach: A. Dunlop
Gregory Terrace - Bow: T. Cooney, 2: A. Vitanzi, 3: R. Pigott, Str: J. O'Kane, Cox: P. McCrossin
---
Under 15 Second Four
Distance: 1000 Metres
1st Brisbane Grammar School
2nd The Southport School
3rd Brisbane Boys' College
Other Competing Crews:
Church of England Grammar School - Bow: D. P. Young, 2: E. A. Young, 3: M. J. Skerl, Str: S. A.Donovan, Cox: M. W. Earwaker, Coach: D. Hodgkinson
---
Under 15 Third Four
Distance: 1000 Metres
1st Brisbane State High School
2nd Brisbane Grammar School
3rd The Southport School
Other Competing Crews:
Church of England Grammar School - Bow: S. H. Apel, 2: S. Schmidt, 3: J. G. Alexander, Str: A. J. Wightman, Cox: T. A. Davies, Coach: A. Godfrey
---
Under 15 Fourth Four
Distance: 1000 Metres
1st Brisbane Grammar School
2nd Church of England Grammar School - Bow: A. T. Magub, 2: D. L. Miles, 3: K. D. McLellan, Str: I. D. Burchill, Cox: P. A. Mercer, Coach: A. Godfrey
3rd Gregory Terrace