1963 QLD GPS Head of the River
The 1963 GPS Head of the River was conducted on Saturday April 6th 1963 on the Milton Reach of the Brisbane River.
Below are excerpts from The Courier Mail and the Telegraphs written in the lead-up to the regatta.
"A pattern revealed in final crew preparation over the last few days indicates that some coaches of eights to compete in the Head of the River tomorrow at 4.45 have a plan, which, they hope, will upset the favourites, State High. State High have won most of their races after having led from the start. The plan is to sprint away from High early in the 2000 metre event and make them come from behind if they are to win.This could be an obstacle for a less determined crew. However, no crew has been able to head State High at any stage in any of their winning races. Their pre-race form indicates that they could win the Head of the River by a larger margin than in other successful mile races this season. Two thousand metres is about a mile and a quarter.
Southport and State High share the topweight honors with an average weight of 12.4. Averages of other crews are: Brisbane Grammar 12.1; Churchie 11.13; BBC 11st 9; and Gregory Terrace 11st 1lbs. Additional pop-up training given to the BBC crew since their defeat last Saturday has raised supporters' hopes that the crew will live up to the promise of its polished rowing. The most improved crew is Churchie, who have the weight and power to cause an upset. They are the only crew to have beaten State High this season. Gregory Terrace's do-or-die approach to each race makes up for their weight deficiency and could put them into a place at the finish. Making full use of their spade blades, Southport, in high-rating sprinting bursts, have been maintaining excellent clearances between strokes. Brisbane Grammar have settled down after their crew changes brought about by illness and appear capable of setting the early pace.
Dead calm water is expected for the main race. The small amount of hyacinth remaining after the recent rain will not cause any difficulties for crews. The draw for positions in the Head of the River is Southport lane one, Brisbane Grammar 2, CEGS 3, State High 4, Gregory Terrace 5 and BBC 6.An estimated crowd of 20 000 is expected to see the program which will begin at 3 P.M. South-east winds and clouds at times are forecast. Coronation Drive would not be closed to traffic, Traffic Police said today. But a complete parking ban on both sides of Coronation Drive from the junction with Patrick Lane to about 50 yards on the outbound side of the Toowong Ferry would be enforced between 7 a.m. and 5 p.m. A parking ban will be placed on both side of Patrick Lane from its junction with Coronation Drive to the over-bridge."
Page 41, The Telegraph, Friday April 5th 1963 Edition
"Brisbane State High School will start outright favourites to win the G.P.S. Head of the River on Milton Reach at 4.45 p.m. tomorrow.
The State High crew, equal heavyweight with the Southport School, has an average weight of 12st 5lbs. State High have won their last six races straight including the School eights at their carnival last week by 1.5 Lengths and the maiden eights 20 minutes late by five lengths. If the High crew can win it will be the school's first win since 1948, when the race was rowed in fours. However, despite State High's brilliant record, other school coaches and crews believe State High will fill a minor placing. "They have rowed all their races from in front. Its much longer when you are behind," is the general attitude." Last week the middle-weight (11st 11lb) Churchie crew finished second to State High by one and a quarter lengths, but they claim they lost a length when a member "crabbed" at the start. Churchie from lane 3 will have the middle running with State High in lane 4. Brisbane Grammar School, who finished a canvas (six feet) behind Churchie last Saturday, are confident but they are open to trouble in lane two if the weather is heavy.
Terrace is light, but they are a strong crew (av. 12st 4lbs) and should master most conditions. Lightweight crew, Gregory Terrace, and Brisbane Boys College will be well protected from any weather in lanes five and six, but will not receive the full benefits of a possible following tide. The Terrace crew has again earned the reputation of being stylish and high rating, but their light 11-stone 1lb average in the former New South Wales King's cup eight will tell against them. Brisbane Boys' College lost almost a fortnight's training through sickness. Stroke Doug Adam missed training last week, while Len Williams (No. 5) missed a week with a sore stomach. Coach David Magoffin said that his crew had trained harder and more intensely this week to make up for the lost time. The Southport School (Lane 3) are the "dark horses" of the event. They have rowed only once in a race on the Brisbane River at the B.B.C. carnival a fortnight ago when they finished last."
Page 19, The Courier-Mail, Friday April 5th 1963 Edition
"GUSTY south-easterly winds are likely to be blowing, and the river surface could be choppy for the Head of the River today.
These conditions could hamper the lightweight Terrace and B.B.C. crews which have drawn the two lanes nearest the south bank. The south banked is noted for its dead water. State High, topweights, and favourites, have drawn a middle position and should not be troubled if conditions are rough. Most opposition crews have been impressed with the fluent stroking and timing of the State High Crew. Main opposition for State High is expected to come from the "Churchie" eight, which finished second to them by one-and-a quarter lengths last Saturday. "Churchie" have been consistent placegetters in the last three years and could spring the surprise of the race. Vying with State High as the heaviest crew is the Southport School crew (12st 5lbs). This crew is an "unknown quantity" and could possibly cause an upset even though they are towing in the first position along the north bank which will be worst affected by rough weather.
Due to start at 4.45 from the William Jolly Bridge, the race will be rowed over a 2000 Metre course (1 ¼ miles). Finishing line will be near the Regatta Hotel. From the north bank the crews will line up Southport Lane 1: Brisbane grammar 2, C.E.G.S. 3, State High 4, Gregory Terrace 5, and B.B.C. 6 No crew will gain much benefit from a flowing tide which will have turned just before the start of the race. "With a never say die" reputation, Gregory Terrace could finish well up with the leaders. In rough weather, lane fice could be relatively calm and Terrace could make good use of that. Terrace are again the lightest crew. Only once since 1955 - the first year eights were raced - have Terrace exceeded 12st. Sickness has slowed down Brisbane Grammar's preparations, but rearrangements in the crew during the week have given them a fighting chance. A light crew at 11st 9lb they may find the going tough in lane six. B.B.C. winners of the last two "Heads," are unlikely to repeat those performances today because the crew lost almost a fortnight's training through sickness."
Page 12, The Courier-Mail Saturday April 6 1963 Edition
"A top schoolboy rower, held in reserve because of studies, has averted a major setback to Brisbane Grammar's Head of the River chances this Saturday.
The oarsman, David Johnson, a start in last year's Grammar "Head" crew, which finished second to B.B.C. was included in the 1963 crew last Friday. Johnson, who rowed No. 2 last year gave up rowing to concentrate on studies this year although he looked likely to be the priority selection and stroke of this year's crew. But a school rowing emergency was called last Thursday when Grammar No. 3 oarsman, Trevor Blanch was forced out through illness. Johnson was asked to join the crew and for the first time in four months sat in with the crew as bow man last Friday.
Last Saturday, after Johnson had had only two training rows with the eight, Grammar ran third to State High and Churchie. Blanch's No. 3 seat has been taken by former bowman Ian Snape. State High after years as Brisbane's rowing underdog emerge this season as the crew to beat in the "Head." State High have won their last six races straight and by clear cut margins. State High have built up a crew with an average weight of 12st 3lbs - more than a stone heavier per man than last year."
Page 20, The Courier-Mail, Thursday April 4 1963 Edition
Church of England Grammar School attained their first O'Connor Cup since the competition switched to eights and did it in exhilirating fashion edging out Brisbane State High School by merely 2 feet.
1963 was a very successful year for Churchie in terms of GPS sport. Along with the Head of the River, they won the 1963 GPS Rugby Premiership, attaining the coveted 'double.' Bruce Schmidt (3 Seat) and Wally Noble (7 Seat) were members of the Churchie 1st VIII and 1st XV. Church of England Grammar claimed their maiden O'Connor Cup since the competition switched to Eights in 1955. Churchie performed extremely well in terms of GPS sport in 1963 with the school claiming five of the GPS premierships: athletics, cricket, football (rugby), rowing and swimming, coming a close second in gymnastics and tennis.
---
Organising Committee:
Great Public Schools Association
---
All Schools' Championship First Eight
The O'Connor Cup
Distance: 20000 Metres
Winning Time: 6:25.00
Margins:
2 Feet (1-2)
0.5 Length (2-3)
1st Church of England Grammar School - Bow: Peter D. Burton, 2: Peter R. Richards, 3: Bruce Schmidt, 4: Peter Shakespear, 5: Peter C. Fry, 6: Peter C. Neville, 7: Wally W. Noble, Str: Graham B. Early, Cox: Peter. J. Watson, Coach: Jock I. Thodey
2nd Brisbane State High School - Bow: Morton, 2: Gaddess, 3: Scholer, 4: Petelin, 5: Savchenko-Belski, 6: Mitchell, 7: Walcott, Str: Gringle, Cox: Bennett
3rd Gregory Terrace - Bow: I. Farry, 2: D. Hinch, 3: G. Daly, 4: B. Shannon, 5: R. Bliss, 6: P. Houston, 7: M. O'Shea, Str: C. Spry, Cox: B. Walters
Other Competing Crews:
Brisbane Boys' College - Bow: D. Moffatt, 2: W. Kitaman, 3: J. Ricketts, 4: H. Campbell, 5: L. Williams, 6: I. Hemming, 7: D. Simpson, Str: D. Adam, Cox: R. Bruce
Brisbane Grammar School - Bow: D. Johnson, 2: J. Porter, 3: I. Snape, 4: M. Priestley, 5: R. Stewart, 6: J. Mathams, 7: J. Greenham, Str: R. Warren , Cox: D. Robinson
The Southport School
1963 GPS Head of the River Action Shot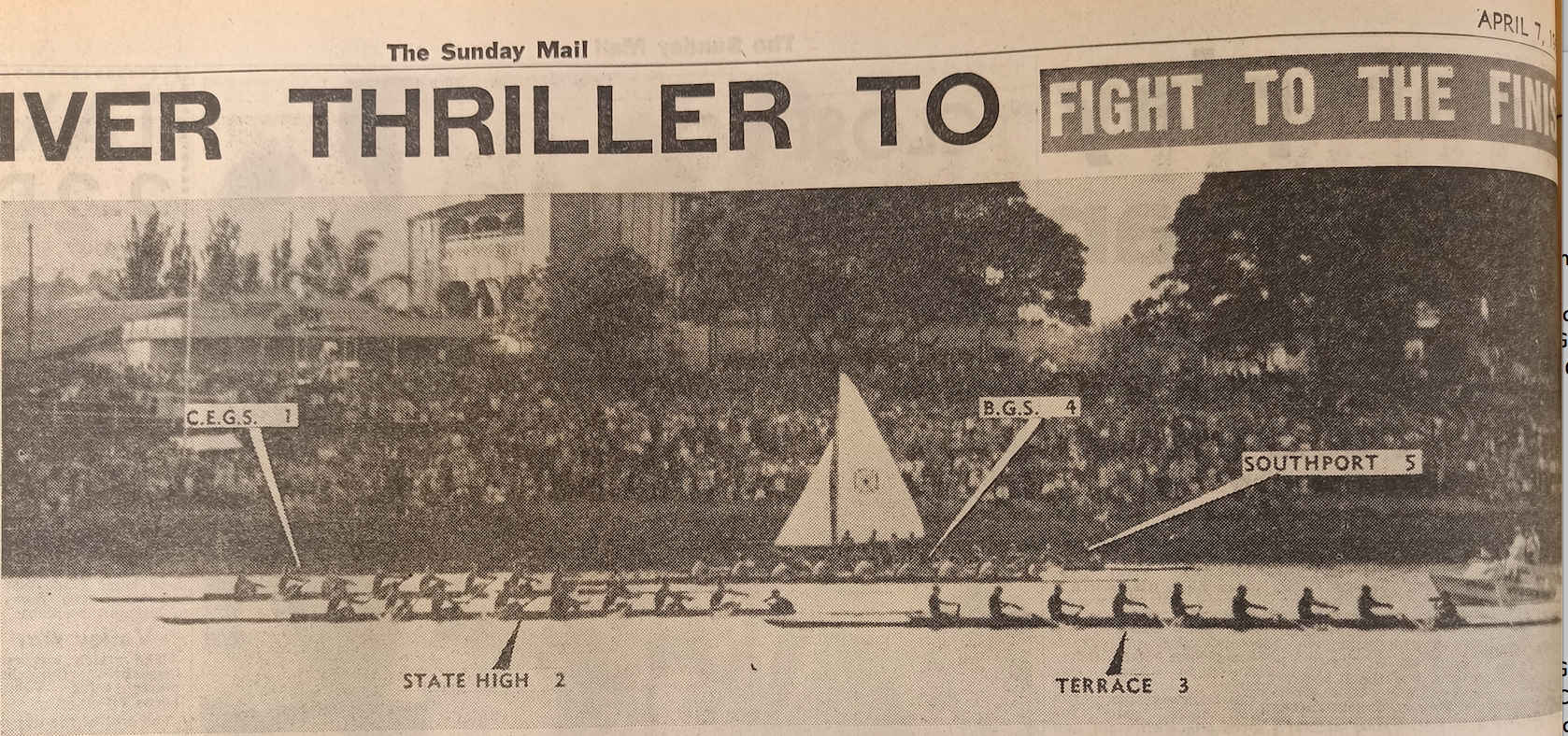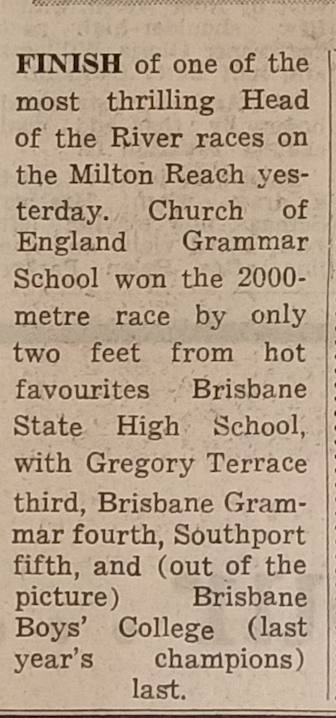 1963 Victorious Church of England Grammar School First VIII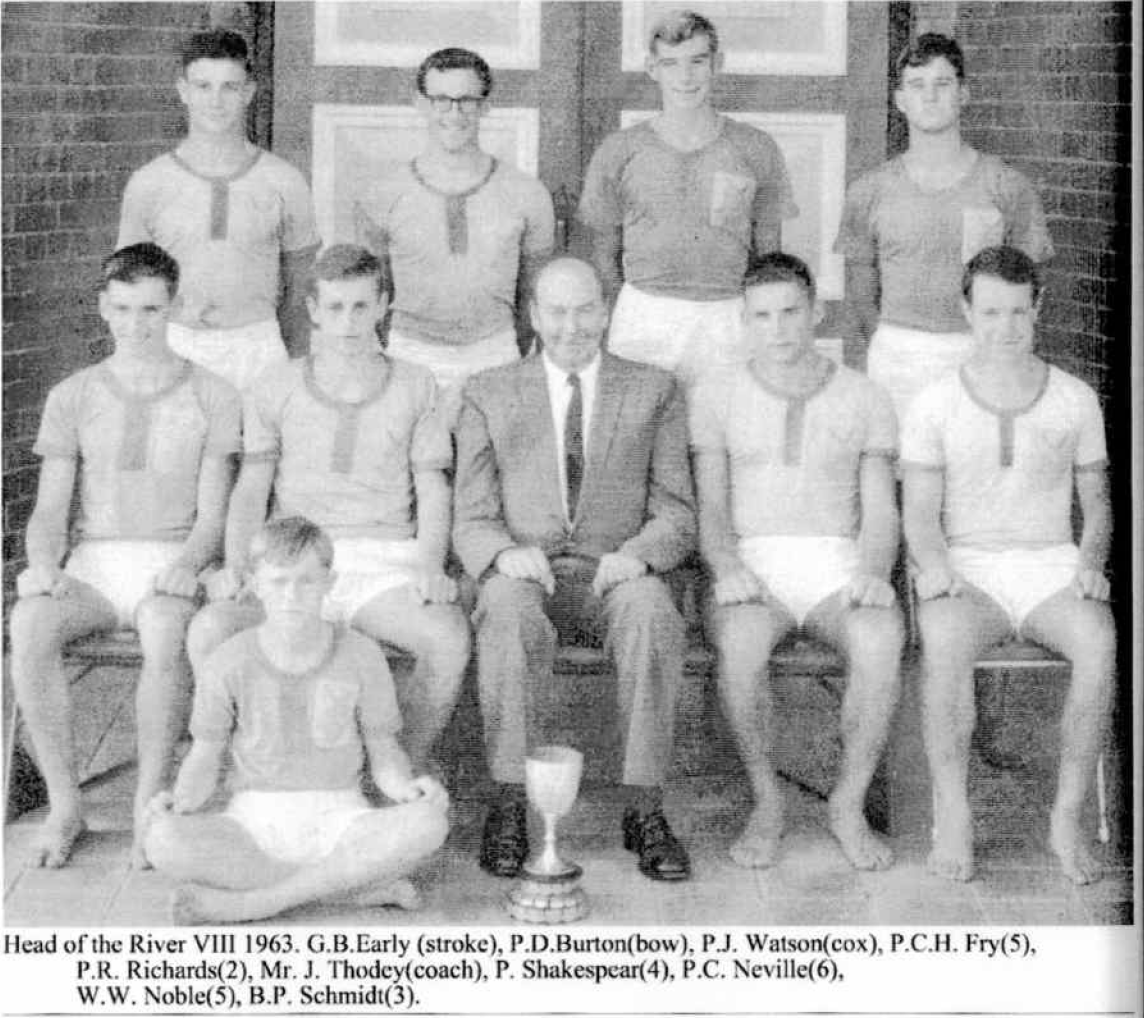 1963 Brisbane Grammar School First VIII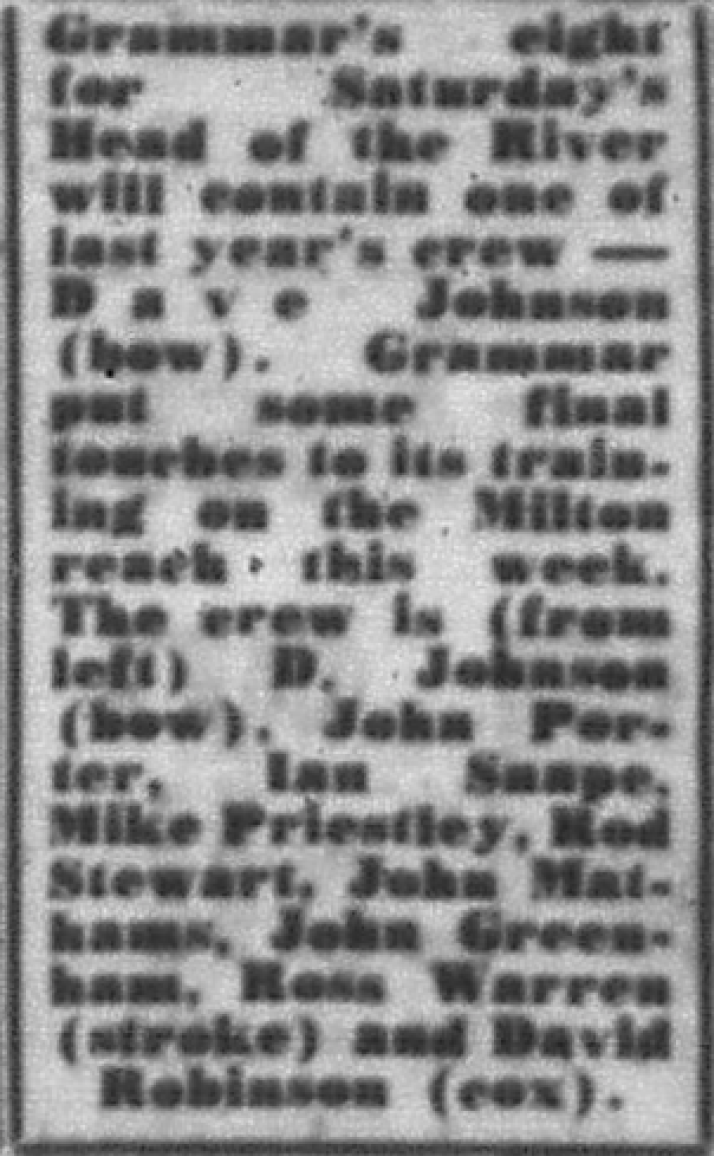 1963 Gregory Terrace First VIII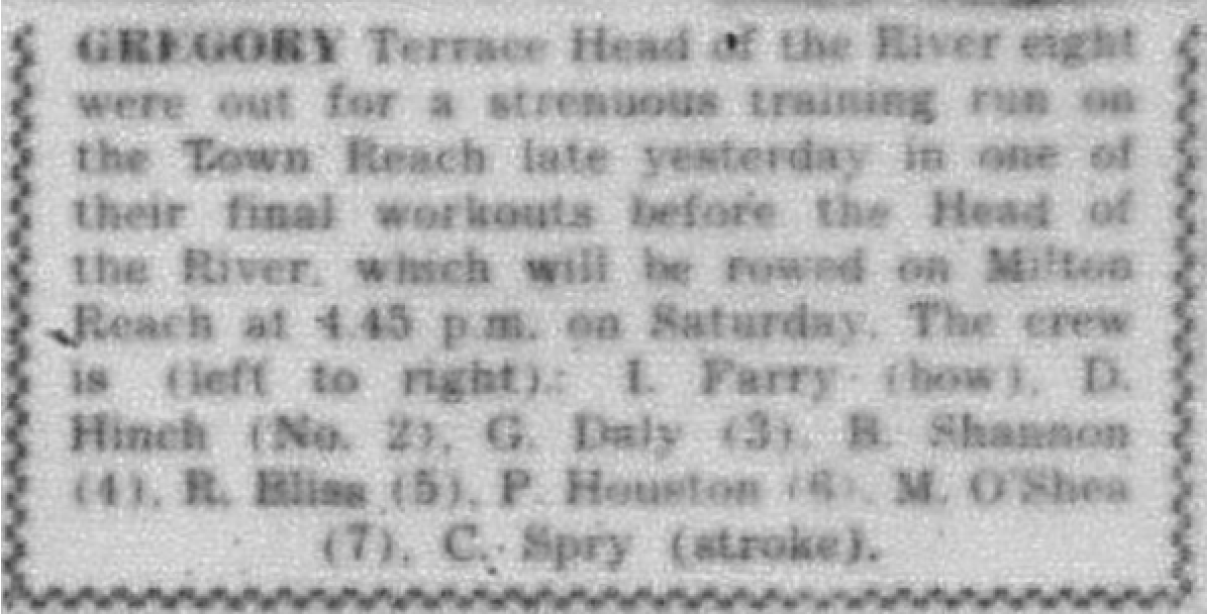 1963 Brisbane Boys' College First VIII (Poor Quality Photo)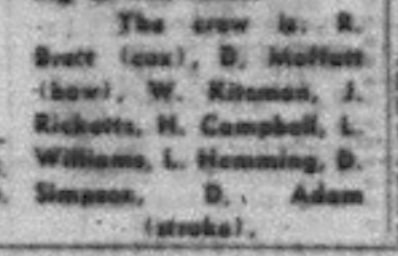 Brisbane Boys' College training on the Milton Reach days before the GPS Head of the River (Page 19, The Courier-Mail, Friday 5th 1963 Edition)
---
The Race Described
"The young Vikings of Church of England Grammar narrowly won the 1963 G.P.S. glamour event - The Head of the River, on Milton Reach yesterday.
They captured the elusive title, which has evaded their school for years by the margin of a bare 24 inches. The Churchie oarsman, rowing in school tradition in their Viking name racing shell "Odin," finished just 24 inches ahead of highly favoured State High School, with lightweight Gregory Terrace third, only half-a-length away. Despite the small margins Churchie was accredited with an all-the-way win by officials by officials who followed the race. "Odin got its not in front from the start and that's they was the race was rowed." One official said.
However thousands of chanting, yelling schoolboys and friends, who stopped all traffic on Coronation Drive near the finishing line, saw this race as a battle in which any of the three leading the last 300 yard. The eight blue and grey clad teenagers on the end of the clean Churchie blades seemed to lift the Odin out of the water in one clean sweep in the last 50 yards to give them the run to the line. It was the school's first ever win in eight-oared "head" competition, although Churchie filled third, second and third in 1960, 1961 and 1962 respectively. Churchie last won the Head of the River, then in foar-oared shells, in 1941, and completed a hat trick of Head wins - but that was the end of golden era.
Two Heroes of Victory
Eight oar racing was introduced to the Head of the River in 1955. And who were the heads of the Churchie win?
A slight, 10st 10lbs, lad named Graham Early, the stroke and modest Brisbane businessman Mr. J. I. Thodey the coach. The 17 year-old Early, described by his father as "a water-sports-minded boy," is in only his third season and was rowing in his first Head eights. Mr. Thodey has been coaching Churchie only two years. Was there a secret formula for the rare win? Not according to Mr Thodey. "We thought our main danger would be from State High," Mr Thodey said after the race. "Grammar was the other danger. The draw gave us a position between these two crews," he said.
Between two main rivals
[Grammar crew was in No. 2 lane, Churchie No. 3, and State High No. 4]
"I told the boys we had our two toughest rivals on either side of us. We would just have to stay with them and get ahead if we could." Churchie did just that and fine conditioning saw them through in the end. Only three weeks ago Churchie crew underwent three changes but it was not apparent yesterday. "I didn't have a clue where we were running until the last 300 yards; all I knew was the boys were rowing well. At the 300-yard mark we got extra lift and I felt confident for the first time in the race." [Thodey] said.
Churchie began with a rating of 39 strokes to the minute, at the 500 metre mark was rating of 34, and their finishing rate was 38."
Page 32, The Sunday Mail, Sunday April 7th 1963 Edition
"At 4.45, the Head of the River Eights was held over the 2000m course. All eights got away to a good start with the TSS crew gaining a slight lead. At the 1000m mark, where the field tends to spread out there was very little between the crews which was an early indication of a close finish. As the field approached the BBC shed which is considered the sprinting point, BSHS and CEGS fought a stroke for stroke battle, closely followed by GT and the remaining crews. Within a mere fifty yards of the finish, the two leaders were still inseparable, and with a further increase in rating the School Eight 'literally lifted their boat out of the water', to win from BSHS by two feet. All the crews finished within one and a half lengths, with GT coming third by 1/2 a length. This was truly a most exciting and indeed fitting way to win the Head of the River after the twenty-two year gap.
The Regatta was followed by the Rowers' Dinner in the Canberra Hotel and the dance for the first time in Morris Hall. Both functions were happy and highly successful. Our gratitude and appreciation go to the Parents and Friends Rowing Committee for their organisation of all of our functions, and their interest and encouragement to us throughout the season."
Page 201 Churchie Rowing by Peter Jell, Published by Anglican Church Grammar School
---
Jock Thodey Profile
Jock Thodey coached the Church of England Grammar School VIII from 1960-1963, finishing 3rd, then 2nd, then 3rd and finally in 1st 1963, by the narrowest of margins against a very highly fancied BSHS crew. This was the School's first Head of the River in Eights and it was a much celebrated event.
Unfortunately Jock was diagnosed with cancer later in 1963 and died in the December. His widow Mrs. Anne Thodey, who had been a strong member of the School rowing community with eldest son Chris already rowing at Churchie, returned to family in new Zealand. Jock was a big rugged man who knew how to handle boys to bring out their best and he is remembered as a fine coach and outstanding contributor to Churchie rowing. Those in the rowing club at the time knew little of his background before coming to Brisbane. He had lived in Perth, WA after World War II where he coached Christ College 2nd VIII with a great deal of success.
However, the Official History of New Zealand in the Second World War 1939-1945 provides more information into his war record. The short synopsis shows that he rose from Lieutenant to Colonel in the field, was awarded the Distinguished Service Order and had been mentioned in dispatches. He was born in Gisborne, NZ in 1910 and saw war service with the 19th Battalion and 21st Battallion of the New Zealand Expeditionary Force in Egypt and Italy among other campaigns. Two excerpts are below that are pertinent to the man known at Mowbray Park:
"D. W. Sinclair writing of the '19 Batallion and Armoured Regiment' in the Official History of New Zealand in the Second World War 1939-1945: While at Arce, 19 Regiment made several important changes in its senior appointments. Major Everist, returning from a staff course in England, took over as second in command from Major Thodey, who marched out to command 21 Batallion. The full cycle was now complete, for with this significant promotion - a tank officer to command an infantry battalion - the integration of thetwo arms became more than a mere text at a training conference. It set the official seal to the matter; not only was full co-operation demanded, but commands were interchangeable. The armour, as the younger of the two arms, felt the appointment to be one of confidence not only in the officer chosen but also in the arm he represented. All ranks agreed that in the big, rugged, reliable Jock Thodey the 21st was getting one of the best soldiers.
His bright eyed, slow-breaking smile, no less than his solid soldierliness, had made him a splendid influence in the 19th since it was first formed. He had held with distinction many appointments in infantry as well as in armoured days: he was one of the old originals; he carried away from the 19th the good wished of all who had served with him. And: B Company, about to win one of the New Zealand Division's most highly prized possessions, featured in a proud achievement while the rest of the division and the battalion raced on towards Trieste.The company had become the nucleus of Thodey Force, under Colonel Thodey, 9 Brigades second-in-command. At Mestre, Thodey Force, which included armour, detached itself from 9 Brigade and headed for Venice, which was though to have been cleared by partisans. On of the jobs General Freyberg had given the force was to occupy and hold at all costs the world-famous Albergo Danielo for a New Zealand Forces Club. The General, who has stayed at this hotel before the war, loved Venice. At the back of his mind, as the New Zealanders drove on past the Senior River was the determination that his men would see Venice, as he had done, from the very best hotel.
Jock Thodey 1993, manufactured by Jeff Sykes
It was very fitting that this name should remain a part of the Churchie fleet to celebrate a man of strength who did more than most to lift the School rowing program.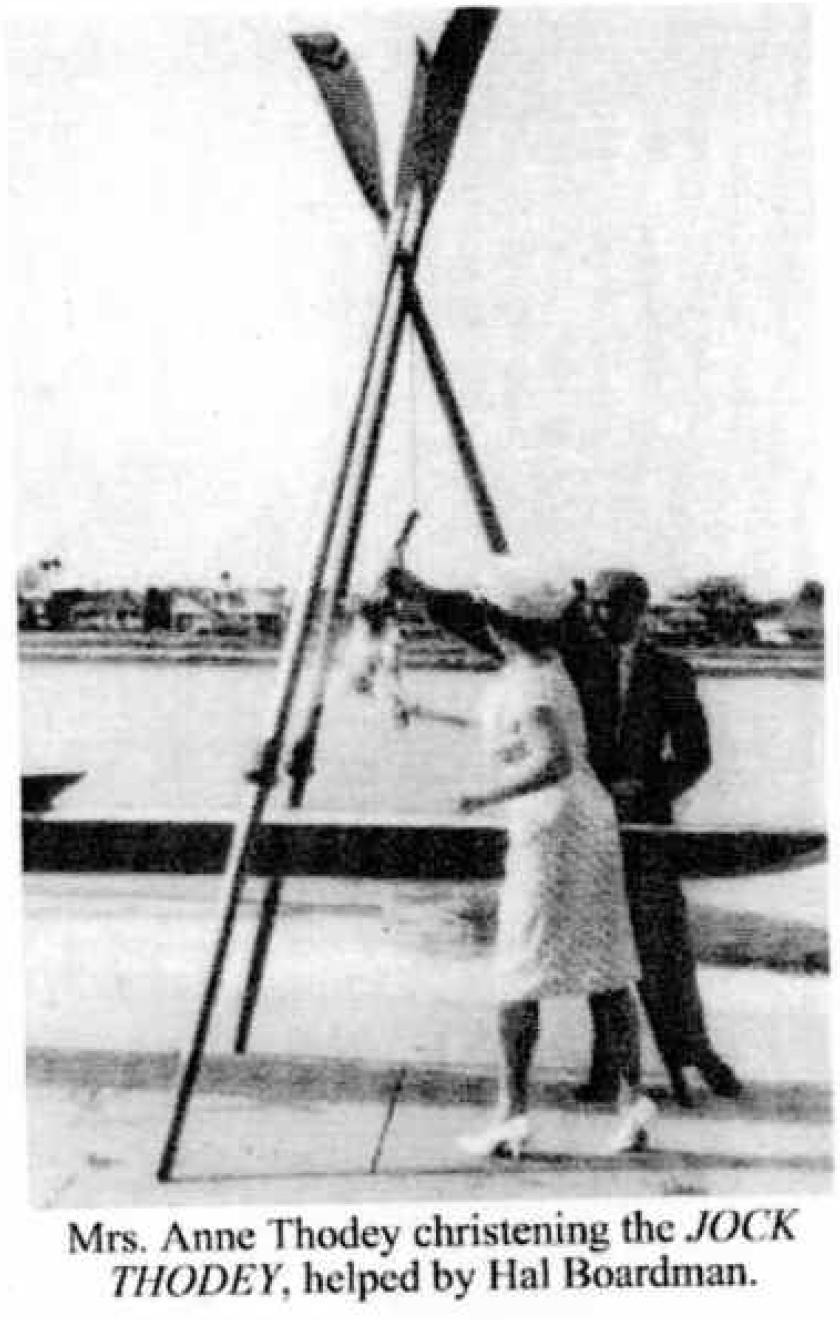 Thodey Cup
In the mid-1960s, Jock Thodey was a revered personality in the Churchie Boatshed. He had coached the School's only winning Head of the River VIII in 1963 and was seen to have so through a steady build-up over four years. His untimely death at the end of 1963 was a major tragedy and everyone felt enormous sympathy for him and his family. His good friend, Earl Fry, had taken over coaching the VIII and so there was an atmosphere in which his name was hallowed. It was only natural that efforts were made to keep his name alive in the rowing club. Apart from naming a boat after him, the Thodey Cup was provided for annual competition at the Churchie Regatta. However the cup has not survived. It seems to have been first contested in 1967 when it was the trophy for one of the Novice IV races (the Cossack Cup was the trophy for the School 4th IV race. In 1978 the Churchie Regatta Programme does not mention the Thodey Cup.
We would like to pass on our sincere thanks to Peter Jell who compiled the above information in Churchie Rowing that celebrates Mr J. Thodey's many accomplishments.
---
All Schools' First Four
Distance: 0.75 Mile
Winning Time: 4:34.00
Margins:
0.75 Lengths (1-2)
1 Length (2-3)
1st Brisbane Boys' College
2nd Church of England Grammar School - Bow: D. S. Fossey, 2: A. D. Bartlett, 3: P. C. Macmillan, Str: M. J. Reynolds, Cox: M. E. Hartley, Coach: T. Holt
3rd Gregory Terrace & The Southport School
G.T. - Bow: J. Crombie, 2: D. Taylor, 3: V. Clarke, Str: T. Larkin, Cox: P. Millett

1963 Gregory Terrace First IV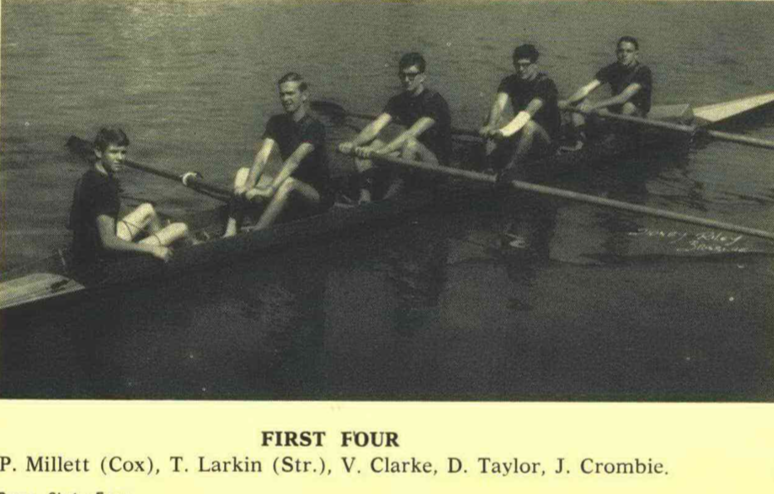 Michael Reynolds, stroke of the 1963 Anglican Church Grammar School First IV, represented Queensland in the 1970 Presidents Cup Interstate Sculling Championships.
---
All Schools' Second Four
Distance: 0.75 Mile
Winning Time: n/a
Margins:
1 Length (1-2)
Dead Heat for Second.
1st The Southport School
2nd Church of England Grammar School & Brisbane Boys' College
C.E.G.S. - Bow: R. S. Grant, 2: S. C. Sturgess, 3: P. A. Jell, Str: R. Black, Cox: G. E. Gates, Coach: E. Fry
Other Competing Crews:
Gregory Terrace - Bow: K. Hickey, 2: P. Vukotich, 3: K. Copley, Str: D. Armstrong, Cox: B. McManus
Gregory Terrace 1963 First IV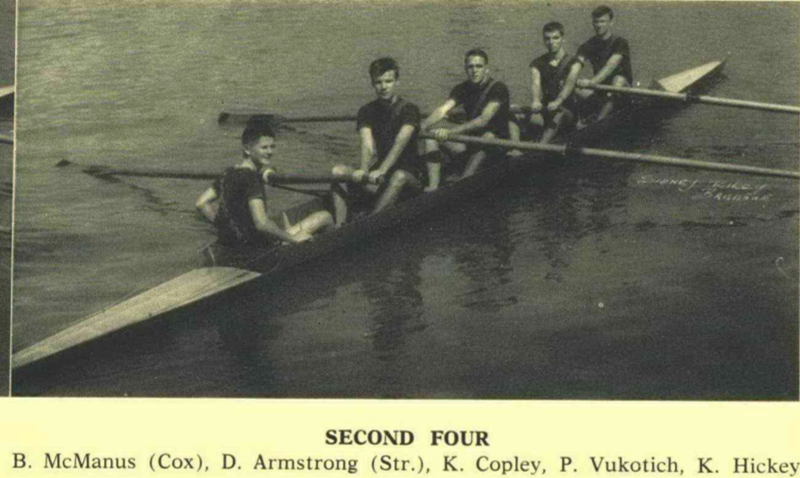 ---
All Schools' Third Four
Distance: 0.5 Mile
Winning Times: 3:14.00
Margins:
2.5 Lengths (1-2)
0.5 Lengths (2-3)
1st Church of England Grammar School - Bow: B. E. Leutchford, 2: L. J. Cutler, 3: P. Sekuless, Str: W. R. Heaslop, Cox: P. Fleming, Coach: E. Fry
2nd The Southport School & Gregory Terrace
G.T. - Bow: ,K. O'Rourke 2: D. Courtney, 3: G. Chappel, Str: A. Nucifora, Cox: T. Gygar

---
All Schools' Fourth Four
Distance: 0.5 Mile
Winning Time: 3:19.00
Margins:
0.5 Length (1-2)
1 Length (2-3)
1st Church of England Grammar School - Bow: A. J. Love, 2: D. R. Snowball, 3: A. J. Underwood, Str: R. M. Hughes, Cox: C. E. Early, Coach: R. Herbert
2nd Brisbane Boys' College
3rd Brisbane State High School
Other Competing Crews:
Gregory Terrace - Bow: T. Bourke, 2: B. Lacey, 3: P. Howard, Str: A. Ruggieri, Cox: T. Gygar
---
All Schools' Fifth Four
Distance: 0.5 Mile
Winning Time: 3:24.00
Margins:
1.25 Lengths (1-2)
0.5 Length (2-3)
1st Brisbane Boys' College
2nd Church of England Grammar School - Bow: K. M. Olsen, 2: F. W. Quinton, 3: D. C. Friend, Str: C. J. Boucher, Cox: R. M. Coulson
3rd Brisbane State High School
Other Competing Crews:
Gregory Terrace - Bow: R. McDonnell, 2: R. Stenson, 3: G. Delany, Str: T. Mulligan, Cox: R. Oliver
---
All Schools' Sixth Four
Distance: 0.5 Mile
Winning Time: 3:24.00
Margins:
2 Feet (1-2)
1.25 Lengths (2-3)
1st Brisbane Boys' College
2nd Brisbane Grammar School
3rd Gregory Terrace - Bow: A. Anderson, 2: B. Cowan, 3: J. Muller, Str: A. Grieve, Cox: R. Oliver
Other Participating Crews:
Church of England Grammar School (a) - Bow: R. M. White, 2: A. D. Levick, 3: S. J. Young, Str: P. F. Snowball, Cox: G. W. Pryor
Church of England Grammar School (b) - Bow: C. R. Cuvet, 2: M. N. Miller, 3: P. J. Rainey, Str: P. E. Maddern, Cox: F. G. Goodchap
---
All Schools' Seventh Four
Distance: 0.5 Mile
Winning Time: 3:28.00
Margins:
1 Canvas (1-2)
2 Feet (2-3)
1st Brisbane Boys' College
2nd Church of England Grammar School (b) - Bow: R. Smith, 2: D. G. Wilmoth, 3: T. L. Atkinson, Str: R. McLauchlin, Cox: P. J. Heaslop
3rd Church of England Grammar School (a) - Bow: A. Love, 2: J. Noble, 3: R. Grant, Str: D. Snowball, Cox: I. Buss
Other Competing Crews:
Gregory Terrace - Bow: P. Bowdon, 2: A. Foran, 3: D. Stirling, Str: D. Spence, Cox: C. Pettiford
---
All Schools' Eighth Four
Distance: 0.5 Mile
Winning Time: 3:11.00
Margins:
0.5 Length (1-2)
0.5 Length (2-3)
1st Brisbane Boys' College
2nd Gregory Terrace (8th IV)- Bow: J. Drapers, 2: P. Greenfield, 3: V. Knauth, Str: T. McMahon, Cox: C. Pettiford
3rd Church of England Grammar School (a), Church of England Grammar School (b) & Brisbane Boys' College
C.E.G.S. (a) - Bow: R. C. Elliot, 2: C. G. Sommer, 3: M. I. Younger, Str: B. R. Lewis, Cox: T. Leeds
C.E.G.S. (b) - Bow: K. H. Foote, 2: R. W. Mason, 3: D. R. Scott, Str: J. Petrie, Cox: D. J. Gommersall
Other Competing Crews:
Gregory Terrace (9th IV) - Bow: P. Chappel, 2: G. Keogh, 3: P. Cullen, Str: R. Handy, Cox: L. Waters
Gregory Terrace (10th IV) - Bow: P. Burgess, 2: R. Contarino, 3: R. Stewart, Str: J. Vine, Cox: R. Oliver
---
Sources
Page 41, The Telegraph, Friday April 5th 1963 Edition https://archive.org/details/page-41-the-telegraph-friday-5th-1963-edition
Page 20, The Courier-Mail, Thursday April 4th 1963 Edition https://archive.org/details/page-20-the-courier-mail-thursday-april-4-1963-edition
Page 19, The Courier-Mail, Friday April 5th 1963 Edition https://archive.org/details/page-19-the-courier-mail-friday-april-5th-1963-edition
Page 12, The Courier-Mail Saturday April 6th 1963 Edition https://archive.org/details/page-12-the-courier-mail-saturday-april-6-1963-edition
Page 40, The Sunday Mail, Sunday April 7th 1963 Edition https://archive.org/details/img-20201214074422
Page n/a, The Sunday Mail, Sunday April 7th 1963 Edition https://archive.org/details/img-20201214074355
Page 65-66, St. Joseph's College, Gregory Terrace Newsletter, 1963 Edition https://media.digistormhosting.com.au/sjgt-au-qld-91-oldboys/documents/1963-St-Joseph-College-Terrace.pdf?mtime=20180403073353
Page 13, Brisbane Boys' College 2016 Regatta Programme https://issuu.com/collegianmagazine/docs/2016_regatta_program_issuu
Churchie Rowing by Peter Jell, Published by Anglican Church Grammar School