1929 QLD GPS Head of the River
The 8th Head of the River was conducted on Saturday 4th May 1929 on the Bridge Reach of the Brisbane River.
A less than the usual amount of spectators gathered on the river in 1929 yet each of the five competing schools were well represented. Despite the smaller crowds, hundreds of barrackers added an air of festivity to the afternoon's proceedings, proudly championing their school colours, flags and ribbons.
Having assembled at the finishing line at the Domain, these supporters were treated to a brilliant contest between Brisbane Grammar and The Southport School. Both of these schools battled for supremacy throughout the entire three-quarter mile course which started at the Commercial Rowing Club and concluded at the University Pontoon.
St. Joseph's College would not submit a crew in 1929 and so there was only a straight final, with no heats on the previous Thursday as was the case in 1928. The inclusion of an All Schools' Second Four event was again met with great enthusiasm with all five schools fielding a crew and they would line up in this order:
No. 1 Church of England Grammar School, No. 2 Brisbane Boys' College, No. 3 Brisbane Grammar School, No. 4 Brisbane State High School, No. 5 The Southport School.
In the All Schools' Championship Four they would line up as follows:
No. 1 Brisbane State High School, No. 2 Brisbane Grammar School, No. 3 Church of England Grammar School, No. 4 Brisbane Boys' College, No. 5 The Southport School.
Officials for the day were:
Judge: Mr. R. Howard-Gill,
Umpire: Mr. D. T. Beatson
Starter: Mr. G. N. Smoothey
Timekeepers: Mr. E. MacCaskie & R. Wilson
With the First Fours being strenuously contested every inch of the water, Brisbane Grammar School gained the decision from Southport by half a length. Grammar's second crew also won, making a double success.
Brisbane Grammar School thus made Queensland school boy rowing history at the 1929 Head of the river by winning both of the All Schools' First and Second Four competitions in only the second showing of the events inclusion.
Grammar's victory came as no surprise to many in the Brisbane rowing community given their first crew's strong performance in the Under 20's Four at the Queensland Rowing Association Regatta on the previous Saturday. Rowing blade for blade the entire way with Church of England Grammar School, Grammar would make a brilliant final sprint for the finish seeing them take victory by half a length.
Many tabloids thought their narrow defeat would envelop the Churchie crew with added motivation to vindicate themselves and yet Brisbane Grammar's main challengers were the Seasiders from Southport. However, their victorious second crew had little resistance to deal with.
In 1929, the Schmidt family donated the racing boat, the Ardrossan, to the Anglican Church Grammar School rowing fleet. The vessel was named for the family property at offham, north of Cunnamulla. Jim Schmidt was a member of the 1st IV in 1928 and captain of boats in 1929, three sons rowed in the 1st VIII (peter in 1960 when he was Captain of Boats, Bruce in 1961-1963 and Penrod in 1966).
---
Organising Committees:
The Queensland Metropolitan Secondary Schools' Association
Queensland Rowing Association
---
All Schools' Championship Four
The O'Connor Cup
Distance: 0.75 Mile
Winning Time: 4:32.00
Margins:
0.5 lengths (1-2)
2 lengths (2-3)
1 length (3-4)
2 lengths (4-5)
1st Brisbane Grammar School - Bow: L. D. Lawton 11st, 2: C. A. Acton 10st, 3: E.R. Collings 11st 6lb, Str: F. M. Nicholson 12st 3lb, Cox: A.B. Farquhar 8st
2nd The Southport School - Bow: R. A. Yates 11st 10lb, 2: L. E. N. Leahy 11st 7lb, 3: P. C. Lacey 11st 11lb, Str: J. K Cullen 10st 7lb, Cox: B. Nixon 8st 1lb
3rd Anglican Church Grammar School - Bow: St. J. Stephens 11st 8lb, 2: C. L. Watts 10st 12lb, 3: A. Rowan 12st 8lb, Str: H. Royle 11st 12lb, Cox: H. J. Spence 7st 4lb
4th Brisbane Boys' College - Bow: A. Logan 9st 7lb, 2: W. Watt 9st 10lb, 3: G. F. Thomason 10st 11lb, Str: I. Anderson 9st 10lb, Cox: A. Rudd 7st 4lb
5th Brisbane State High School - Bow: A. Jensen 10st 7lb, 2: D. Griffiths 9st 9lb, 3: A. J. Gordon 10st 1lb, Str: H. L. Wood 10st, Cox: F. Briant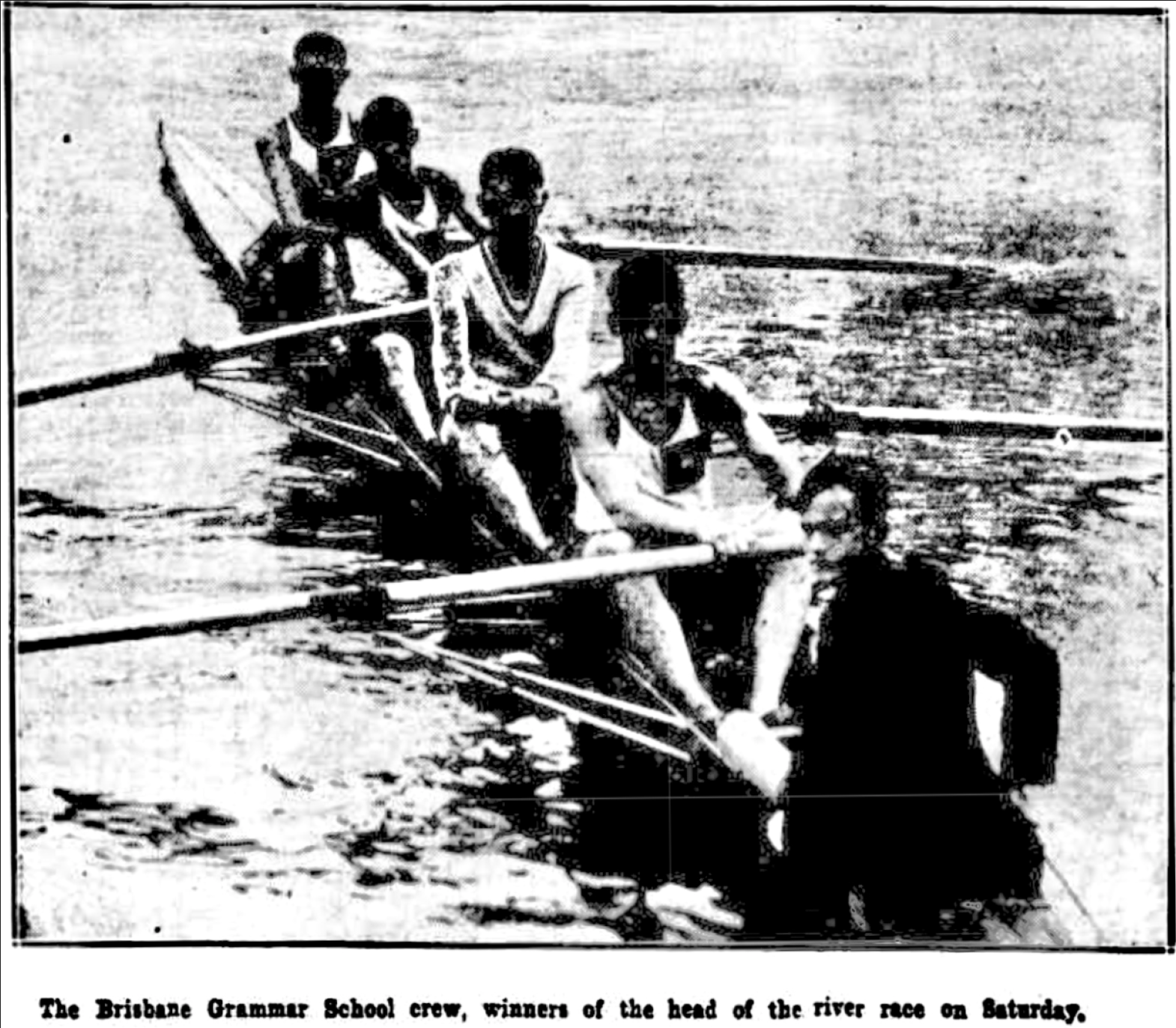 From right to left: A. B. Farquhar (cox), F. M. Nicholson (stroke), E. R Collins (3), C. A. Acton (2), L. D. Lawton (Bow).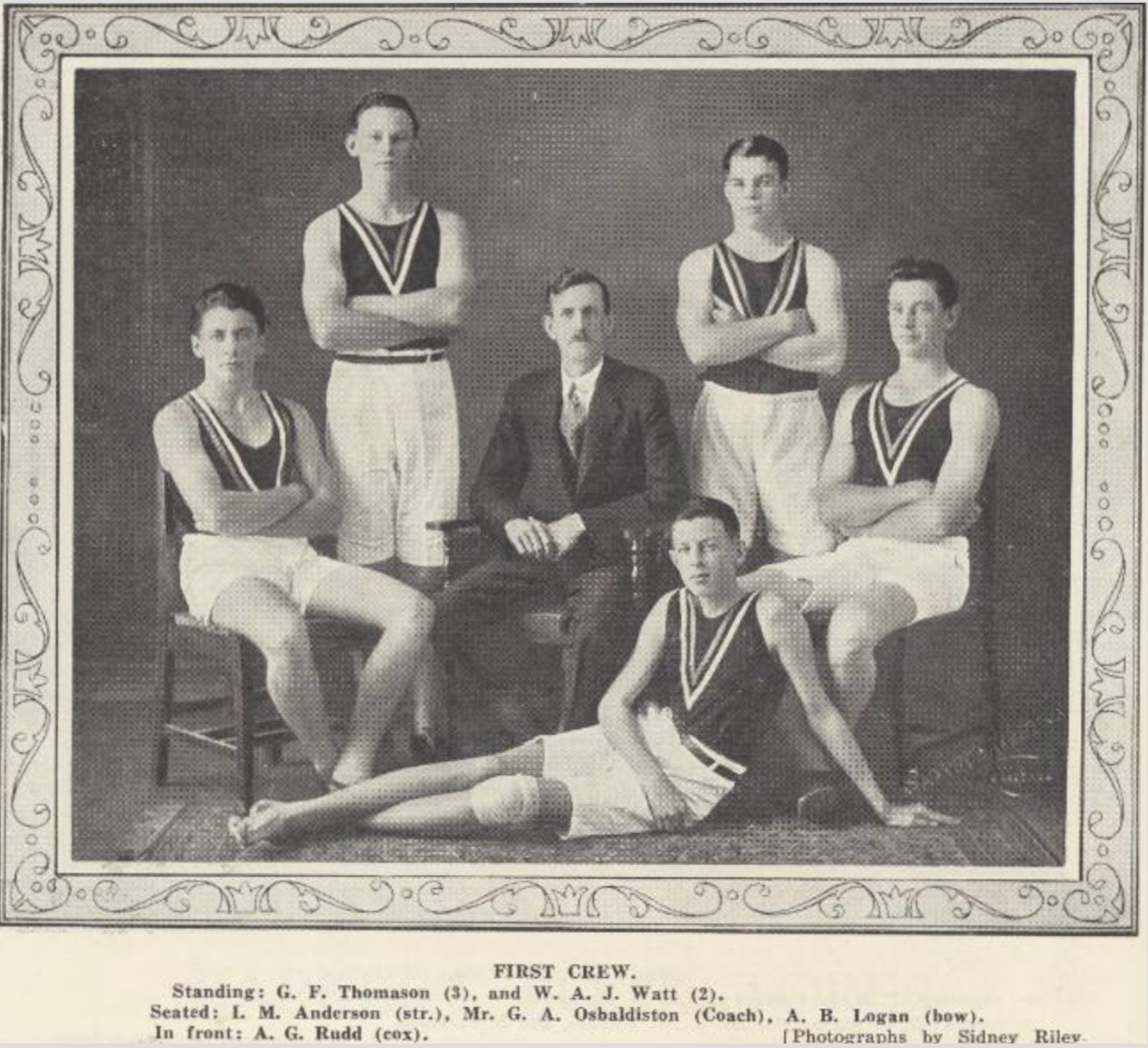 Brisbane Boys' College All Schools' Championship Four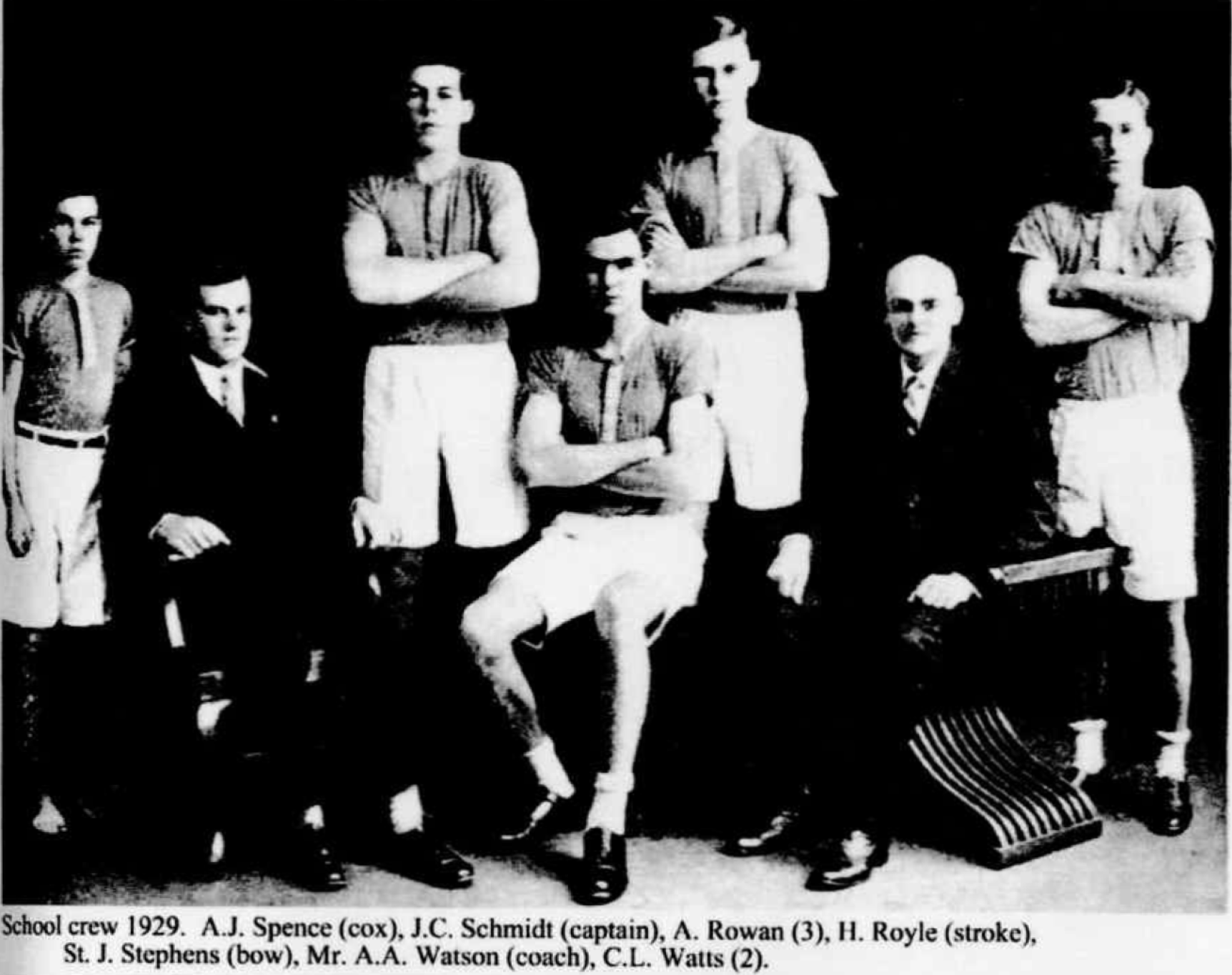 Church of England Grammar School 1929 First VI
---
The Race Described
It was Southport who took an early lead following a strong start. Stroking 40 to the minute, Southport had gone right to the front as soon as the pistol sounded and left Grammar, who were rating a huge 46, to assume the role of chaser. Churchie, relying more on length than rating, were hitting 36 in third with College and State High bringing up the rear at 38 and 39 respectively after 100 yards.
Approaching the Victoria Bridge, Southport looked the favourite having consolidated their early advantage over Grammar to a length. Churchie and College were a further three-quarter lengths behind and State High was a length astern in fifth. With the race extending into its second half, Grammar shifted gear and gradually reduced their deficit with Southport who had dropped their rating to 34.
Rowing a short and quick 36 strokes per minute, Grammar caught Southport as the race progressed to Brown's Wharf which indicated that 300 yards remained. The blade work of the two leaders was very clean while the other three boats were struggling with their oars splashing and experienced difficulty in lifting their blades clear of the water on account of the choppy waters that was the result of a southerly breeze.
As the final stretch of the race beckoned, the 1929 Head of the River had resolved itself to a battle between Southport and Grammar.
Brisbane Grammar managed to maintain their momentum and establish a three-quarter length lead with 200 yards to go. Yet it was here that Southport responded by lifting their rating, and they managed to reduce the margin to a quarter length with the post only 100 yards away. The Southerners though would not be able carry out this brilliant spurt until the end and Grammar would make a strong final dash of their own.
With the finishing line only yards away and their supporters screaming themselves hoarse, Brisbane Grammar, determined not to have to share the trophy like in 1928, put in a desperate last sequence of strokes that rowers often do in the final moments of a race where they give it their all lest glory evades them. This was just enough to secure Brisbane Grammar the 1929 O'Connor Cup, having edged out Southport by half a length.
The time, 4:32.00, was strong given the choppy nature of the river. The trophy was presented to the F. M. Nicholson, the stroke of Brisbane Grammar, by Mr. Isaac Waddle, the president of the Queensland Secondary School's Association, who congratulated every crew that had participated.
---
All Schools' Second Four
Winning Time: 4:32.00
Margins:
4 Lengths (1-2)
1.5 Lengths (2-3)
1 Length (3-4)
2 Lengths (4-5)
1st Brisbane Grammar School - Bow: D. Joyce 10st 9lb, 2: A.S. Gehrmann 10st 11lb, F. M. Moore 10st 12lb, Str: K. A. Moore 10st 10lb, Cox: C. B. Webster
2nd Brisbane State High School - Bow: K. C. Plumb 8st 8lb, 2: L. S. Lewis 9st 4lb, C. E. Olsen 8st 12lb, Str: W. A. Higginson 9st, Cox: E. Neville 5st 11lb
3rd Anglican Church Grammar School - Bow: J. R. A. Walker 10st 3lb, 2: G. C. Gall 11st, 3: J. C. Crombie 11st 12lb, Str: J. C. Schmidt 10st 11lb, Cox: D. C. Crombie 7st 2lb, Coach: W. P. F. Morris
4th Brisbane Boys College - Bow: J. McIntyre 9st, 2: J. Waystaffe 9st 11lb, 3: A. Mitchell 9st 11lb, Str: R. Dutton 9st 11lb, Cox: C. Logan 6st 6lb
5th The Southport School - Bow: W. A. Michod 10st, 2: J. S. Turnock 10st 10lb, 3: H. F. MacMaster 10st 7lb, Str: G. Greensil 10st, Cox: J. Stevenson 6st 9lb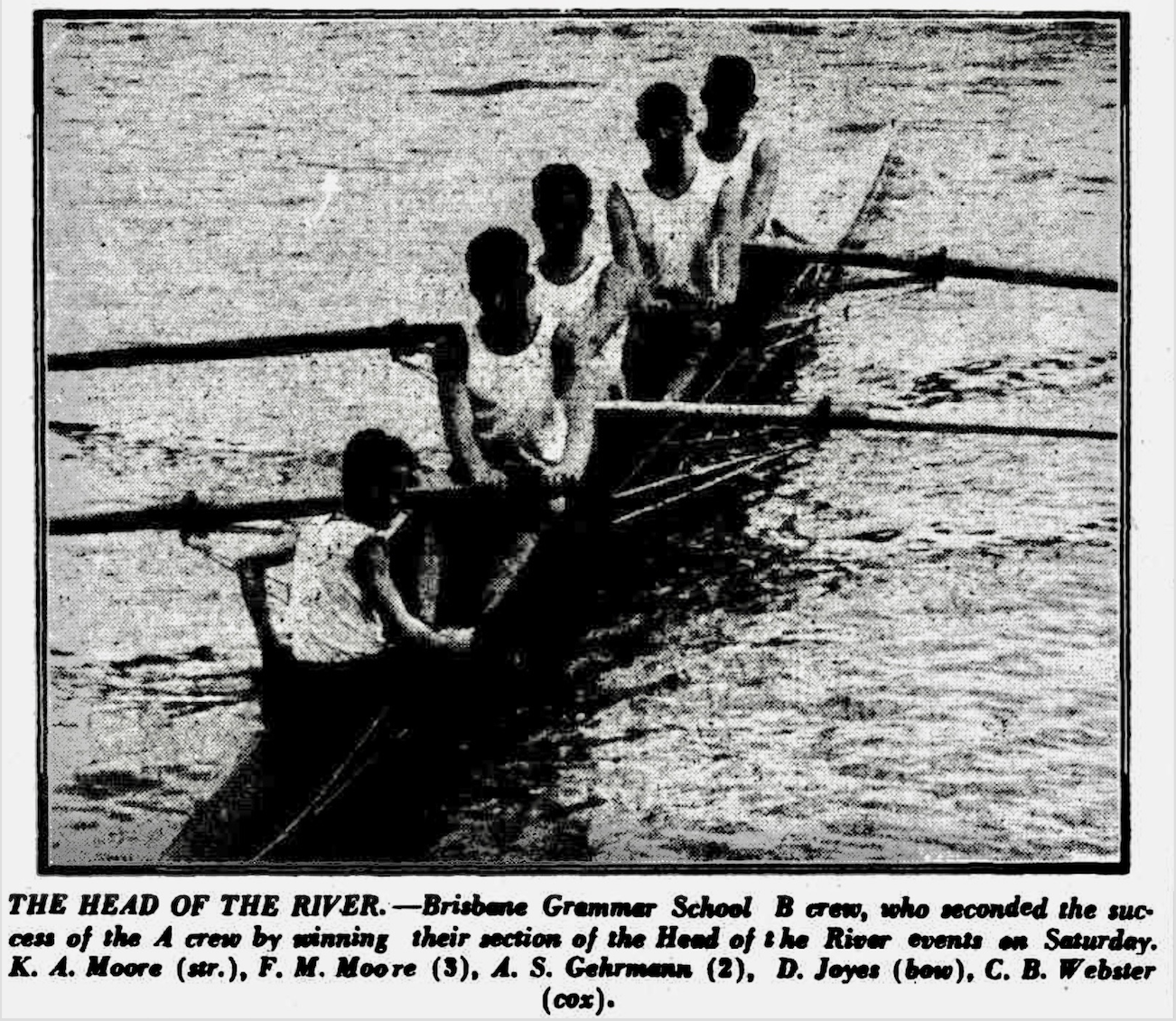 ---
The Race Described
From the start, Grammar took the lead rating over 40 strokes per minute. State High followed closely, who in turn were slightly ahead of C.E.G.S and Southport with Brisbane Boy's College in fifth.
Upsettingly, a number of over enthusiastic motor launch owners disrupted Southport and College. Having encroached the boundaries of the race, the interrupting river craft left a washing current in their wake and this interfered with these crew's course which would hurt though not spoil entirely Southport and College's chances.
At the Victoria Bridge, Grammar had a length's lead over Southport and Churchie with State High close up. Grammar were rowing a very lively short stroke at 36. With 300 yards remaining at Brown's Wharf, Grammar had increased their lead to three lengths, while C.E.G.S. and State High were rowing blade to blade endeavouring to outstrip the other for second.
Grammar maintained their quality of rating and stroke until the end where they were victorious my a margin of 4 lengths with their win never in doubt. Churchie won their duel with State High crossing the line 2 lengths in front. Southport came in another 2 lengths away with College a further length astern.
The fact that there was only two fifths a second difference in the times between the two races was because there was more run in the tide for the second fours, while for the Championship it was nearly dead.
---
Sources
Page 6, The Brisbane Courier Friday 3rd May 1929 Edition via Trove, https://trove.nla.gov.au/newspaper/article/21402175?searchTerm=School%20rowing
Page 6, The Brisbane Courier Monday 29th May 1929 Edition via Trove, https://trove.nla.gov.au/newspaper/article/21400564?searchTerm=School%20rowing
Page 7, The Brisbane Courier, 6th May 1929 Edition via Trove https://trove.nla.gov.au/newspaper/article/21403135?searchTerm=School%20rowing
Page 9, The Brisbane Courier, Saturday 4th May 1929 Edition via Trove https://trove.nla.gov.au/newspaper/article/21402663?searchTerm=School%20rowing
Page 13, The Telegraph, Friday 3rd May 1929 Edition via Trove https://trove.nla.gov.au/newspaper/article/189194827?searchTerm=School%20rowing
Page 13, The Telegraph, Monday 6th May 1929 Edition via Trovehttps://trove.nla.gov.au/newspaper/article/189188701?searchTerm=School%20rowing
Page 10, The Telegraph, Monday 6th May 1929 Edition via Trove https://trove.nla.gov.au/newspaper/article/189188613?searchTerm=School%20rowing
Page 12, Daily Standard, Friday 3rd May 1929 Edition Via Trove https://trove.nla.gov.au/newspaper/article/192371504?searchTerm=School%20rowing
Page 11, Daily Standard, Monday 6th May 1929 Edition Via Trove https://trove.nla.gov.au/newspaper/article/192371980?searchTerm=School%20rowing
Page 11, Sunday Mail, Sunday 5th May 1929 Edition via Trove https://trove.nla.gov.au/newspaper/article/97691183?searchTerm=School%20rowing
Page 7, Truth, Sunday 5th May 1929 Edition via Trove https://trove.nla.gov.au/newspaper/article/198313395?searchTerm=School%20rowing
Page 16, The Brisbane Courier, Monday 6th May 1929 Edition via Trovehttps://trove.nla.gov.au/newspaper/page/1658509
Page 10, The Sunday Mail, Sunday 5
th
May 1929 Edition via Trove
https://trove.nla.gov.au/newspaper/article/97691309?searchTerm=School
Page 29, The Clayfield Collegian, December 1929 Edition via Trove https://nla.gov.au/nla.obj-1453620062/view?partId=nla.obj-1453646403#page/n30/mode/1up
Pages 31-44, Churchie Rowing by Peter Jell, Published by Anglican Church Grammar School
Pages 68-98, Churchie Rowing by Peter Jell, Published by Anglican Church Grammar School
Page 121, Churchie Rowing by Peter Jell, Published by Anglican Church Grammar School